A photo essay...
The 2005 640 Adventure comes standard with 18mm bar risers: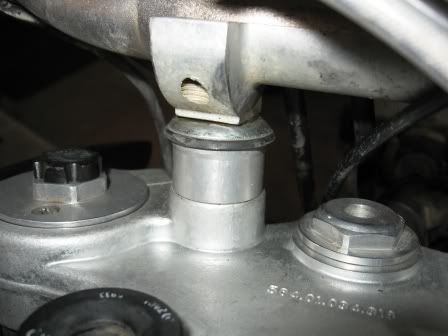 That's not quite high enough for me, I can't quite stand straight-armed and straight-backed at the same time. Close, but no banana.
There's only a few millimetres in it. Researching on here suggested I could add 20mm or so without changing cables, so I went ahead and ordered a set of the "SW-MOTECH handlebar risers (KTM LC4 Adventure 2001) 28mm", part number LEH.00.039.106, figuring I could cut them in half if necessary to get only 14mm extra rise.
The OEM through-bolt is M10x85, the SW-MOTECH part M10x100... ummm... that's only 15mm longer!! No way could I just bolt on the 28mm risers. It was apparent the SW-MOTECH kit was designed for earlier bikes
sans
factory risers. Inspection of the OEM setup showed that the riser could be removed, but the metal spacer tube would need to be shortened to match. Then the SW-MOTECH kit could be fitted with no further modifications or parts.
Here's the standard parts, minus the bolt: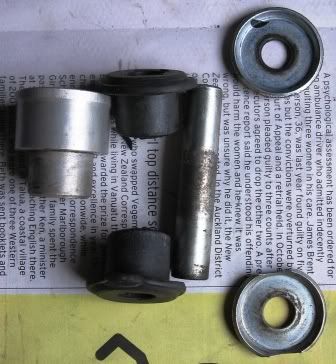 Removing the factory 18mm and installing the SW-MOTECH 28mm would give me just 10mm rise (should be okay for cables) and should be ju-u-ust enough to let me stand comfortably. This is how it looked: left side (top) has OEM 18mm riser removed, 18mm cut off the spacer, SW-MOTECH 28mm riser and 100mm bolt; right side (bottom) is all OEM.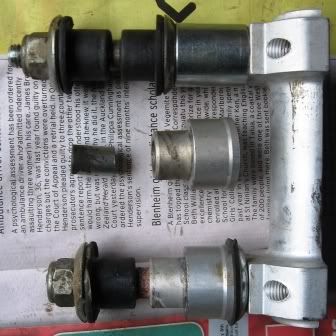 The finished installation looks like this: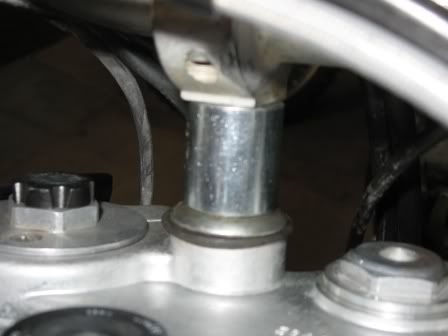 Note that the through bolt length is critical, as there is only a few mm clearance to the steering lock below. Perhaps that's why they didn't ship an over-long bolt to allow other height options?
Cable lengths were just okay. I routed the throttle cables down the right hand side of the frame spine, and there is barely sufficient length. There is a little stiffness approaching full right turn since the cables are bent too sharply against the tank as the bars approach, but I didn't notice any problems on the first few rides, despite being quite technical where you might need good throttle control at near full turn on the bars.
So, do we have a result? I'd have to say YES!! I can stand up straight-armed and straight-backed at the same time.
Initially they felt weird, as changes often do. Seated, I felt a difference in my elbows and wrists but nothing untoward. Standing up, well strangely it just felt normal. Try as I might, I couldn't fault them... stand up hard, stand up gently, stand up stretched, I tried lots of combinations... nothing felt wrong. That's a good test, since I could easily find issue with them previously.
Can't say I noticed any difference in vibration, either.
Result!