A WEDNESDAY RIDE
with Blue Mountains Ulysses
Everyone is welcome to join us for the ride
Meet: Blaxland McDonalds, GWH, BLAXLAND, NSW for a 9.00am Start
Ride Leader: Ross P
Ride Report/Videos:
14th July, 2010
Destination:
STANWELL PARK
(South Coast of Sydney)
Map link
http://maps.google.com.au/maps?f=q&s...uth+Wales&z=14
The weather conditions forecast for to-day were possible early shower with a strong south westerly winds and clearing skies for the afternoon. I did not go for Wednesday's ride this week as I have cracked a couple of ribs trying to fix a stupid Hills close line of course it is the clothes line not me.
So I have spoken to a few of the guys and this is the ride report I have put together from their reports if it's right it is right if it is wrong it is wrong so here we go.
There were 10 riders Ross P would lead the ride followed by David E, David C, Allen R, Les W, Phil W, Bob P, Peter M, John McC, and Noel H would be tail end charlie the destination would be a Stanwell Park for lunch,
Heading off at 9:00am down Lapstone Hill to Mulgoa Road and then out through the back roads through Douglas Park where they would stop for morning tea at Appin, I believe the weather conditions were quite good a little bit on the chilly side but strong winds from the southwest. After morning tea they headed down through Bulli Pass and along the coast road where they would stop for lunch at Stanwell beach, where they had lunch in a fairly sheltered spot, we have been there before and it really is a nice spot to have lunch.
After lunch they were back up onto the coast road again to cross the Seacliff Bridge on their way home through Sutherland along the Old Highway and around through the back of Moorebank where they would continue on to the service station at Luddenham for afternoon tea, I believe there was a bit of confusion at some of the traffic lights around the Sutherland area and a few of the boys got left behind, I also believe that those that did are still trying to find their way home.
After afternoon tea they said their goodbyes and everyone continued on home after having had a great day traveling approx 250kms for the ride. The weather conditions I believe were quite good except for the strong south westerly wind. I did miss my week's ride and the company, weather permitting I should be there next week no problem.
I have added a photo of the boys at Rubies hoping that this might add some humor to this report.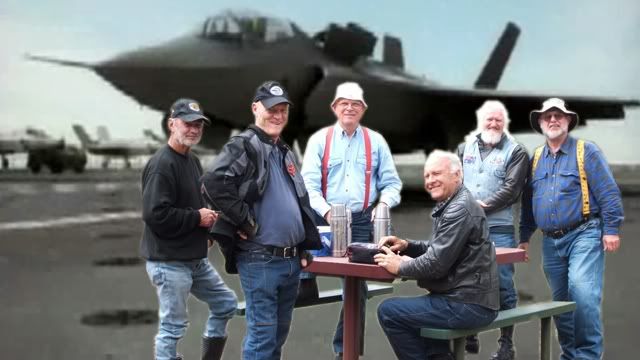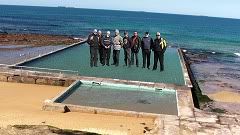 Regards Eric Baldwin.
Seeing how I am not riding with them at the moment and for a while, I only able to put in basic maps.
Regards Franz G (BMBEN)