After a few dirt rides I figured it was time to do some light touring on the DR. There was no better excuse then a BBQ/Camping trip set up in Apalachicola National Forest. I rode with a few inmates and we met a few more there!
The ride over was epic. Mug, Inept, and I headed out from P-Cola around 10am on Friday for the 50/50 ride over to the camp ground. We slabbed it for the first 30 miles but the weather was great and all was good. Heading into Eglin for the first dirt section was a blast! We didn't see any rangers and the conditions were fun. Last time I was out there was constant panic mode, but this time I was able to relax, have fun, and feel the bike out. First stop was at a historic sweat fest location. Felt good to stretch the legs. Did I mention the dust?
After Eglin we slabbed it for a few more miles through Defuniak Springs and hit some twisties and got back into the dirt. As soon as we get onto the first trail bambi decides to frolic along. I just hoped it was the
last
deer we see! Shortly after that Mug's GPS went on the fritz and I was quite entertained by his outbursts and button mashing, a safe distance was maintained.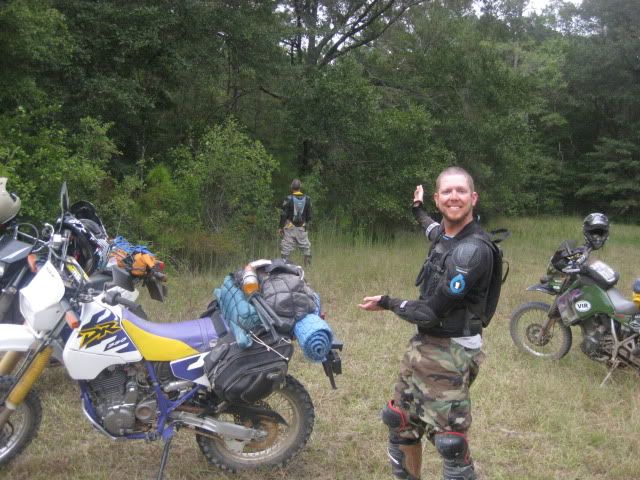 The ride was steady and fun through until we got to this peach of a system. I don't think were gonna make it around it!
Mug ponders the meaning of life while Inept ponders the bottle of scotch.
After a quick, but intense storm, we made it to 231 near Panama City and the majority of our dirt was done. Before the body destroyer that is SR20 we hit a nice limestone trail that was fast and VERY scenic.
After the drone on 20 we hit a couple small trails (in the dark) on the way to camp that were full of sugar sand, had a few good pucker moments, and made our way to Becks and chili. mmmm.
Camp was great! I laughed most of the time even though I didn't know what the hell anyone was saying. I spent most of my time lounging around the fire, getting to know some folks, and just relaxing. In the am everyone sat around for a bit, then the group went for a morning run. I had some commitments back home so it was the slab for me.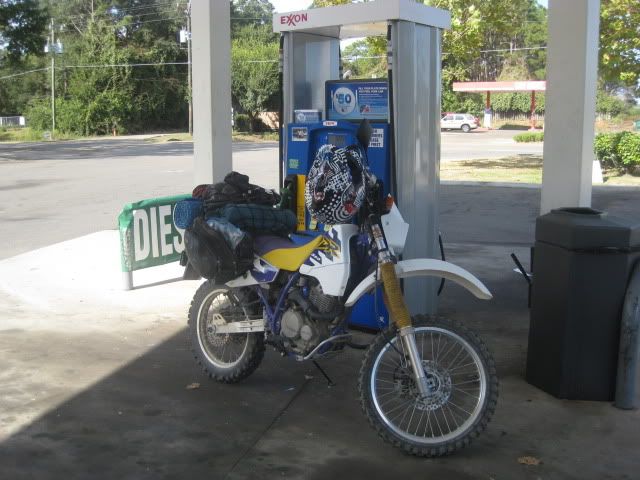 About 70 miles into my ride it's time for gas. Up until know there has been no rain, minimal traffic, and an all around good ride. I pull up to the gas pump and smell something burning, that's not good. I turn around and its MY BIKE ON FIRE!
The saddle bag had pressed the body work into the exhuast and melted it, in the process my bag and clothes caught fire! I lost 2 good shirts and a pair of shorts that sad day.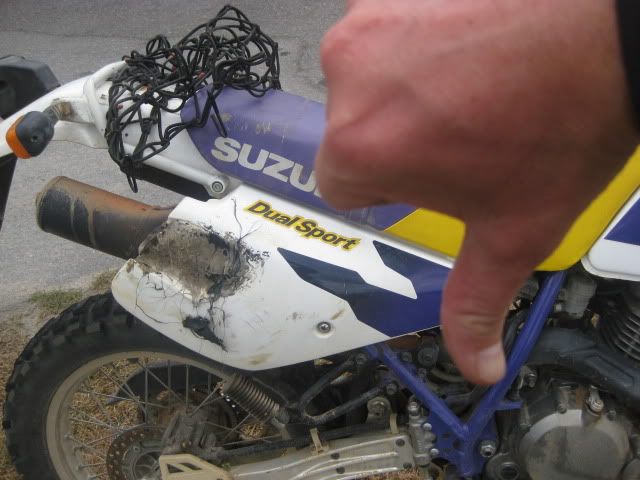 After a few curse words and a lot of quick luggage throwing I extinguished the situation and re-evaluated my packing skills. Bought some bungees and salvaged what I could.
As I was doing all of this some guy drives up in a Hummer and walks over to me asking what was wrong. I explain and he agrees it sucks. He then hands me this pamphlet with a pirate biker and a confederate flag on the cover. Premise of the thing is this god hating biker goes to prison (because he hates god) and then finds god seconds before he is to burned alive. It's a heart warmer for sure, I guess my purple and yellow DR give off that I hate god vibe.
After that the ride was long and uneventful. Passed through quite a few showers and felt the whole lower half of my body go numb. The DR is no touring bike!
Home at last! 400+ miles and great times
Thanks again to Buzzkill and all the boys who made this happen! Watch for hummingbirds.