A WEDNESDAY RIDE
with Blue Mountains Ulysses
Everyone is welcome to join us for the ride
Meet: Blaxland McDonalds, GWH, BLAXLAND, NSW for a 9.00am Start
Ride Leader: Eric B
Ride Report, Photos, Map: Eric and Franz
Wednesday, 29th September 2010
Destination:
Spencer NSW
The weather forecast for today was 16°C to 24°C in the west with a possible shower.
Their were six of us that had gone for a ride to Robertson on Tuesday we had a really good day with the temperature reaching 25°C, but it was quite cool as we rode down through the highlands. We had morning tea at Bargo then lunch at Robertson, afternoon tea at Picton then home, arriving at 4.45pm after having done 280km for the day's ride. It was nice to have Peter M and his wife Diana with us for the day's ride.
I left home at 8.10am and heading up the M4 to Blaxland where I would arrive at about 8.30am to be met by a group of riders already there. John McC informed us that he would not be coming with us as he had other commitments. I informed him that I had made him a birthday cake and he was terribly apologetic. It was not his birthday but the week before I had taken along a cake for Noel and Peter, John said it was easy to see who the teachers pet was as when it was my birthday I got nothing so I made him a cake just for a stir. There would be no problems as I'm sure the other riders would enjoy it for afternoon tea. It was suggested that we would ride to Berowra for morning tea then up the Pacific highway around through the top of Mangrove Mountain then down to Spencer for lunch and we would then have afternoon tea and cake at Wisemans Ferry.
We left at 9.00am. We had 12 riders for today with one lady pillion passenger, Frances HM behind Jim HM. I would lead the ride followed by Tom L, David E, Allen R, David C, Rod B, Guy D, Peter M, Doug B, Alan M, Alan S would be tail charlie. We headed up the highway to Springwood then down through Hawkesbury Valley Road through to Richmond, Windsor turning left at McGraths Hill and along Pitt Town Road, continuing along then we would turn right to head around the back roads through Maraylya, winding our way down to Berowra Waters where we would have morning tea.
Conditions were overcast, it was a little bit on the chilly side but quite comfortable considering, after morning tea we boarding the ferry and headed across the bay, winding our way up the hill where we would stop for fuel at Berowra, just to be on the safe side. It got really cold heading up to Central Mangrove, the weather was overcast, and I thought it would rain but we were fortunate it didn't. We rode down the back roads past the edge of Popran National Park continuing on to Spencer were we would have lunch. It was quite windy when we got to Spencer, the tide was extremely high, it was the highest I have seen it there. Having lunch the wind dropped off a little bit, we did get some sunlight warming us up slightly.
After lunch heading along Wisemans Ferry Road. We would make our way to the ferry where we would cross the Hawkesbury River to have afternoon tea in the pentagon shelters at Wiseman's ferry proper. I removed the cake from my pannier, put the topping on, then cutting it into several pieces.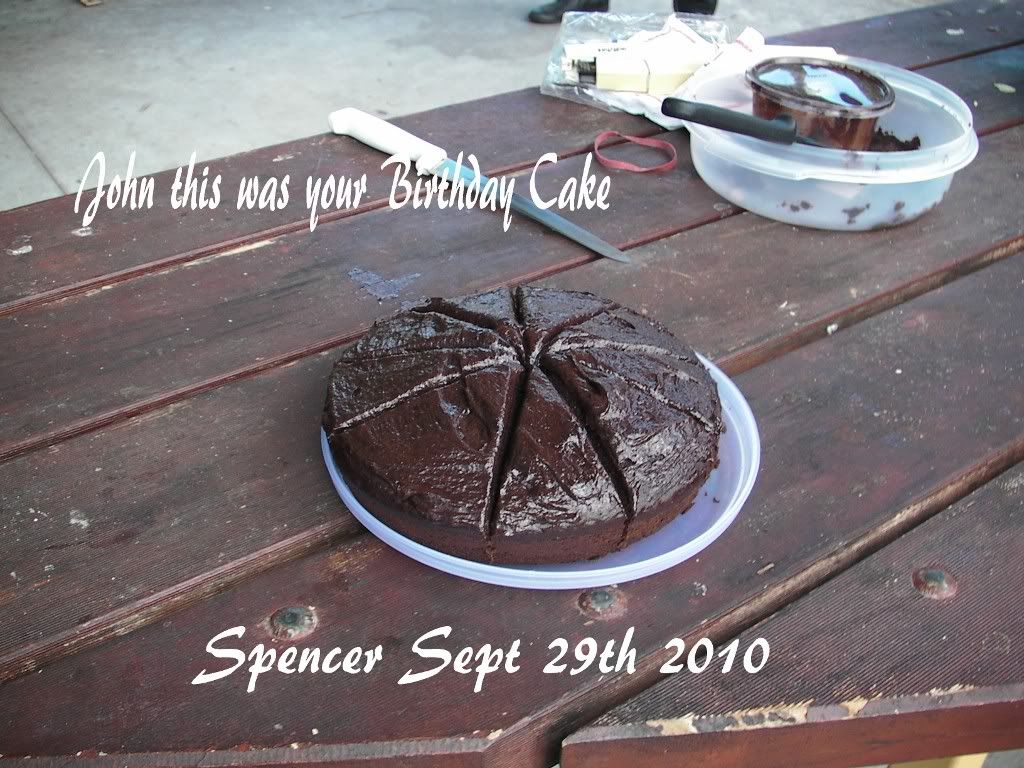 Most of it was consumed but there were two slices left. There were no cockatoos to feed it to so Alan M took those two slices home. The cake was quite nice but everybody seems to be watching the figure, no one wanted seconds, I also don't eat cake.
We left Wisemans at about 3.30pm after saying our goodbyes. It was overcast, it did look like it was going to rain, also it was quite cool heading up the hill making our way to Wisemans Ferry Road. It was nice to have Frances along as company, keeping the boys on their toes. From McGrath's Hill to Windsor, some of the riders would turn off making their way home. I continued straight along through Windsor making my way through to Blacktown Road then around the back roads to my home at St Marys.
We had a great ride. I arrived home at about 4.45pm having done 285km for the day's ride. On arrival at my home I could not believe how cold it had got although we did get a very light shower. Well that was this week's ride, I hope you enjoyed my report, in the meantime stay well ride safe.
Regards Eric B.