Last year, we rode the TAT west and then totaled the bike. Boo!
Found a nice replacement (2007 990S) for just a little over the insurance payout. Yay!
He's BigWan, I'm LittleWan. We like dirt
Here's a short trip we took to the sierras - October 2009. I had tacked it onto the end of our RR, but I'm pretty sure people were done with me by that point and I don't think anyone wanted to read another word!
It's a great area to ride and I always wanted to throw this into the regional section, but was too lazy. I never go in there, anyway. Does this fit okay in Day Trippin'? If not, can someone put it into the California section? There isn't much dirt close to the bay area, so this was a weekend trip for us, but it still counts as a day ride, right? It's a day trip for someone...
We were just back there a couple weeks ago and the upper elevations were still pretty snowy. Couldn't make it up Forestdale Rd on 6/26 - there was just too much of the white stuff.
Also got turned back trying to get to Hwy 4.
If it's not passable now, it will be soon
So, this next bit was written in October 2009:
From the bay area and back, it was about 540 miles.
We left friday afternoon and got to the campground just before dark. Ate dinner nearby and went to bed early. There are lots of camping options in the area.
amador county
The next morning was Christmas!!
It was so nice to be able to ditch the bags and ride unencumbered.
From Pioneer, we took Tiger Creek Road (off of Hwy 88). The signs said the road was closed, but the gate was still open. We ran into some scary poachers. One was driving on the wrong side of the road with his high powered rifle aimed down into the valley (no pics
).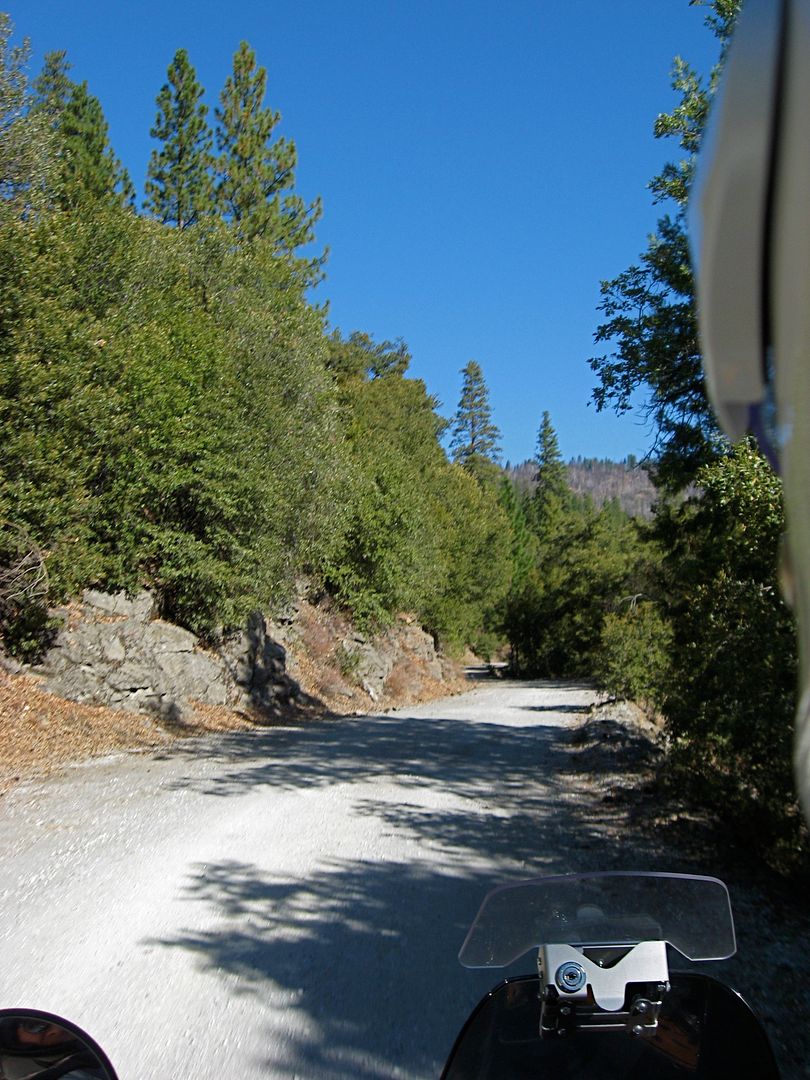 the road runs along some neat aqueducts
it was beautiful.
we stopped at Mokelumne campground to look around. The creek was gorgeous.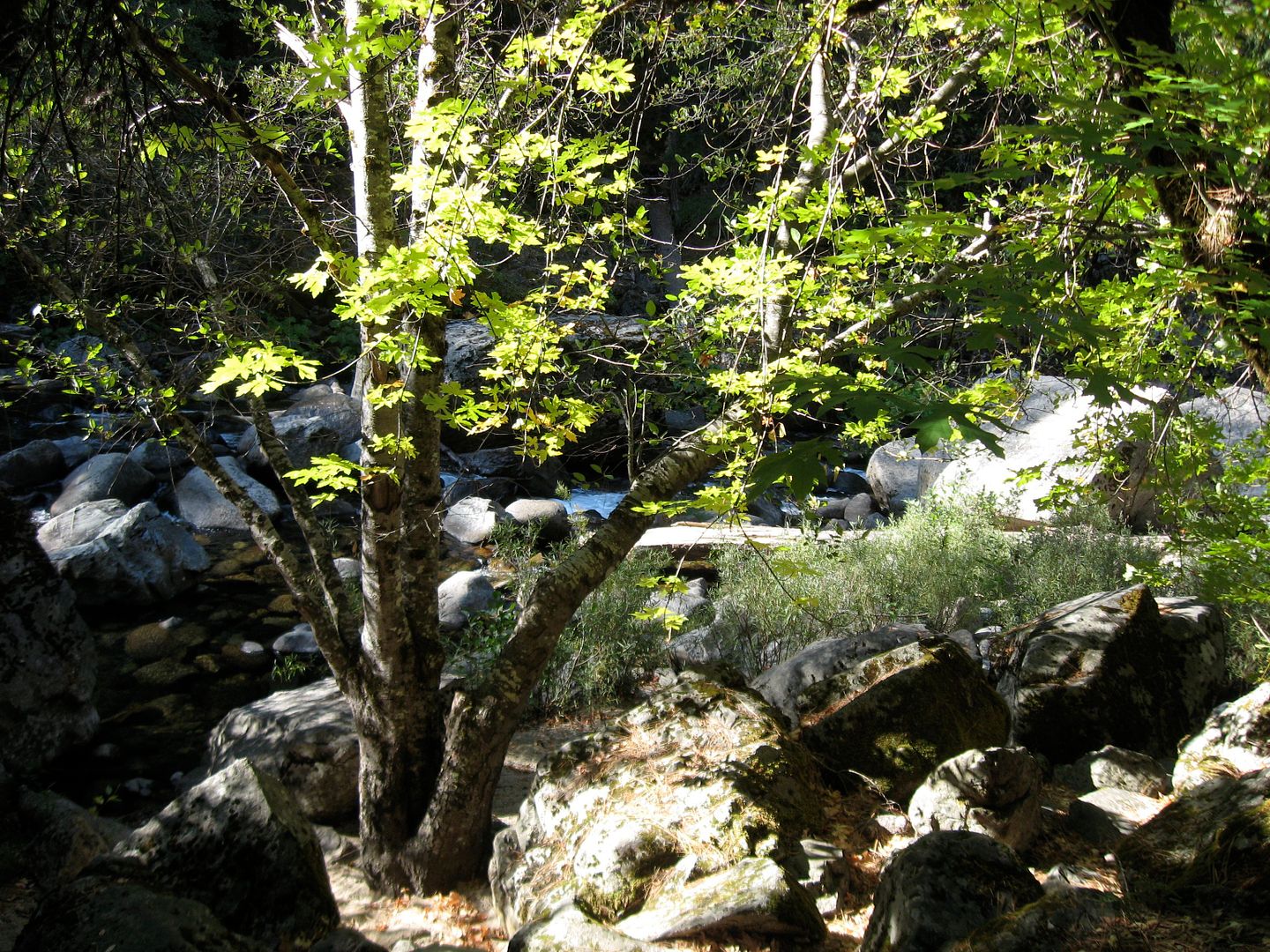 We met a really nice ranger at the campground. He rides dirt and was interested in the 990. We told him the route we planned to take and he expressed some concern about us doing Squaw Ridge 2up, but Matt had done the trail before and felt pretty good about it. The ranger said we were up here in the nick of time - they were expecting 5 inches of rain on tuesday (tomorrow). After that, forget it. Nothing but nasty mud and muck.
Here's the link to the map we used:
amador ranger district map
We went to check out Salt Springs Reservoir.
Lots of pretty sights along the way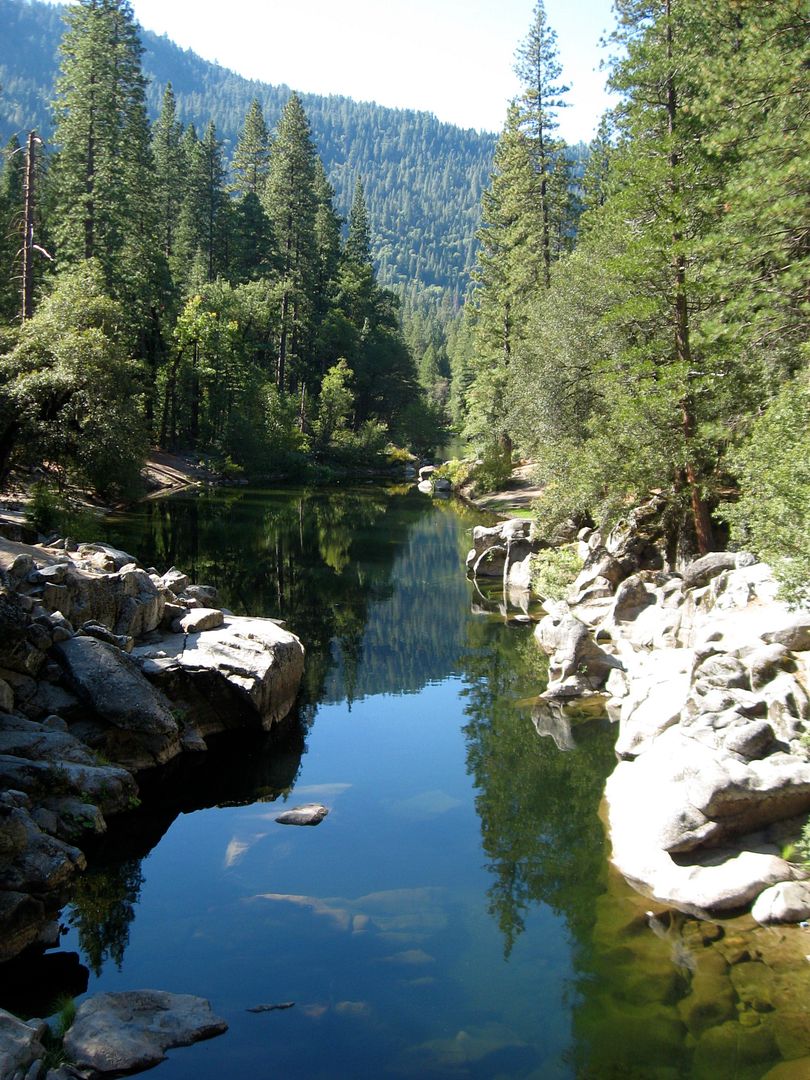 they must have quarried the stone for the reservoir here.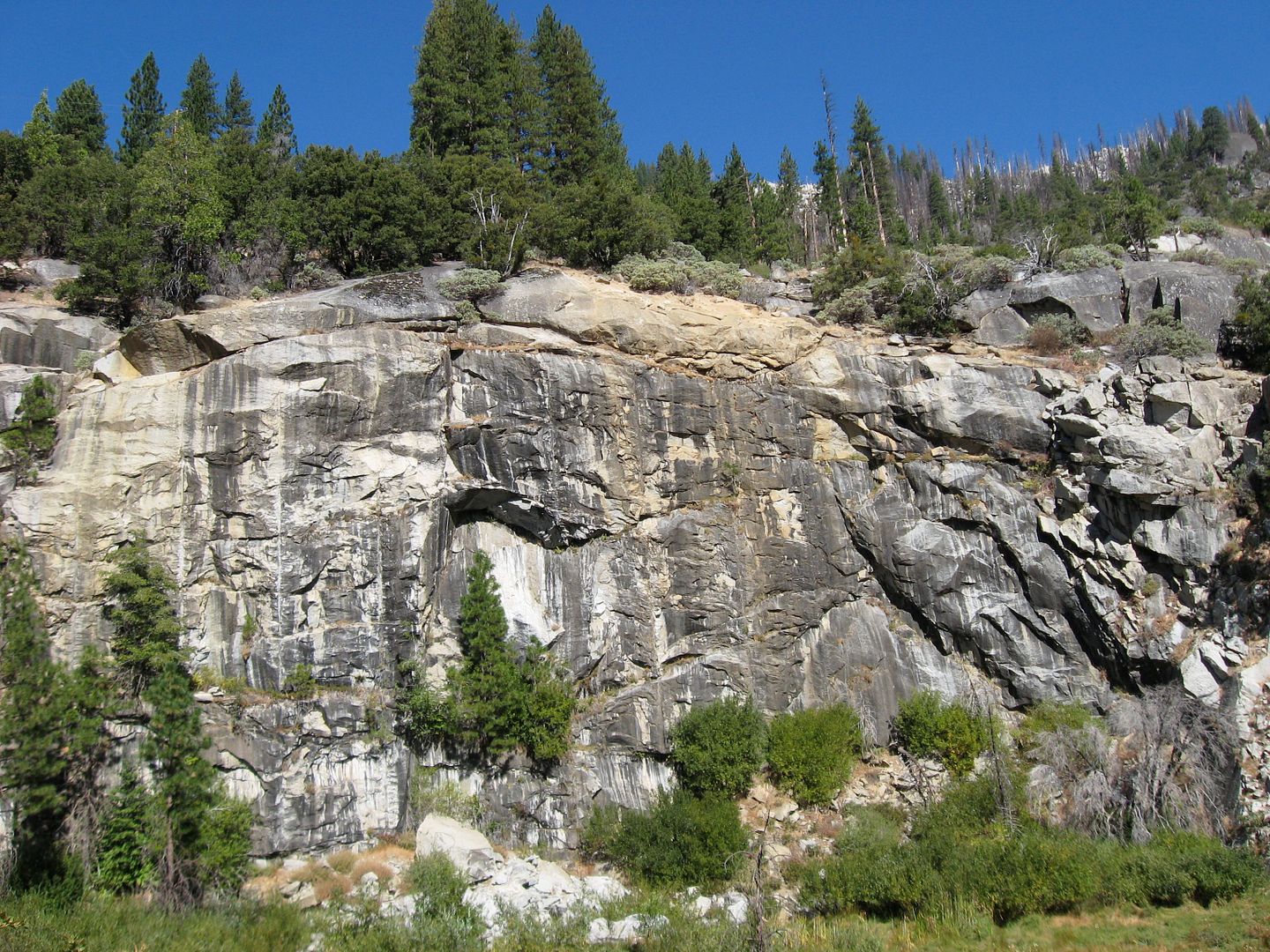 Salt Springs Reservoir
We backtracked out of the reservoir and got onto Forest Route 8 (08N16). It was fantastic. Parts of it were super rocky.
I only took a couple of photos, before it got bad. They don't do it justice.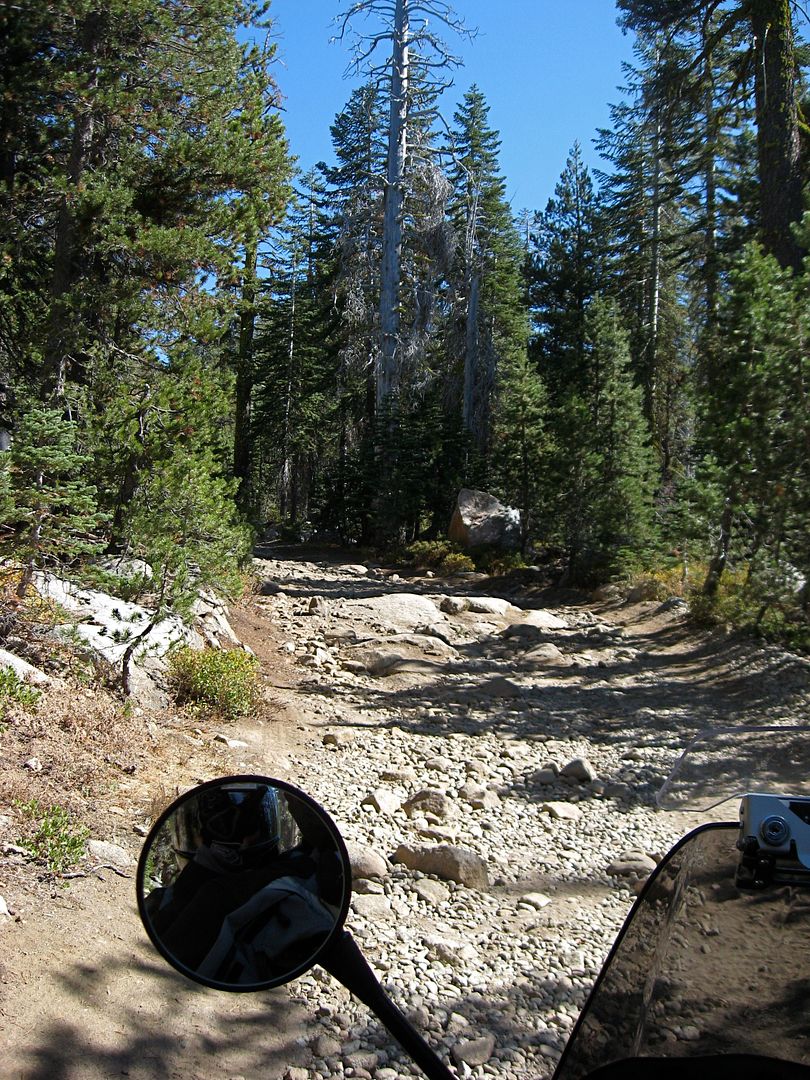 After the rocks there was some tight, twisty stuff through the trees. Not quite single track, but narrow for double track. The 990S was amazing. It has a much better turning radius than the 950 - matt says it feels more like a real dirt bike. We were on 08N03, I think.
At one point, we were going through some large boulders with narrow openings.
me: Matt, my ankles are scared!
matt: tell them to shut up and stay out of the way!
I started laughing so hard I almost fell off.
He was just kidding! It was really funny, but I guess you had to be there
(My ankle got smashed on a rock when we were going through the Black Dragon Wash, I made a big deal about it in the TAT rr)
Took a little break at the top.
Lunch - some stale granola bars. Granola dust, really.
Then we took 16E26 and 17E24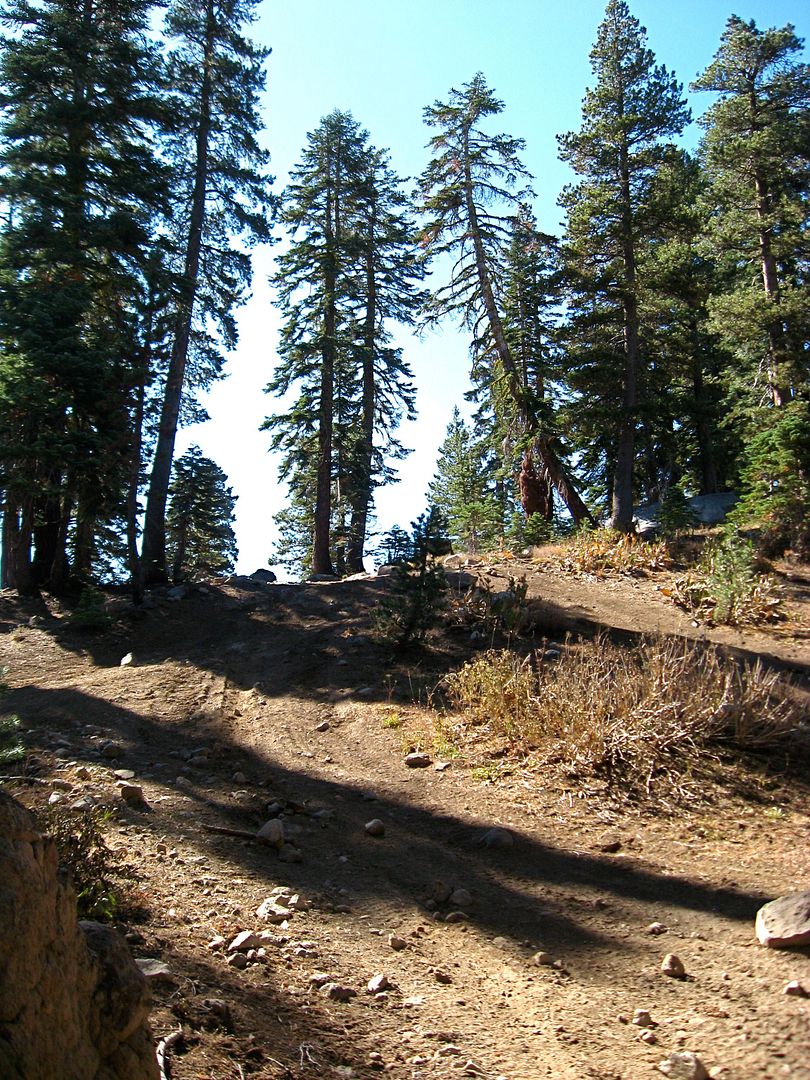 Another sign said 9N82, but I didn't see that on the forest map.
We saw some snow here, and more later on.
got a little higher
It was a gorgeous day. And it felt like summer - must have been in the high 70s.
We turned on the GPS, just to check the elevation. The reading jumped to 8256 after I took this shot. Guess it was still finding satellites. Note the black triangle, floating out in space - there we are!
Got a little rockier.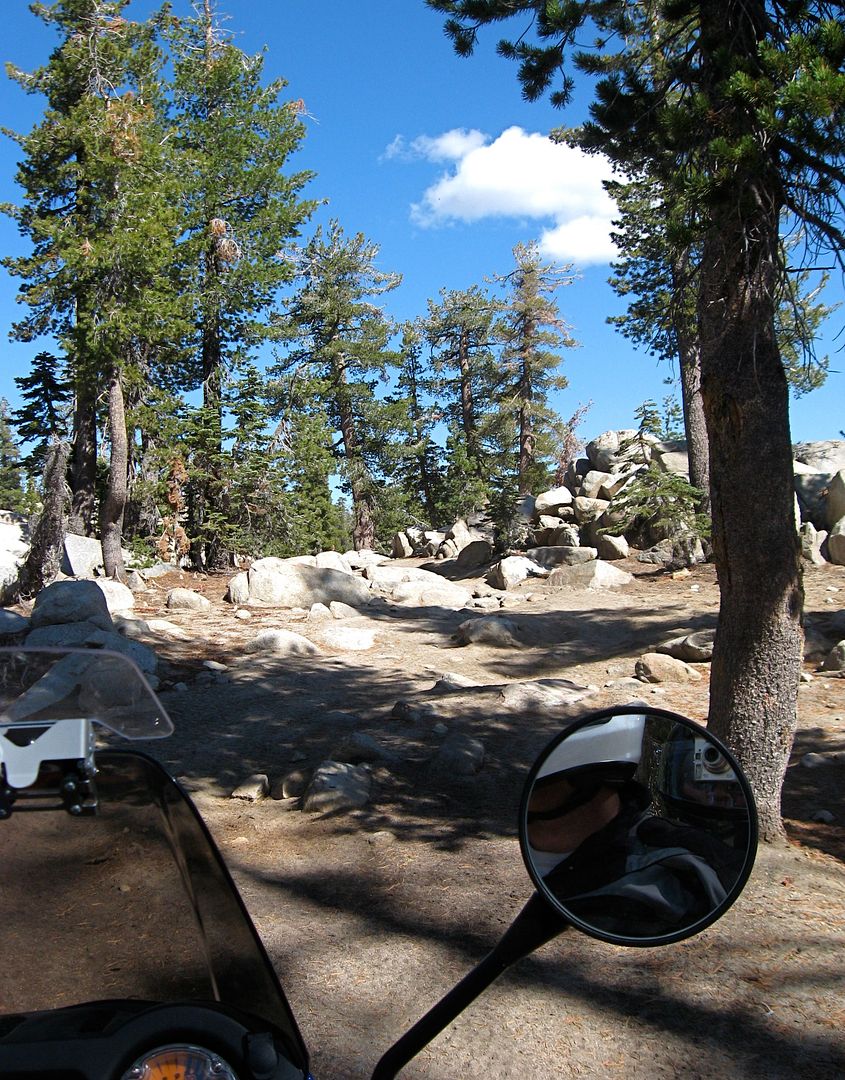 At one point, we lost the trail - nothing but big rocks. We hit a dead end and it was way too scary to try and turn the bike around, 2up.
I hopped off and walked about 25 ft up the hill to the trail, where I caught up with matt, here.
We had a spectacular view of Lake Pardoe
From this point, Matt usually takes a horse trail down. The trail is so steep and tight, he said he had to get off and pick up the front end of the 950 and physically turn it, in order to make the turns. He was kind of interested in seeing if the 990, with its tighter steering radius, could make it - but even a dummy like me knew that it was a bad idea. Two up on scorpions on a horse trail? No thanks.
We took this much friendlier trail instead. I think it was 17E32.
We still hit some small water crossings, mud, slush and ice on the way down. The scorpions did very well! I was impressed.
From the end of the trail, we got back onto Hwy 88 and headed up towards Kirkwood. From 88, look for Red Lake and make a right onto Forestdale Road.
It's like a mini-version of the Colorado TAT.
Pretty aspens.
Just
before
this part, it was a little rocky. Not too bad, though.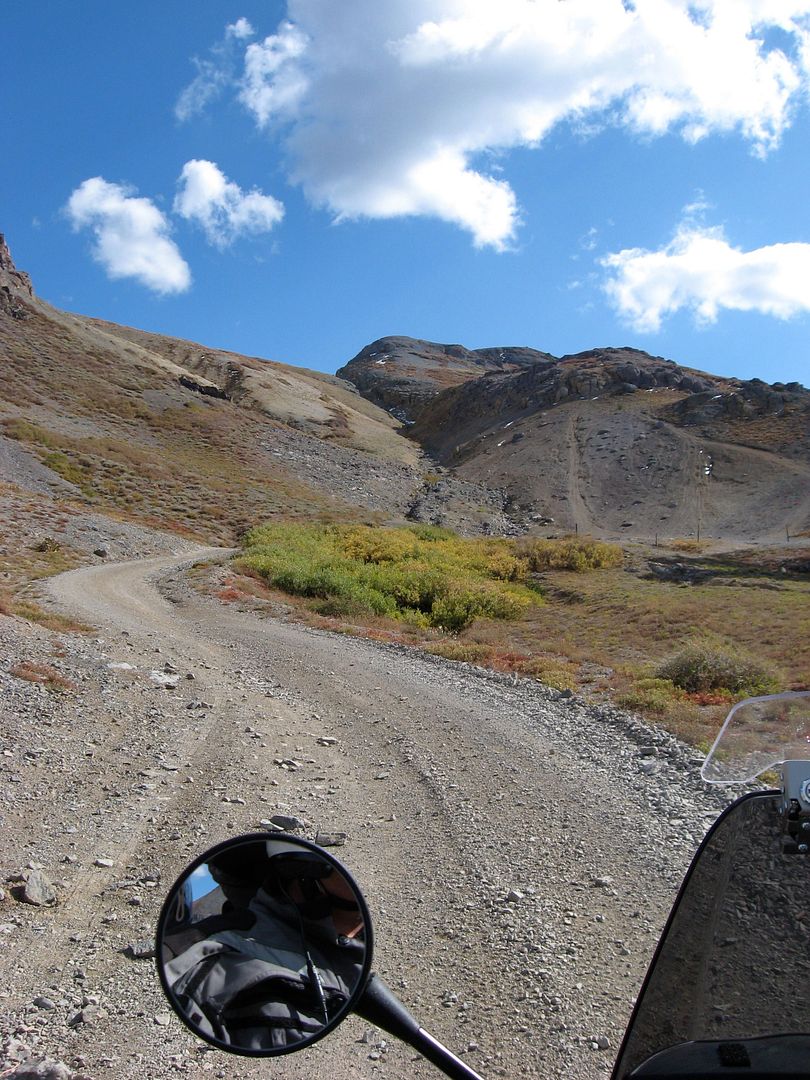 Lots of nice views.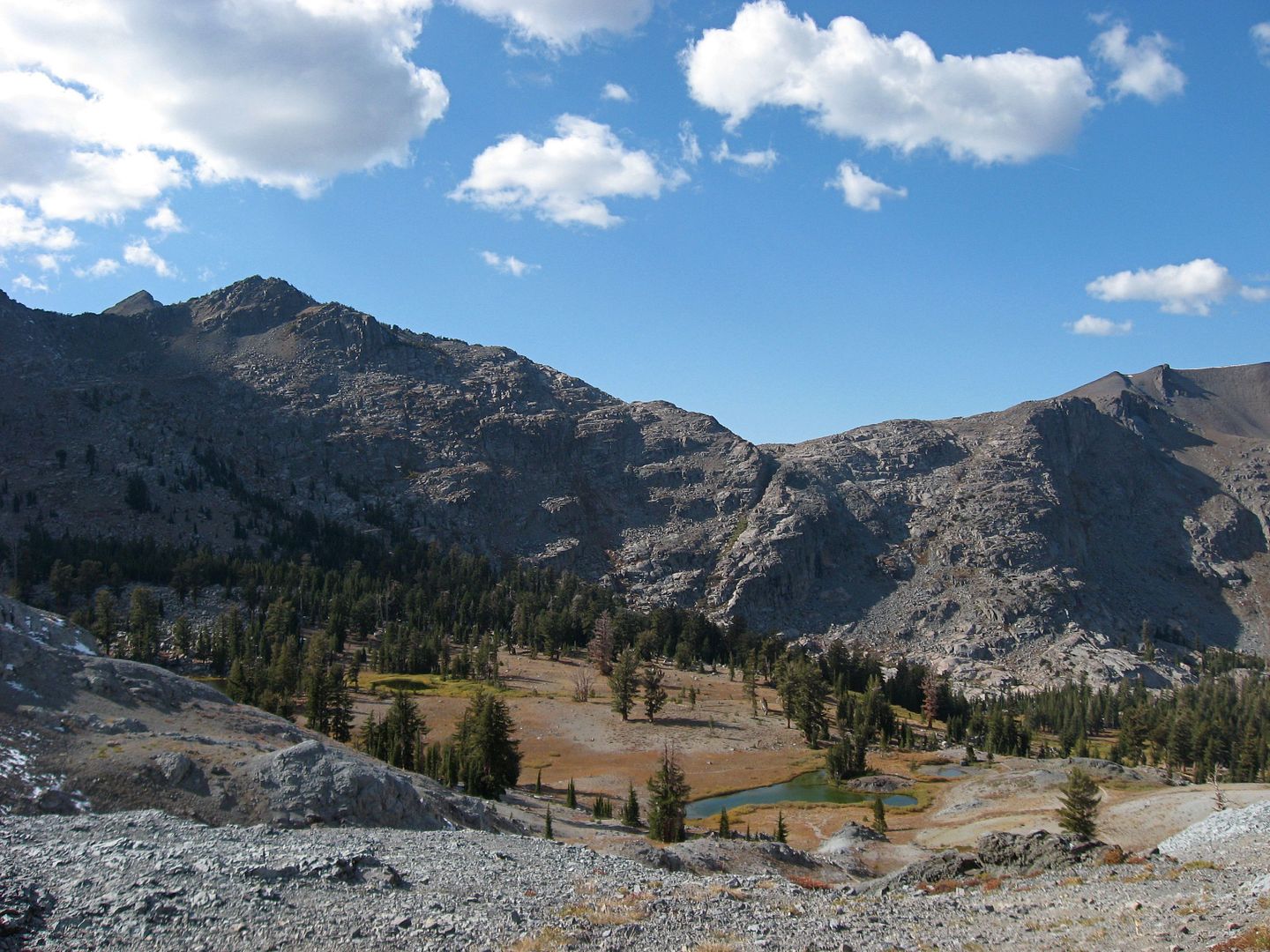 From here, heading towards Blue Lakes and Blue Lakes Road will bring you back to Hwy 88.
Matt was going to take 88 back to the campground, but I said, "Wait, don't you have more dirt for me??" That made him so happy. So we took 88 over towards Omo Ranch Road and Pi Pi OHV.
Hwy 88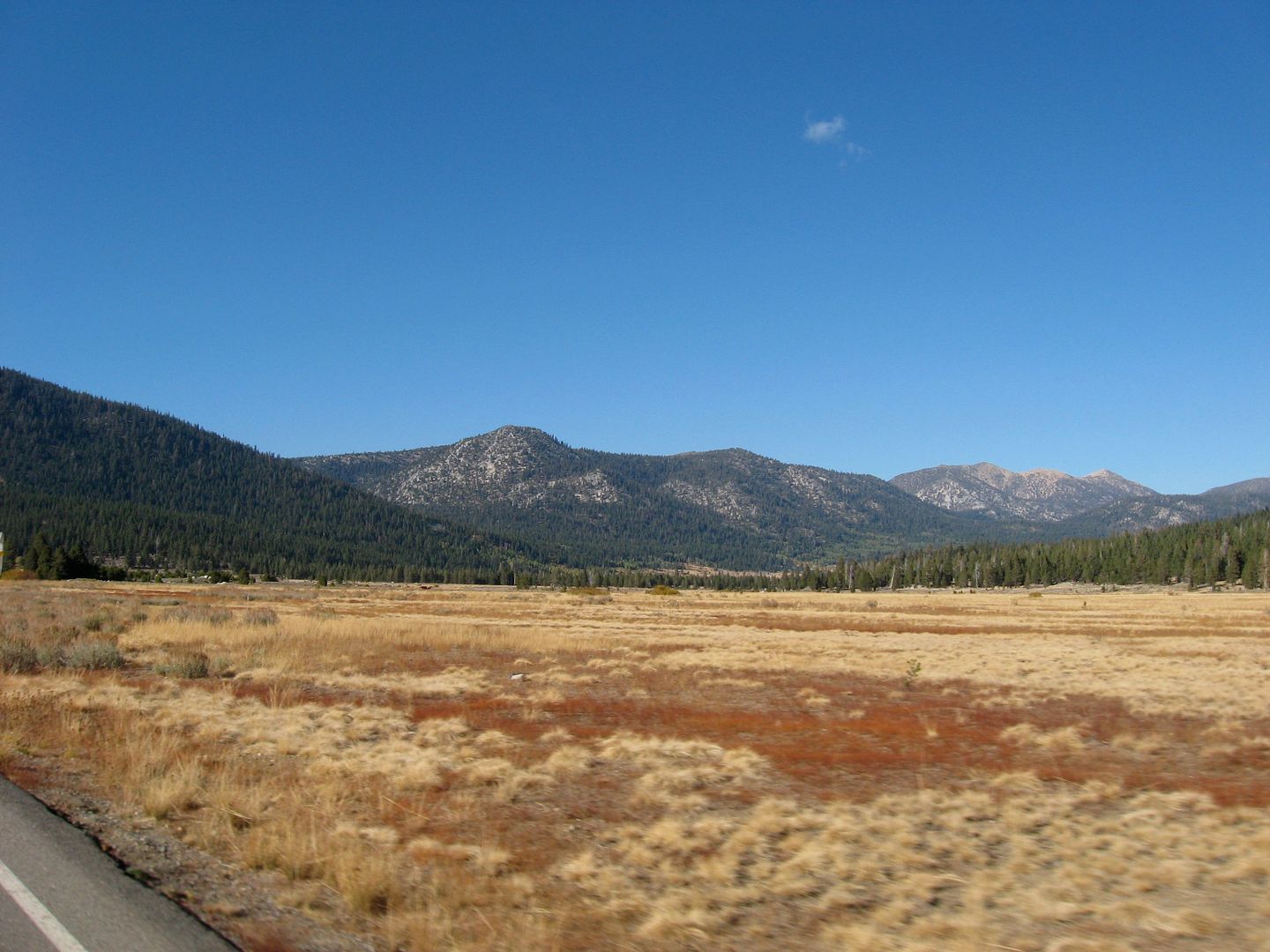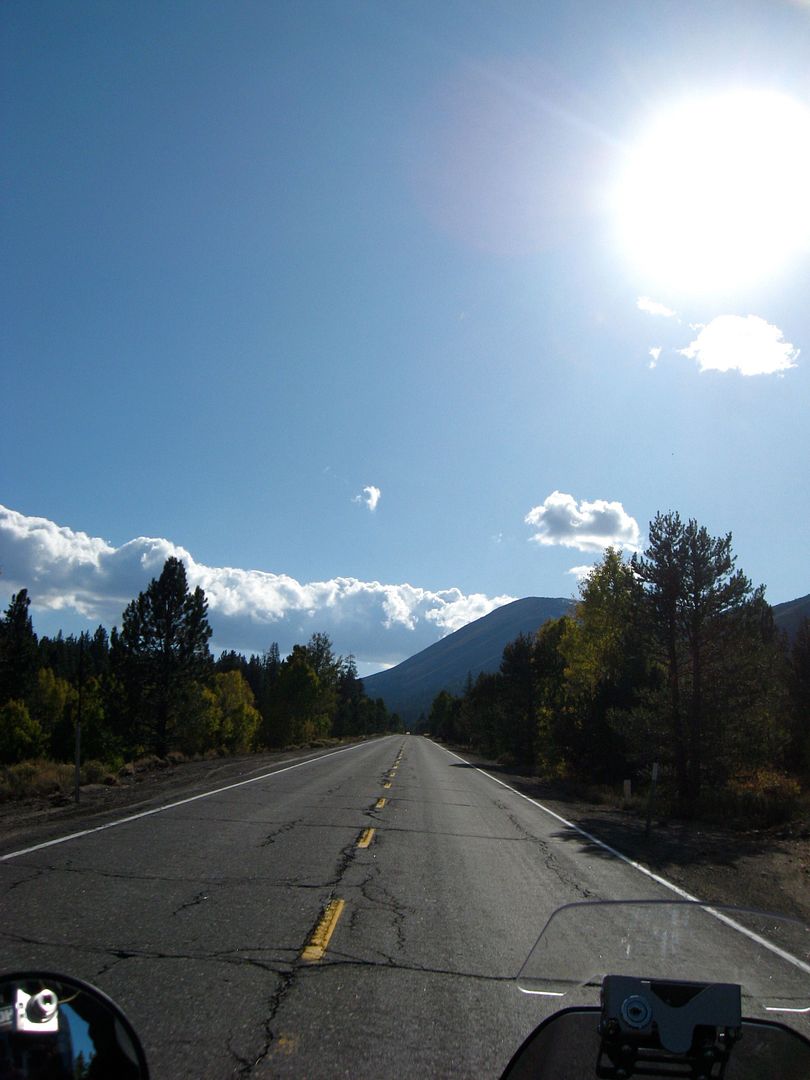 We went past Caples Lake again.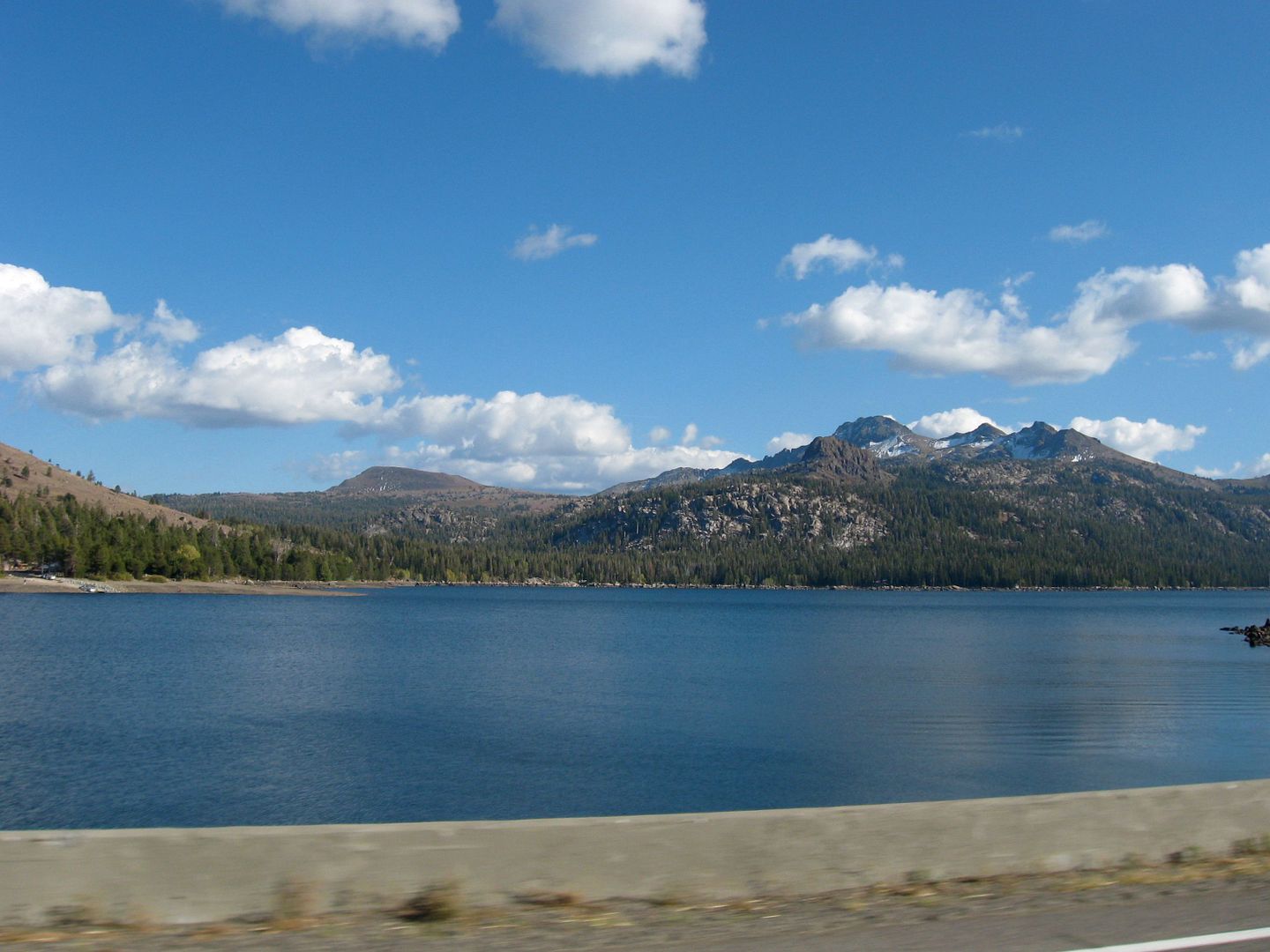 Several years ago, we built a house in the area and matt used to take breaks to ride his XR at Pi Pi (pre-ktm). Since then, he's ridden the 950 there a bunch, but never with me.
I didn't take any photos - he knows the trails pretty well and we were going too fast for photos
.
Just so you can see the trees and red dirt, here's a photo of the 950, hanging out with her cousin at Pi Pi (circa 2007).
The trail we did was Matt's favorite - route 33 gold rush (13E33). More info about the trail
here
and
here
Here's the link to the full map:
Pi Pi/Placerville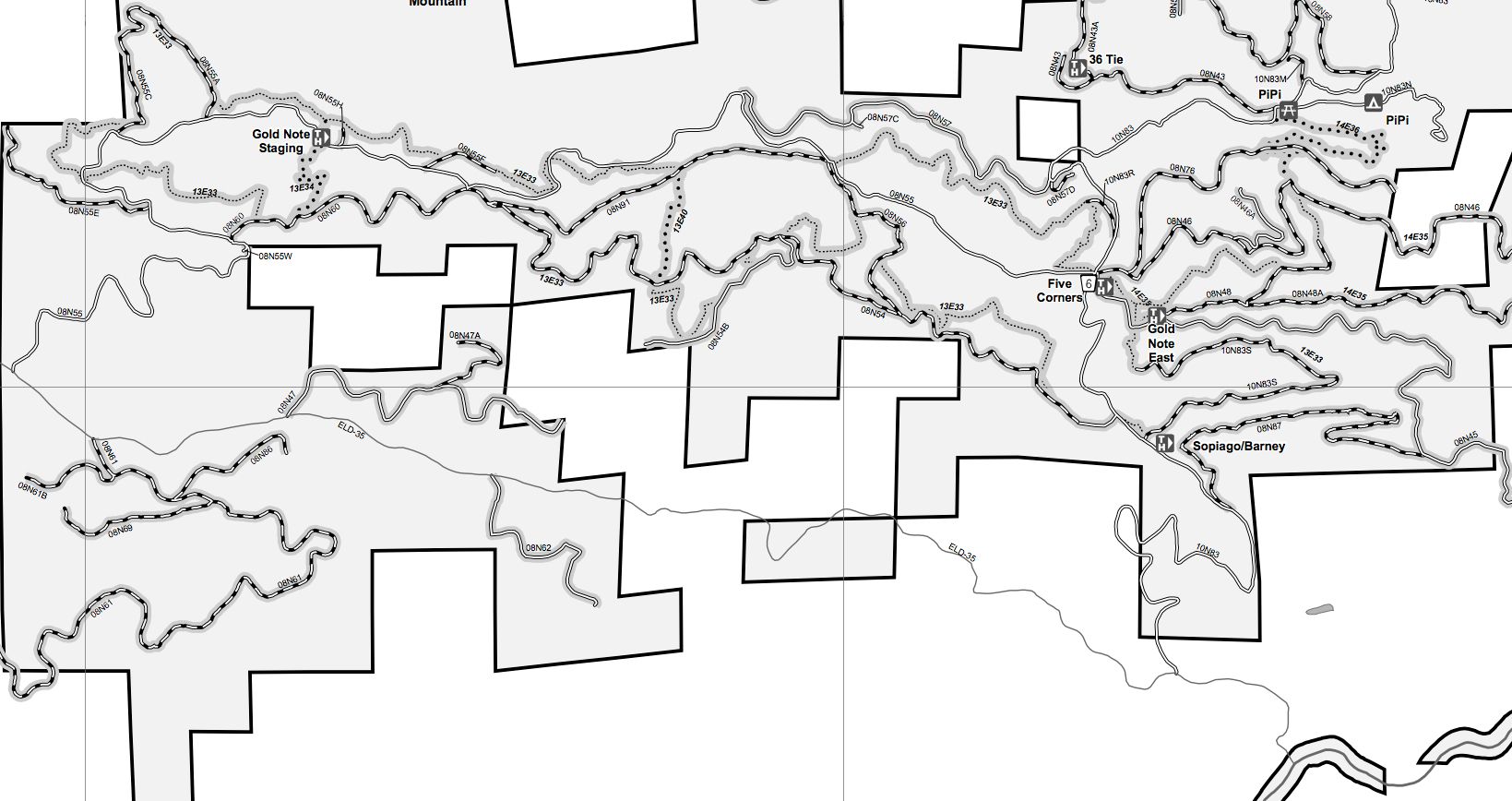 After leaving Pi Pi, we cruised through El Dorado County to check out the old neighborhood. Hello, wineries! Hello, meth labs!
We took the long way back to the campground, via Jackson for dinner. We got to camp after dark. The day's ride was about 200 miles.
Got up early the next morning and headed back to the bay area.
So, now that puts us at 1100 miles without so much as a get-off. That's pretty good, for us! This 200 miles was some of the best riding we've ever had (2up). Definitely the most technical. I can't believe we didn't eat it in the rocks - guess that extra 2" of clearance really makes a big difference. My ankles are still intact
! The 990S is just too fun. It's dangerous. There's a big crash in our future, and it's going to be ugly.
But, at least it won't be this year. I want to end on a high note, so that was our last 990 ride until next summer.
While the Squaw Ridge part (8N16,16E26, 17E24) might be a little scary for 2up, or for someone new to rocks, it would be great practice for someone who wants try out some Hancock Pass-type terrain right here in Nor Cal. Note that 16E26 also has a really steep, rocky decline. Really steep. I hurt my arm a little when I was trying to hold on.
But, the Forestdale Rd to Blue Lakes Rd loop is beautiful. A guy at the Safeway in Jackson told us that you can get onto Hwy 4 from that loop (hermit valley?), so we want to try that next time.
-------------------------------------------------------------------------------------
Okay, so that was our little ride in the Sierras.
As I mentioned, parts of it were still snowed in a couple weeks ago, but it's probably clear now. We have more miles on the bike now, not sure how many. Oh, and she's no longer a virgin - we dumped her ass in the rocks/mud/snow trying to do an incline that was too steep for scorpions. It sucked falling with a new bike, but we'd better get used to it
NOTE: the bike has a fresh set of knobs now. No more scorps!
We were trying to do a shakedown cruise for a bunch of new stuff - soft luggage, 2 into 1 tank, high fender, a real gps (delorme PN-60), Interphone bluetooth intercom thingies, etc...
Tomorrow morning, we're off on another ride: Oregon Back Country Discovery Route, part of the CDT, most of the TAT west, etc...
It's going to be a long one. With camping gear this time.
I'm nervous.
(no yard sale. no yard sale. no yard sale.)
But if we make it, I'm hoping do a RR
thanks for reading!
kelly
♥