This trip to TWO marks almost exactly 20 years since I first visited TWO back in October of 1990. On that trip I rode up from Pensacola, FL on my EX500. I fell in love with the place and the riding in the area. One of the things I have always loved about TWO was that if you spend any time here, you will meet fascinating people. Tonight turned out to be one of those days.
After the ride we hung out in the parking lot talking. There was a couple from Vancouver who where several months into a three year trip. They quit thier jobs, sold everything, and head off on their two 800gs's. They had been to Alaska, worked their way to Georgia and were headed for the tip of South America. What amazed my the most was their budget: $15 a day for gas, $10 a day for lodging, and $5 a day for gas - THAT's FOR BOTH OF THEM
They were taking it easy, and not riding over 55 so he said they were getting about 70MPG. Then they were camping or staying with people. $5 a day for food? I have no idea how they were managing that
I wish I had taken a pic of them.
Then there was the guy who they were staying with. He had his wee strom set up for some serious off roading so I took a pic while Paul was trying it on for size.
Note the front fender and skidplate. He had also raised the suspension front and rear. I believe he said the front forks were off a DR650.
Then Mimi came out to get some Pics for facebook so I took her pic for ADV
If you've spent any time at TWO, then you know Mimi.
Then I had a great conversation with a lady named Ester (sometimes I can remember names despite having CRS) I don't remember everything we talked about but I do remember that her husband was from San Diego. She introduced us and we talked about all the great stuff near San Diego such as Apple Pie in Julian, Dudley's bakery, Palomar Mountain, and more. I lived in San Diego from 86-89 and still miss it.
I did get Ester's pic, helmet hair and all.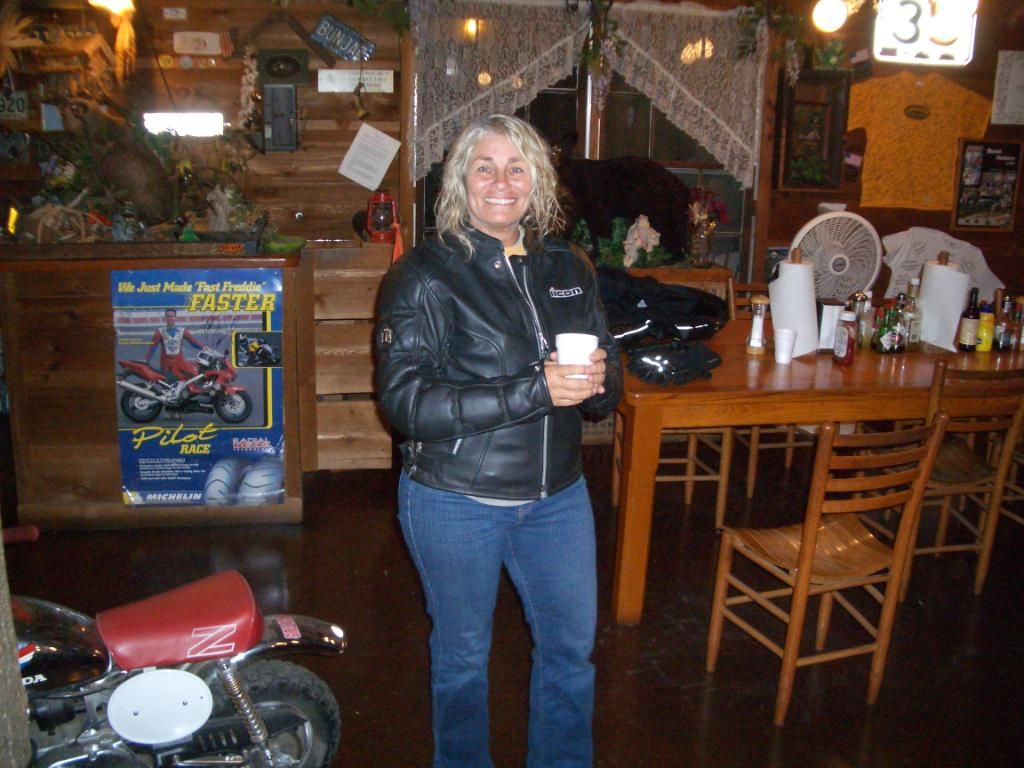 A pic of Dave with the TWO staff.
My plan was to get a shower and changed before dark and dinner but I couldn't get myself to break away from the fascinating conversations. I did have a great dinner again.
After dinner I hung out in the lodge. Flux Capacitor and his brother were there as well as a couple who I had met the previous night. I'm not sure what the couple's relationship was so I'll call them Boyfried (BF) and Girlfriend (GF). We were just sitting around BSing when out of the blue BF starts trying to get Mimi to belly dance. This did not sit well with GF who went upstairs to their room. BF knew he was in trouble
A little later I headed back to my tent to change and get a shower. Well past dark, I went back to the lodge and ran into BF on the porch.........with his riding gear on and carrying his saddlebags. He was NOT a happy dude and probably was in no condition to ride.
Not sure of the outcome of this story but I had a full day so I went and hit the sack.
It had been a great day (for me if not for BF) and there was still one more day to go