Wednesdays Ride
30th March 2011
Spencer, NSW, Australia
Yesterday's weather promised to be mostly sunny with 30 degrees for western Sydney, so with a song in my heart I rode the HD around to the Blaxland Maccas. On arrival I was greeted by Dave Evans and Big Al (BMW chook-chasers) and Eric with his HD. A few minutes later Franz arrived making three BMW chook-chasers. While trying to decide where we would go, Richard and Rod strolled in minus bikes. Richard had some other commitment for the day (no doubt something to do with the 37 committees he sits on) while Rod was awaiting a new ignition coil for his Sprint.
Five of us headed off with Eric in the lead, down the highway then through Emu Plains to Penrith where we had a dream run with the traffic lights. Then across to Windsor and along Wisemans Ferry Road, turning off to make our way to Berowra Waters for smoko. By this time it had warmed up considerably and was becoming a perfect day, despite the noisy miner which was threatening to defecate on Dave's bike.
After spending some time admiring a wedge-tailed eagle circling above, we decided to press on. Franz was returning home so there were now just four of us. We crossed on the ferry to Berowra then up the hill to the Old Pacific Highway. We followed this always great road past the "Pie In The Sky" and the "Road Warriors" Café, turning off just before Gosford and heading west. Then on through Lower Mangrove, Upper Mangrove, Central Mangrove, Mangrove Heights, Mangrove Vale, Middle Mangrove and Mangrove Mountain (we bypassed Mangrove Hill) to Spencer (hub of the universe) where we stopped for lunch by the water (and mangroves).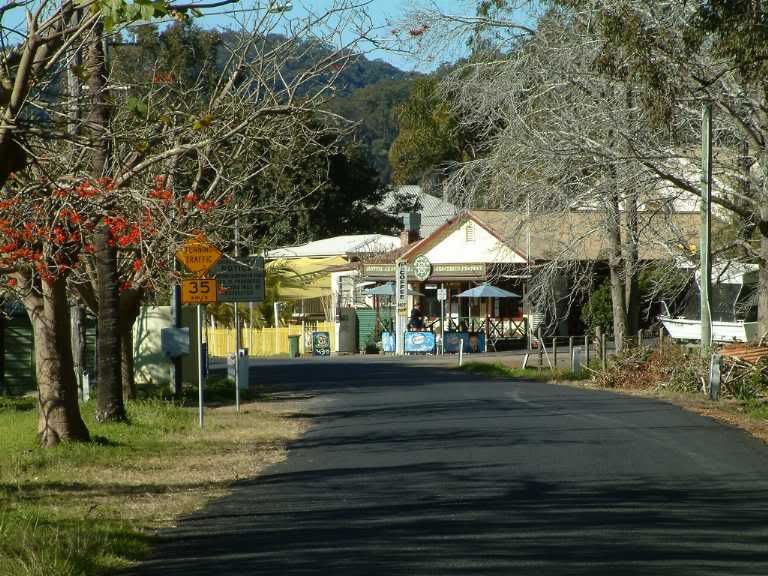 After a relaxing sandwich or two we pushed on towards Wisemans Ferry. While waiting for the ferry to arrive at the crossing we noticed a few black clouds putting in an appearance. We decided to pretend they didn't exist. So then it was over on the ferry and into the park at Wisemans for afternoon smoko.
While relaxing in the park Al wandered over to the kiosk, returning with an armload of free tourist maps. These he shared around with us, even though we refused to pay him for them.
By this time the sky was looking very threatening, but I wasn't concerned. After all, I had consulted
www.bom.gov.au
that morning and they had assured me that it would be fine all day. So off we set, up the hill and heading towards Windsor. By Maroota there was lightning flashing and the wind was gusting, sending branches flying across the road. Dave and Al had pulled up to put on their wet weather gear, but as I hadn't brought any, I just kept going. Next thing that happens, Eric passes me in retreat. Puzzled, I carried on. Within minutes I was in a deluge. It bucketed down but by the time I reached Pitt Town I could see I was nearly through it. Sure enough by McGraths Hill it had cleared and the sun was shining. Mind you I was still soaked. I made my way through Windsor across to Richmond and Agnes Banks, then up to the Hawkesbury Lookout where I pulled for a breather. Most of me was now dry from the knees up, but I could feel the water sloshing in my boots. The bike was a mess. I gave Eric a call on his mobile, to learn that he had sat out the storm in a bus shelter at Maroota where he was waiting for the road to dry off. Ah the joys of motorcycling.
I got home to Blaxland about 4.30pm having ridden 290km. Even with the storm, it had been a great day. Now all I have to do is clean the bike again.
Regards Peter M
Thanks to
www.maps.google.com.au
and
www.hawkesburyriver.com
for the map and photo
Regards Franz (BMBEN)