Wednesday 14th December 2011
The Three Dams
Well here it was Wednesday morning and the sun was shining. Made a pleasant change. I had had an operation for skin cancer a few days earlier and my face was still pretty sore and looked a mess but I could still put on a helmet, so I was definitely going for the ride. Firstly I wanted to try out my new snazzy Italian helmet, and second, but more importantly I wanted to show off the flashy new chrome handgrips that I had acquired. So around to Maccas I rode to find a heap of other riders. The sunshine had really brought them out. Jeff was here in his role as Spyderman again with lots of new chrome and the bright orange bra. (On the Spyder of course, his own one is probably pale blue.) By the time it was 9.00am there were seventeen bikes and riders! My facial appearance brought on a number of concerned enquiries. I tried the line about the twenty five Seagulls holding me back while one snuck in a lucky punch and got the peanut butter sandwich, but they weren't buying that one. I had to tell the truth.
Fortunately Noel was here today and he was going to lead us on a ride to Warragamba, Nepean and Avon Dams. We set off along the highway and down Lapstone Hill to Penrith where Gary B left us. (He'd only been putting in a cameo appearance.) Then along Mulgoa Road, through Wallacia and Silverdale to The Oaks, where we turned onto Burragorang Road. (I should mention here that Eric had gotten hold of a penguin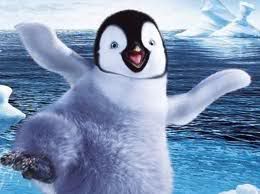 and had mounted it on the back of his bike. I had been riding behind him and the little critter had actually been waving at me the whole time.) From there it was out to the Burragorang Lookout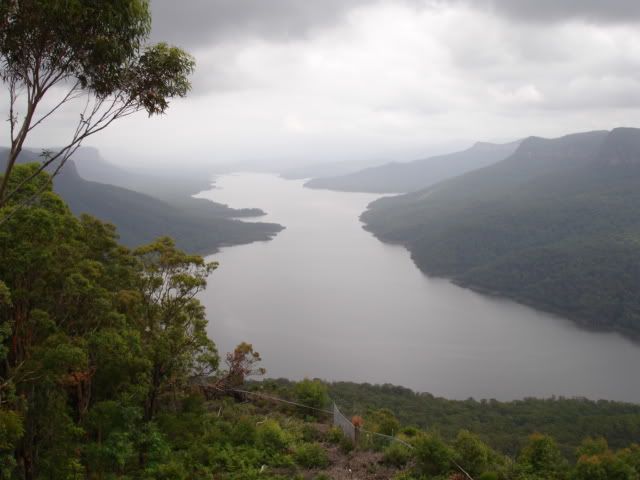 which overlooks Warragamba Dam catchment area
where we made a stop for morning tea. The ride so far had been very pleasant though definitely not summery.
The water level in the dam was a little over eighty percent, so this was the fullest we had seen it for a very long time. Mind you, with all the wet weather we seem to be getting these days, it'll probably soon be overflowing.
Leaving the lookout we rode back to Oakdale, then turned onto Barkers Lodge Road. We followed this to the turnoff which took us to Thirlmere and then down to Couridjah (hooray, back again at last). From here it was across the Bargo River Road to Bargo where we turned off over the railway bridge and rode out to Nepean Dam.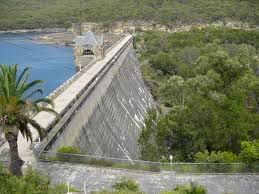 It was still quite early, so before we stopped for lunch we rode down for a walk across the dam wall. After what we considered was enough exercise for the time being, we rode back up to the shelter shed for lunch.
I was really looking forward to the tuna Mornay which I had so carefully prepared, but when I opened my lunchbox, I found that I had mistakenly packed peanut butter sandwiches. Oh well, I guess they would just have to do. When we'd finished eating I tried once again to get people to admire my new hand grips, but to no avail. All they could do was rabbit on about my helmet. Meanwhile, Eric kept himself amused by constantly taking photos of my re-arranged face.
After lunch Ian, Pete and Joe all had to head back while the rest of us rode on to Avon Dam. This is a really enjoyable little stretch as it winds down the mountain and across the river then climbs up the other side. We rode on past the picnic area and down to the wall of the dam for our next round of exercise. This time we didn't walk all the way across, we figured half-way was quite sufficient. Then we spotted a large water dragon on the bank just above the water line. This was fairly surprising, considering how cool the weather was. I guess he had come out when the sun was shining a bit earlier.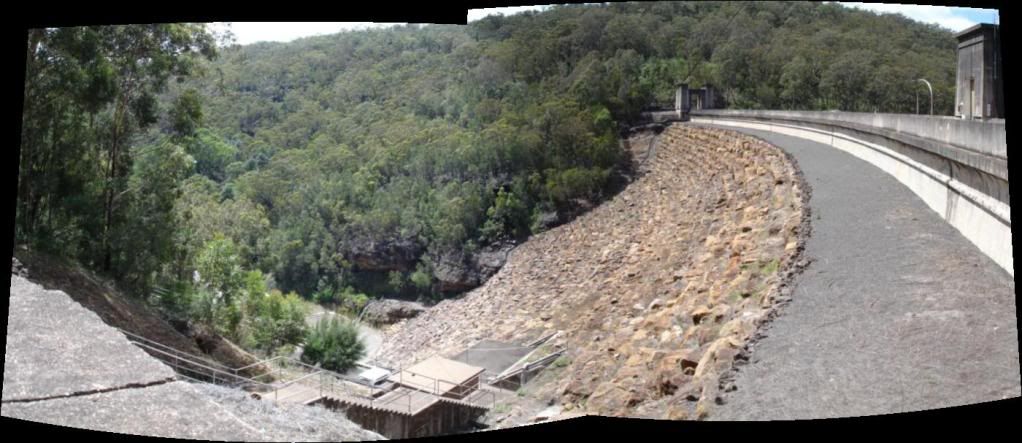 Time to leave and we rode back to Bargo and then to Tahmoor where we turned at the roundabout, then on to Thirlmere for afternoon tea. Where did we stop? I hear you ask. Well, the park on the corner of course! Rod made a beeline to the cake shop in order to satisfy his craving for apple turnover, while Dave C produced a couple of packets of mince pies for the rest of us. Apparently it's an English thing. I'd never had one before and after eating one my fingers felt like they were covered in glue. I guess you just have to be a Pom.
All good things must come to an end (though I don't know why) and after the obligatory ten minutes of hand-shaking we set off back towards The Oaks. At Wallacia the mountain men and the plainsmen parted company and after re-fuelling, along with Guy and Bill at Blaxland, I arrived home about 4.30pm with about 230km on the clock.
Another good day's riding with good company. Thanks to Noel for leading the ride .
Peter M