Whew. I just got home from a nice test ride on my bike and was putting it away in the garage. I was trying to move the bike (Honda 919) over a few feet to make some room in the garage. I would roll it forward a few feet, turn the bars, then back a few feet. The only problem was, during this process, I didn't notice that the kickstand accidentally went up. As I leaned the bike gently over to put it on the stand, it fell over, I fell off (headfirst into the air compressor) and we both slammed into the ground. Thank fully we had full protection:
For the bike: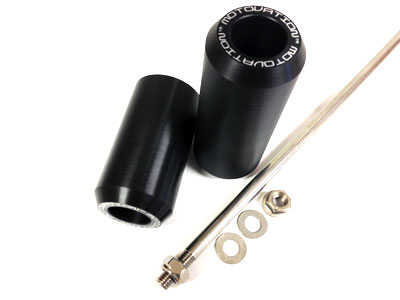 For me:
Both pieces of gear served me well, and possibly paid for themselves tonight. Since there is no fairing on a 919, a little tipover in the garage can smash a gas tank and be big bucks. Thankfully, the only damage was a little scuff on the frame sliders and and bags, plus a little bruise on my ego. Could have been worse.
__________________
2013 Triumph Tiger 800 XC, 2009 Suzuki DR650 SUPERMOTO (
FOR SALE / WTT for Tiger 800 Parts
), 1972 Honda CB450 (In pieces), 2007 Honda 919 (SOLD), 2008 Triumph Speed Triple (SOLD), 2008 KTM 690 SMC (SOLD), 2006 BMW F650GS Dakar (SOLD)
Register to be an organ donor at
www.DonateLife.net
. It only takes about 3 minutes!