Thank you for the report and the pictures.
Quote:
Originally Posted by
Salsa
Great story. It has to be true. You can't make up one like this !!!!!!!!!!!

Don
Almost 99%
Regrding the BikeShow:
Quote:
Originally Posted by
Wild Rus
... "Everybody treated the fest seriously, except the staff." Instead of bikers fest it was a luxurious show for local fellows. Still, a fine show. It took place on the board of the battleship "Kutuzov", which was harbored in the port.
... Lights, fires, bad-managed sound, fireworks, Ariya, which played 3 songs – all that mashed up in some kind of lame action with no plot whatsoever. Not to mention thousands of people, full lack of free space and water to buy and cops, which led the crowd through the entrance with a metal detector one person at a time... naturally, it caused horrible lines.
The staff did a huge work in term of preparation
, they are used to do the show since years at the same place "Sevastopol" but Novorossiysk it was the first time and they have to start from zero...
The place reserved for the tents at Malaya Zemliya was equipped with showers&toilets but unfortunately with the heavy wind nobody was able to install their tents...
The access at the show was free, yes free, with a plublic above 100000, you can avoid the security control...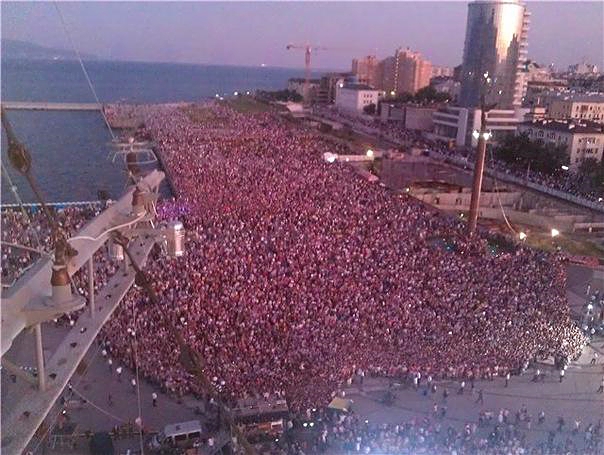 The video of the show: