50 years ago Keith Thye and his friend Dave Yaden dropped out of college and rode BMW motorcycles to Pucon Chile, the sister city of their home town, Lake Oswego Oregon. Their epic journey was chronicled in the book
MotoRaid
published in 2000.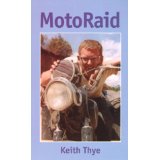 Tomorrow Deby and I will be joining Keith and Dave as they reenact their journey through Central and South America, this time on modern motorcycles, on better roads and without camping in a canvas tent.
In honor of their visit in 1963, the residents of Pucon Chile gave Keith and Dave a hand carved wooden plaque. I took a picture of the plaque that hung on Keith's office wall for nearly half a century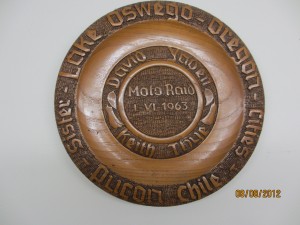 In commemoration of the trip I created stickers based on the original design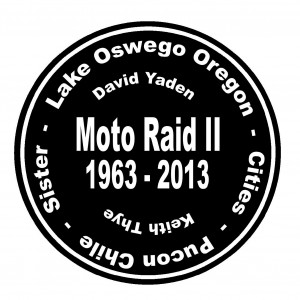 Joining us will be veteran motorcycle*travelers Michael and Jim for a total of 6 riders. We are meeting January 10, 2013 at the BMW dealer in*San Diego California for our launch.
The route is through Baja to LaPaz where we will take the ferry to Mazatlan and ride through Mexico along the Pacific Coast. From Mexico we will be exploring Central America working our way to Panama where we will need to make arrangements to ship our bikes to Columbia to get around the
Darien Gap
.
From Columbia we will ride south through*Ecuador, Peru, Bolivia and into Chile where we will revisit Pucon, the sister city of Lake Oswego. From Pucon we will ride east through Argentina to Buenos Aries where we will somehow arrange for the bikes, and us, to be shipped home.
Click
HERE
for an overview map of our route.
There is more of the back story and the trip so-far on my blog link below, follow along on my SpotWalla link.
Donn and Deby