+ 1!
Special thanks to FAW3 for setting up the ride, and for local guides Mike and Ryan.
Michaux State Forest is HUGE; and, as mentioned, has TONS of well-maintained dirt and gravel roads, like the one shown here as Team KLR launches into the forest: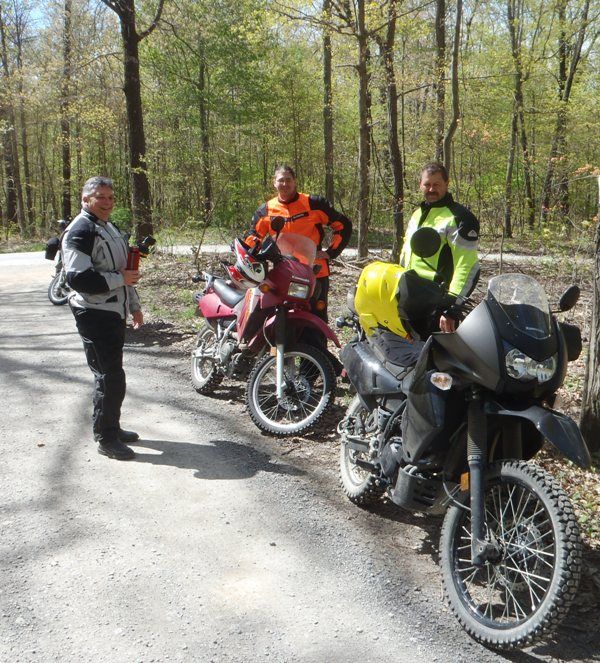 Lunch break at a reservoir (From left, Ryan, Frank, Mike):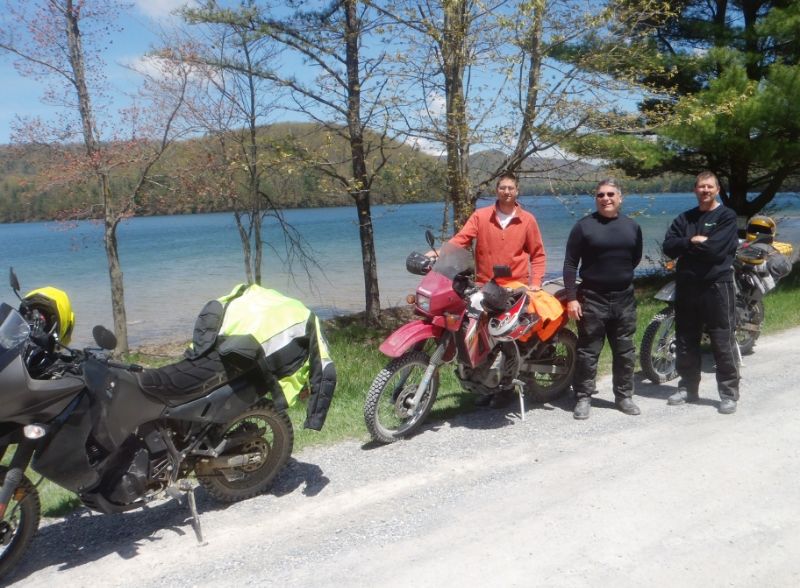 Frank at the Pennsylvania Memorial on Gettysburg National Battlefield; Union soldier re-enactors' campsite in background: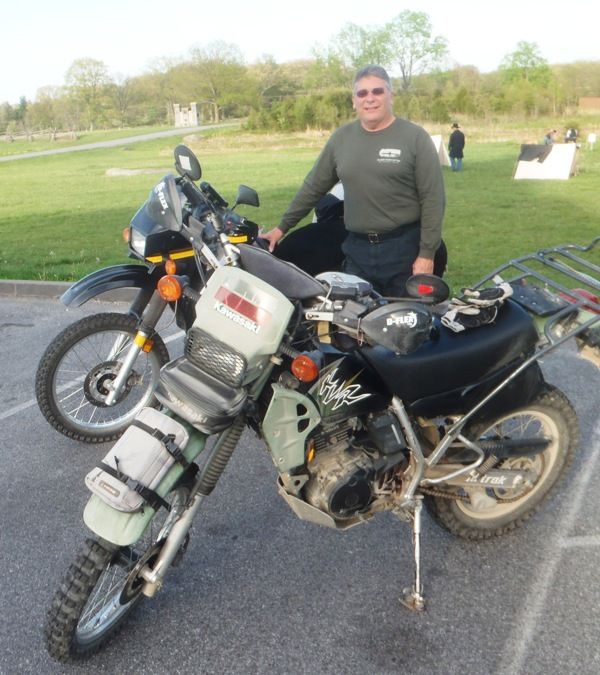 Frank stands 1600 feet away from the high water mark of the Confederacy, the limits of Pickett's Charge.
Delightful weather, gorgeous scenery, excellent trails, and . . . splendid accommodations at Artillery Ridge Campground.
Oh, grateful for the opportunity to report personally on a minor incident: Returning, heading south on Route 15 at speed limit past Oatlands, a deer decided to become intimately acquainted with my KLR250.
While I'll need to replace an item or two of clothing, I'm unhurt, not even road rash (thanks to ATGATT). The bike will need a replacement part or two, but was rideable home.
I'd caution, "Mind the deer!" but, all witnesses (including myself) agree; nothing I could have done would have prevented the collision. Hate to send an animal off like that, but . . . one less excess deer from the Loudoun County herd.
An early concern, "What will I tell my wife (she's concerned about my safety, motorcycling)?"
Since we had spent the night among the horses of the equine set frequenting Artillery Ridge, Frank suggested: "Tell her a HORSE ate your jacket!"
Honesty prevailed, and--I look forward to returning to Michaux.
---------------
Must add, wish I could thank personally the "good Samaritans" who stopped to give aid and assistance, as well as the Loudoun County Sheriff's Department and Fire & Rescue first-responders; highly proficient and professional in their support.