Looks pretty good! SaraLous gives some good tips too.
Tools:
I'd ditch a few tools, though I agree that 3 tire spoons is a must, I've had a LOT of punctures!
I'd ditch the CO2 and compressor (on a long trip at least) and take a more reliable (though harder work) bicycle pump.
Perhaps Add:
-rim-tapes (if necessary).
- a valve core remover (metal).
- If your bike doesn't have a side stand you might want to take a second stand, I use a metal thingy - that's on my website page (sorry for the plug I hate to spam)....
http://www.talesfromthesaddle.com/about/gear.shtml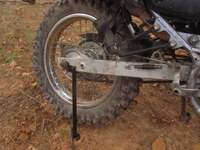 - Electrical tester, has saved my bacon.
You have spark plug listed, but I can't see the plug socket!
Do you have anything bigger than 13mm, except the grips? I don't have grips but instead an adjustable. I also carry a 14mm, 17mm and 24mm as these are for my wheels (rear wheel adjustment) and oil plug.
If it's a long trip you might want to add:
feeler gauges to check the valves, check spark plug gap (just the gauges you need).
A folding funnel for oil changes.
A small carb jet for altitude (maybe).
Clothing is very personal take solid waterproofing (over the motorcycle suit, inside waterproof liners aren't very good).
Fleeces pack pretty big, I personally use a Rab Generator pull on, packs small is windproof and works well inside riding jacket too, and is warmer.
Camping:
Make sure you're sleeping pad is a super comfy 3" Exped mat, pack small, is warm and a lot mor ecomfortable than Thermarest types.
I'd ditch the bear bag, shovel and flashlight. Use A bag, a rock and your headtorch (for this consider a charger and rechargeable AAAs or whatver).
Cooking:
Add:
- a coffee "sock" or filter (MSR make a nice one)....especially if you are hitting up Colombia!
- a well-sealed and small bottle for cooking oil.
- a water filter (if you like camping). Some are cheap, steripens are garbage and the king is the Katadyn Pocket filter.
Ditch:
-No bowls (to eat from), you have a pot.
- I'd do away with the matches and lighter and take a firelighter (flint thingy)....that's just personal choice, I still have mine after 5 years of very regular use.
Spares/Fluids:
Add:
I carry superglue, liquid gasket and a very much used PVC glue. Also a repair kit for the stove and for the matress. (sadly all used!).
I also carry levers (brake, clutch in case of a break in a fall),
-gear shifter (likewise),
-clutch and throttle cables.
- spare chain quick links.
Ditch:
Engine Oil, you'll find that nearer the time.
The rain cover.
I'd recommend taking a kindle ebook. Good for rainy days in the tent....or ten rainy days.
And a compass.
But ditch the (Un)lonely planet guidebooks, good paper maps instead (but you have them listed).