2000 miles, 6 days, 5 states, 3 national parks, 2 on a BMW R1150GS
I had another trip planned with the guys to Montana and Wyoming, but it was cancelled a few weeks before it was scheduled, due to life happening for the others. I had already taken vacation and figured I might as well still do something. The wife had never been to Glacier or Yellowstone National Parks, so I asked if she could get some last minute time off from work. She was able to get a six-day stretch off, so I planned a quick trip.
We had 9/26 through 10/1 for our trip. I do not normally like to ride Interstate highways, but this trip was all about making time. Here is what we ended up riding:
http://goo.gl/maps/bgwXH
Prior to the departure date, I watched the weather forecasts for the area. It looked like the first few days would be a bit wet, but then it was supposed to dry out. Boy did that turn out to be wrong.
Day 1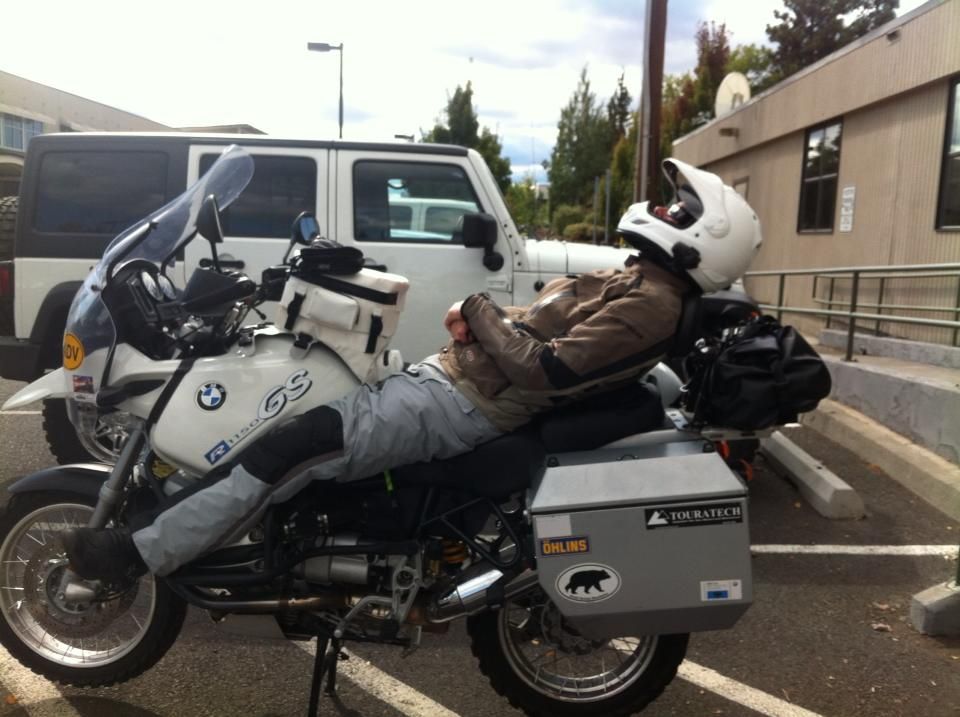 Thursday, our departure day, came, and as usual, we got a late start. We did not get out of Bend until around noon. The trip to Spokane was relatively uneventful, though the weather was cool with a few spots of rain. We got into Spokane after dark and found a motel by the airport. This leg was about 380 miles. Pizza delivery to the motel room and we were out for the night.
Day 2
I wanted to go by the BMW dealer in Spokane (I had hoped to do that when we got to Spokane), so we made a quick ride to Westside Motorsports (WM). I thought about buying some heated gear before we left, but none of the local shops had any in stock. We looked at the new BMWs (no R1200GS!) and found they had both Firstgear (Warm & Safe) and Gerbings heated gear in stock.
We ended up buying Firstgear heated jackets and a dual controller, along with a few other small odds and ends. I had an SAE connector already on the bike for heated gear, but they did not have the right cable in stock. They did have an SAE pigtail, and they gave me two butt connectors and loaned me a set of crimpers and some tape. Problem solved! The folks at WM were great!
Of course, our stop at WM put us on the road late again, but the heated jackets were going to prove a very valuable purchase. Not long out of Spokane it started to rain. It rained off and on (mostly on) all the way to our destination that night, Lake McDonald Lodge in Glacier National Park. The temperatures were in the 40's, but I did not have a thermometer on the bike, so I did not know for sure.
And the rain begins!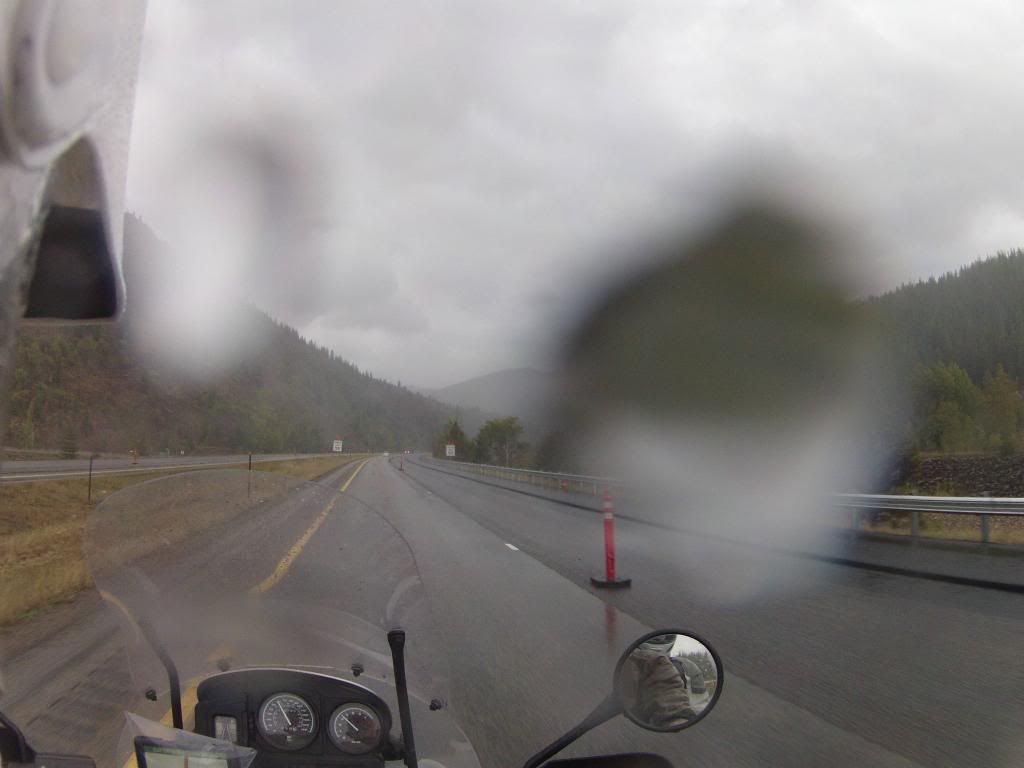 Lookout Pass
Getting off of I-90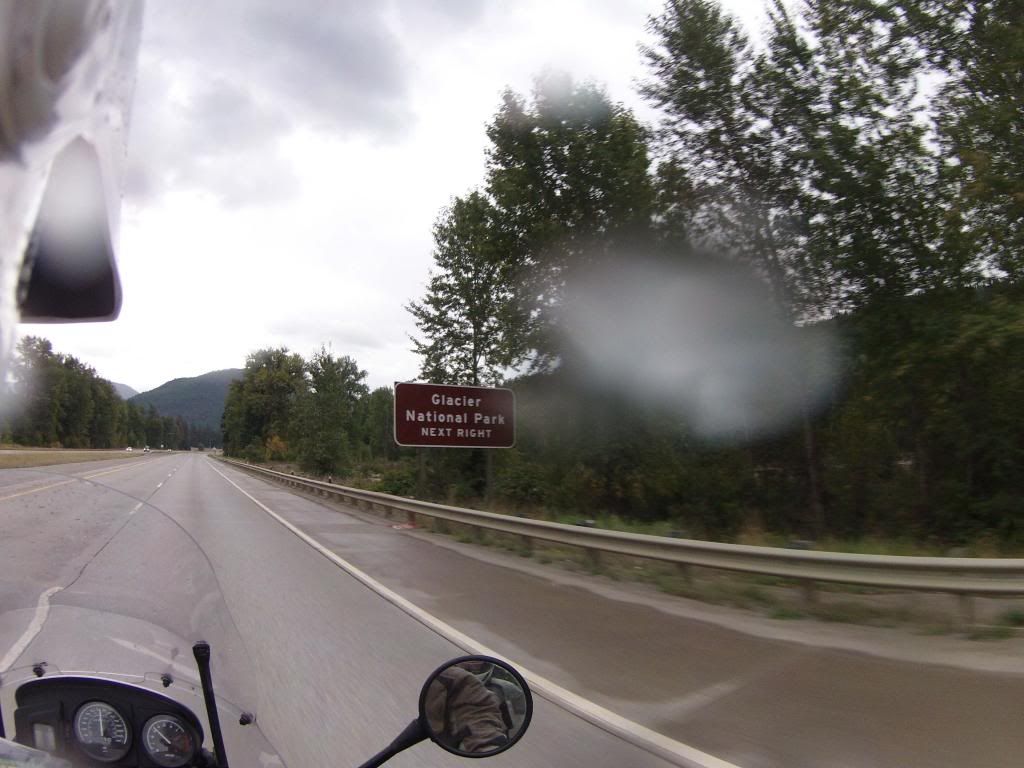 Somewhere north of I-90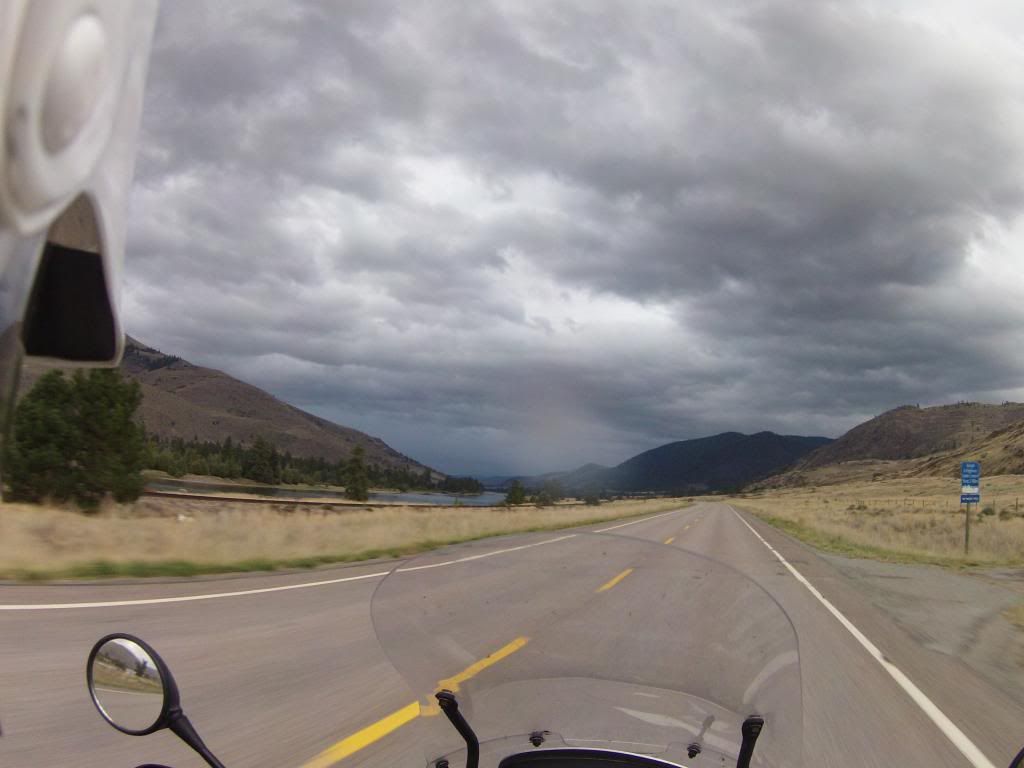 Flathead Lake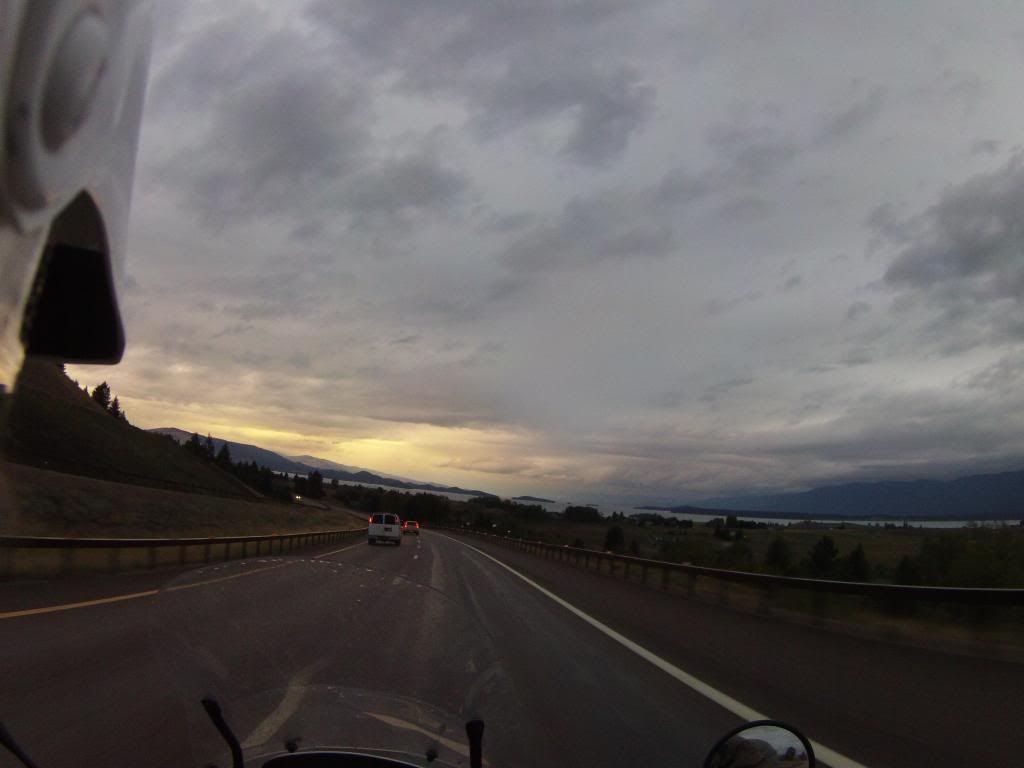 The only reservation I made for the trip was the stay at Lake McDonald Lodge, so we had no choice but to press on in the dark as we went around the west side of Flathead Lake. We made it to the lodge around 9:15pm. I had called from Kalispell and confirmed we could get dinner in the lounge at the lodge until 10:00pm, so we quickly checked in and went to the lounge for food and drinks.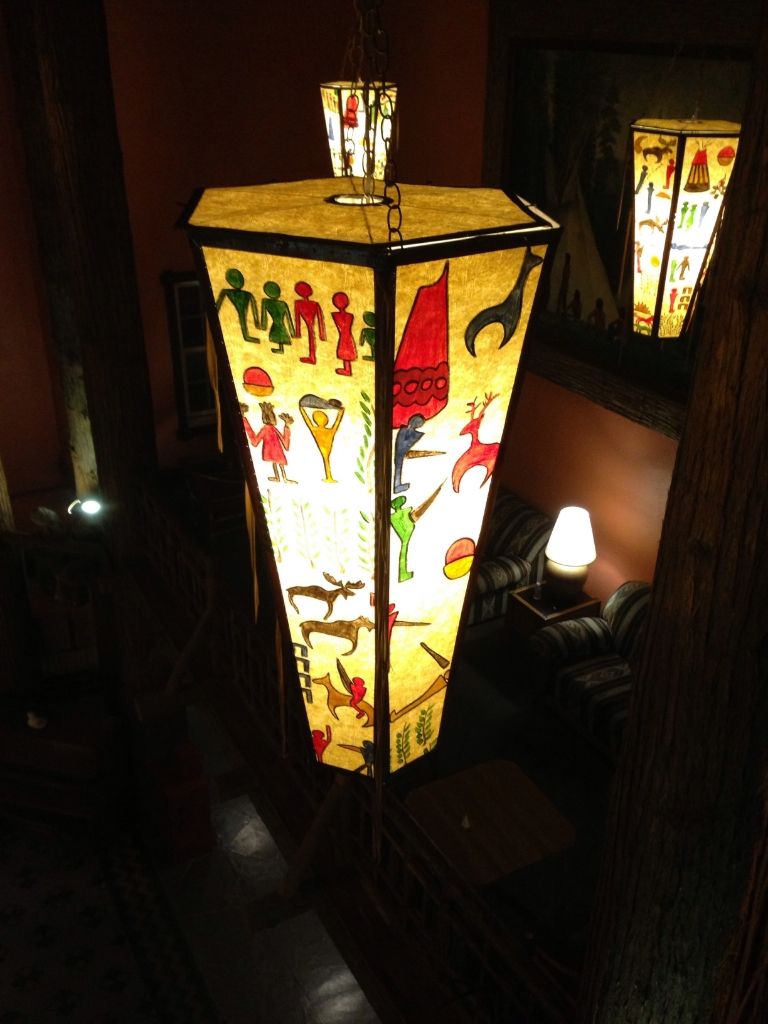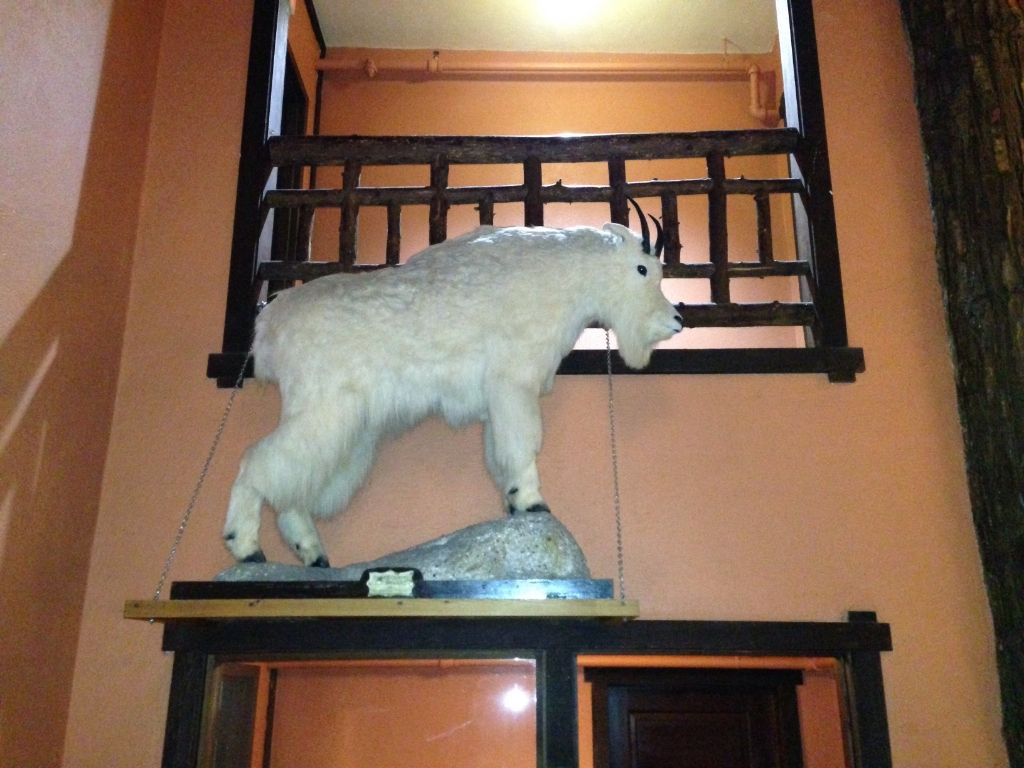 Day 3
Saturday we had breakfast in the lodge, and then spent about 30 minutes looking around the lodge and grounds. I had been to Glacier before, but had not stopped in the lodge. It is very impressive! It will be 100 years old next year. It is built with lots of large Douglas fir trees and has a massive stone fireplace in the central area of the lodge. There is also an impressive display of mounted local animals, including full mounts of mountain goats and a number of different raptors, along with head mounts of deer, elk, bighorn sheep, and others.
Lake McDonald Lodge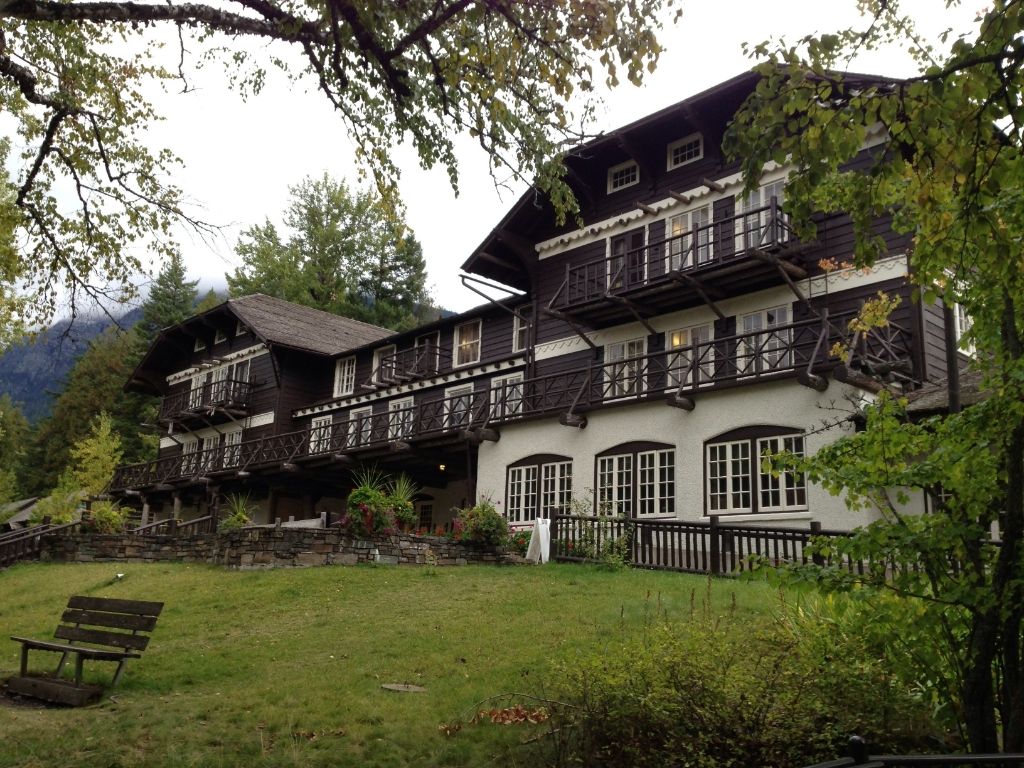 One of the famous red tour bus and the road side of the lodge
Lake McDonald looking east toward Logan Pass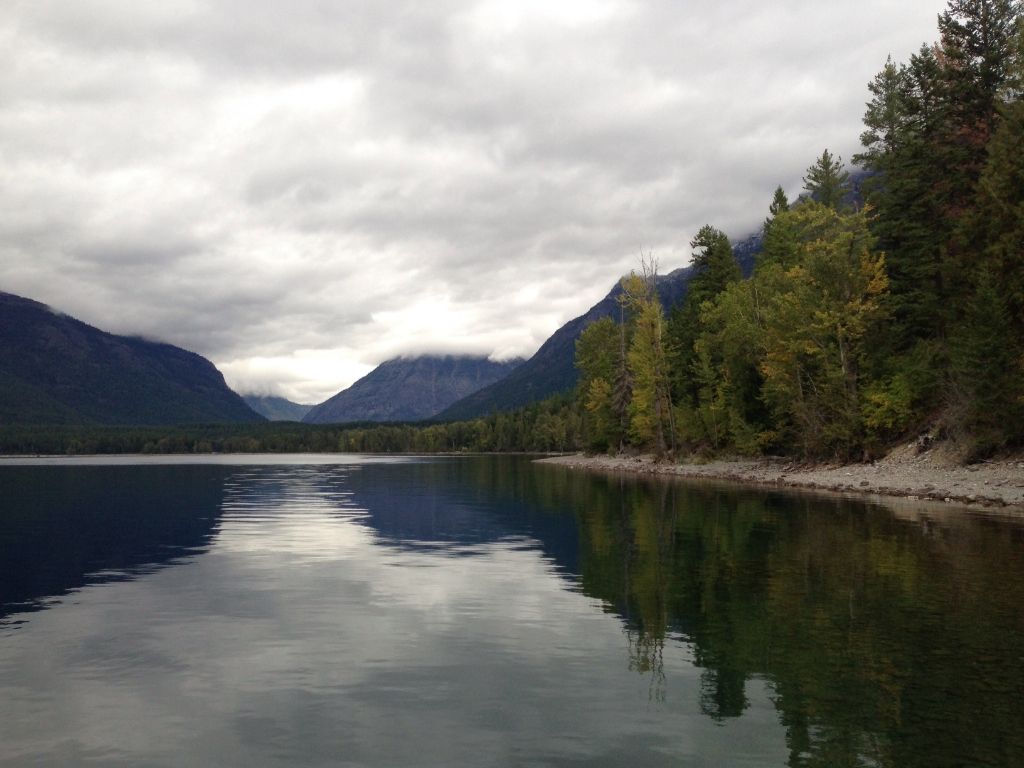 After looking around, we hit the road again, headed for Helena. I had wanted to take the Going to the Sun Road east over Logan Pass, but it was closed on the east side of the pass for maintenance. The pass was clouded in, so it was pointless to go up there, just to come back here. So we hit the road back to West Glacier, then south along Hwy 83.
We stopped for lunch in Ovando, MT at the Stray Bullet. I had originally planned to meet a friend that lives there, but he had not returned home from Seattle yet. We hit the road after lunch and got into Helena around 4:00pm. The weather was good and mostly dry. We decided to press on to Bozeman so we would have a shorter day the next day. Again, that proved to be a good choice, other than the stretch of I-90 between Three Rivers and Bozeman where we were hammered by crosswinds gusting over 40 MPH.
After a brutal five miles, we got into Bozeman. We stayed at the Royal 7 Budget Inn after checking Yelp for a place to stay. It was inexpensive, clean and spacious, and walking distance to downtown. I like to stay in older, independent motels, whenever possible. I especially like motels where I can park right outside the room door. I checked Yelp again for a place to eat and we settled on Fresco Café, just a few blocks from the motel. Fresco Café was fantastic! It was a small intimate Italian café and the food was amazing!
Day 4
Sunday started with a quick motel breakfast and back on the road. The wind was still blowing hard from the south. I-90 from Bozeman to Livingston was brutal again with 40+ MPH crosswinds.
We got to Livingston and I-90 was closed to trucks, campers, etc. due to the strong winds. We turned south on Hwy 89 toward Gardiner and the north entrance to Yellowstone.
Yellowstone River
The wind continued to howl, with lots of gusts, but at least it was not raining. We got to Gardiner and had a quick lunch. While we were eating, the rain started. We entered the park in a downpour. We stopped at Mammoth Hot Springs for some sightseeing, then headed south through the park. Traffic was not too heavy, but there was still a fair amount. The speed limit in most places in the park is only 45 MPH, but we were lucky to be able to go that fast on only a few occasions.
North Entrance
Mammoth Hot Springs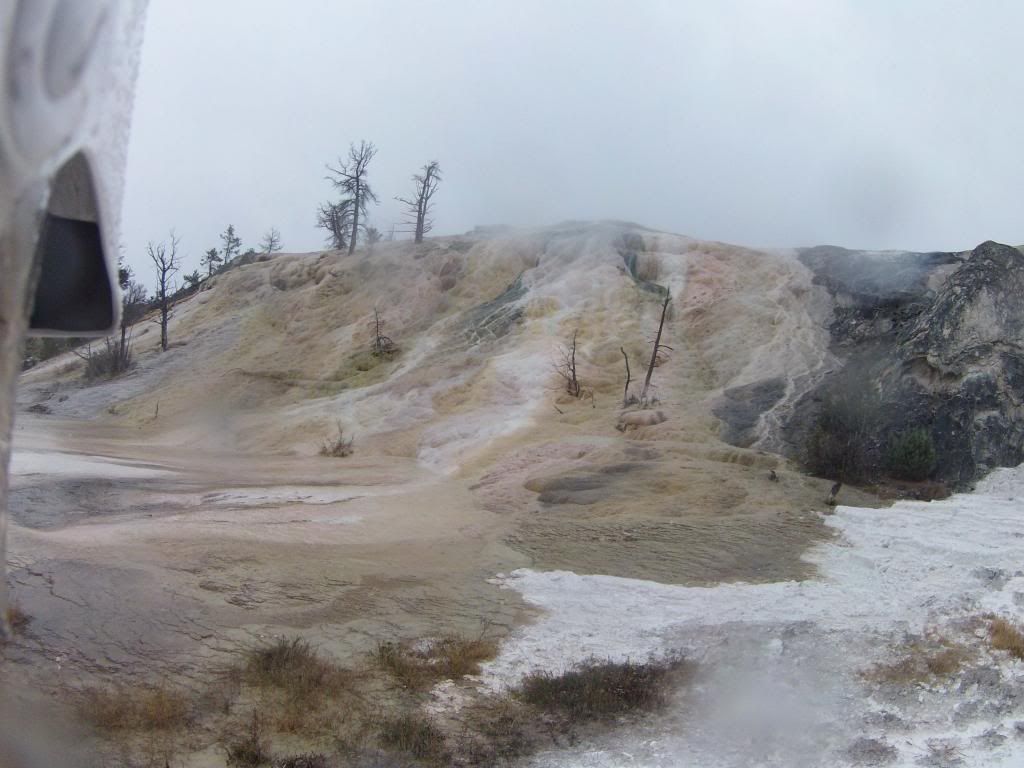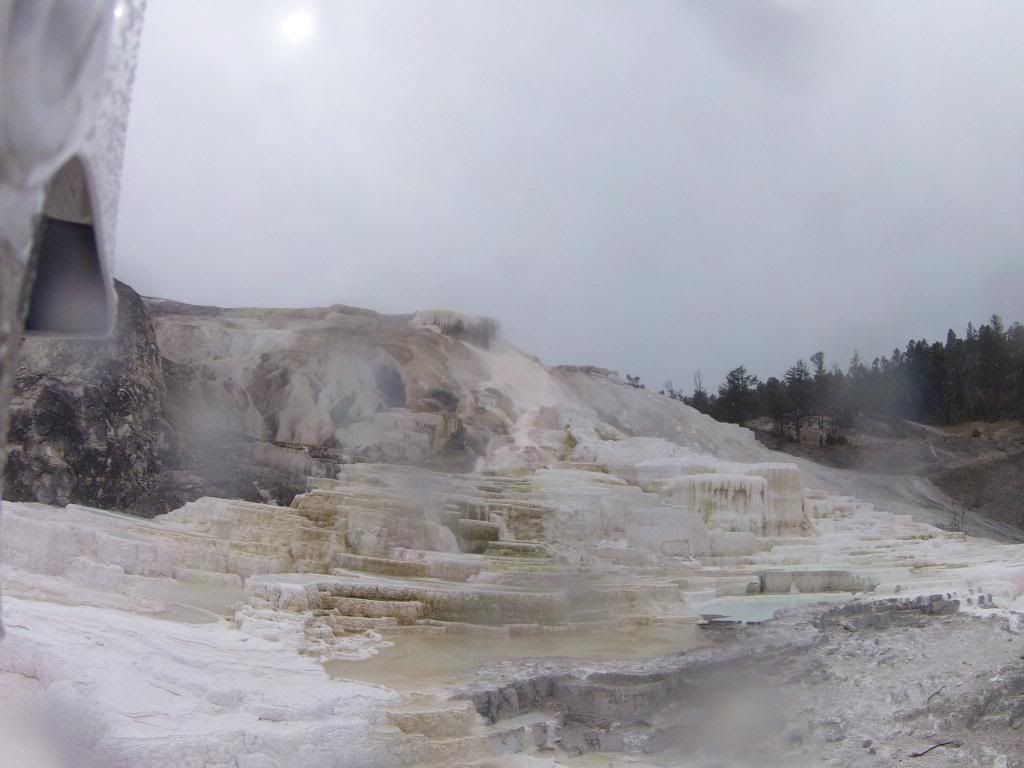 It continued to pour down as we went thought the park. We ran into a traffic jam as people stopped to look at a Grizzly bear that was stretched out on a warm sand bar next to a hot spring. There really was not a good place to stop for photos, and I did not have my helmet camera on, so we did not get any photos. My jacket started to leak somewhere near the left shoulder. We continued on south through the park in the pouring rain.
We continued on south through the park in the pouring rain. We stopped at Old Faithful. As luck would have it, it was predicted to erupt at any time. There were probably 400+ people there waiting, too. Old Faithful finally did it's thing, which wasn't really that impressive. A smaller geyser that was a few hundred yards away was much more impressive.
We hit the Old Faithful Lodge for a warm up coffee. The lodge is also very impressive and similar in style to the Lake McDonald Lodge. After a warm up, we hit the road again. We hit several passes over 8000', with the highest at over 8500'. The rain continued, but the winds were down to 15-20 MPH gusts.
We finally hit the south entrance, and continued on through Grand Tetons National Park. The rain and wind continued. Shortly after we exited Grand Teton, the rain and wind mostly stopped.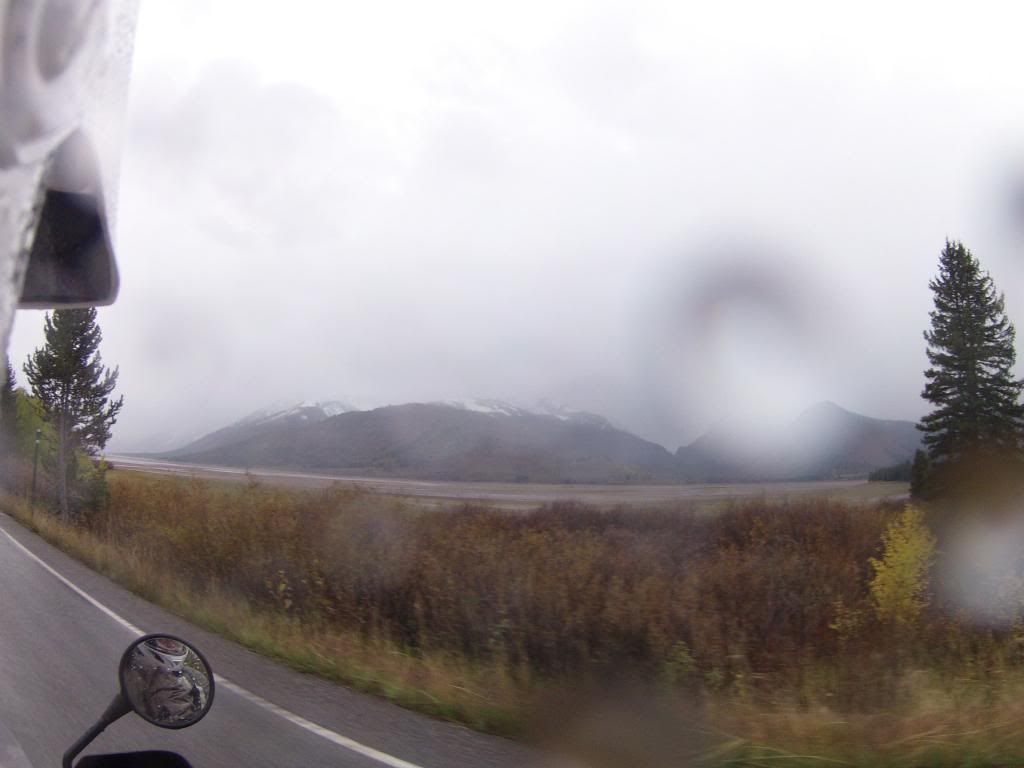 A few miles south of Grand Teton, we came upon another traffic jam. Cars were stopped for a herd of Bison on both sides of the highway. People were out of their cars taking pictures, with some as close as 15'.
We made it into Jackson, WY and found a room at The Lexington. The staff was great and we scored a great deal on a really nice room. Dinner at Local Restaurant & Bar (yes, that is really the name). We had another great meal and I highly recommend it!
Day 5
After another hotel breakfast, we hit the road, headed for Boise, ID. We had light rain for a bit, and the winds continued. There was very nice scenery leaving Jackson, with the trees starting to turn color.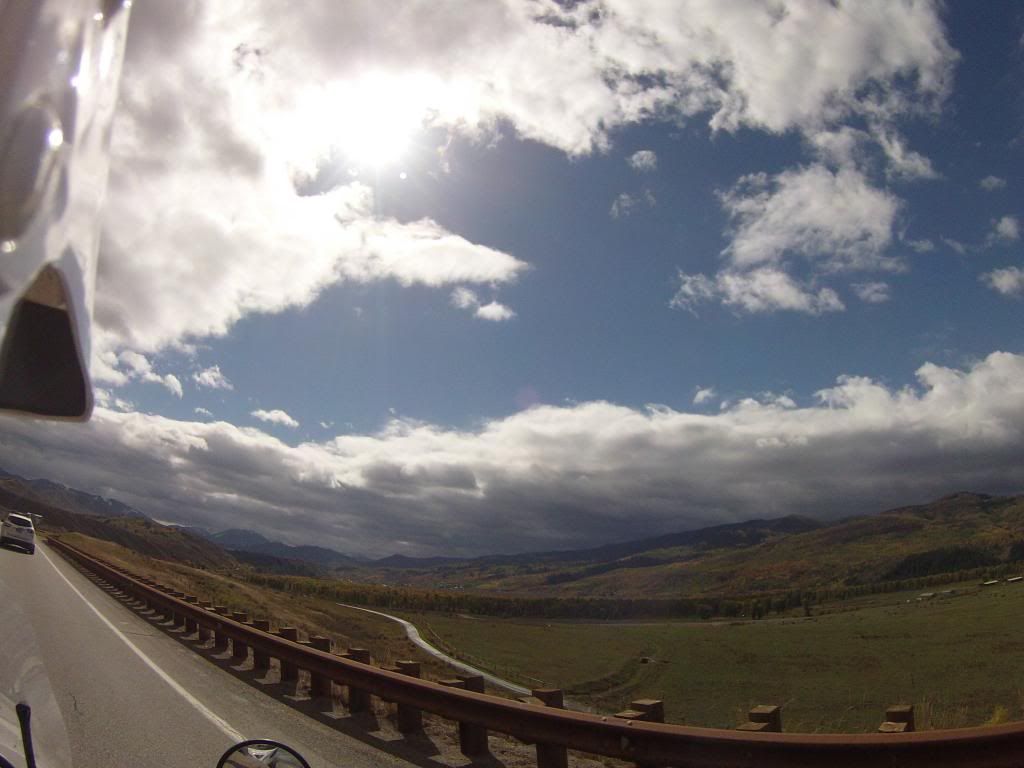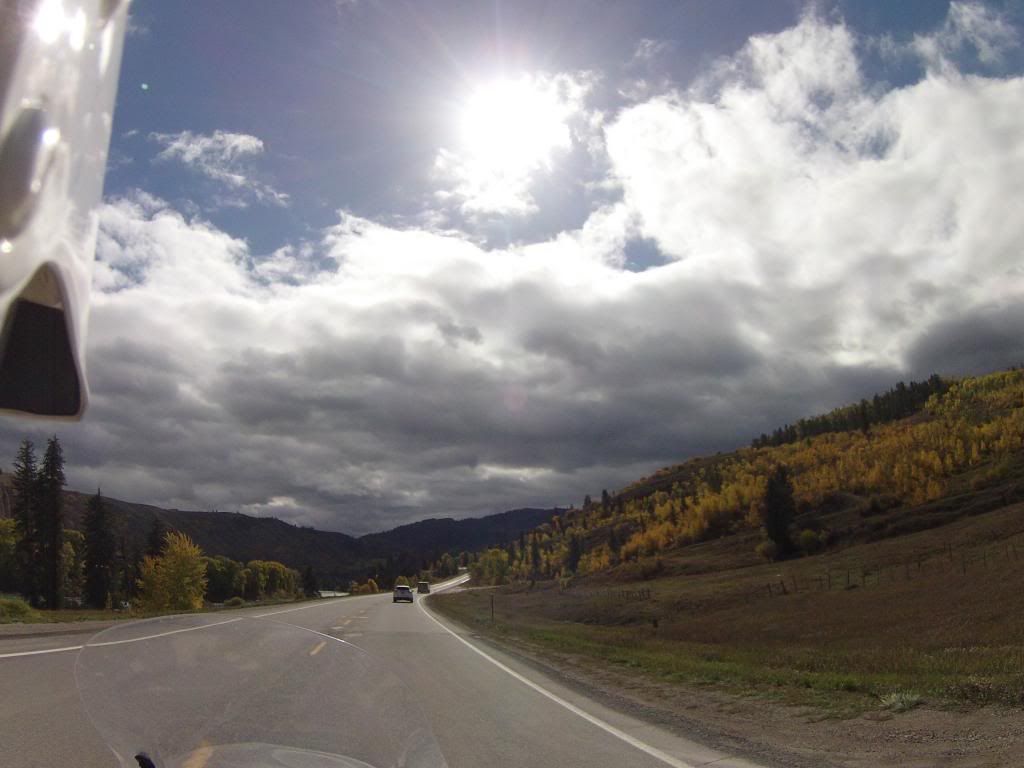 We got out of the mountains and got hammered by the winds again. The stretch of Highway 26 between Swan Valley and Idaho Falls was especially brutal, with 40+ MPH gusts. We pushed on to Boise, fighting winds off and on. We got into Boise thoroughly worn out. We scored a nice room at the Hampton Inn & Suites and ordered room service.
Day 6
It was only a little over 300 miles to get back home, so we slept in. We go rolling about 11:30 with sunny skies and little wind. We crossed the Snake River on I-84 and entered Oregon.
We stopped for lunch in Vale, OR and hit Highway 20 headed for Bend. The winds started up again not far out of Vale. This time, they were mostly headwinds, so it was not too bad, other than the fuel mileage hit.
We rolled into the driveway with the low fuel light on and the GPS showing 1998 miles for the trip.
Post-trip Thoughts
The ride:
2002 BMW R1150GS:
BMW AF-XiED O2 fueling device
IICE Air IAT device
Aeroflow tall windscreen
Jesse Odyssey side cases
Home built tank bag
Omni Cruise throttle lock
Metzeler Karoo 3 tires
We did not have any mechanical problems, thankfully! The Karoo 3 tires were fantastic! I ran a TKC80 front and K60 rear prior to the Karoos. The horrid wet performance and the square profile of the K60 and the TKC80's tendency to track pavement grooves caused me to switch tires and I am very glad I did. The Karoos do have a bit of a "buzz" to them and are a bit loud, but both of those issues reduced significantly after some 500 miles or so. I started out with relatively high pressures (37F/44R). The front felt a little loose the first day. Dropping the pressures to 34F/42R made a big difference.
As a side note, some genius at Idaho DOT decided it was a good idea to ruin really nice new concrete pavement by putting miles of longitudinal grooves in it. That would have been interesting on the TKC80 and the almost constant rain for 4+ days would have really sucked on the K60. I have over 3000 miles on the Karoos and the shallow groove in the tread blocks is still barely visible. I should get another 2-3000 miles out of them at the current wear rate.
The high winds and relatively high speeds (75-80 MPH on a regular basis), combined with the Aeroflow screen, and 1150 lb. gross weight really put a damper on the fuel mileage. The average for the entire trip was 32.36 MPG, with the best tank at 37.54 MPG and the worst at 27.59 MPG. I also ran the AF-XiED at setting 8, which is around a 13.6 AFR. In retrospect, I probably should have changed it to setting 7 for an AFR of 13.8. The bike pulled strong, even down to 2500 RPM in 6
th
gear, which I attribute to the AF-XiED and the IICE Air.
Despite the fuel mileage hit, I am glad I put the Aeroflow windshield on. I usually run the stock GS windshield, but the Aeroflow offers so much more protection. We did a four-day trip in June and ran into heavy rain and cold temperatures on the last day. I had the stock GS windshield on, but I was really wishing the Aeroflow were on instead.
The Jesses stayed watertight, as did my homemade tank bag. I made the tank bag from vinyl-coated polyester (aka trucker's tarp) and YKK waterproof zippers. It was entirely glued together – no stitching involved.
Gear
My gear:
Arai XD-4 helmet
Firstgear Rainier jacket
Firstgear Kathmandu pants
Firstgear/Warm & Safe heated jacket
Gaerne G-Midland boots
Drift Ghost HD helmet camera
Sena SMH10
I only had two issues with my gear. The first was fogging of the visor on my Arai XD4. At temperatures below 60 degrees, fogging set in. Below 50 and it was a significant issue. I rode most of the trip with my visor slightly cracked to alleviate the problem, though I did have to stop on several occasions to wipe the inside of the visor. I foresee a pinlock visor and insert in my future. The second issue was the leak that developed in the Firstgear Rainier Jacket in the left armpit area.
The Kathmandu pants worked well. My only complaint is the leg zippers are not long enough, making it almost impossible to get them on and off over boots. The Gaerne G-Midland boots worked great with no issues and they were waterproof for the whole trip. The heated jacket was a lifesaver. The trip would have been uncomfortable on portions of the trip without it. My only complaint is I wanted more heat in the sleeves and less in the body. My arms got cold while my torso was hot when the jacket was turned up.
The Drift Ghost HD camera was great. The wireless remote makes using it really simple. You can also change camera modes from the remote. I mostly used the photo burst mode (20 11MP stills in 2 seconds was the setting I used), and the video modes.
I used a combination of standard video mode (hit the record button and the video starts and runs until you hit the stop button), and the video tagging mode. In video tagging mode, the camera constantly records to a small buffer (I used 1 minute) and when you hit the record button, it saves what's in the buffer and runs for two times the length of the buffer (2 more minutes in my case). While it is recording, you can hit the record button again to extend the recording by one more buffer length (1 minute in my case).
Battery life was consistently at just over 3 hours. I carried a spare battery and swapped them out during the day when I remembered. All of the photos and video in this ride report were taken with the Drift Ghost HD, except for the very first one and the photos at Lake McDonald Lodge.
Our Sena SMH10 Bluetooth units worked without a hitch. My only complaint is you cannot have the intercom active and listen to music at the same time. The new Sena 20S appears to have solved that problem.
Wife's gear
Vemar Jiano EVO helmet
Firstgear Kilimanjaro Jacket
Firstgear pants (unknown model)
Firstgear/Warm & Safe heated jacket
Tourmaster WP Air boots
Sena SMH10
The wife had a bit of fogging with her helmet at temperatures below 50 degrees, but they were minor. She did not have any leaks in her jacket or pants. She loved the heated jacket and said it was a trip saver. On day 4, she had a bit of water in her left boot, but we could not tell if it was leak in her boot, or if it wicked up her pant leg to her sock. In addition, we need to get her a set of heated gloves as her hands got cold on a number of occasions.
Conclusion
The only major changes I would make in the future are for better weather and more time. We just tried to cover too much ground in six days. I do not foresee and major changes to the bike setup, other than trying to carry less stuff and moving a bit of the weight forward.
I had a dry bag on the tail rack and even though it was not particularly heavy, any weight on the rack has a significant effect on the bike geometry and handling. I finished a set of waterproof tank panniers after we got back from the trip and I will be using those in the future. Oh, and I have added a thermometer.