Here it is, this time of the year Happy Trails puts on their Lewis and Clark adventure ride in Kamiah, Idaho.
It is always a blast. I covered 1850 miles of slab and dirt in 6 day's, with the like's of HWY 12 from Lolo Montana to Kamiah Idaho.
Just a SHORT FUN part of the slab!
To bad it was wet, but it probably saved me a speeding ticket
The speed limit is like 55, so I kept it under 65,
you know it was wet
__________________
Some of us talk about it, and some of us go do it.
which one are you?
http://www.klr650.net/forums/showthread.php?t=100625
http://www.klr650.net/forums/showthread.php?t=100603
http://www.klr650.net/forums/showthread.php?t=113117
http://www.klr650.net/forums/showthread.php?t=115064
OK now that I have all of my photo's fixed and uploaded, now we can get this trip on the move!
It is a rainy September 3rd, Bike's packed and ready to go, as am I. I check the weather and it's telling me RAIN for the next 2 day's. damn
I hate to ride in the rain! but it is time for the Happy trails, Lewis & Clark adventure rally.
last year when I went the forest fire's were so bad that when we was on top of the mountain you could not see much.
and it was hard to get some fresh air! yes that is smoke. so this year I am hoping no fire's. So lets see lets check the web
http://activefiremaps.fs.fed.us/acti...s&extent=conus
shit
4 fire in my path. 1st fire is in the Sun Valley area, I want to go up that way, 2nd fire in the Challis area
that is after Sun Valley in my route! 3rd fire Mugruder corridor
shit I want to go thru there too! and 4th fire Lolo!
REALLY!
well to hell with the rain and fire's LET'S GO!
So I head north and over to the Golden Spike area and over the hill to ride the old rail bed from the day
I got over to Locomotive spring's (pic from last year)
and wanted to go over to Kelton I found that part of the road to be a muddy mess!
this is last year's of the road
no pic this year. too mad that I had to find another way.
well take the big gravel north to Snowville, UT. then jump on HWY 30 over to the 42
and head passed the CITY OF THE ROCKS
__________________
So from City of the Rocks I head north to Sun Valley its trying to rain so no pics
In Sun Valley I turn east and go over Trail Creek Road (DIRT FOR LIKE 50ish MILES)
and head towards Challis, Idaho.
as I get to the other side of the hill it really start's to rain so I get into my rain suit
and roll in to Challis to find flash flooding and a VERY WET CAMP GROUND!
Shit 1st night out and I get a room, so I don't have to get all my stuff wet.
I make my self some dinner out in front of the room and watch some TV and go to bed
The next morning I get up and WOW what a sun rise!
Looks like the start of a good day, so I head north up HWY 93 for about 7 miles
then I turn north on Morgan Creek road it start's out paved but turns to dirt
due to the rain the road was not dusty and I had great traction but not muddy
and in to last years burn area
once on top of Morgan Creek you go down Panther Creek
stop for a walk about and a pic of the bike that makes this all possible
and it's a fine bike.
At the bottom of Panther Creek you run in to the Salmon river road and of course the Salmon river
along the road you find this
The Salmon river
go 8 or so mile's you are in Shoup Idaho, don't blink you'll miss it!
And the cool thing is them gas pumps still work!
YES YOU CAN BUY GAS AND THEY COME OUT AND USE THIS GREAT OLD PUMP
Dan who was working that day told me that the pump's are the oldest still working pump's in the states! how cool is that?
Ok back to Shoup
and then on down the road to North Fork
I turned North again on the 93and headed up and over LOST TRAIL PASS and into MONTANA
I went in to Darby Montana for gas and then went south over to HWY 473 or
West Fork road to see if I could get over Magruder corridor, to go to Elk City Idaho.
Remember that is where the biggest of the 4 fire's that i had to deal with was.
It is called the Gold Pan Complex Fire.
I had read online that they would let the public
over from 10;00 AM to 2;00 PM,but that was a few day's earlier that week. as luck wold have it, I was late! NO GO I WAS TOLD.
So I found a spot to camp for the night.
I did some Chain maintenance, got camp set up, went for a hike, came back to camp and made a nice dinner. And try again in the morning.
So that night, at 11:30 all hell broke lose with thunder and lightning, Then the rain set in. MAN IT RAINED HARD! An hour or so later the rain moved on and all was quite.
The next morning I got up and fix coffee and breakfast and packed up.
I was early so as I was talking to the ranger about the road , his radio came on and someone said a storm was heading right towards us.
Well I really did not want to ride over a mountain in a lightning /rain storm on a dirt road thru a burn area by my self.
So I went back to Darby and headed north on the 93 to see if I could beat the storm to LOLO and try to get across HWY 12 before the storm did. Well THAT didn't happen either.
The rain slowed and I stopped at the Lochsa lodge for lunch.
After lunch the rain had stopped and I headed in to Kamia Idaho for the Lewis and Clark duel sport rally
I got to the camp ground and checked in and setup my tent to give it a chance to dry out. That night Happy trails and Idaho Adventure MotorCycle Club
http://motoidaho.com/
made Hamburgers and Brats for everyone
All in all I rode 795 miles with some great dirt just to get to the duel sport rally
Day 1 of the rally we head to Greer Idaho and turned up HWY 11 and did slab for the first bit, but it was fun
then we headed up to HEADQUARTERS, I was told that it was the town that Bosie cascade wood product's headquarters was first in. then the road turned into a small but still paved forest service road that we followed to the head waters of the north fork of the clear water's river
me in my rain suit
3 KLR'S
then we saw a osprey swoop down and buzz something in the tree's, upon a closer look we saw this
COOL LOOK IT'S A BALD EAGLE
Then we headed over to grandad bridge. Its crosses Dworshak reservoir
been on dirt for a while and it was fun . no dust and good traction
then we rolled into ELK RIVER for lunch
we left town and ran into some road work
the road twisted down to the DENT BRIDGE
me at Dent bridge
then back down the HWY to camp for Prime Rib Dinner
TOTAL MILE'S FOR THE DAY 212
Day 2 of the rally 5th day away.
OK here we go, we left camp and got on dirt pretty quick. my spot was acting up, I think the battery was getting low, so the track is close but it will work
this day we covered what they call THE LOLO MOTORWAY
http://www.lewisandclarktrail.com/se...trail/find.htm
its a fun way to spend a day or even more.
moving fast up the road
Then we get to the start of the official road
The signs are great showing the history of the area
So after a fast break we head up the 500. We came in to a area that had burned
a few years back, It was kinda neat really.
but it soon turned back into beautiful forest road
So we stop again for a look around
just off the road a 1/4 mile if that we found this real neat lake . I will want to come back here and camp out the night, it was BEAUTIFUL
It's the kinda place you would see a moose standing in the lake early in the morning.
Well back on the Motorway.
we where moving along at a brisk pace
The views ARE breath taking
NO SMOKE THIS YEAR!
the road winds thru the forest with a must stop and look around at every corner
Then we headed down parachute hill, to the lochsa lodge for lunch
http://www.lochsalodge.com/
and on down the HWY for like 90 miles of twisty road back to camp
Another great 220 mile day, and oh ya it's my birthday! what a way to spend your birthday, It can't be better, can it?
Well it was a fun rally. Ate like a king, even won some nice riding gloves.
So now it's time to start working my way home. Well I think I will head over to Elk City and see if I can get over Magruder Corridor.
It's like 80 or so miles of dirt may even be more. So I jump on the 12 over to the 13 then onto the 14 to Elk City it like 70 miles of some sweet twisty pavement along the river.
OH COOL LOOK I ROLLED OVER 25000 miles on the KLR.
coming into ELK CITY
I get to the dirt fast and start up Magruder
and soon was in the burn area
It looks like rain and then not so much.
Stop for a walk
The burn area is bigger then I though. See that road way over on the other
hill, well thats where I have to go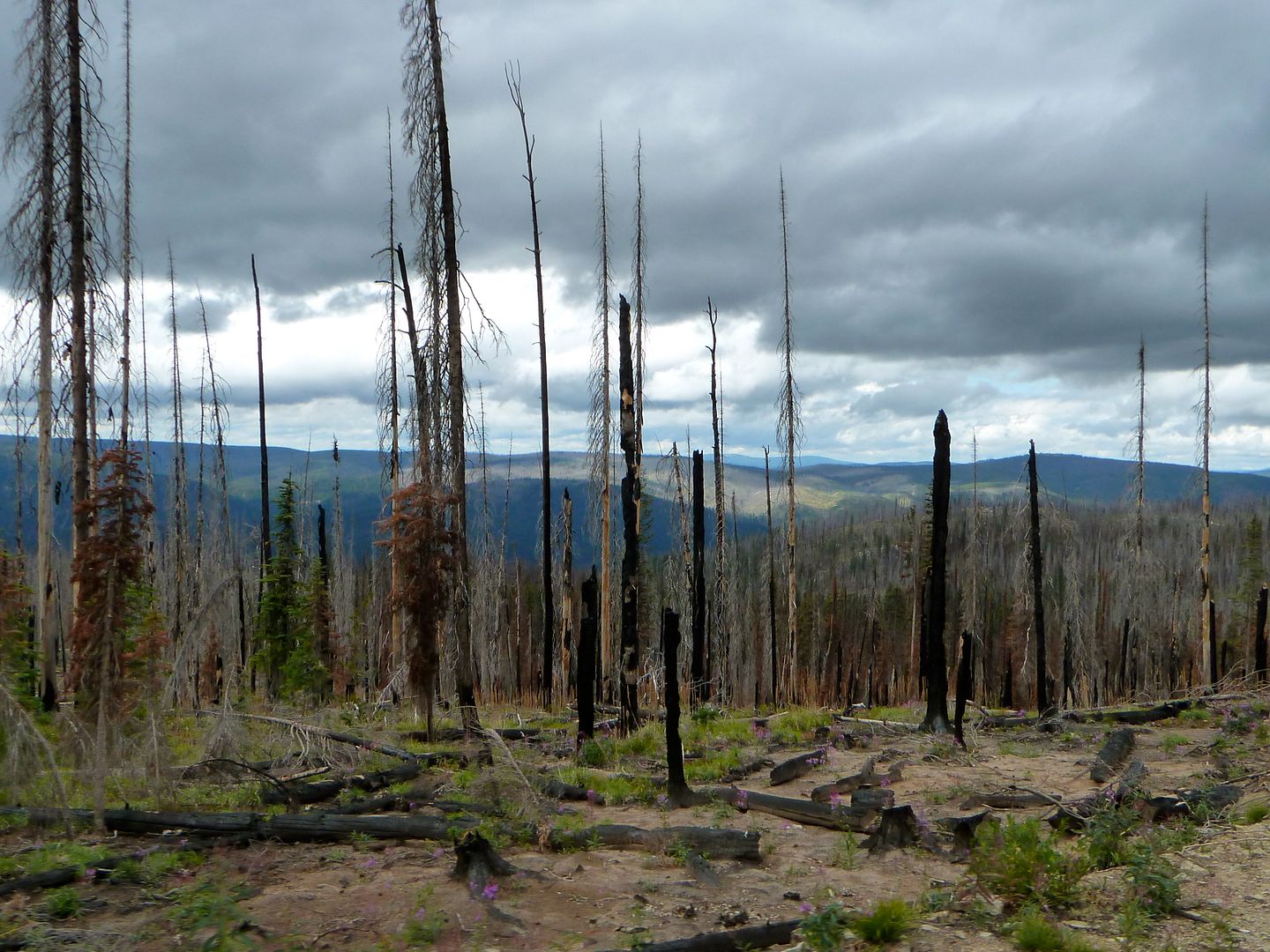 Then you come to DRY SADDLE
Man there is a lot of dirt out here and a way's away from anything
then you come to the massacre site
Then passed where I camped a few night's ago.
Then the dirt was gone and I hit the HWY and rolled down to the Lost trail hot springs
and got this cabin, a bit pricey but they had a hot pool that was nice to soak in and then they had real good pizza, that was for dinner
total mileage today right around 200
LAST DAY, it's 375 or so miles to home when I got up it was raining lightly, glad I got a room, hate to pack in the rain. map to home.
So I head south on the 93 unlit I get to North Fork where I turn west on the Salmon river road (NF-30) and headed back to Shoup
when I got to the gas station these 2 KTM riders were doing the tour of Idaho and was getting gas for the day
So the Kid working came out and pumped the pump and filled up every little bottle the 2 guys had. I wondered if in a big city they would NOT even ALLOW you to fill the containers these 2 had
So I take off and head up panther creek, the way I came in
Well I was just down this road a few days ago so I feel good and am flying along the road and come around a corner and see a mud/land slide across the road !! ahh SHIT
just what I don't want slam on the skids and hit the mud slid at -------
well to fast
So I get the PIG/ bike back up on the wheels I slow down a bit
As I ride down the road this big golden eagle comes out of no where and fly's down the road in front of me like it was showing me the way. It was so cool
if you look real close in the tree line right where the road go's around the corner you can see him, just above the post see him? next pic is maybe better
see him now? then he landed on the side of the hill and just watched me roll by!
It was so neat to have that happen, and see such a big bird!!
A stop and walk around at the top of Panther creek and the start of Morgan creek
Then I get to Challis get gas and a little lunch and think how much fun I have had over the last week and how lucky I am to live so close to so many cool place's to ride.
so I haul ass across the desert flat ATOMIC City area of Idaho and head home!
Well that's my ride report. thanks for coming along for the ride. and remember there are 2 kinds of people. those who sit and talk about it and those of us who get out there and ride it . which one are you?
thanks DutchJohn