Kiwi Elvis goes to Port Levy
Given the nice responses to my '..in the Kiwi sun…' RR, I thought I'd try another!
Here in
Christchurch
we are blessed with fabulous twisty roads only minutes from the town centre, being as we are situated at the base of
Banks
Peninsula
on the East coast of the
South Island
otherwise known as The Mainland
Seeing as I have probably been to beautiful Akaroa on the Southern side of the peninsula about a bazillion times (truly! J), I thought I'd go on the other, less travelled side and go visit Port Levy and Pigeon Bay etc but ultimately I was foiled – by my choice of ride and my lack of confidence on gravel on said ride but more on this later.
I persuaded SWMBO to take a cheesy pic of me in the driveway before leaving!
It was a pretty warm day so I thought I'd give my Vanson suit that's been languishing in the wardrobe over the winter an outing – its forecast for 80F (26C) today but I think it made it to around 90F (32C) – which was hot enough when I was only riding slow(ish) and stopping to take pics a lot.
Rode through town to the northeastern side to Heathcote and waved over at Mr and Mrs Bang as I rode up to this:
Lyttelton Tunnel was completed in 1964 and is NZ's longest road tunnel at 1.9km long. The rail tunnel that runs through the hill was opened in 1867 (which must have been a bit of a feat back then) is NZ's oldest.
The view coming out the other side: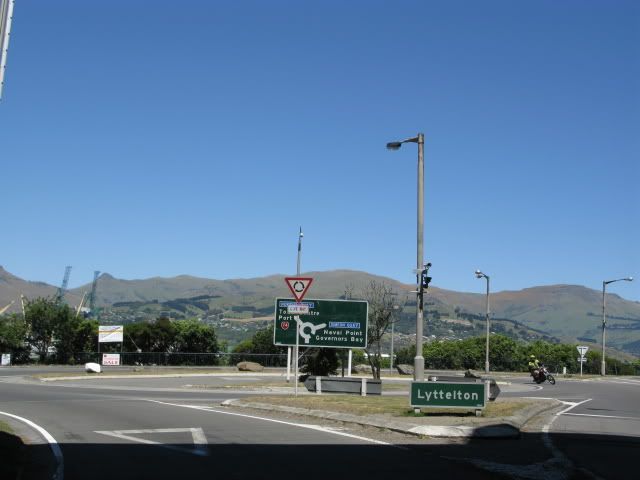 Lyttelton
Harbour
is actually the rim of an ancient volcano and some of the volcanic rock makes its way into cool looking retaining walls around the city.
Lyttelton was the base for Shackleton's 'Nimrod' expedition to
Antarctica
in 1908.
Looking across the harbour from above part of the port you can see Mt Herbert – I'm heading that way but first need to ride around the head of the harbour…you can also see the settlement of
Diamond
Harbour
from here. (sorry about the pole front and centre!)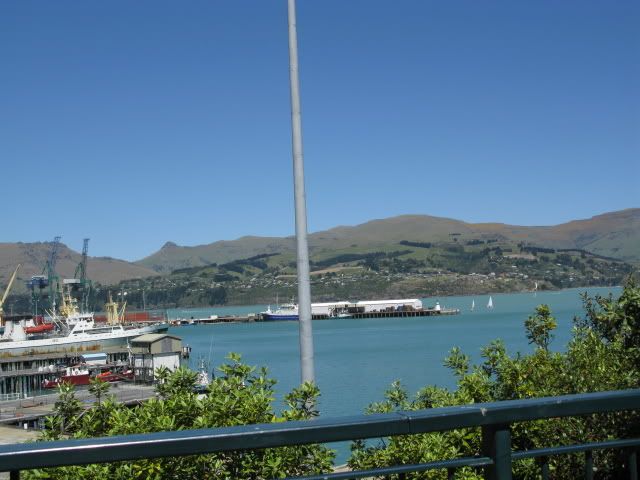 There's also a tank farm here – not that interesting but later on I'll show you this from MUCH further away!
Otamahua or Quail Island is situated within the harbour about 2 minutes drive south of Lyttelton – Otamahua is Maori for 'place where children collect sea eggs' – a native NZ sea urchin and was named Quail Island by Captain William Smith in 1842 after sighting native quail – unfortunately, they were extinct less than 30 years later. Shackleton housed and trained his sled dogs on the island.
Did I mention it was a horrible day? J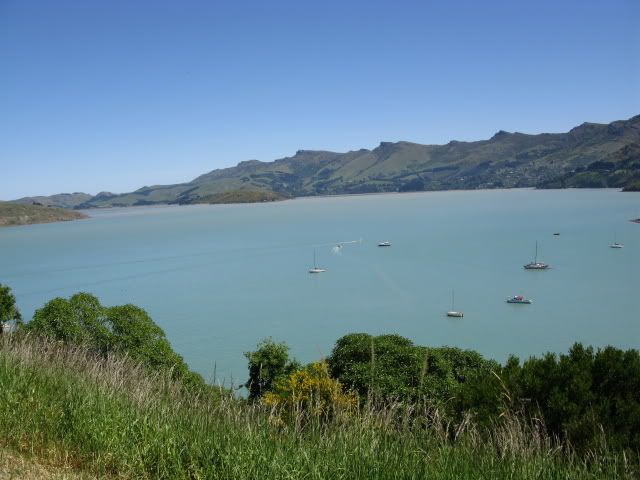 The tiny settlements of
Charteris
Bay
,
Diamond
Harbour
and Purau line the opposite site of the harbour from Lyttelton. Lots of
Christchurch
workers now live there and commute the 30-40 minutes to and from work each day. It's the sunnier side of the harbour especially in the winter but it's a pretty twisty road and altho it's very picturesque I dare say there are some days when the drive might be a bit of a drag…..
The moorings at
Diamond
Harbour
Nestled close to shore is
Ripapa
Island
. It was originally a Maori pa before it became home to
Fort
Jervois
, built in 1860 to repel the 'Great Russian scare'. The island was then transformed to a prisoner of war camp and housed the famous Count Felix Von Luckner, the German sea-raider. I've always thought Ripapa would make just the coolest place to have a holiday home!! J This was before I understood it's historical significance but now that I do know a bit more about it, I reckon it'd be almost impossible for a private buyer to purchase it from our Department of Conservation L - that and the fact I don't have the millions it would likely cost!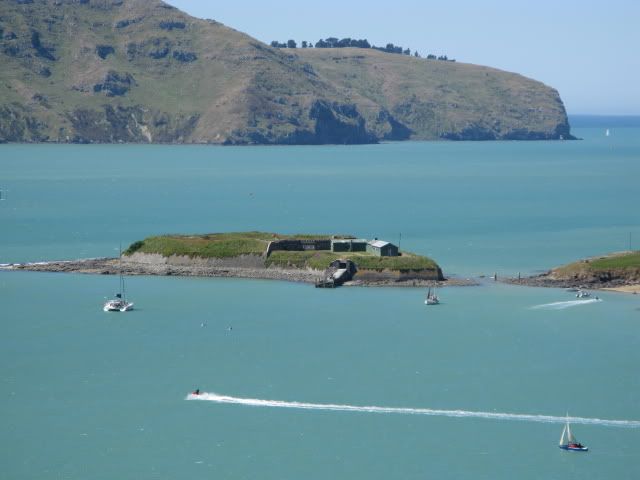 Camp
Bay
sit's just along from Ripapa at the northern entrance to Purau, a popular summers day destination for
Christchurch
boaties and jet-skiers – and today it was VERY busy at the boat ramp and on the beach!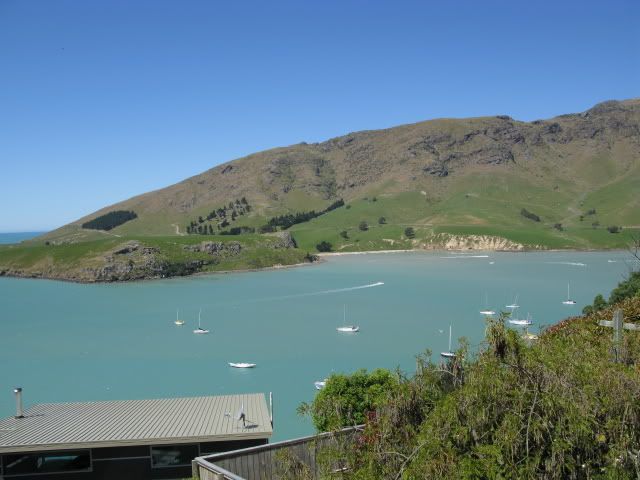 ienz/MCAMPBAYPURAU.jpg[/IMG]
This is where I'm headed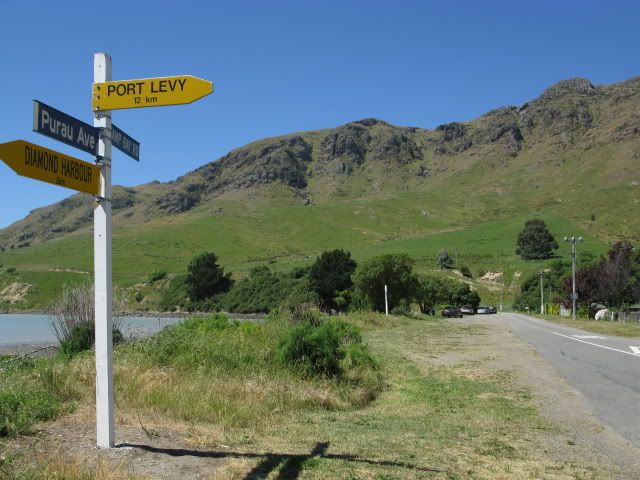 Some of the locals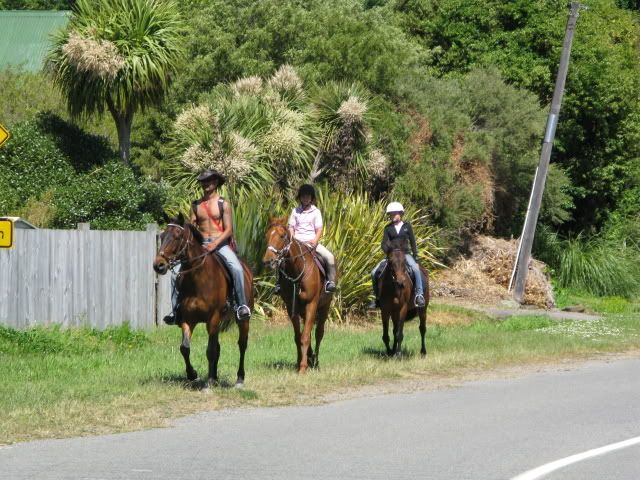 VTR taking in the view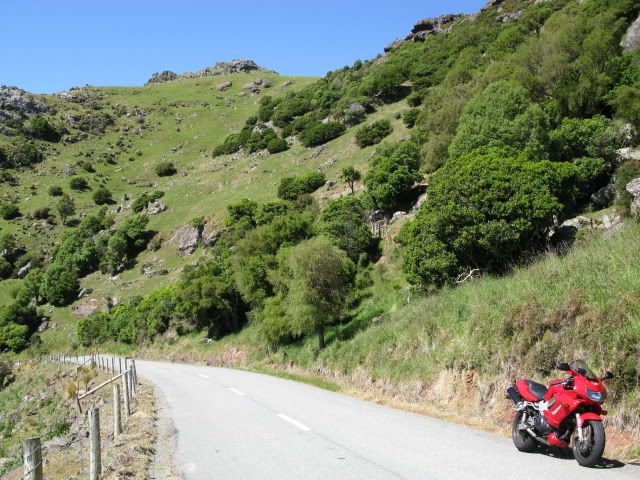 The view back down the valley towards the tank farm at Lyttelton – in the far far distance are the
Southern Alps
…nice road too huh? J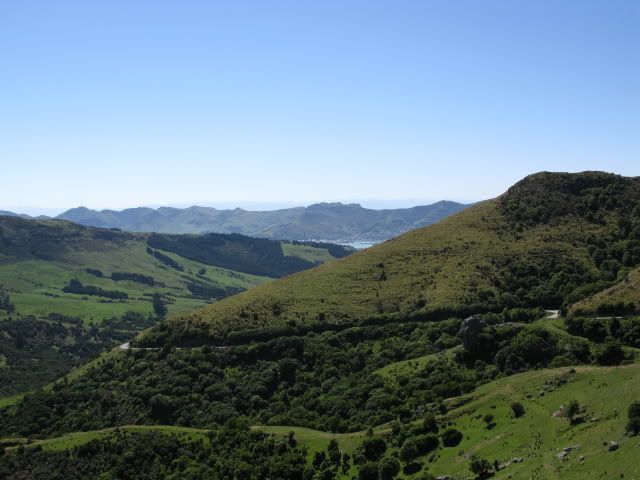 One of my destinations for the day, Port Levy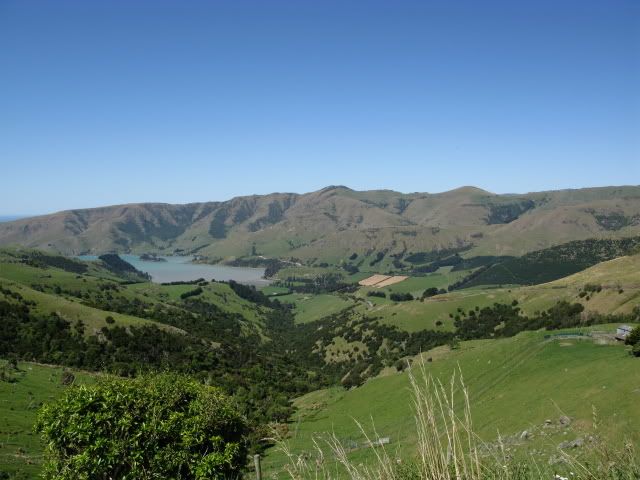 Portions of Peter Jackson's Academy Award nominated film Heavenly Creatures were filmed here – based on the murder by two 16 year old girls from
Christchurch
back in 1953.
I rode past what I think is Mt Herbert (which I think I captured in the
Lyttelton
Port
picture above
And stopped for some quiet reflection here
St Paul
's Anglican Church Port Levy has some interesting gravestones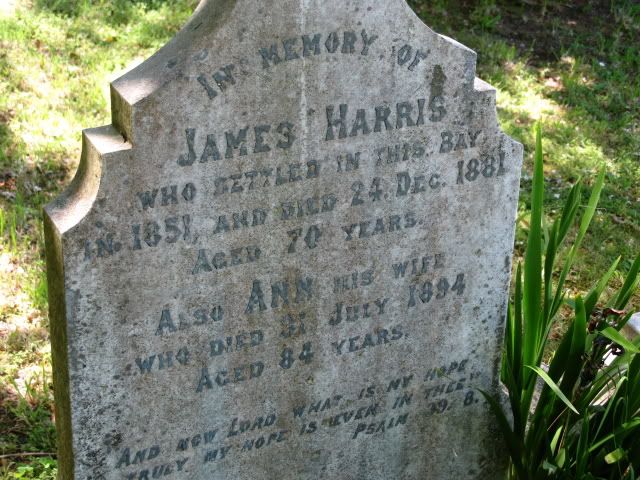 Unfortunately the road out of Port Levy to
Pigeon
Bay
soon did this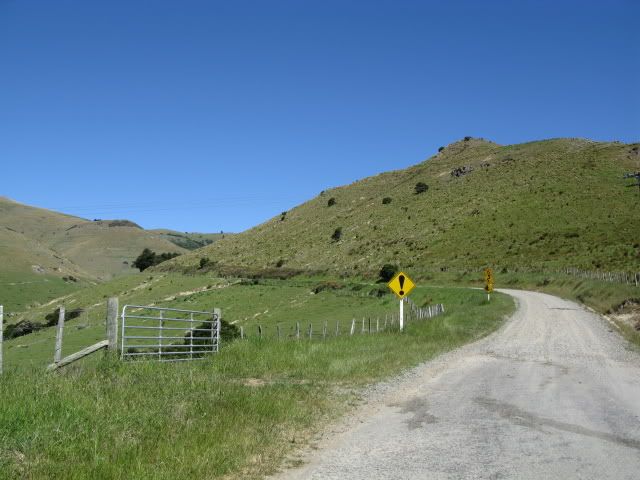 And Pirelli Diablo's being not the VERY best gravel road tyre and it was getting on in the afternoon I decided to turn around. I have been past here on trail bikes a while back but had forgotten it turned to gravel. I'm sure you can get to
Pigeon
Bay
on tarmac from the
Summit Road
so there's another RR with pics maybe…..
The road out of Port Levy looks great from this angle!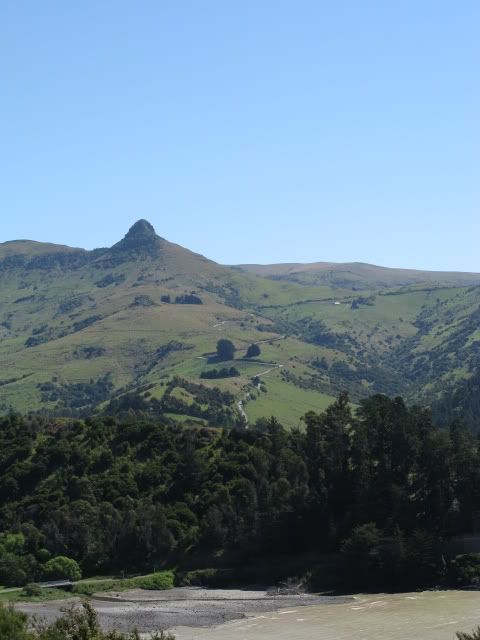 Back thru Purau,
Diamond
Harbour
,
Charteris
Bay
and left at the Wheatsheaf Pub at Teddington – lots of Harleys in the carpark – and up over
Gebbies
Pass
The Blue Duck Café is the new name of the Black Orchid Tearooms and the new owners are doing a great job! The muffin I had last time was excellent and today's chocolate afghan was equally as superb, washed down with an icy coke from a glass bottle J
The view on the back patio wasn't too bad either!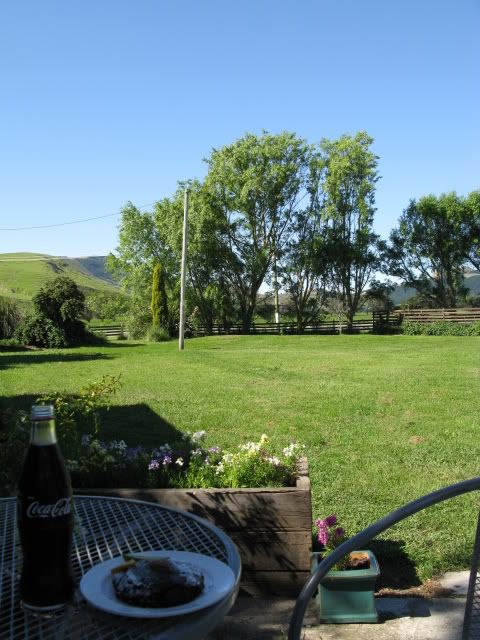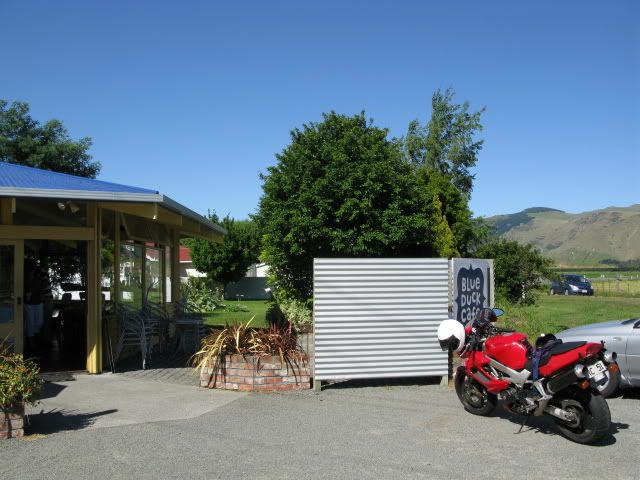 That's it for today folks
Hope you enjoyed tagging along!
Cheers
Shane