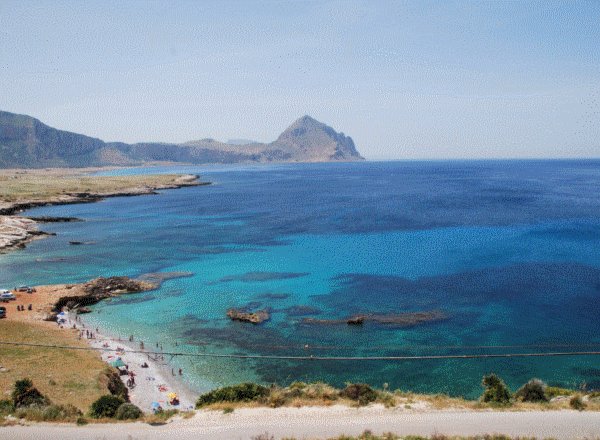 PHOTOS AND VIDEOS NOT TO MISS!
Used motorcycles: BMW R 1200 GS - BMW 1200 GS Adventure
Milestones: Palermo-Castellammare del Golfo San Vito Lo Capo-Palermo
Nations visited: Italy
Regions visited: Sicily
Km covered: 220
Duration: 1 day
Today is a day dedicated to complete relaxation, a nice walk on the fly to San Vito Lo Capo (TP) in the splendid setting which takes place 23-31 May the first International Festival of Kites. The day is beautiful. Now summer has arrived here for some time. The thermometer marks +28 ° and a long Serpentona machine invades the highway, all directed to the sea. Come to Castellammare del Golfo, where you stop for coffee and the inevitable cassatina with ricotta. And leave the thermometer marks +32 °! A magnificent view from above of Castellammare, with its crystal clear sea. Could not stop for a picture. In short we come to San Vito. Parked the bikes are going to the beach. The sky an explosion of colors, shapes and characters of fairy tales. Dozens of kites twirl on the sky of San Vito, creating a magnificent choreography. All with the nose up, as if enchanted by the twirl of the kites. Among the various characters of a 83 years old, Canadian, world champion aerobatic with kites, and with amazing dexterity creates choreography by three big thrill with kites. I take this opportunity of a pause for a photo. After about two hours, fascinated by the twirl of the kites and definitely taken from the heat, we decide to take advantage of it to a nice dip in the crystal clear waters of the sea of San Vito. Let the rest of the day to bask in the sun, refreshed by a gentle breeze Grecale. In the late afternoon we decide to eat something and the choice falls on a classic sandwich with panelle, followed by a giant cup of caldofreddo specialty of San Vito, a real pleasure for the more gluttonous. Let's go back to the beach where we will spend the rest of the day. The sun is getting ready to color the landscape of orange and it is time to return home, not before we have visited the promontory above San Vito to enjoy this last glimpse of a beautiful day at sea. In the next
For those wishing to participate in our excursions
fracharly2001@yahoo.it
or call 3286183426. We do not accept "Hacker"
Lamps Siculi
Francesco