A friend of mine and I made our way across the country and back as a break in ADV trip to pave the way for more serious future trips.
I bought a thumper a few months ago and started outfitting it for a cross country trip. Originally planned to be done on sport bikes a last minuet decision altered the plans. I got an awesome deal that I couldn't pass up. A garage kept '09 DR650 with a thousand miles on the odometer for $3500. Took the bike out a few times, once on a small trip to camp the lowest point in North America, Death Valley and some others around Las Vegas. Figured out a few things I would need to change/upgrade and opened the wallet started digging through this forum as well as others. I found a lot of great info to help me out.
My main sources were and still are
zenseeker
mistyoak
procycle
Ordered hard side panniers, large gas tank,a center stand, hand guards, friction throttle lock, along with a lot of litte stuff as well as a lightweight tent and various camping gear. All and all the bike outfitted with all the things I thought I'd need ran me about $5500. Not bad, good cheap fun. I posted my travels on tumblr (easier due to an iphone app) and tried to post several times a day, I had it repost to facebook and wish I could have had it repost on ADV, I think their is a way I'll have to figure it out before the next trip. So here is a repost from my trip, Its been a couple weeks since the trip and I'm caught up on house chores so I'm gonna attempt to filter the literally thousands of pictures we had taken along the way.
May 1st 2010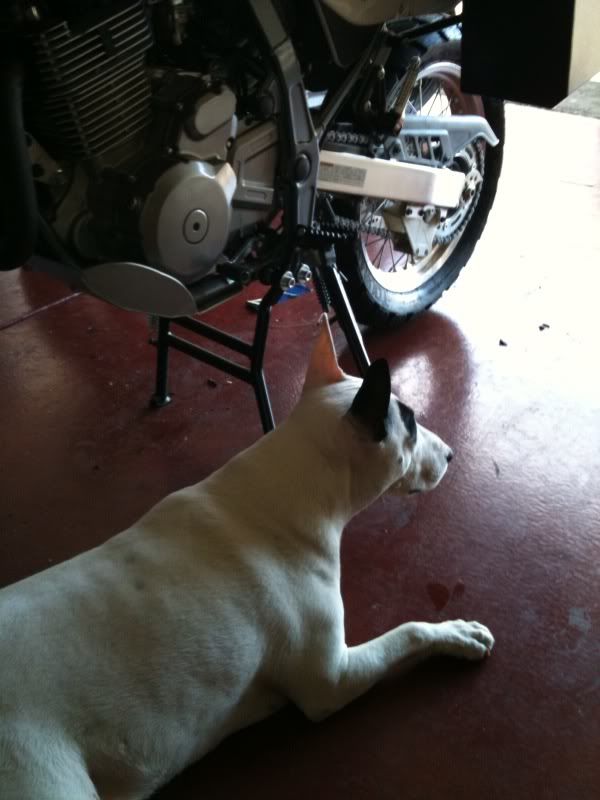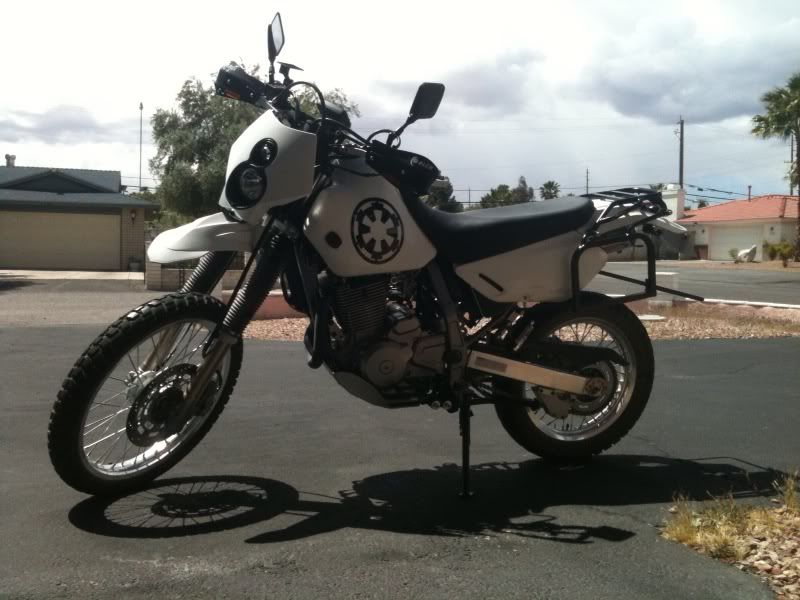 Out fitted the DR for a trip across country
X2 Eclipse Headlight, Acebris Front Fender, SW Motech Center Stand, Aluminum Skid Plate, Throttle Lock, Magellan GPS with Ram mount, IMS 4.9 Gallon Tank, Corbin Gel Seat, Giant Loop Fandango Tank Bag, Wind Screen, Tusk Handguards, Teton Pannier Side Bags, Voltage Meter, Power Outlet
Tires supplied by Stick with Amsoil
AMSOIL Online Store
Reference Number 1665287
May 5th 2010
Day 1
Havenít been up this early in awhile, correction I havenít woken up this early in awhile.
We started planning this trip almost 8 months ago. Jose and I were tearing up the Malibu hills up in California and stoped at this small owner operated cafe. He and I both talked of longer and longer trips when he had brought up an idea that he and his friend had as children. Coast to coast.
With my dad in the millitary I grew up moveing a lot and traveling when we could. Iím very fortunate to have this in my early childhood. So many people barly visit their own state much less the rest of the country. I like my dad have this traveling bug in us that wonít let us sit still.
So here I am at 7 am, I need to finish printing my maps then meet up with Jose over breakfast and do one last check before we ship of on our 3 week bike trip.
Day 1
Just stoped for lunch at Big Kahuna burger in San Diego. The ride is great so far, not too much traffic and the bike is doing great. Iím a was a bit tired before we pulled in to Diego but a huge burger and a beer satisfied that. We need to stop and grab a few supplies (booze) then off to camp.
May 6th 2010
Day 2
Just got some breakfast at Majorís Diner in this small town near camp.
We set up camp just before dark and gotta fire going to warm up by while we cooked dinner. Then these enormous fire ants came outta the ground and invaded our camp. For every one I would kill, three more would emerge. I finnaly gave up and lived amongst the ants. A few rabbits invaded the camp when we turned in but fairly un eventful aside from that.
I got plenty of sleep and feel well rested. I had purchaced an air mat just before the trip and I think thatís probobly one of the best investments Iíve made so far.
Now itís off to Yuma and leave California to the hippies!
Day 2
3:10 to Yuma.. Now were in Tucson.
Jesus, we were spoiled with California. As interesting as cactus and sand can get, you get sick of this shit it after a few miles. This last leg of the trip has beat the crap outta us. I find myself needing to stop more often, and almost wish I had my gsxr to burn through this state at 150mph. Drivers here are horrible and the roads are long and straight. Got a long ride tomorrow to El Paso, a dangerous part of the trip. Havenít heard to many great things about the place, I just hope the weather man was lying about the temp.
My brain is fried from this heat and I canít wait to put this desert shit in the rearview. At least we got a hotel room to get a shower and charge our gizmos as well as spirits.
Chears!
May 7th 2010
Day 3
Our motel. Home of the ice truck killer.
After a free contanental breakfast that was pretty much orange juce from concentrate and bad coffee we are ready to take off.
We found a brochure for an air and space museum so we are gonna go check it out before we leave to TX. It looks pretty cool and itíll give us something to do to break up the trip a bit.
Day 3
The Thing?
We saw the craziest freak on nature in AZ!
Pictures to come itís crazy! They even had a DQ blizzard named after it.
Day 3
We in Texas yíall!
Stoped at Rudys for some of the best BBQ this state has to offer. Gas up and continue for a couple hundred more miles.
Makeing great time, I was feeling like crap yesterday but today is a lot better. Kinda getting into the groove of things.
Yee Haw!
Day 3
A bugs life.
Your mind starts to wonder on random shit as you cruse the interstates. You see some of these bugs flying on missions from their colonies queen. Probobly scouting the area for a new food source or water. Or maybe just doing patrols to protect his fellow bugs from some forseen danger. This fighter pilot bug is just cruseing the skys then gets intercepeted by some assholes gigantic face shield.
Sometimes itís a direct hit and they disintagrate on impact and all thatís left is a little bit of blood and a few legs and sometimes a wing.
Other times they catch you at an angle and and ricochet off. I imagine these guys as one of those pilots from WWII you see on the history channel, getting shot down behind enemy lines. He may have survived the impact with my head but will most likely die unless help arrives.
And if there unlucky enough to be one of the few that hits the vents on my jacket or helmet and gets spattered against my skin underneith.
Well were in Van Horn, TX keeping an eye out for any weird fuckers with an air tank and a supressed shotty. Off to San Antonio to see my folks tomorrow!
May 8th 2010
Day 4
Loviní it
Breakfast at McDonaldas and now on the road. Sprained my wrist last night driving up some steps, but I have it wrapped up and it should be good
Day 4
Moose drool.
We made it to my parrents house a whole day ahead of schedule. Got up a bit early and maxed out the DR to get here before my dad got off work.
The hills of west Texas arenít as bad as the stories weíve been told so if this is the worst of the trip, I think we are in for a treat.
Got a warm welcome from the guys at Javelina Harley Davidson then it was off to Moto Gear so Jose could pick up a Revit jacket for the remainder of the trip. Thankfully they were able to ship his other jacket back to Vegas free of charge.
Moose is the enormous Saint Bernard in the pic. He is as slobery as he is cute so itís a trade off to love on him. My moms new dogs are adorable and I can see why she got em.
We are going downtown to the riverwalk for dinner and a relaxing evening.
Day 4
Walk a river. Great food but no ice cream.
So my sister Nicole treated us all to dinner at Boudroís Bistro on the San Antonio river walk. Food was awesome! If your ever here get the guacamole and chips and order the blackened prime rib. Amazing. Itís so calming and nice there. If I lived here I would spend the majority of my time here. The people of San Antonio are some of the nicest people we have come across this trip.
I guess their was a prom tonight. A lot of people were dressed the part and were doing up the town.
A couple days ago we felt overwhelmed by the change of lifestyle pace. One day Iím up to my ears in appointments and drawings that I was starting to get behind on projects. A thing Iím not used to. I am generally on top of it all but, I guess the six day was starting to get to me. Now with those thoughts fading away with each passing day I am concentrateing more on the over all adventure of what were doing. And Iím enjoying myself more and more. The wrist still hurts and it sucks constantly throttleing or breaking with a sprained hand, but what are u supposed to do. The Corbin seat I got for the ride is just about broken in now so the rest of my trip will be on a more comfortable bike. I have some electrical issues I need to deal with so tomorrow will be more of a half day. Some maintainance then off to a ride that my friend Matt told me off near Austin.
May 9th 2010
Day 5
Happy Mothers Day!
I was so happy to be able so see my family again. Since Iíve moved from Alaska I rarely get to see my folks. Iím always on the fence on weather or not to move to Austin TX to be closer to my family. Donno this trip is makeing me wanna cancel all future plans and pack my shit, move to TX
Yee Haw!
Day 5
Man down!
I was on a ride from Marble Falls to Austin and I lost my hero camera :( I had loaded most of the pics and vieos to my computer but yesterdy and todayís stuff was lost. I need to stop by cyclegear in Houston and get another. Sucks but I should have had it tied off. Ohh well, Iím in Austin now and Joseís friend Jackie, she has shown us around a bit. This place is pretty cool. I canít wait to come back someday
May 10th 2010
Day 6
Chateau Burbon
We are in New Orleans stayin on burbon street!
I got another camera from cycle gear and new memory card. The new camera setup cost a bit but itís necessary.
It was a long push today but got here just before dark. We got an awesome room and now it time to check out the town. 500 miles on almost no sleep and were ready to rage.
May 11th 2010
Day 7
Ricks Caberet and sticky fingers.
So burbon street is kinda like Fremont street in Vegas minus the casinos of course and a lot bigger. Itís like that but also like a red light district but with strip clubs.
We went to a few live music venues and got to do a lot of the tourist stuff. Didnít venture to far off into the city. We look like tourist and I can see that ending up taking a turn for the worse. So we stuck to the lights and entertainment, the food is great and pretty cheap. I had a Philly dog, baiscly an enormous hotdog with grilled onions, peppers and cheeze wiz. We stoped into an handfull of the strip clubs and had some drinks. The places had a huge range of girls. Some places we walked into were so grimey we just turned around and walked right back out. Others (the best ones) were like tiny Vegas strip clubs. The drinks were expensive like you would expect, but the girls were either super cool or psychotic.
Well as we were leaving this one place called Ricks Caberet Jose knoticed his phone missing. Long story short he told the management he was a government official and that the phone was US property and I showed him the google latitude that pointed out the phone was still in the building. He told the manager how he can get into trouble but his job will be able to accuratly locate the phone in the morning and the place could face some serious charges. Needless to say they tore that place appart and it turned out the bar back had found it near the ATM and turned off the phone. After tha manager told everyone that worked there, no questions asked just give it up. The guy magicly pulled it out and turned it over. Haha
As Iím leaving I saw a bigger girl on one of tha balconies earning some beads, by showing offÖ well lets say she didnít hold back. The night continued on till around 4 in the morning.
This place is fun and we have an awesome room here but itís on to panama city. Looks like were gonna be some beach bums and this is probably one of the last comfortable places we stay in for awhile.
Off to white sandy beaches and piŮa coladas
Day 7
Lazy days
Stopped for lunch in Mississippi. Since we got such a late start, we are gonna camp in pensacola instead
Day 7
30į19í13Ē N 87į16í13Ē W
Here we are, one day closer to our objective. We set up camp on the beach in Pensacola Florida just before it got dark.
Itís 74į here and a slight breeze coming from the NE. Itís quiet here, other than the waves off in the distant and some weird bird in the wooded area. I wish I could live on the ocean, maybe one day I could afford a sailboat and I could take off and visit the rest of the world by trade winds. This trip has been a real treat and Iím fortunate enough to have been able to do it. The country changes dramaticly with each day. The people, the history and of course the scenery is so different everywhere we go. Itís pretty amazing.
May 12th 2010
Day 8
Country roads.
We stoped in Gainsville for some lunch and fuel. We woke up at dawn and got on the road early. Weíve been makeing great time, even though we took some country back roads. You forget what cut grass smells like after awhile but when you get to smell it again you get a flood of memories from when you were a kid and actually took the time to notice such things.
We rode through Panama City where I used to live and I didnít recognize a single building, but the smells I remember.
We found out that the space shuttle Atlantis is gonna take off from Kennedy space center on the 14th. So we are gonna try and push hard for today and tomorrow and try to catch the launch.
Day 8
622miles to Naples
We got up early and made a long trek to Naples. Weíve got this fuzzy head feeling like in AZ and I think its just from riding too much without much rest. Not gonna repeat this again, the only thing that cures this is a few beers and a ton of A/C.
After looking more into the shuttle launch, we would have had to get tickets earlier on to get a good spot and show up about 4 hours early. This would eliminate the whole key west part and take away from the objective. Sucks that this might me the last manned shuttle launch but we didnít plan well enough for this.
So Key West tomorrow, not quite half way but our objective for sure. I cant wait, just a bit over 262 miles till we reach our objective and its technically not even half way. Iím not sure how much more of Floridaís trees I can handle. Swamp trees. Dead armadillos and gators on the roads basking in the humidity, at least its not not in full swing of summer yet. I think we came through at the perfect time. Its warm but not hot and its nice enough out to enjoy shit.
Came across a huge accident today on the way here, a semi had flipped over and blocked both sides of the roadway. We skipped the lines and made it around most of the traffic (about 3 miles) the heat and humidity really took its tole around this time and its was just a ďwell fuck itĒ decision and emergency lane it. I wish more states had lane sharing laws but we are in the south, so what do you expect.
May 13th 2010
Day 9
Got Gators?
Made it to Key West!
It was a short day of rideing, took our time and got to see some sites along the everglades. Got some fresh pears, tomatos and apple bananas.
We ate at a resturant on the coast and visited a few bars/clubs. We got the whole day to chill and hangout so we are gonna spend some time on the beach and reflect on our trip before we take off again. Key west was out destination but our trip is still a long way from over. Just need some Cuban sun and florida waves
May 14th 2010
Day 10
Wet Sand
Standing in the sand on the lowest point in the US. The sand is as white as sugar and the water is clear, giving the ocean an emerald green look.
Went and rented some scooters and crused around the island. Saw Hemmingways home and ate some conch fritters at BOs fish wagon. Now were back in the room and going to soak in the pool.
Day 10
Fish Ďn Chips
Well itís been a great day resting and recovering. We didnít go out tonight. Most of the morning was spent on the beach and later on we were pool side. Weíve got a long push tomorrow and an oil change in Miami. So we will need to get up early and get moving. Looks like the rest of the trip we will have to really cut back on spending.
Looks like more camping and canned food. So long hotels.
May 15th 2010
Day 11
Key West to Savannah in one day.
I think it was like 640 miles. Tell you the truith I feel like I could go further but itís already dark. If were up at 6:30 and on the road by 7:30-8 the roads seam to go by quicker..
Looking for a place to stay now.. Gonna try and be up early again. And itís off to Tennessee.
Day 11
Blue Savannah
I am sun burnt, eaten by bugs, and I have this enormous bruse on my leg. My brain seems fried from today, I guess Iím kinda worn out from the lack of sleep and getting beat up. A bonus though, I got to do a bit of laundry today. Just washed everything in the hotel sink and used th iron to dry it. Worked pretty good. Thankfully tomorry we will be out of this hot and humid south. It was a nice visit but were done with this and ready to get into the mountains.
We have been gettig better about getting up and getting going. Itís weird were getting good at setting up and breaking down all our shit. Everything is really getting warn in and some things are getting warn out. My gloves have holes in them and my boots are really broken in. The first gear jacket I got is awesome, itís holding up well, I just hope it rains and washes it off a bit. Well gotta get up early. Iíll try to post before I leave.
May 16th 2010
Day 12
Isralies
On the road we see a ton of bikers of all classes. Most often it seams to be Harleys and Goldwings. Sometimes well see trikes and even reverse trikes. Every once in awhile we see and adventure bike but I think the DR650 is pretty unique for the interstates.
Motorcyclist generally wave to one another as they pass each other on the highway. So hereís a break down of the wave rule. Trikes are more like a car but with only one front wheel, their for they get no wave. Reverse trikes however are motorcycles that lean like normal but with more front end stability. They get a wave, a small wave but still a wave. The general two wheel bikes (sport, street, touring) get a wave of course but mopeds and bikes pulling trailers get nothing. I think the touring bikes like in the pic get the most recognition.
In Key West we ran into a couple of guys traveling on these street bikes. They were doing pretty much the same trip as us but they had taken all the side country roads and avoided the interstates. We are on day twelve and are getting a little beat up but ok all and all, most nights have been spent in nice hotels and out of the elements. These guys have been traveling for 40 days and sleeping in the side of the road. The bikes they have are holding together but they hardly have any tread left on their tires, minor oil leaks and they look a bit road warn. It was nice to meet these guys and hear their stories. Would have liked to talk to them more but we had to get back to our piŮa coladas by the pool. Fucking isralies, always coming along doing some crazy shit makeing you look like a big fat pussy.
Day 12
Wear and tear
I noticed my chain had been leaving thiese metal particles on the frame. Itís got the same white chain lube on it that Iíve been applying every 600 miles or so. I moved the tire back a bit and adjusted my rear suspension a bit, itís not quite maxed but fairly close. I had adjusted the suspension before I left but It seams the bike has sagged a bit since then. Iíve been adding oil as I go, just plain old 10w40. This zen DR web page I go to has a lot of great info on specks and fluids. It says you can use the regular oil but may have some clutch issues. Havenít noticed anything yet, but Iíll do a complete oil change when Iím back in Vegas. Tire pressure is good, it hasnít changed since TX. The tires look great, nothing unusual. Break pads seem 90%. I do keep piping a fuse that goes to a power adaptor that I use to charge my gadgets. I am only using one item and it keeps blowing te 10a fuse so Iím trying a 15a. The lights are all working and the motor sounds great. This bike is doing pretty well considering the speeds Iím pushing it. We generally keep it at about 80-90, my top end is about 100, a bit more if I can catch a trucks slip stream just right. Well off to lunch.
May 17th 2010
Day 13
The most beautiful town in America.
Well I think we found it. We rolled into Lynchburg Tennessee late into the afternoon yesterday. This would think that we were the oddest looking thing to come through this town in 50 years by the way these people viewed us. It would have been more appropriate if we were to stroll in on a couple of American Saddle horses. Lynchburg is just south of Nashville in the rolling hills of Tennessee. The entire region is so beautiful, I tried to post a video last night but I will have to wait till I get back to Vegas. Time to go visit the distillary!
Day 13
Old No 7
The distillery was pretty cool, I learned a lot about the history and the process. Every drop made comes from here in Lynchburg. The town has a population of only 361 and is nesseled in dry county here in Tennessee. The people here are real nice and the scenery is georgous. Now itís off to the Ozarks
May 18th 2010
Day 14
The flat lands.
This trip has given me some insight on what I need for my Alaska trip next year. Got to get a few more things and kind redo some stuff.
I kinda wish I could continue through Vegas and on up to Anchorage but this trip needs to end sometime. Two weeks on the road today! Just a couple days left.
Outside of tennessee there isnít much other than th Ozarks. We stayed in a motel just outside of Little Rock, AR. And stoped for lunch in Oklahoma City. Going to try for New Mexico tonight. Not much else new to report, just collecting miles on the odometer.
Day 14
Storm runners
WellÖ We stopped in a town called Vega, TX just outside of Amarillo. We stopped for gas and then went into te saloon next door. This place is awesome, beautiful girls behind the bar and real friendly people here.
Looked up at the tv and it turnes out we are in the middle of a tornado warningÖ Actually the tornado truck from the discovery channel just pulled up and sat down for a beer.. Said they saw a few cones appear. Looks like were here for awhile.
Cheers!
May 19th 2010
Day 15
The calm before the storm.
The tornados moved east and to the north through out the night. I sat on the porch with a beer and watched the storm on the horizon under a blanket of stars. Pretty awesome.
Was just gonna stop in for a beer and ended up closing out the bar. This was a rad place and I would definatly stop in again next time iím in the area. Guess were in the road again.
Day 15
And then their was one.
My fellow road partner Jose had some pressing matters back in Vegas that he needed to get to. So heís taken the interstate and is trying for Las Vegas today. Not something Iím interested in doing myself, my pressing matter is here and now. So I continue down route 66 as long as the road will allow me too. Objective today will be somewhere before flagstaff.
Day 15
Miles from anything
I went to metor crator then traveled to conclude my day. I hit up the next exit and found some trail that lead out to the middle of the desert. Found sone flat ground that looks like some elk had been through.
Iím about 30 something miles from flagstaff and about 280 from Vegas. Miles from anyone, and loving the solitude.
I just watched the sun set over the desert listening to ďwarewolfĒ by cat power and waiting for the stars to come out, looks like a half moon so Iíll have some light. Tomorrow Iím gonna get up early and get some breakfast in flagstaff then head home to vegas. Should be there in the afternoon.
May 20th 2010
Day 16
The last leg
Iím about 170 miles from Vegas. Iíll need to stop for gas on last time then Iíll be home. Gonna spend the next few days working on the pictures and video from the trip as well as fixing a couple things I broke on the trip and change my oil etcÖ
Last night was cold but rideing through the high deserts of Arizona at 6 in the morning was much colder. A hot breakfast and coffee killed the cold. Iím at a cafe at the end of route 66. The town is kinda hidden and I just kinda happened upon it. Well back to the asphalt.
Day 16
Home sweet home
Well Iím back home safe and sound. Just scrubbed about an inch thick of grime off me and threw everything into the wash.. Porter was happy to see me and brought me his ball. Gonna wait till tomorrow to wash my bike. I need to get a few things for it first.
The trip was awesomeÖ I wish I had more time to visit more of the smaller off highway type towns but that would cost more time that I had allowed. Got a few days till I go back to the shop. And I canít wait to get back to work. Kinda missed it. Iíll recap on the trip and everything later on when I get situated. As for now Iím spending some time with the little one.
May 21st 2010
THERE AND BACK AGAIN.
As I sit by my pool in the backyard watching the neighbors dangerously large bee population leap from flower to flower in my yard and back to the hive in theirs. A large enough bee population that when we called the exterminator to come and take care of our problem, he came back a bit spooked from what he said was the largest hive heís ever seen. Oh something like two to three hundred or so bees in the surrounding yards and in the air around the hive and also maybe another couple hundred more inside the hive itself. The neighbors had told me that they had noticed the bees but had always just avoided them, until last year they got so bad that they just simply donít go in their back yard anymore. The logic behind this eludes me. Iím more of a ďkill the problemĒ sort of guy, but I realize that not everyone views the world the same is I. Thank god really. This world is in enough turmoil as it is. The last thing we need im sure. Anyways Iím sitting here enjoying my home in Las Vegas, its a mild 78˚ and a slight breeze.
I wanna say it was September of 2009 that Jose and I committed to the San Diego / Key West trip. Maps were drawn and time was scheduled. We figured that May would be a time when the weather in the south wasnít at its highest and that the climate to the north also wasnít too cold. Cinco de Mayo was chosen for our start date and let the other days fall as they will. We had originally wanted to do the trip on our sport bikes, Joseís Ducati Monster and my Suzuki GSX-R. The trip would have been a bit more costly in fuel and speeding tickets, but we would have been able to race cover a lot more miles in a shorter amount of time. That would have shortened our trip considerably but added a high level of failure due to the Ducatiís less than perfect track record. The GSX-R would have made it with a few slight mods but this trip would have been a bit risky with the speed ability and the long droning miles of interstates. Eight months dragged by as this road trip sat in the back of our minds as we waited patiently for the seasons to change and the summer to arrive. I was running up the cost on outfitting the bike for camping gear and more of a touring profile, when Jose Sr. told me he was selling his Suzuki DR650. A last minuet decision prompted my to buy the bike and outfit it for the trip with pannier cases, rock guards etcÖ Jose in turn got a BMW F800GS and had also equipped his for the trip. The month prior to our trip had to have been the shortest month of any I can remember. With the trip weeks from cast off I added the mods and got what I could get done just in time for a cast off dinner with a some friends. A few things I wanted for the bike but I wasít able to afford to add due to the money or the time to install and I was just gonna have to wait till I returned. Now in hind sight I realize the importance of these and will have them done before my next venture.
The interstates of America are safe and informative. You donít need much of a map or a GPS to find your way through this great land. A simple gas card and a camera is all you need to go places. The gas card is an obvious one but the camera is almost just as important. You can speak a thousand words and still not properly illustrate as well as a photo. My memory is best jogged with a photo and a journal. Oh and a sense for adventure always helps. Not all that wander in this world are lost. Although I write this for everyone to read and I love hearing the feed back, this blog is more for me to reflect on my trip and future trips rather than simply a progress report. Please feel free to add me and read these pages, post your comments and criticisms. Getting back to the traveling, another thing you will need is not so much a destination to reach but a willingness to enjoy yourself wherever you end up. The late Roger Miller who sung ďking of the roadĒ once said, ďSome men walk in the rain, while others just get wetĒ This quote defines my outlook on life and I carry this with me everywhere I go. To leave your cave and visit the world you need to have a positive perspective and go with gets thrown your way.
The past few post kinda defined the mode and tone of the trip so I wont bore you with a play by play but I do want to point out a few people weíve meet along the way that made the trip a blast. I donít get to see my family much these days and I hope to change that in the near future, but as it stands I only get to see them a couple times a year. Being able to see my Mom, Dad and older sister on mothers day was a real treat. We rolled into San Antonio just before my dad got off work on Saturday, so I was able to stop by and visit his shop and see some of his friends. From there we went to my moms house and my sister Nicole was there with her boyfriend Rhent. We went to the river walk downtown and Nicole treated us to an awesome dinner at this real nice place on the water. I guess Iím starting to see what Iím missing out on in life and starting to re-think my future plans. I was sad to leave and wanted to stay longer, kinda wish I would have forfeited the rest of the trip and stayed in TX for the next couple weeks then just headed home, but we had a trip to complete. Sunday morning we had lunch with my family and then it was off to Austin through some old back roads taking us through the hill country of Texas. When we arrived Jacky and Mike, two friends of Jose took us out and showed us a bit of Austin then let us crash at their house. They were some of the nicest and most hospitable people I have meet in awhile. From there we went to New Orleans and ran into a couple guys from New York, Jea and Chakaras traveling on Ducatis. They were riding for a breast cancer charity event they put together where you would donate a certain amount of money for every mile they travel. Good people one their bikes for a good cause, I like that. In Key West we ran into a couple of brits Neil and his wife were visiting the US and sat at the bar with us and talked of motor cycles and sampled a pint of each of Americas beers. This continued on at an Irish pub where we tried all the Irish imports. Neils conclusion is that most our beer in normal bars tastes like crap, and I have to agree. Next time we will have to try it with whisky. Got pretty hammered that night and went to a strip club and burnt off a good deal of cash. Fun but stupid, btw doní do this on a road trip. The Israelis we meet the next day and their hard as nails motorcycle journey kinda re-adjusted the mind set of the trip for me. Reminded my to slow down, I left the sport bike home for a reason. Jose arguing with some hillbilly in Tennessee about the price of gas kinda makes you wonder, who is dummer the idiot or the one arguing with the idiot surrounded by other idiots. A visit through tornado alley in norther Texas landed us in a saloon named Boot Hill along route 66. A tornado warning and a cute bar tender named Sarah kept us drinking in the bar till closing time. With Jose having to rush home the next couple days I spent on my own, roaming the New Mexico and Arizona planes and desert land. Yesterday a short ride brought me from the frigid high desert near Flagstaff to the drop to the dry hot wastelands of Nevada. Its an odd feeling to return to the desert and knowing your safe and home. From a world so lush and green to the sunburnt rocks of Lake Meade I was surprised to feel comfort as I saw the city on the horizon.
I traveled 6,468 miles and home is just as I left it, but everything seems a bit different. This trip has been a much needed break, some time to reflect and clear some cobwebs from my head. I have the next few days off to adjust and do some cleaning around the house and yard. Gonna get drunk at Forbes tonight and buy some poison then kill the ever growing bee population infesting my yard. I need to wait till dark so they all go in the hive to sleep then cram a can of bug kill in the hole.
I changed the name of the blog from DRtrooper to Wheeler. It seems more appropriate since I own more than one bike and plan on future trips on both bikes. And ďWheelerĒ has a great deal of family history behind it. What better name to use other than my own.
Cheers!