I am new to dual-sport motorcycling, but no stranger to backcountry jeep roads, cross country mountain biking, and alpine suvival. The minute I bought my 1989 KLR650, I had the bug to take it out on a dual-sport ride.
I met up with a fellow KLR rider (and ADV Inmate) on a Saturday morning at the Conoco near the intersection of US-6 and CO-58 in Golden. We discussed the route as follows: US-6 to Idaho Springs, then Oh-My-God-Road up to Central City, through Apex and down to Rollinsville, then up Rollins Pass road. I knew most of the route, so I was comfortable with what we'd be riding.
We kick up the stands and cruised our way up Clear Creek canyon. US-6 through here is very popular with motorcyclists of all kinds. There are countless "twisties" that are a lot of fun to take on a motorcycle, whether a Harley or a sportbike. The KLR was very comfortable on the pavement and the average 45 mph speed, although it is hardly a sportbike.
Once in Idaho Springs, we meandered through a couple of residential streets and quickly found the dirt. On Oh-My-God-Road, both the KLR and I were put to our first dual sport test. The road consisted of a very steep incline and many switchbacks on some loose gravel. I found out how loose the gravel was on the first turn as I felt the tire get a bit "squirrely". My heart skipped a bit the first few times, but I took a deep breath and started to get a better feel for the turning, even downshifting where necessary to make it up the road. Fortunately, the dirt here was the loosest we would encounter the rest of the day.
At the top of the road, we drove through Nevadaville, a town that in my four years of exploring Colorado that I have never been to before. It was practically a ghost mine town, but strangely there were some new condos going up. No doubt these were probably in demand by the casino workers in Central City. We stopped at a bathroom and looked to the sky. It was getting dark and cloudy, and it was only 10 AM. We decided then and there to put on rain gear for the next leg of the ride.
Next we drove into Central City, but didn't stay long. We took a left and headed back up the hill towards Apex. I wasn't familiar with this part of the ride, so I stuck close to my partner. The rain started coming down, but didn't last very long. Unfortunately I was wearing leather harness boots, and they were getting wet. However, I was smart enough to wear wool socks, so my feet stayed dry in the minimal rain. Had it been raining any harder I would have been in trouble. My gloves, on the other hand, were nothing more than baseball batting gloves! My hands were damn near frozen after a half hour in the rain, and I was cursing myself for not packing one of the many pairs of ski gloves that I own! Thankfully, the sun came back out and my hands were thawed again.
When we got up onto Mammoth Gulch, I was greeted by a familiar sight: James Peak. I have frequented its slopes many times, but only
in the spring time to climb and splitboard
, and always from the south side. Now I had an incredible view of the infamous east face directly from across Mammoth Gulch! It was a new view of the classic mountain for me.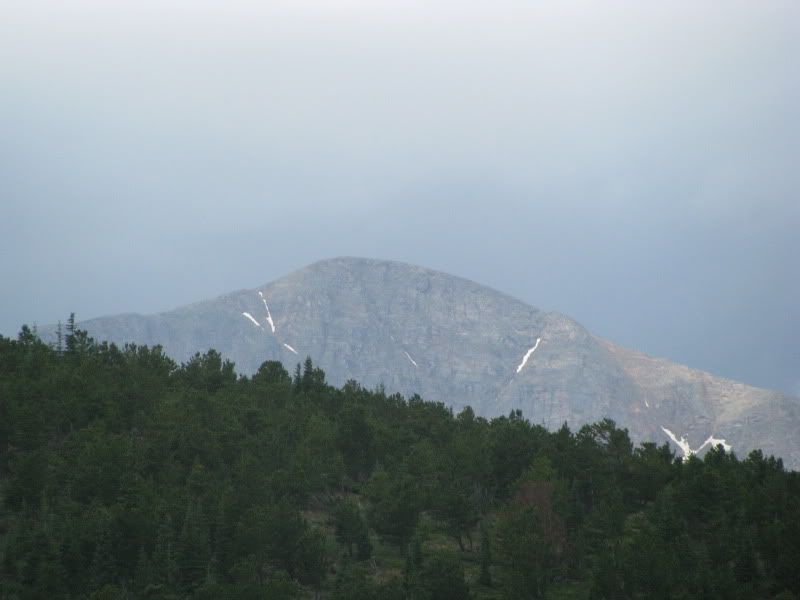 The impressive east face of James Peak
The descent to Rollinsville was steep and fast. For the first time as well, we encountered hikers and mountain bikers on the road. I managed to control my descent down the steep road and without causing a nuisance to my fellow backcountry travelers. Thinking back to the times I've been out biking and had encountering motorized trail users really put the whole thing in perspective for me. I tried to be as courteous as possible and give them a good impression of the backcountry motorcyclist.
Down on Rollins Pass Road, I was prepared for the highlight of the day: going up Rollins Pass Road. I've done it years ago in my Subaru to splitboard up on the continental divide, and I remember it being long, rocky, and challenging. Needless to say, I was looking forward to the challenge on the motorcycle. The road on a nice summer Saturday was very crowded with jeeps and cars. Like I had done years ago in the Subaru, they were all moving incredibly slow. We rallied around each one of them on the motorcycles. For the first time as well, I was standing up during most of the climb.
The road climbed higher and higher above the valley floor and soon we were out above treeline. The scenery up here was fantastic. Eventually we made it around Jenny Lake and arrived at a blockade just short of the Needle Eye Tunnel.
At the top, we dismounted and took in the fresh air. We met two other riders on 400's, one a Yamaha and one a Suzuki. They were impressed with what he had done on bigger bikes. One of the riders had taken his bike up and over the boulder blockade and around the tunnel on the hiker's trail. They asked us if there was a high pass over the divide here, which we said no. I also informed him that where he took his bike up around the tunnel was also illegal. He quickly ran back and brought his bike back down to the road.
At the top of Rollins Pass Road looking back towards the southeast.
It is too bad that Rollins Pass Road does not continue over the divide. It would be the only high pass route in the Indian Peaks, and connect hundreds of recreational users in the Front Range to people in the Fraser Valley. We had a short discussion with our fellow riders and then all geared up to depart.
Once back down in Rollinsville, we made the decision to continue dirt-riding and head for the "Switzerland Trail". I had no idea such trail even existed, so I followed my partner North through Nederland and up the Peak-To-Peak Highway.
He made a sharp turn and we were back on a jeep road. The next leg of our journey was the most fun of all for me. Finally feeling comfortable after riding the pass road, I was able to cruise through the dense desert forest, banking turns and riding up and down the hills. We covered what felt like a lot of ground before hitting yet another highway that took us into Boulder. Just before leaving the forest, I had an awesome view of Arapaho Glacier and South Arapaho peak, which I had just climbed the week earlier. I love "connecting adventures" through different perspectives this way. It never gets old.
Traffic was heavy as we came back into civilization. We traveled through stoplight after stoplight in the middle of Boulder, and finally hit US-36 to cruise back to Denver. When I got home, I looked down at my odometer. It seemed like I'd covered thousands of miles, but the truth was less than 200 miles. It was probably the most fun I've had in a day for less than ten bucks!