TPB all the way
Joined: Jul 2009
Location: Texas at large.
Oddometer: 1,604
Two Bros Take on Big Bend National Park! Jan 2011
---
Howdy dudes, well my brother and I realized that trucking our motorcycles to Big Bend was just not going to satisfy our lust for riding. I was a bit saddle shy about taking the KLR that far, wondering if the road ride would be satisfying enough to make it worth about 150 miles of riding within the park. Well, the biggest surprise of trip was not Big Bend National Park, it was the road trip!
Don't get me wrong, Big Bend was stunning, and the dirt roads were long and sweet, and the paved park road were heavenly.
However, the return home via Marathon and Hwy 349 was spectacular and we rode it at sunset! It underscored the beauty of Dual Sport and Adventure motorcycling. The KLR 650 and DR 650 were comfortable cruising at 65 mph..... all day long!
Plus, they hauled all our camping gear and handled the dirt roads with aplomb and could be ridden like a sport bike on the pavement. What more can you ask for from a motorcycle?
Big Bend adorned in Tracks!
We left Austin on Thursday after work, taking 290 to San Antonio and hooked up with Hwy 90 to Uvalde, where we spent the night.
Friday morning was very cold! Here DoctorDR is layered to the max, including a tourmaster electric vest. The Tourmaster vest made all the difference in the world, once turned on you go from misery to bliss...
Bitter-sweet, a half mast flag as we make our entrance to the national park, and make our way to the Rio Grande campgrounds.
We decided to ride Black Gap road and the River Road on our first day (Saturday) as it was going to be occupied by marathon runners on Sunday.
The River Road, was fairly smooth, with a few deep sandy sections, and quite enjoyable!
After completing the dirt River Road, we continued through the park on the fabulous paved roads.
We ended the day with a ride to the hot springs.
I enjoyed taking advantage of the sunset with the camera.
Sunday morning we exited the Park via Old Ore Road, which was about 28 and took a few hours to ride.
It is very tight and twisty with lots of climbs and descents and was my favorite road.
Here is DoctorDr's take on our Two Bros Take on Big Bend National Park.

The miraculous mini-moo DR650 dry humps the Bend, its sack too heavy to carry on squishy legs. Boy, an overloaded way of saying my DR650 is sagging and drooping while thrashing around the roads of Big Bend National Park. 1,200 miles later, we arrive back in Austin, having rode our brains out yet surprised this turned into an epic road ride also, doing some dusk and late night blacktop along the way.
Hulked out dual sport bike in Marathon…..home away from home for dual sport riders.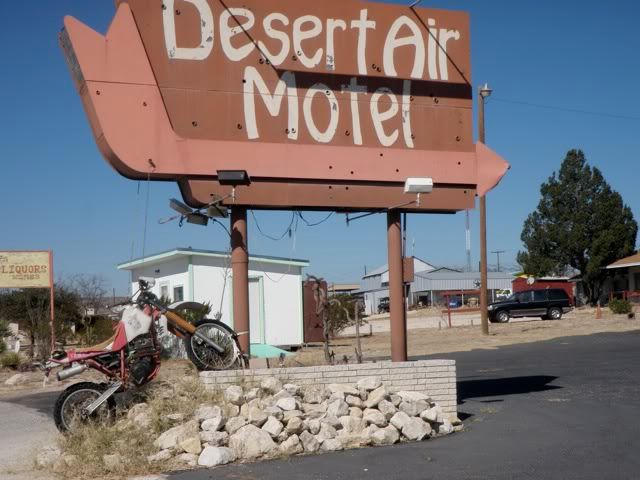 This all started out as a "need to scratch that itch" for mega-miles after doing our annual B.U.T.T. ride at the Big Bend Ranch STATE Park. While the riding at BBRSP intense, a jigsaw puzzle of twisted and convoluted 4X4 roads; we had hauled the bikes in my truck to the BBRSP. This left me and my bro, KosmicKLR itching to lay down some big miles, "old skool" on our respective bikes, DR650 and KLR650.

Nice RDS custom double knit 8 inch beanie.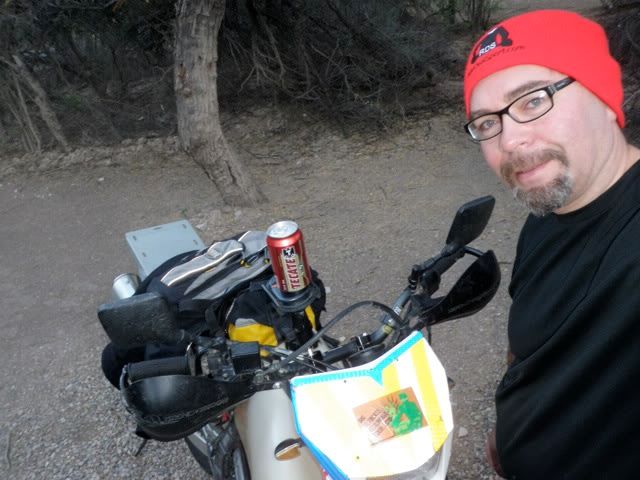 A damp, arctic cold front was only just lifting out of Central Texas as we load up the bikes. Praise be to the Tourmaster electric vest. This carbon-wired wonder fills your cockles with warm pleasant feelings as we trundle down the blacktop heading south out of Austin, and skirting the mega flyovers of San Antonio to search for I-90 to Uvalde. This modern marvel of high tech gear lets you ride in freezing cold without obsessing about when your getting off the bike, and actually lets you enjoy the traveling. I prostrate E, W, S, and N to the Gods of wondrous plug-in heat!




We reel in the miles, hitting a miserly 52-mpg on the road, ticking of mile after mile. We roll into Uvalde for the first night, and leave as the sun rises.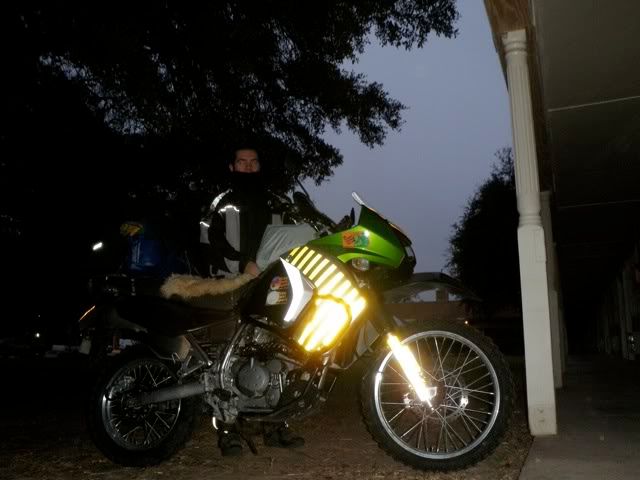 Past Uvalde we head further in to the bleak, scrubby, eroded landscape and endless ribbon of black top before us. This lower route of I-90 is the like the underbelly of an armadillo, cold, colorless, and seen by few. From time to time we move to the shoulder to let a 80 mph semi blast by.
South-west Texas is the land of beef and burgers for sure, all tan and brown foods that go with the colorless landscape. Want some fruit and veggies to keep the colon doing its happy push ups? Fer-get-ua-bout-it. All you gets is a burger and fries….how you want it? Bacon, jalapeños and cheese?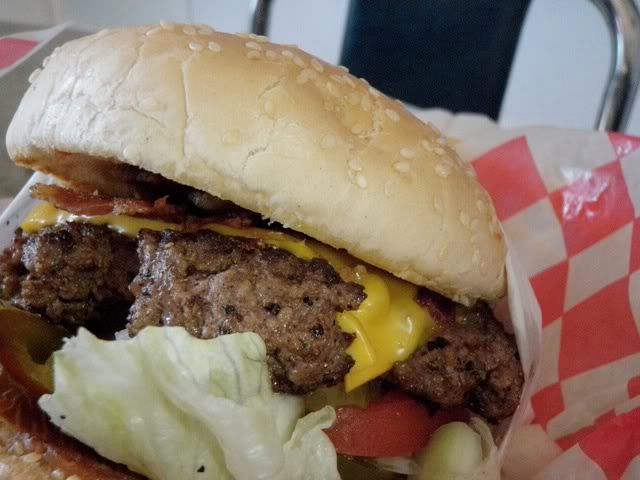 Rolling into Big Bend Nat. Park.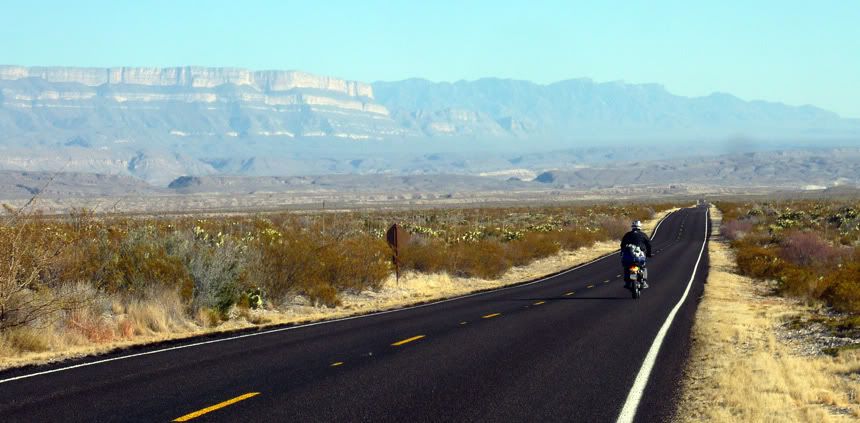 After Uvalde, we hit Marathon, for the last three dollar gas we will see….its double the price in the Park. We roll into the campground its in the 60's not bad, but will dip down to the upper 20s and 30's by time we leave. As we unload, set up camp, night hits along with watching your breath as you talk, and later frozen condensation on the tents.

Nice set up here with REI one-man tent and fancy Swiss air mat with goose down inside, on blow out sale at REI.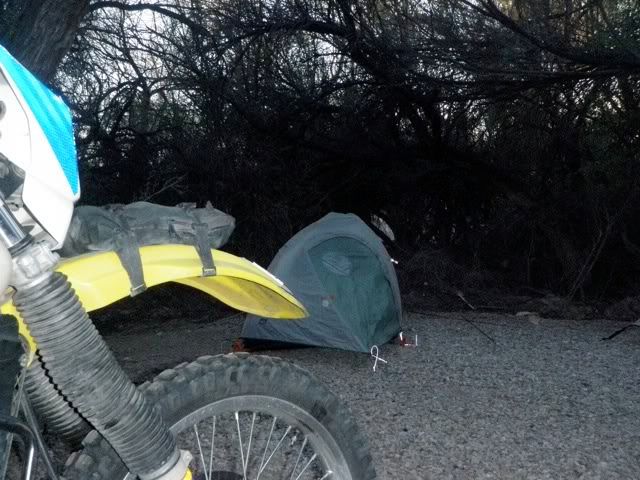 Our camp meals are simple but filling and good: oatmeal, instant espresso coffee, and eggs in the morning. For dinner, Israeli couscous, chicken breast in a can, and Indian spicy sauce. A one-pot-wonder washed down with a couple of man killers…..takes the edge off our weary bones.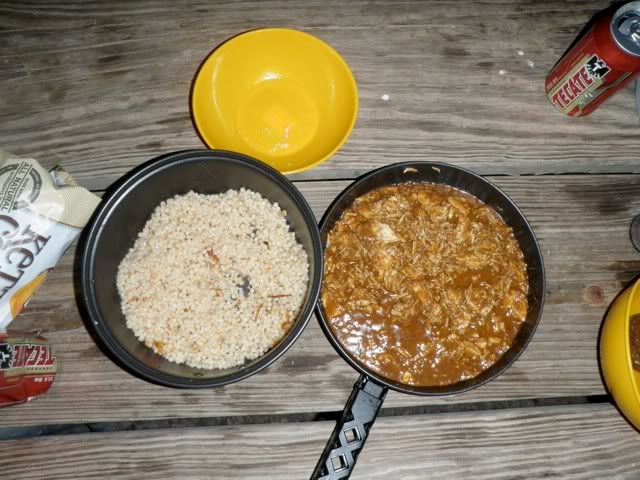 The master at work. Give me a can opener, some special sauce, and I can come up with "Chef's Surprise" every time.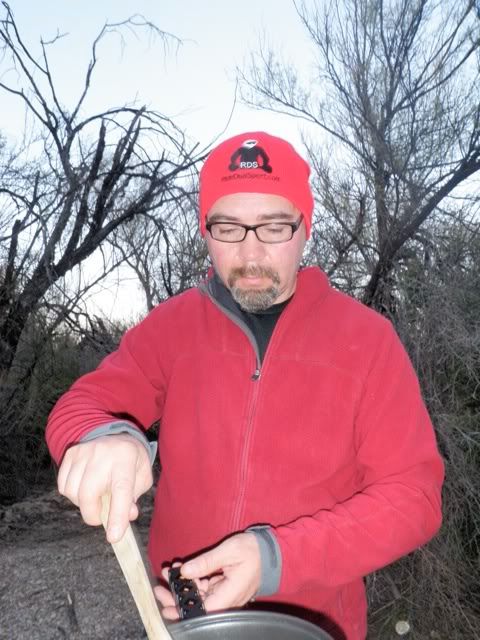 The Park is full of runners….a 50K ultra marathon is being run on Black Gap road….hmmmm….how many do we have to dodge out there? You can tell the runners, cause unlike my somewhat portly self, they are thin, wiry, and weathered. All track suits, running shoes, with 26 inch waists. They obsessively brush their teeth in the bathroom, with the same focus needed to survive 50K. Maybe it's the type A personality, I dunno. They also wear those little forehead flashlights, so they can always see in the dark. Me and Kosmic prefer to go for some night time strolls in the dark to help work off the Israeli couscous and chicken dinner.

KosmicKLR rocking it in Big Bend!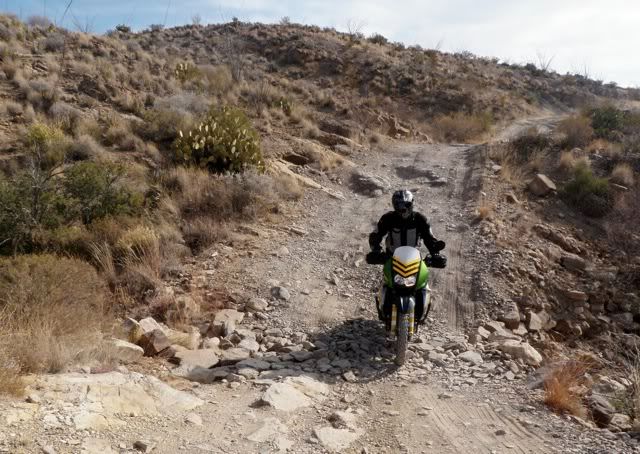 Ready to hit the 4X4 roads, bring it on!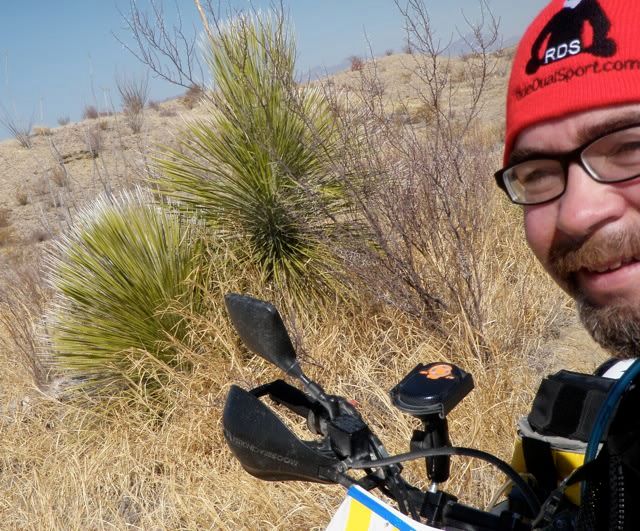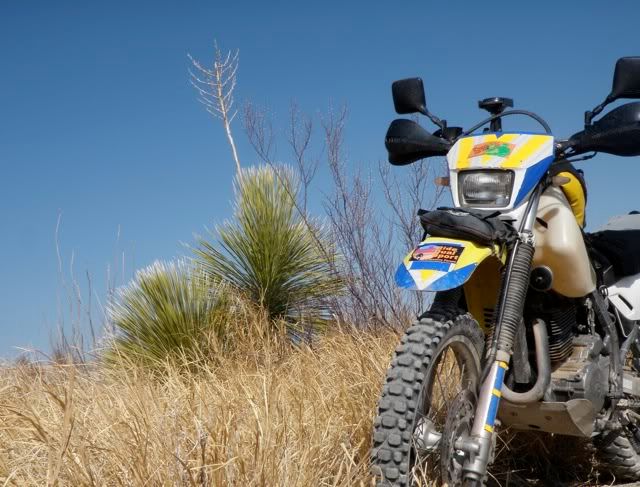 We decide to hit Black Gap and do the major dirt loop in the Park on Saturday, so we don't have to worry about bowling over runners, I doubt they would like eating our dust in any case. So after waiting for the coffee to kick in, and dropping a few thunder-logs in the terlet, I'm good to go. Those jalapeño burgers keep on givin, boy.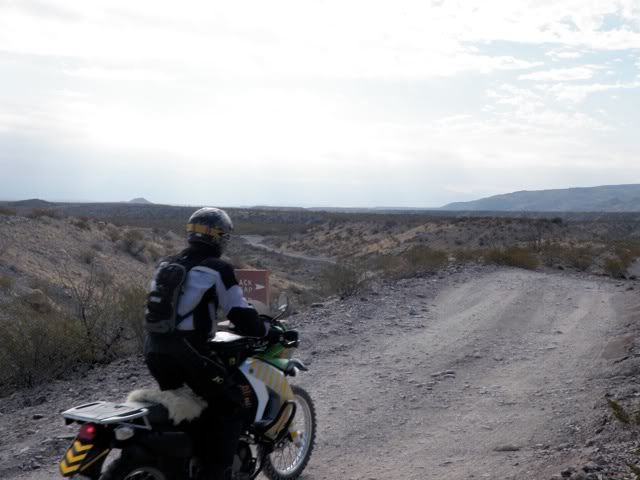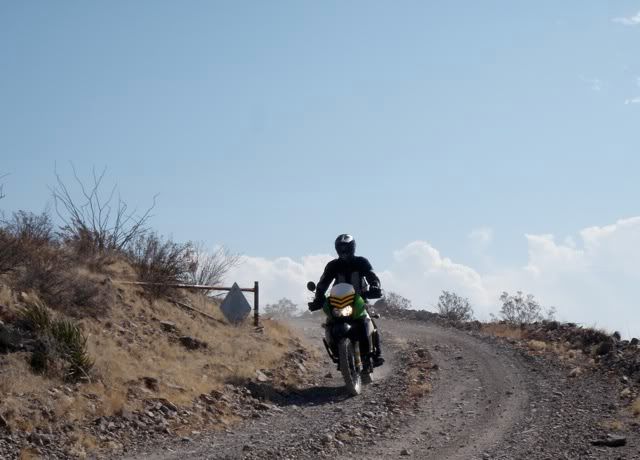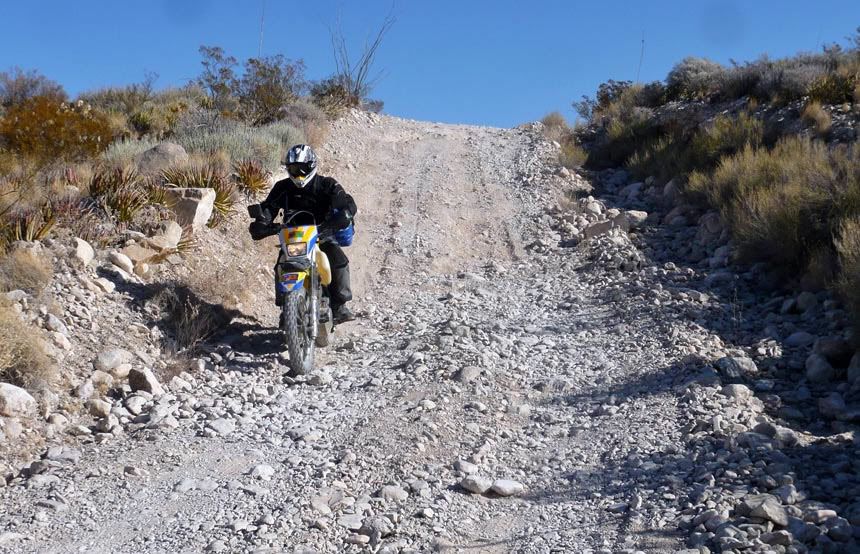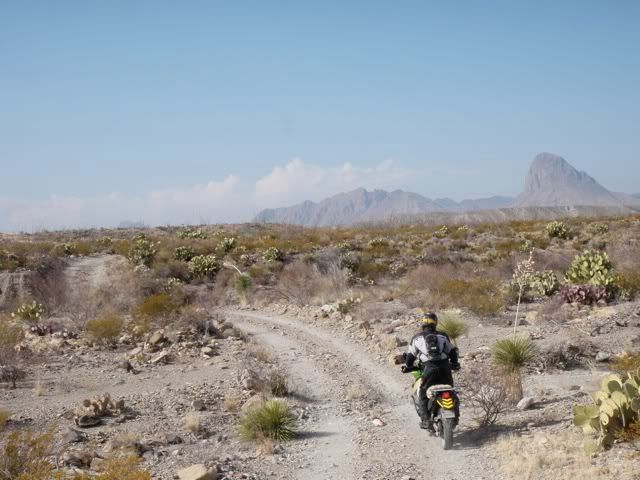 The riding is great, this almost seems like a dirt interstate in comparison to Big Bend Ranch State Park. Nice, wide, a bit sandy not too tough. The distances are immense however, you get swallowed up in this scenery, jes how we like it. Time to get lost, really lost…..let the mind relax, soak up the vastness all around.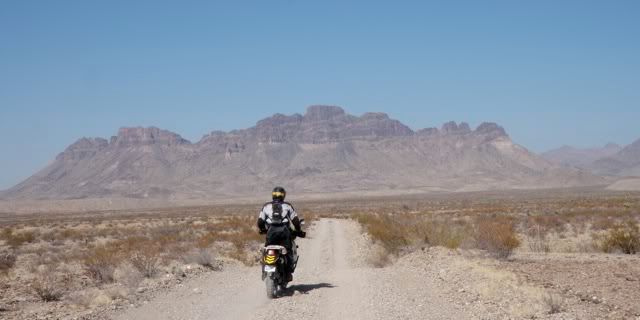 Revel in the lack of people, cars, Wal-Marts and HEBs. Sometimes you just have to get out of it all to realize how hemmed up and cooped up you feel in the city. Give me some solitude with my dual sport and a good buddy like my bro Kosmic, its good for the soul! The first day ends, taking us at least six hours, including the road time to get back to Rio Grande village.

Beautiful overlooks in the park, on the paved roads back into Rio Grande Village.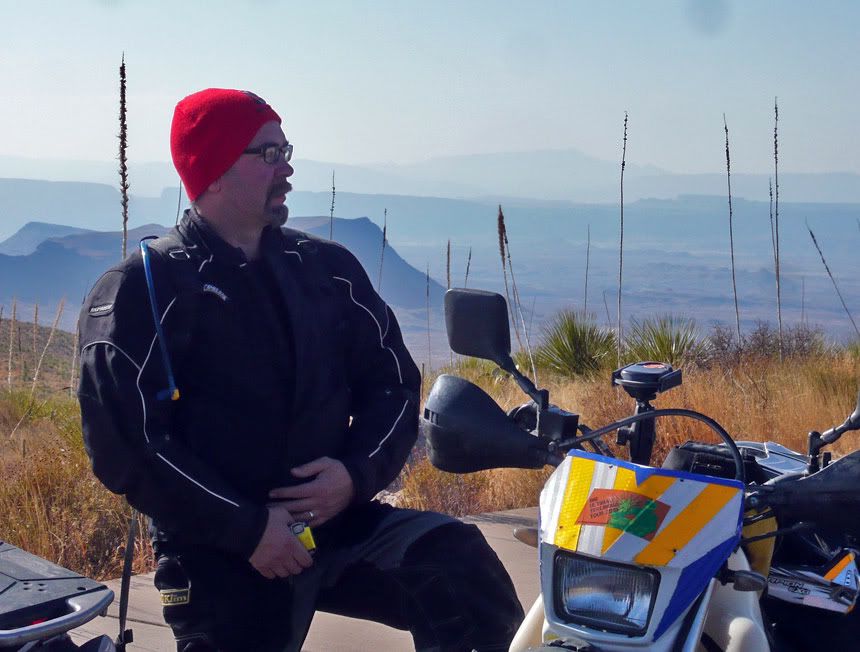 We hit the hot springs, cool old buildings that used to be hot baths for taking the "cure for the constitution".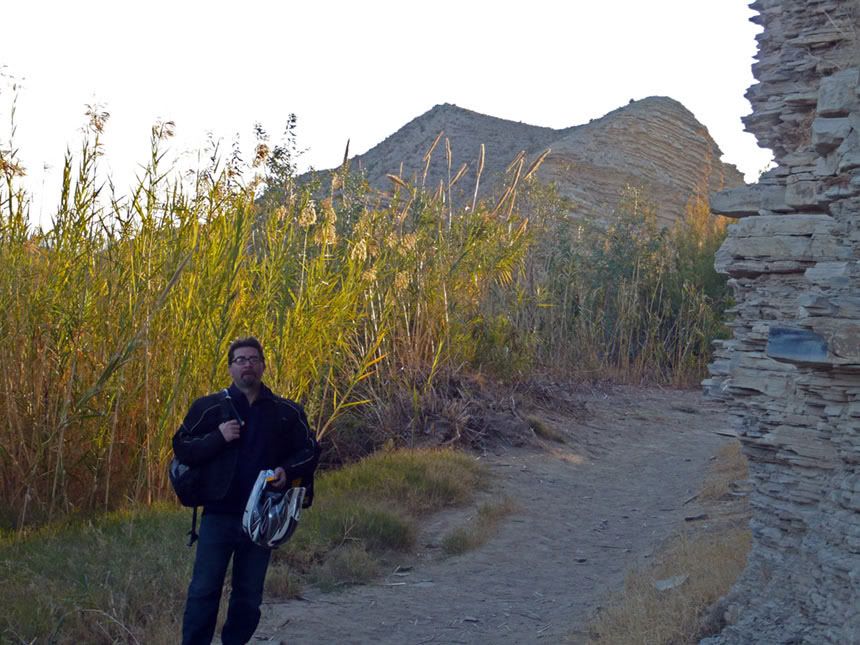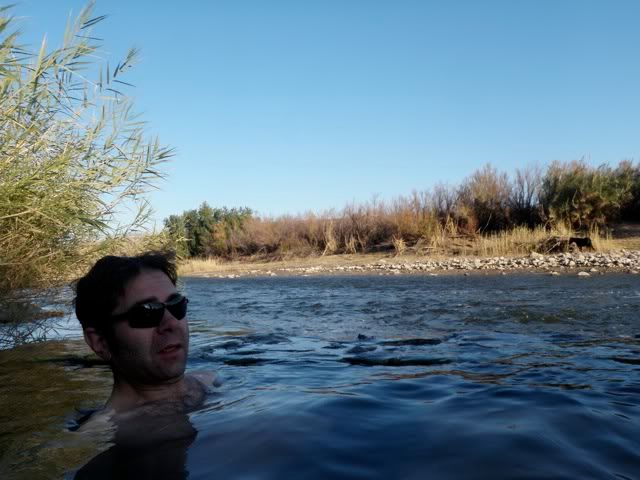 We find ourselves in a bit of quandary….hmmm if we ride on Sunday, and spend the night we have to ride back to Austin all in one day, Monday. That's about 600 miles, not including several hours of dirt road doing Old Ore Road. Not a pleasant prospect…..nor safe, with as fatigue will set in and we would be wasted on our return to Austin. So, our tack is to load up on Sunday, ride out of the park on Old Ore Road, and make time that day/evening. We decide to take a new route back, instead of re-tracing our track back. Soooo…time to load and see how the ol'DR 650 does with 50 lbs of gear on the back! Whooo hooo!

We kept the wives happy back home by regular check in messages from SPOT such as "My eyeball just fell out, but doing fine." or "My leg is broken in five places, but not feeling any pain, and emergency rescue is two days away, but don't worry."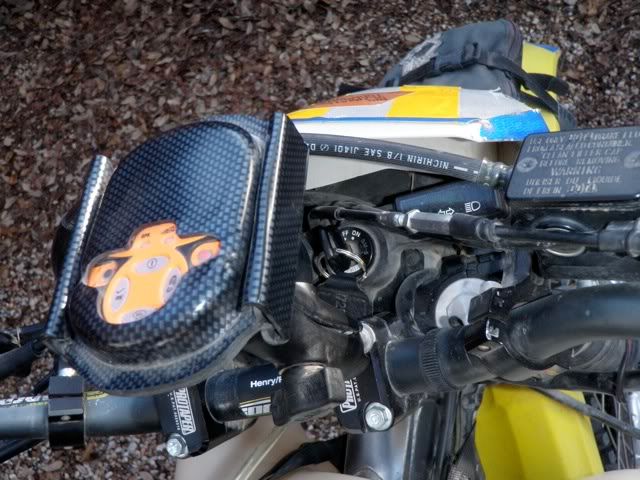 So, time to break down the tents, pack up and hit it! We head out on Old Ore, and its fantastic! Miles and miles of rolling double track, up and down, sand washes and climbs. None of it is a problem with a full load, just keep a good 25-30 MPH pace, keep your eyes open for dips and sand washes no problem! I use the dual sport techniques a lot to conserve energy…stand up, weight the inside peg to turn, then weight the outside peg and push the bike in to the turns. Even with a big load on the back, I can feel the bike digging in and gaining traction.

Old Ore is packed with history, including this old stone grave, with coins on it. What a life out here, I wonder what his story was.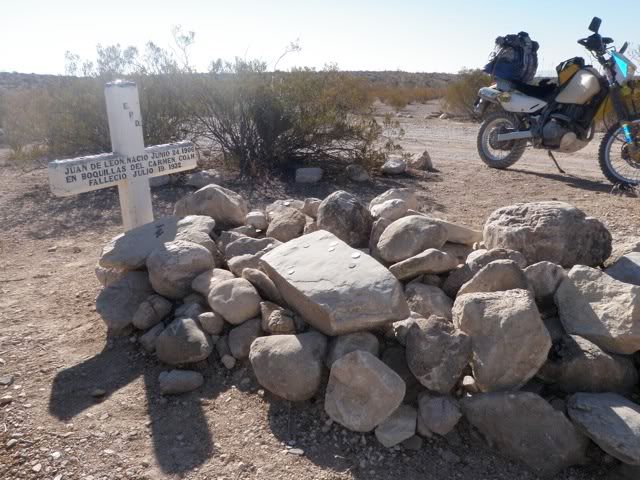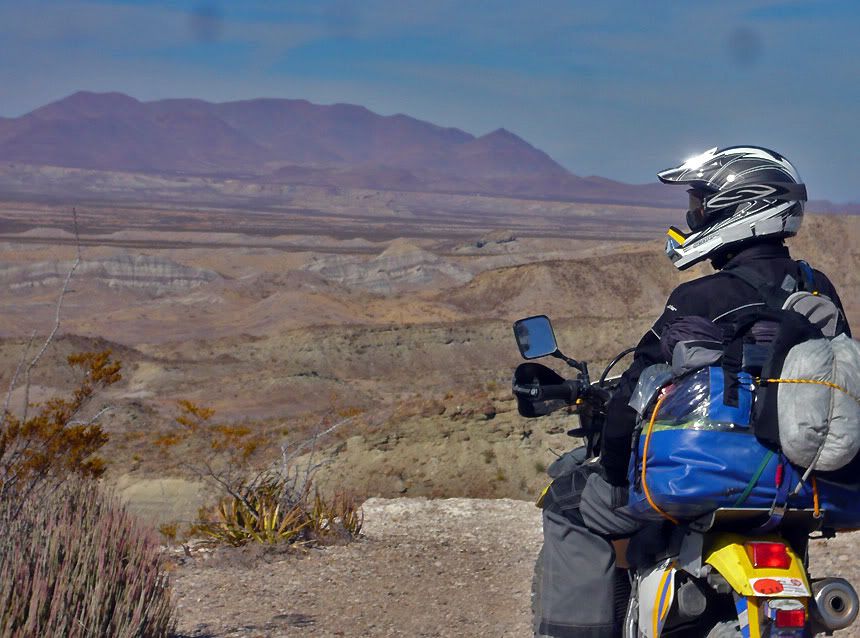 Old Ore Rode gets us out of the park, and lo, we arrive in Marathon again. Gas up at the crusty old station, take a leak, gear up for the cold again and get ready to lay down some miles! We hit some excellent paved roads as the sun dips in the horizon. The colors change to stark black shadows, blues and oranges in the sky, with slight outlines of mountains and hills before us.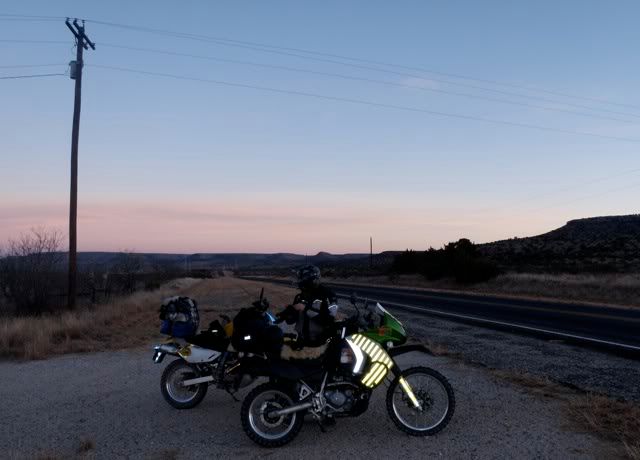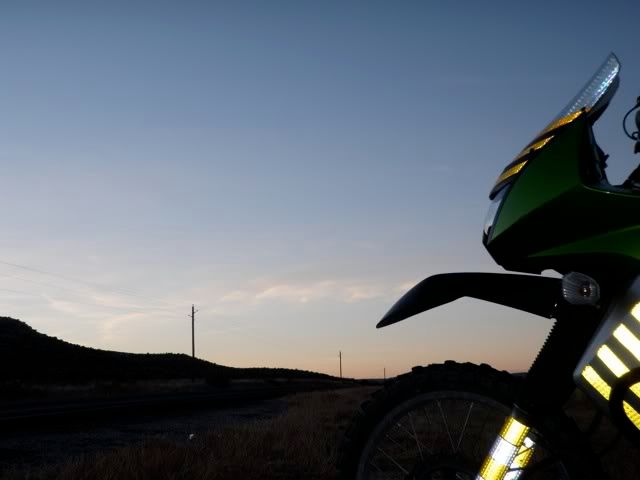 The air turns chilly…..pray to the Gods of electrons to heat our vests for another run against the cold. Push the magic controller button, feel that warmth envelop you. The sun dips completely down, the road turns to black. Just follow that light and white line in front of you. It leads home eventually. Watch for the bright lights of 16 wheelers coming on up behind you, brace a bit for the blast, and zoom they are gone.

Our last night in Junction, fog rolls in. The Hills Motel is the last $45 motel in Texas whoo hoo! Bargains still to be found, and decent accommodations!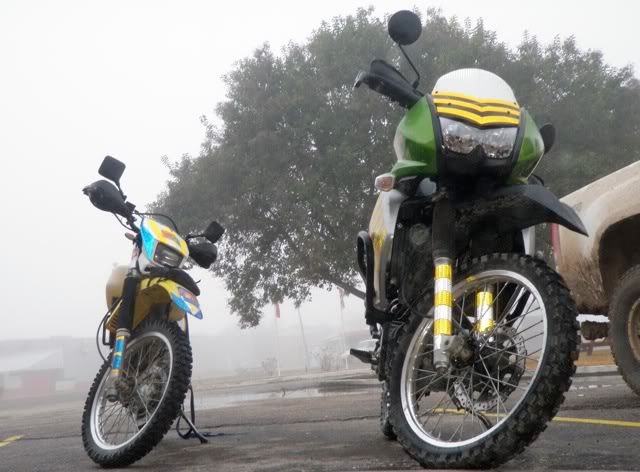 We roll into Austin with clear sunny weather, 60 degrees. 1,200 miles. Sore and tired, but already thinking about the next dual sport trip!

PS: While my DR650 is smoking on startup, I was concerned about it burning too much oil. Well, the verdict is less than ¼ quart consumed over 1,200 miles, so me thinks that is just great! No need to tear into the top end. We ran miles and miles at 65-70 MPH, with a full load, and my bike geared down with a 14 tooth front sprocket. So, ¼ quart seems very reasonable.
Small oil leak from the cam chain tensioner, not too bad.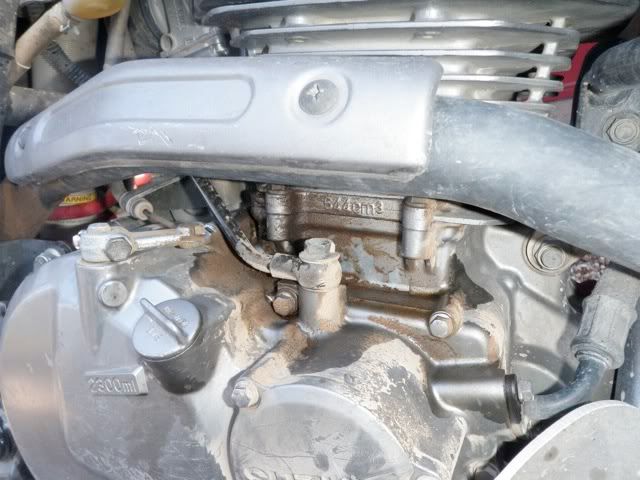 I left this ride totally stoked about how good the DR is as an overall dual sport bike. Smooth, reliable, and able to carry plenty of gear. Broad Corbin seat with a sheep skin gives no hot spots or sore ass. Low seat height, making it easy to get on/off the bike. I think the perfect upgrades would be a quite aftermarket pipe and a pumper carb. That way I could get some extra low down grunt and better pick up on low throttle. I could then go back to stock gearing and cruise at 70 MPH when needed, as without working the engine as hard. That's what I like, a hopped up DR650 that can hit the 4X4 and un-paved roads with aplomb, yet wick it up to some 70-plus cruising on paved roads when you need to make some time.

Ride on, dudes.


---
RideDualSport.com screwed with this post 01-19-2011 at

08:31 PM