Just thought I'd share a short story of what it took me to get my patent pending Lay Over Stand to market. First of all, I know many of you will probably say this is the dumbest thing ever thought of...yeah yeah yeah...I never claimed for this to be the solver of "World Peace", just thought this stand would make the task of laying a bike over easier, quicker, and safer/more stable. The general idea of the stand had been in my mind for several years, just didn't know what to do about it. Through my years of riding/racing motocross and having grown up with my dad riding/racing regularly (moto and dual sport guy), I thought there had to be a better way to lay the bike over. Too many times have I had my bikes simply move when trying to lay it down onto regular stand (but not quite fall off), actually fall off the stand, scratch a fork tube, bend a lever, rip a grip, etc.
I am a 3-D product designer by trade so I began creating multiple different models and eventually came up with something that seemed would work....on the computer screen haha.
Soon after coming up with the concept and putting together 3-D models and 2-D build prints of the stand, I ended signing an agreement with Motorsport Products to produce and sell the stand.
We (myself and MP) had a couple initial prototype versions made....what a cool feeling that was to see an idea in your head really come to light (believe it or not, there was one of the first prototypes of these stands being used at A1 last year...2013). Here is a pic of me testing the stand out while in the middle of my CR 250 build :-)
After some testing and feedback, we made some improvements to the stand and had a 2nd round of prototype stands made (thinking these were the final product, we were able to get some "cool" ones made haha). Here is a pic of prototype #2 and me using it.
After several months of testing, we made some final small adjustments and went into "production" on the stands....below is a pic of a couple of the first actual production based stands.
Once they were In-Stock, the stands were set-up in Parts Unlimited and stocked in all their DC's. The stand also showed up on BTO Sports, Rocky Mountain, and Parts Unlimited's website which was VERY cool....to me anyways haha
Last but not least, finally hit the "big-time" (haha) recently when photo's showed up on Vital MX and RacerX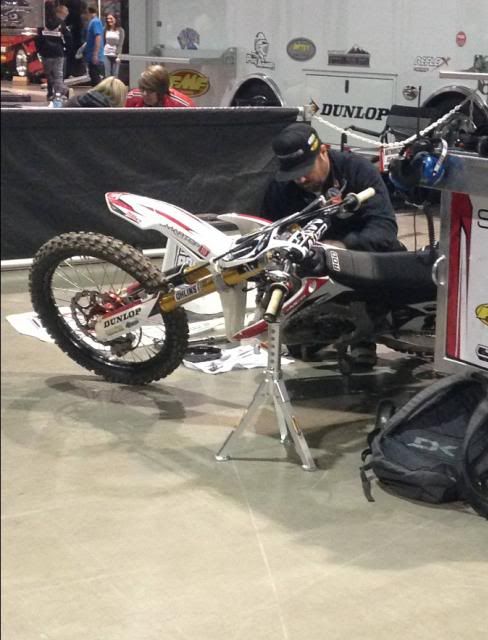 [embed][/embed]
That's about it. This honestly isn't meant to be "spam" (feel free to delete thread auditors), just thought some of you might like to hear the story behind the product. I have NOT used this on an actual Dual Sport bike (I have used and the stand IS DESIGNED to be used with Bark Busters installed), I can say I had a 250 lb. motocross bike laid onto it and then I stood on top of the bike...and I'm another 155 lbs.