DAY 1 – 15 December, 2009
The Tuesday morning dawned quietly, with a soft drizzle that fell intermittently. I suppose I had slept, but it didn't feel like it – my eyes were burning and my head felt a bit woozy. Today is the day my father (aged 72) and I are leaving on our road trip through the south-western part of South Africa - Dad on the Kawa KLE500, me on my BMW XCountry 650.
I had prepared a preliminary route and itinerary, and the reason for the little sleep was putting in final touches and loading and reloading the routes into my Garmin Nuvi 500. This was the plan, as far as the most westerly point of our trip was concerned anyway.. the way home we would play by ear:
All packed up and ready to go! Note the "reënpakkies" - much cheaper than and just as effective as branded rain suits… not to mention the visibility!!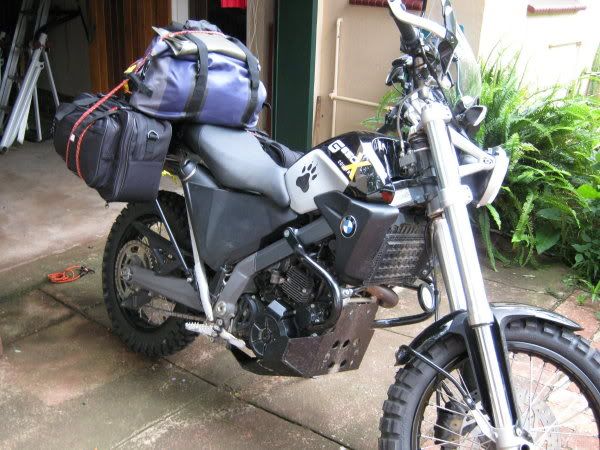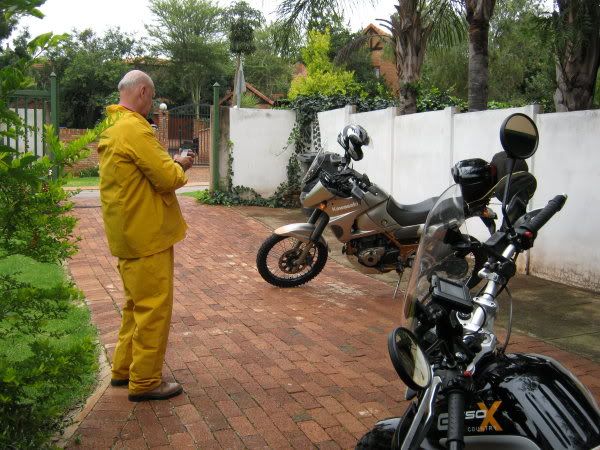 This is the first long distance trip for both me and my dad, so we took it easy… sticking to tar but keeping away from the highways.
Breakfast in Heidelberg and somewhere on the road: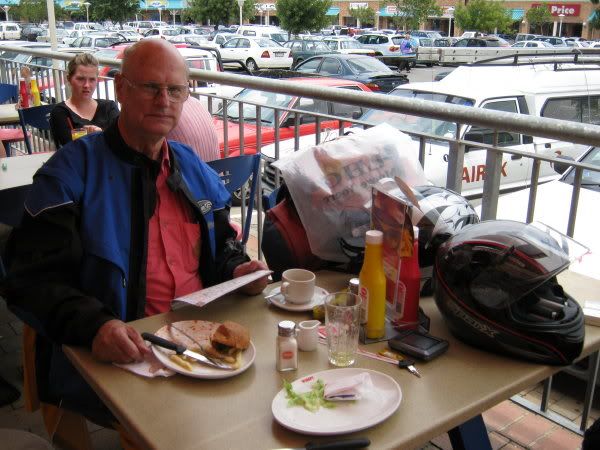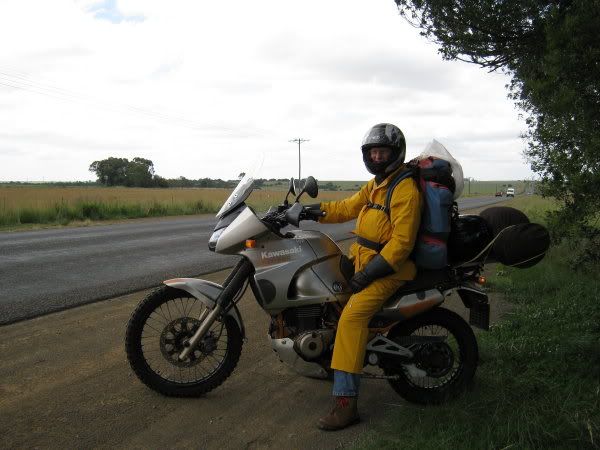 Somewhere on the road between Reitz and ??, I stopped on the side of the road, thinking an oncoming truck had flashed its lights at me because something was wrong…
Dad stopped next to me on the broad shoulder… but too close to the edge of a 2meter high steep embankment (in the pic above, the start of the embankment shows as a darker piece of gravel in the foreground).
Pulling away, he lost his balance and tipped over! I watched in horror as Dad came off the bike head first, and the KLE was lying on its (wrong) side halfway down the embankment, the topbox a few meters away, having spilled its contents... I scrambled down to my dad and checked, he was OK, but shaken up pretty badly.
We struggled with the weight of the 180 kg KLE, managing to first turn it around so the wheels faced the bottom of the embankment, and then managed to get it upright. Fortunately I had a protein bar in the first aid kit, and some water in my camelback.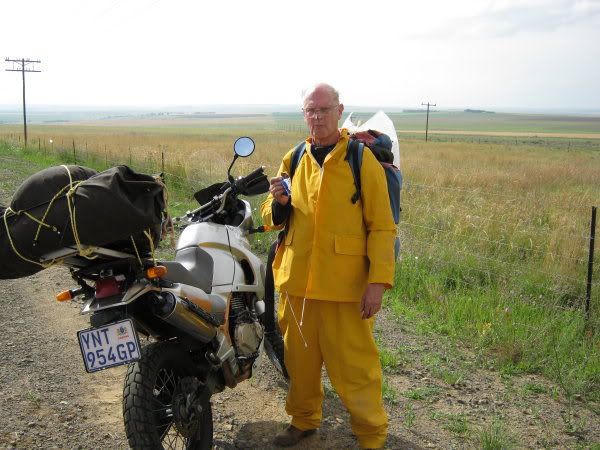 We rested a bit, and then Dad said, OK, let's get going. I got back to my bike, got on and looked back for my dad. He had to turn around, having been facing the wrong direction when we set the bike upright.. and as I watched, he went up the embankment, got to the edge of the tar and while turning around, dropped the KLE again!!
Oh boy… this was so not good!! I raced back to him, and we struggled with the topheavy KLE again... trying a different technique this time (thanks to the training I went on, I was very grateful for that!). A few cars went by, but no-one stopped… but we somehow managed to get the bike upright again.
As we rode away, exhausted and tense, I had a few second and third and fourth thoughts about the rest of the planned tour and the places we had planned to visit… Baviaanskloof.. die Hell… and wondered what we were going to do if we had more tumbles on those roads…
We got to Clarens, and the rain started up again. By the time we got to Golden Gate, it was late afternoon. The original plan was to camp there and I had booked a campsite for us at Glen Reenen. By this time it started raining a bit harder, and I ducked into the reception area to announce our arrival. I talked to the clerk behind the counter, and eventually walked out with a key in my hand. Got back to my dad who stayed with the bikes, and told him the happy news… We got a rondavel!
I could see my dad was quite relieved (and so was I) at not having to pitch our tents in the rain, and even worse, having to pack up the wet gear the next morning! Call us wussy if you like - it had been a long day and nerve-racking having to ride in the rain with brand new knobblies. (Did I mention I put new tyres on my Xcountry just before we left home? TKC in front and a Kenda on the back, but more about tyres later) not to mention the tipping over incidents..and the constant irritation of the Nuvi switching on and off the whole time, because the connection into the unit is a bit sensitive.
All's well that ends well, and I have always loved this area... it is stunning scenery.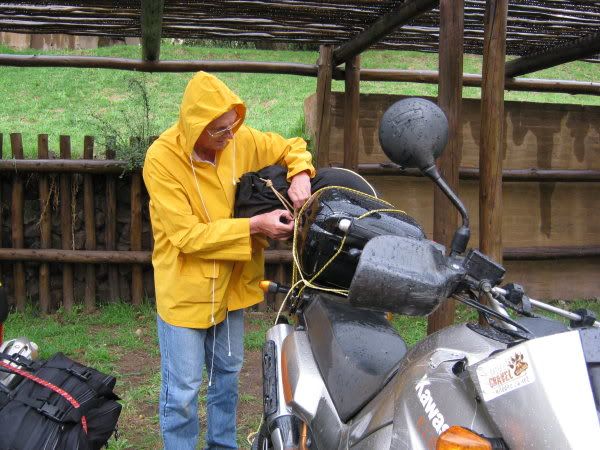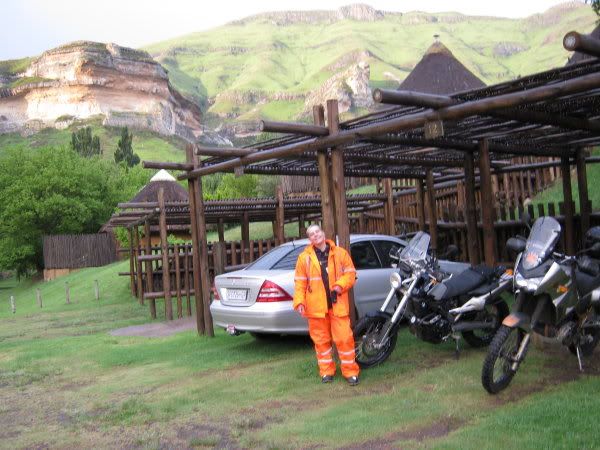 Distance for the day: a butt-numbing 530 km. I am going to have to do something about the seat…Dad was keeping track of distances and fuel consumption of the KLE all through the trip. I wasn't too concerned, but in hindsight, it would have been nice to have accurate consumption figures for the XC. According to Dad's calcs, at one point I got well over 32 kms per liter...and against a heavy cross-wind with a laden bike, I managed 28 km/l. Not too shabby, hey Nige??
DAY 2- 4 (16-19 Dec)
The second day's travel would prove to be the longest single day ride of our trip – an ambitious 700+ km stretch from Golden Gate, down past Lesotho via Aliwal North to Cradock, with our final destination the farm Rietvlei, some 50 kms outside of Cradock.
Of the day's ride I don't remember much – having such a distance to cover in one day, we had no time for stops and pics. The towns passed in a seemingly never-ending stream… Clarens, Fouriesburg, Ficksburg, Clocolan (where we filled up), Ladybrand, Hobhouse, Wepener, Zastron (another fuel stop), Rouxville, Aliwal North. I do remember lunch at the Wimpy in Aliwal North, just after crossing the Orange River. This of course used to be the old border between the Free State and Cape Province.
Onwards to Burgersdorp, Steynsburg, Hofmeyr and then at last, Cradock, where we filled up again. The final 50 kilometers of the day's journey would be mostly on gravel – a fact that weighed heavily on my mind by this time. I was all for stopping in Cradock and completing the journey to the farm early the next morning, but Dad was not falling for that one. He
will
sleep in the mountains tonight…
The farm called Rietvlei belongs to my dad's cousin, and my dad is full of stories of his youth spent at the neighbouring main family farm, Altyd Somer, that belonged to my dad's uncle on his mother 's side. Hence the fact that I am a city girl born, to my everlasting regret – my dad's mother, being a girl, of course did not inherit farmland. I have always thought the name Altyd Somer (always summer for our English-speaking members) is so prosaic…
Rietvlei lies in the Cradock district, some 50 kms along a gravel road heading in the direction of Kommandodrift dam, east of Cradock. The farm lies nestled in the Eland mountains, with you having to cross a dry riverbed some 19 times heading into the mountains. The river runs only when it has been storming high up in the mountains…and then, what is inside, stays inside. The upper farms have been known to be cut off from the rest of civilization for days after heavy rains due to the river coming down, which, fortunately or unfortunately, does not happen very often.
Here we are at the turnoff into the upper mountain farms (take a closer look at my dad' face and knees and read on...).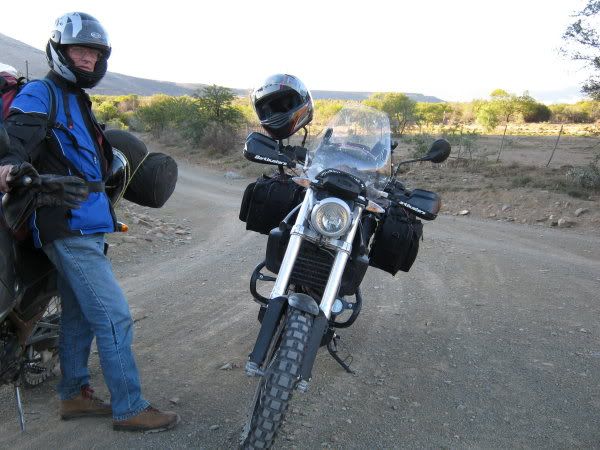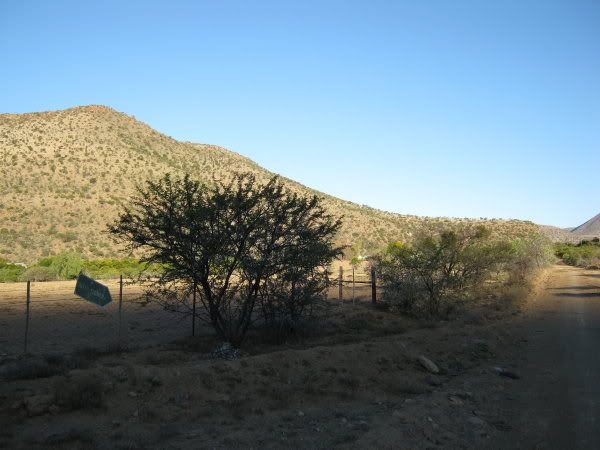 I was riding some distance behind my dad, to stay out of the dust and also to maintain a speed on the gravel that I was comfortable with. I may as well make my confession now – I don't like gravel… it makes me extremely nervous and edgy. Every time I have to travel on a non-tarred road, I freeze up inside. The more I do it, the less I like it.
Add to that the constant worry about my dad and trying to avoid stopping on the side of the road, dreading a repeat performance of the first day's incidents, you can imagine my state of mind when I came around the last bend just at the Rietvlei turn-off and finding my dad standing next to his bike... which was laying on the ground again! He had lost his balance yet again, fortunately at a low speed while negotiating a 90-degree turn.
This was nearly too much for me… after a very long day in the saddle, very butt-sore and scared and stressed out, I managed not to shout at my dad nor burst into tears. (Gives self a pat on the back for that one!) In my dad's defense, he has some hearing problems, which could have an impact on one's sense of balance. Also, he is not that young anymore, although you would have a very hard time convincing him of that!
We eventually got the bike up again, and off we went for the last 14 (I think) kilometers before we would reach the farm. I absolutely forbid my dad to get off his bike to open gates…
At the moment it is rather dry there, as in the rest of the Eastern Cape. We hope that some much-needed rains will fall there soon. We stayed at the farm for a few days, with our very gracious hostess taking us all over the farm while she was doing the necessary fence checks and putting down extra feed and salt licks for the sheep and cattle. They don't farm very actively any more, renting out most of the grazing on the farm to another farmer. My dad loved the chance to get out into the veld again, and we saw some interesting fauna and flora, including the resident black eagle pair, a scarred tortoise and a very scarce wild-growing cycad.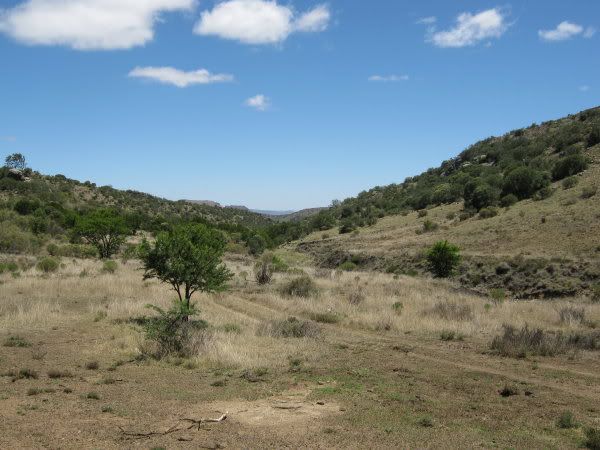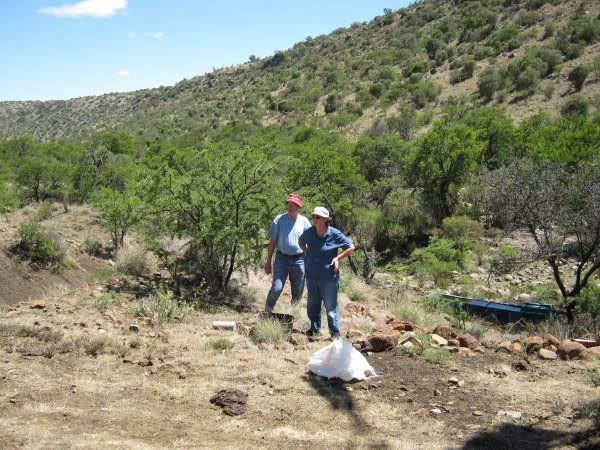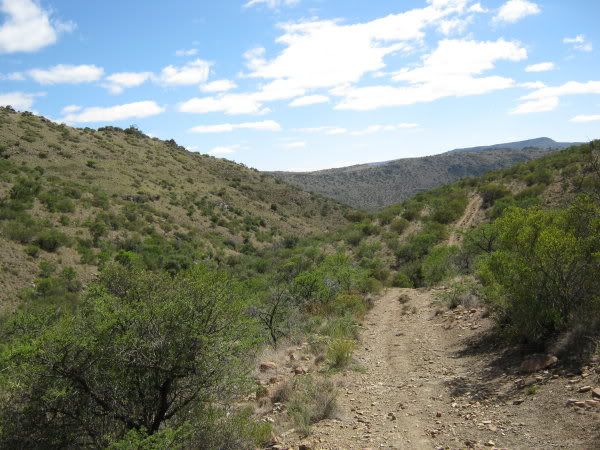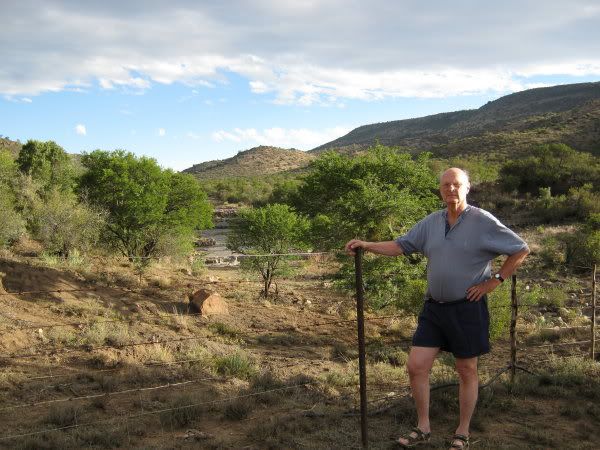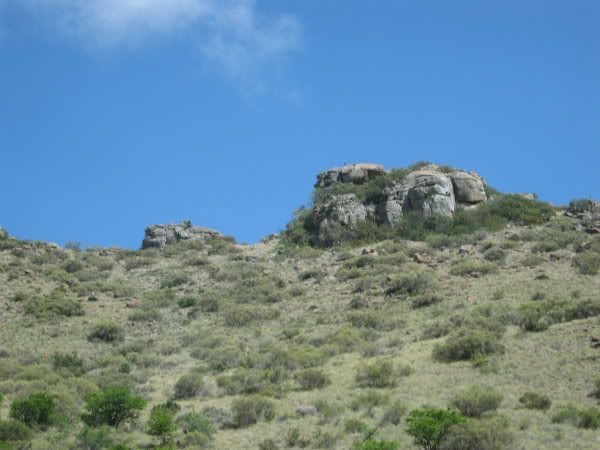 These are real farmers: we ate and drank till bursting and the hospitality was never-ending.
(Wimpie, please give your mom and dad our heartfelt thanks for everything again when next you speak to her? hope you like the pics!)
Wishing we could stay for another few days, but the road was calling… we only had so many days before we had to head back home. On Saturday 19 December, we packed our bikes, said our fond farewells and took off down that dreaded gravel road again… destination: Cape St. Francis near Jeffreys Bay.
Well, not without further excitement…
While still on the farm, my dad checked the chain of the KLE because, as he put it, "the chain was skipping..." On closer inspection it turned out that the chain was severely stretched in places. When pulling the chain away from the back sprocket, it stayed that way. So, the chain has to be replaced. Riding with it like that much further could have caused the chain to snap, with possibly spectacular results.
I got onto the phone to Trailrider (thanks!), whose number I fortunately had because we were planning on joining the EC Wilddogs for the Attakwaskloof get-together on the 23rd. He made some calls and I got a call from Beagle Boy, a Wilddog member based in PE. I explained our need and he went to a lot of trouble to source a chain for the KLE in PE, and organized for us to meet him at the Kawa dealer in PE (Auto Kawasaki).
Leaving the farm a bit later than we had hoped, we raced down to PE. We did however stop at the Daggaboers farm stall (as recommended by several people) for some "roosterkoek" (griddle "cakes" or biscuits that are like small square buns that are baked on hot coals) and great coffee before jumping back on the bikes and heading down to the coast.
Fuel stop at Paterson, and a roadblock that stopped us for about 15 minutes, waiting in a queue for license and vehicle inspections. Now we were in a hurry… the shop closes at 12! We rode a bit faster than we normally would (me stressing all the time that the chain would hold out), keeping the speeds to 120 and a bit above (which would have some implications later in the trip) and reached the Kawa dealer at 11:35. Beagle Boy was there, waiting for us, and we also met a lady Dog, whose name for the life of me I can't remember… "Candy"? (BB, please help out here?)
In no time at all the chain was sorted, and after refueling, Beagle Boy accompanied us out of PE until he had to turn off for home.
A [size=14pt]BIG [/size]thanks for your help, Beagle Boy!!! The WDs rock!! Please also convey our thanks to the shop owner(Glen?) and all the other friendly people in PE! Can definitely recommend their services!
We continued on to reach St Francis Bay around mid-afternoon. My dad's friends have a place on the Kromme River, and we spent a few days with them. They took us around sight-seeing, and I promptly fell in love with Cape St Francis (not the glitzy on-the-marina part, but the old town further along).
Some pics of the area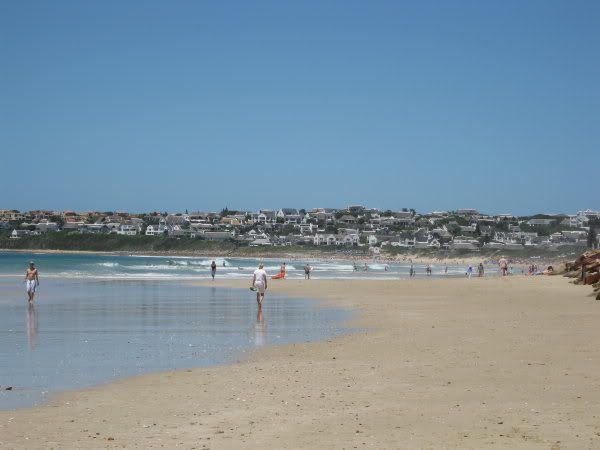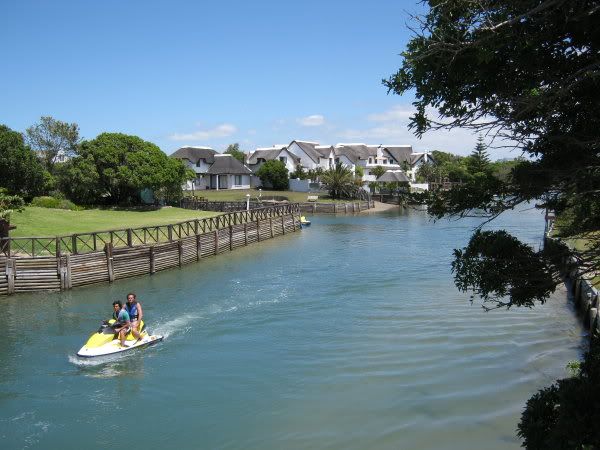 We had a great meal on our last evening at a restaurant overlooking the harbor area (forgot the name) and left for Vleesbaai, our next stop, on the 23rd. (sorry for the bad quality of the cellphone image, but you get the picture! ;D )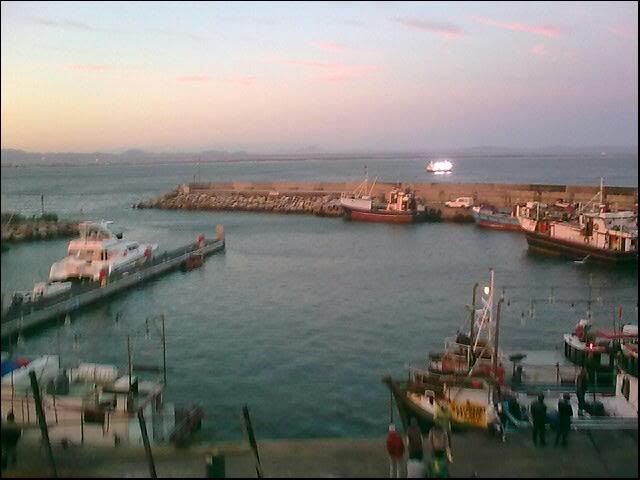 Our original plans had been to join up with the EC Wilddogs at Attakwaskloof, but after our experiences earlier, we decided against tackling the unknown roads and stick to tar as far as possible. I was worried about my dad, his blood sugar was also starting to play up, and we thought it best to avoid possible sticky situations. Hmm… OK. Sorry, guys, next time!
On the road to Vleesbaai, we took the Langkloof route to try and avoid the December traffic.
Breakfast in Joubertina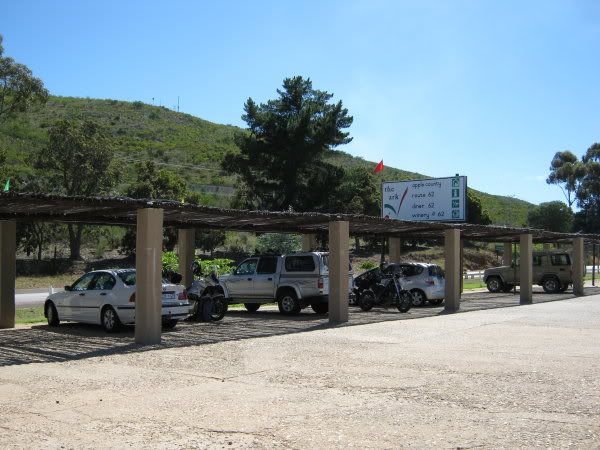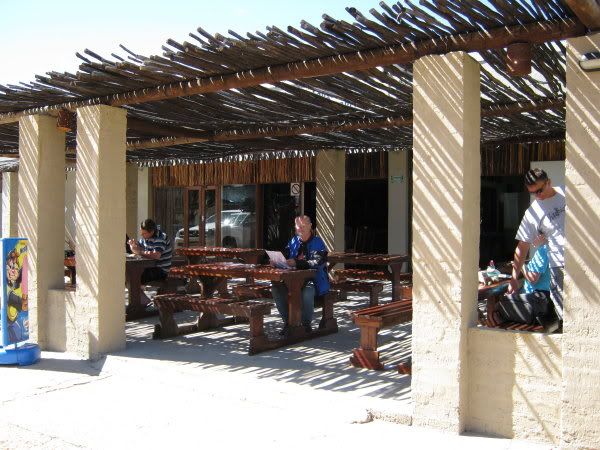 The only place in Joubertina with unleaded fuel is the local Co-op...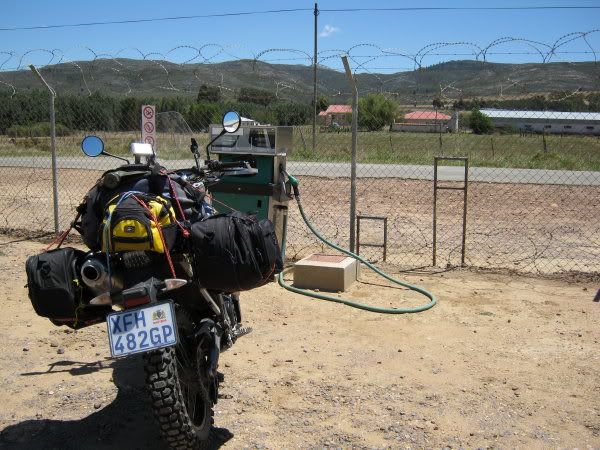 Me getting adventurous and taking a pic while on the move... that little speck on the road is my dad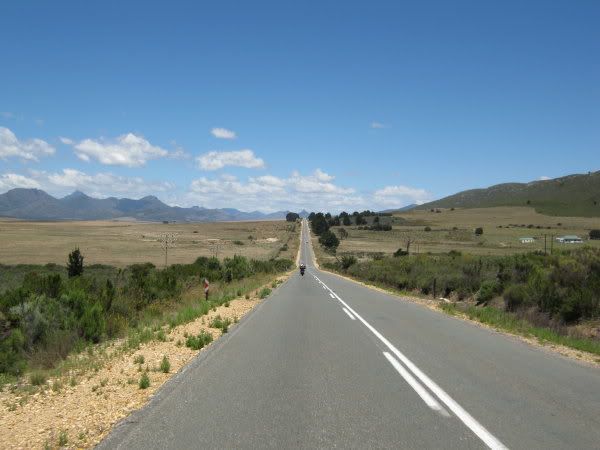 Right….. where was I? Oh yes, on the way to Vleesbaai from St Francis.
From Joubertina onwards, we kept to the R62, joining with the N9. The road to Uniondale via Uniondale Poort pass was closed, so we didn't stop there. Over the Outeniqua pass (with me casting a longing but fearful eye at the Montague pass turnoff and later the winding gravel road below us) and down to Mosselbay. We stopped there to get some tools (chain lube, small screwdriver, duct tape (I used up my little roll when helping the friends in St Francis to repair a punctured waterpipe), fuel stop later, and arrived at Vleesbaai.
Vleesbaai is a privately owned little settlement. Very pretty, no shops except a general dealer of sorts, and lots of hills! (I felt sorry for the guys on the bicycles.. hehehe) My dad and I took a walk the next morning…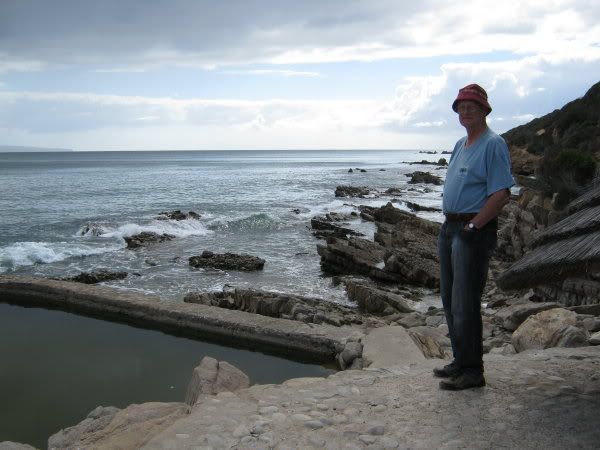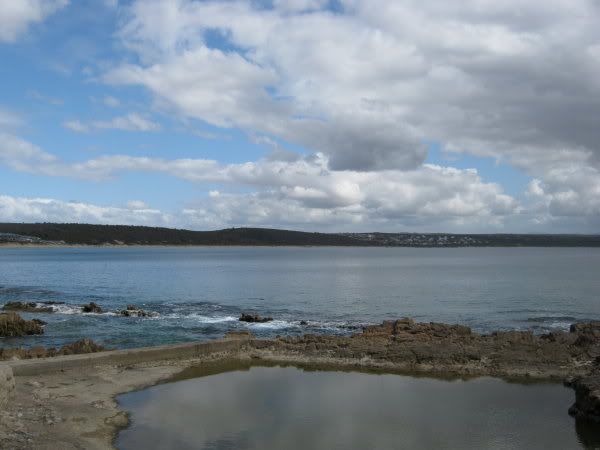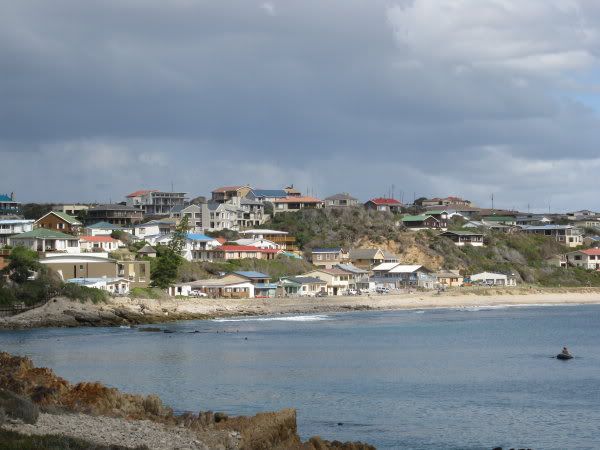 Later that day the friend took us for a drive around the area, we stopped for something to drink at the Barrel Inn (I think that was what it's called, maybe the Mossel Bay dogs can help). It is a bar situated on the N2 towards Cape Town, between the Vleesbaai and Gouritzmond turnoffs, with a pink and purple lounge area and lots off writings on the walls of the main bar area, local watering hole it seems. Nice owners.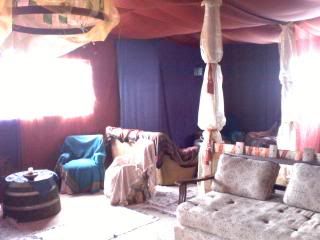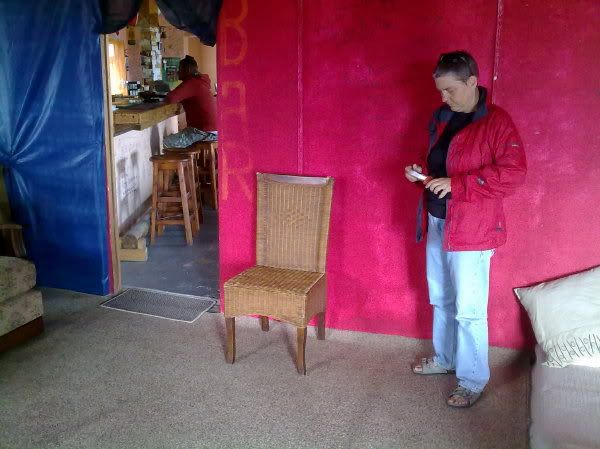 At the point in Vleesbaai.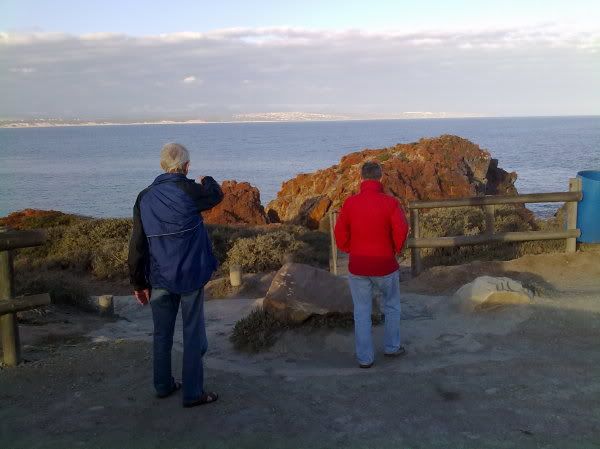 The view from the deck at the friend's house. Lekker ne?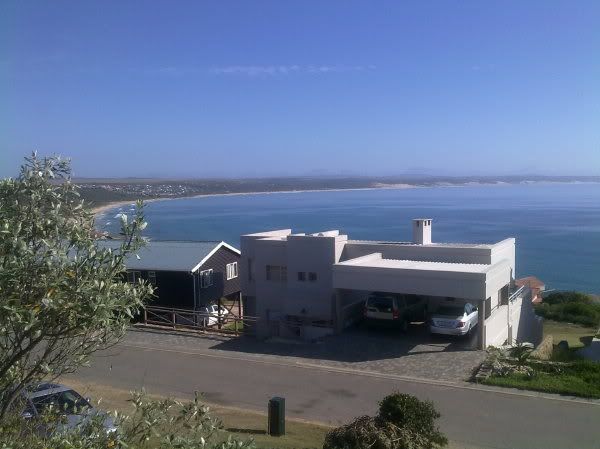 The next day was Christmas. The friend had to go visit his family also living in Vleesbaai, so Dad and I took a trip inland. We were going to try and find my dad's grandfather's grave, according to my dad on the farm Vlak(te)plaas, just outside De Rust.
Back over the Robinson pass (very pretty), through to Oudsthoorn.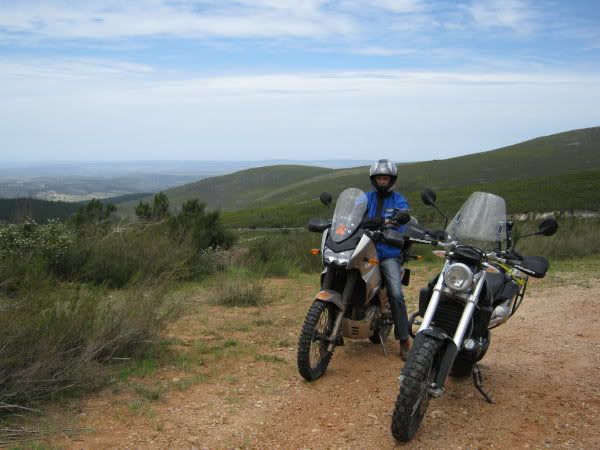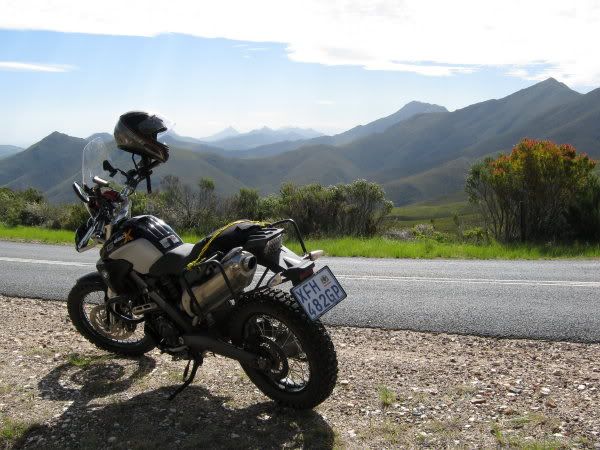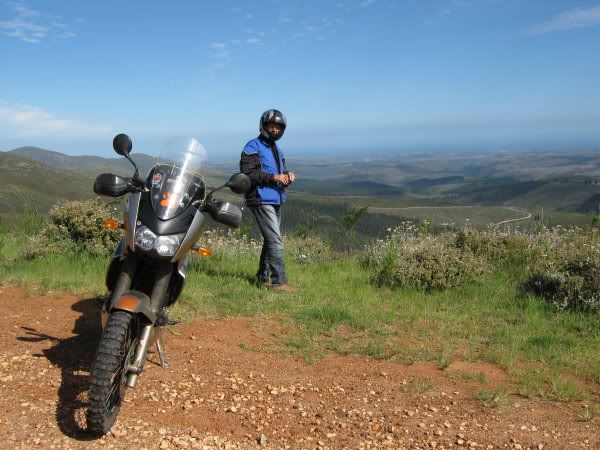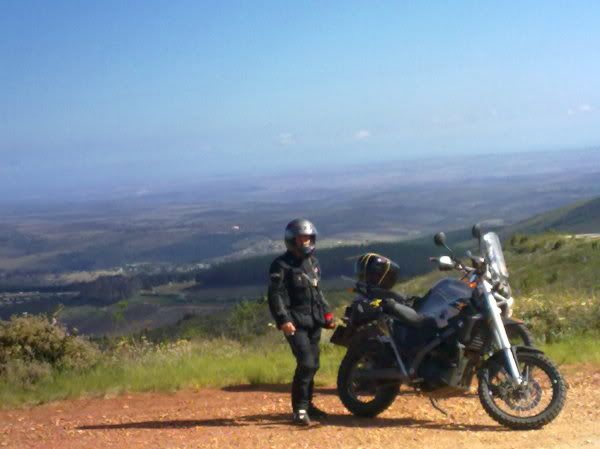 In De Rust we decided to stop for lunch. The town was deader than a doornail, but luckily for us, we saw one place still open… and had toasted cheese sarmies for Xmas lunch! LOL, but it was nice anyway.
After lunch we went out on the R341, which turns off the N12 just outside De Rust. The map showed the Vlakteplaas station… so we thought the farm must be nearby! Gravel road to the station, and no such farm. My dad recalled having seen the signpost for the farm, now a wine cellar and upmarket B&B it seems, but we couldn't find it… I was a little upset with my dad, because I thought he knew exactly where it was! Anyway, so we returned to Vleesbaai via the same outward route.
Next morning, we set off again, heading for Eendekuil and the West Coast. Along the N2 to Swellendam, via the Tradouws pass (also very pretty).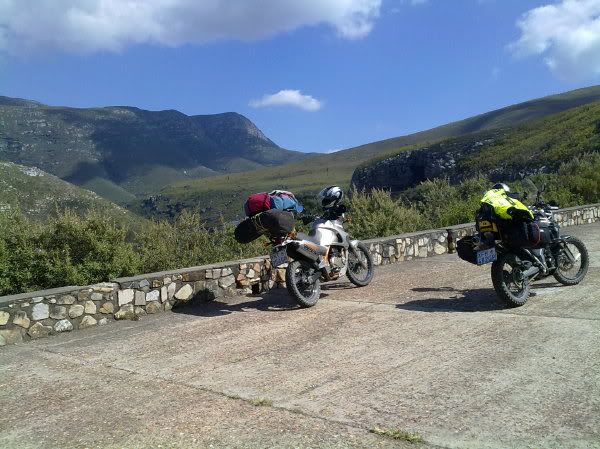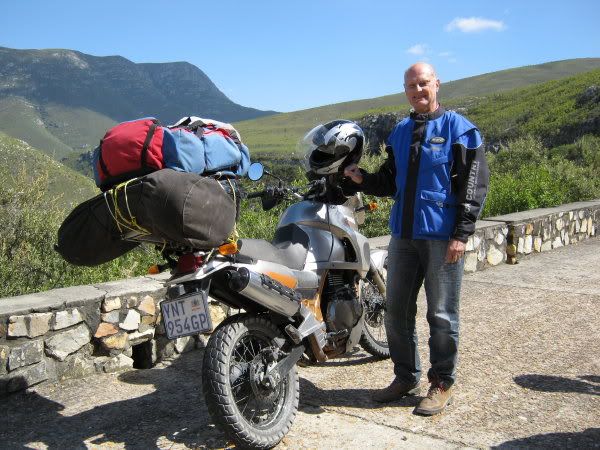 Took the R62, stopped in Barrydale for fuel and lunch. My dad had a warthog pie! Lol, I settled for the smoked salmon triple sandwich... Very well presented, and yummy!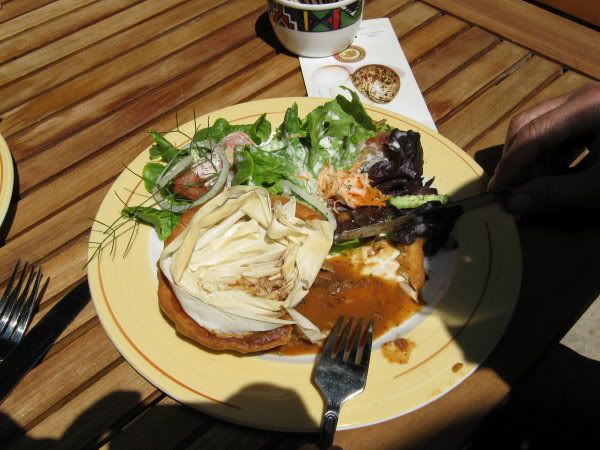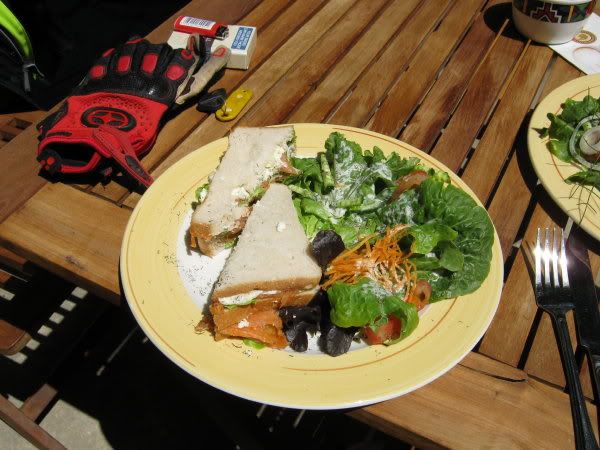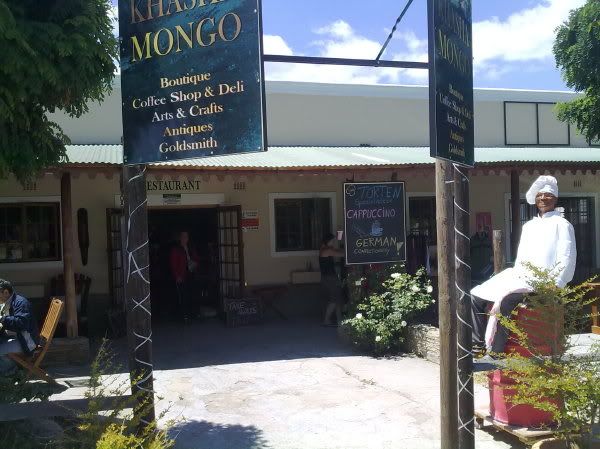 In Montagu we found a microbrewery, much to my dad's delight. Lovely little place and the beer was good!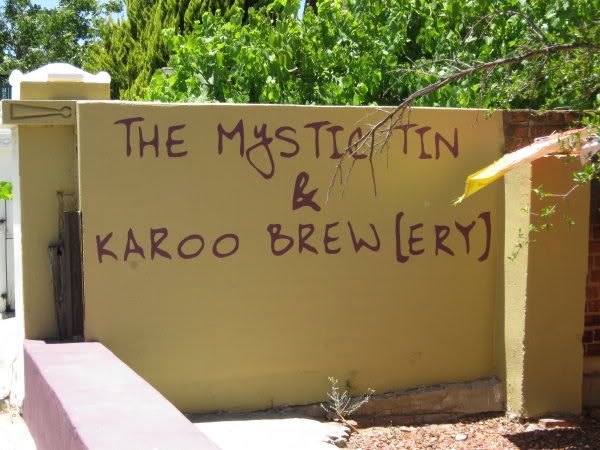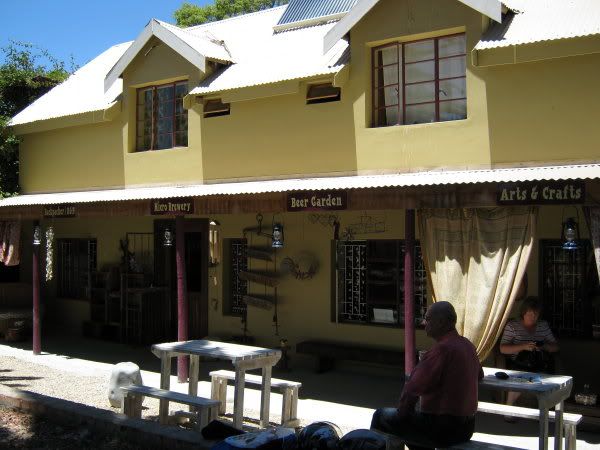 Over the Kogmanskloof pass and on to Worcester. It was very hot once past Worcester and we made good time to Porterville. Another few kilometers going past Piketberg and then we got to Eendekuil.
Barry and his family treated us very well during our stay at the Eendekuil hotel (belongs to Wilddog Eendstop, who very kindly sent me some GPS routes for the area, thanks!). This is the campsite. This was the first time we actually pitched our tents on the journey.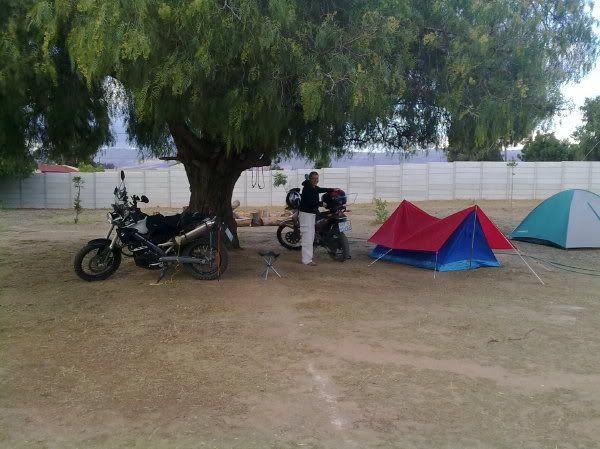 We stayed at Eendekuil for a few days, taking some day trips. Lambertsbaai was one of these. Lots of bikers in town, also lots of holidaymakers, so unfortunately my dad couldn't get what he terms "the best hake and chips in the country", because the Annabella's restaurant was fully booked for the whole afternoon. I felt so sorry for him. We settled on some other place… kinda forgot which one, so it couldn't have been very memorable…
Some shots around Lambertsbaai.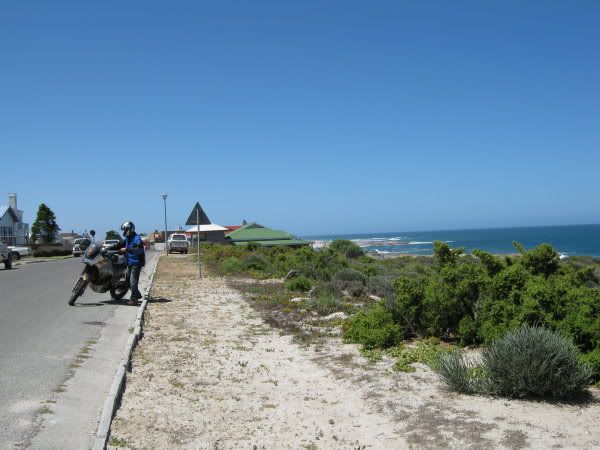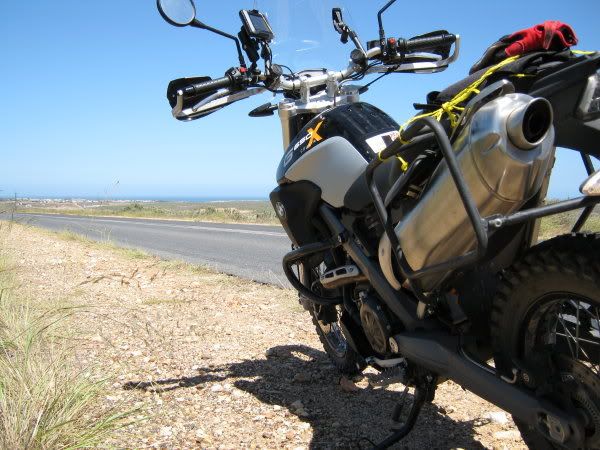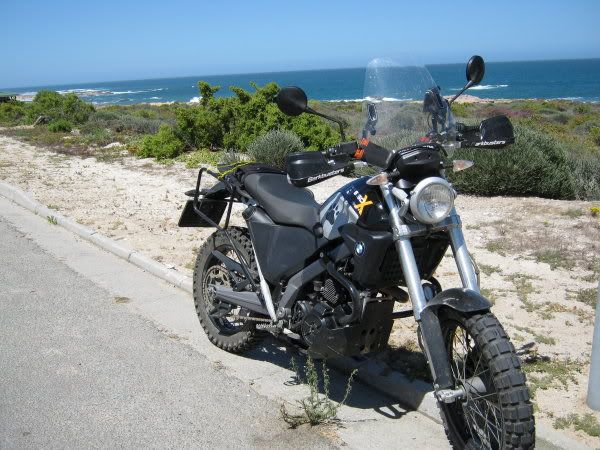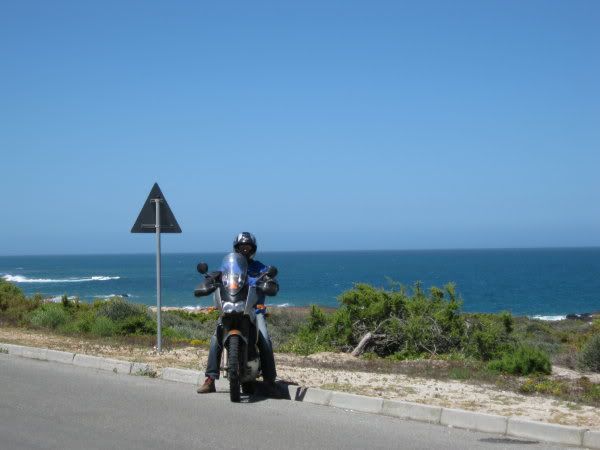 We also took a little ride to Citrusdal and Clanwilliam. This is me standing on the edge on the Piekenierskloofspass just outside Citrusdal.
We went some way on the road from Clanwilliam to Wupperthal up the Pakhuis pass. We had coffee at the "Kliphuisie", a B&B and campsite and tea garden about 11 kilometers outside Clanwilliam on the Pakhuis road.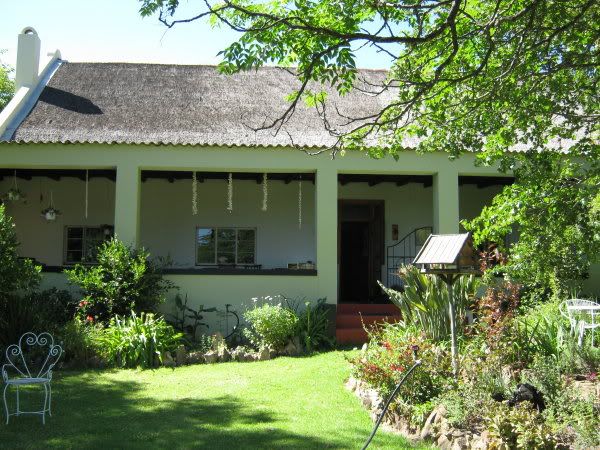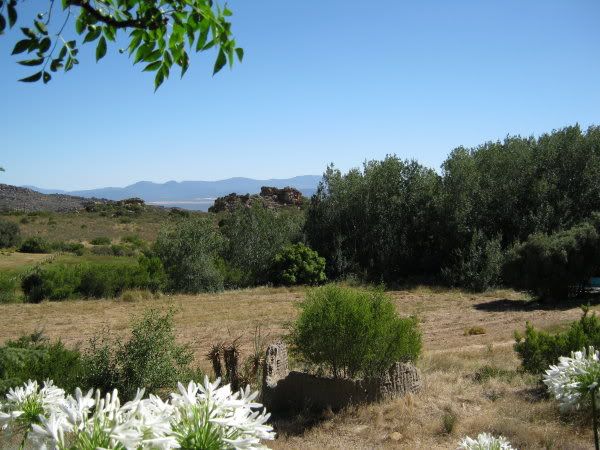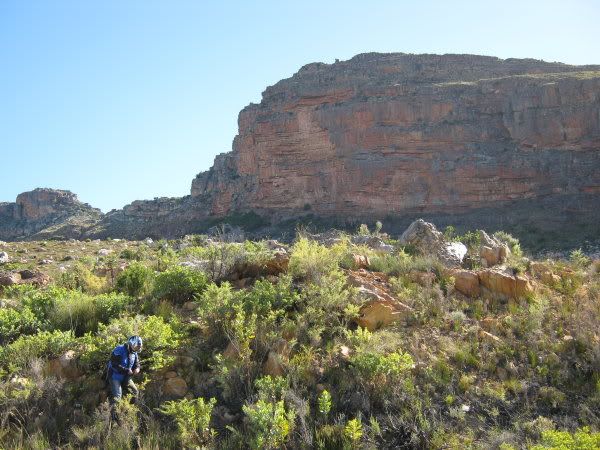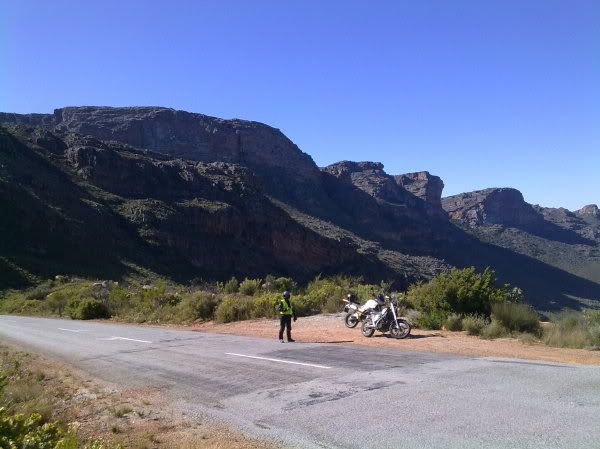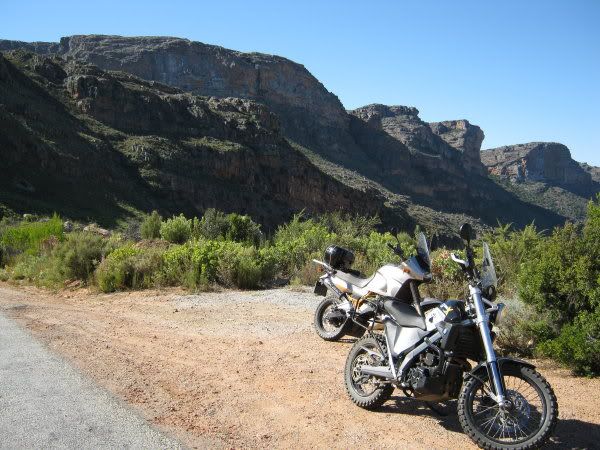 When we got back to Eendekuil, I happened to look at the KLE's front wheel… and saw patches of the steelbelt showing through the rubber!! I pointed it out to my dad and we agreed that no further trips should be taken until the tyre had been replaced.
Now, in a little place like Eendekuil, and for that matter Piketberg and Citrusdal and Clanwilliam, getting this replacement tyre is a bit of an exercise. And Thanks to all the dawgs for the advice and offers of help (esp Eendstop) after I asked for assistance on the forum!
We ended up having to wait a day for the tyre to come up via courier, delivered to the Suzuki dealer in Piketberg who ordered it for us. Thanks to him for the trouble! Interesting guy, who modified a big bike and took a few trips through surrounding countries with it. I am sorry I didn't take a photograph!
Off to the local tyre dealer... who had to put the tyre on the bike with no centrestand and no jack for the bike. They used some old tyres as centrestand! Took 4 guys to lift the bike high enough… then once it was on, and we were ready to go, I took a closer look at the directional arrows. They put it on the wrong way round! A bit of a disagreement by the one chap, but confirmation of our explanation by another guy, and the whole exercise had to be repeated!
They finished up, and we left for the camp. Not even out of town yet, and my dad stopped me. "Turn around", he says, "The tyre is not seated properly." I am sure the guys at the tyre dealer's hearts sank into their shoes when they saw us pulling up again. A battle ensued to get the tyre properly seated, it just wouldn't sit! Meanwhile I was riding up and down to the local supermarket for drinks and lunch, and parking under a tree. It was very hot...
At long last, all was done. We got back to camp at around 2 pm, having left it around 11 am. We decided not to waste another day, so got on the road after packing up in haste. One word of advice... always carry a hammer along for the tentpegs…
Wupperthal, here we come!
We left Eendekuil at about 3 pm, and filled up at Clanwilliam on our way to Wupperthal.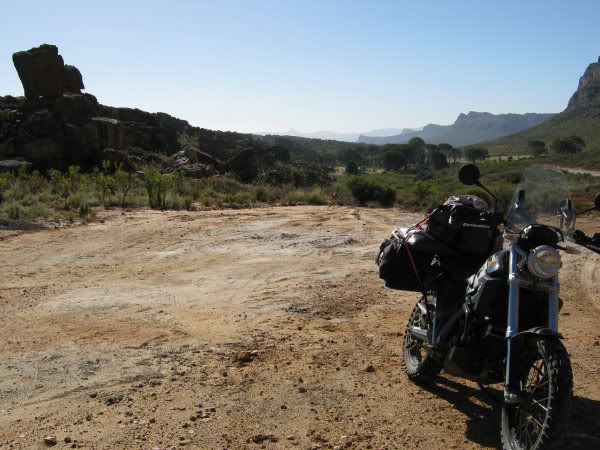 The road up through Pakhuispas is now tarred all the way to the turnoff for Wupperthal. From there it is a horribly corrugated gravel road, up and down and around. Not too scary though, the really bad sections have been cemented over... but I shudder to think what it will look like when it rains down there!
We made it down into the Biedouw valley, with me only stopping to rearrange my luggage. Dad waited for me, and I told him I thought I saw a numberplate in the road a few kilometers back, I even noted the mileage on my bike… and sure enough, his plate was no longer on his bike! LOL, if anything is not bolted down properly, that road will shake it loose for sure!!
By this time it was fairly late in the day, and we still had 19 kilometres to go to get to Wupperthal, and then find a place to camp. My dad then said, there seems to be a camping site just ahead, why don't we try that? We can then carry on to Wupperthal early the next morning, do some sightseeing and get back on the road from there.
For those that don't know, going to Wupperthal is an in-and-out affair.. whatever you go through going there, you have to do the same to get out again.. if not worse!! I am of course referring to the "alternative" Eselbank route…
The Mertenhof farm in the Biedouw valley has a very nice setting. Dinner can be arranged, but we decided to forego supper… luckily the beers we bought survived the trip too! We stayed in the self-catering house, why camp when you don't really have to? It had been a long day with the tyre-fitting and the bad road…
Some pics of the Mertenhof surroundings.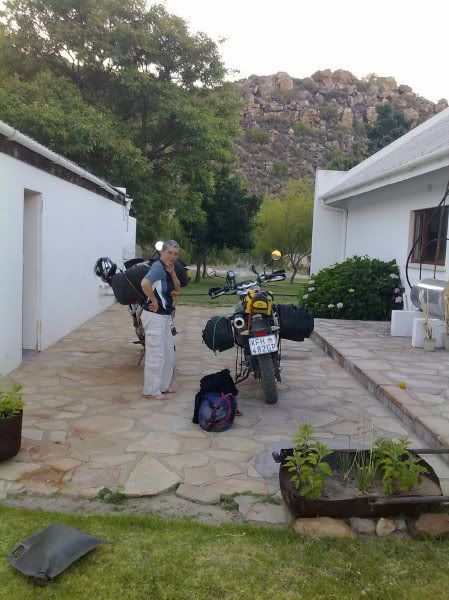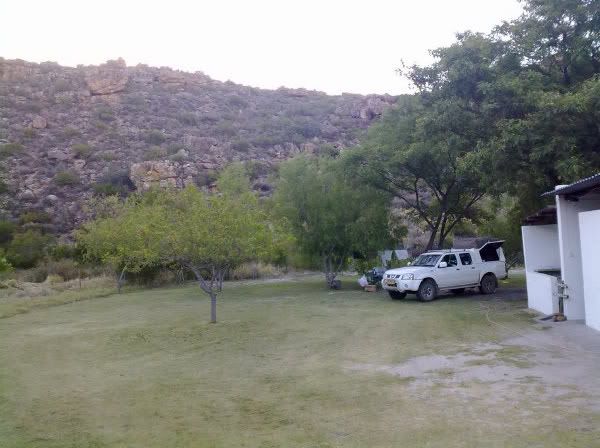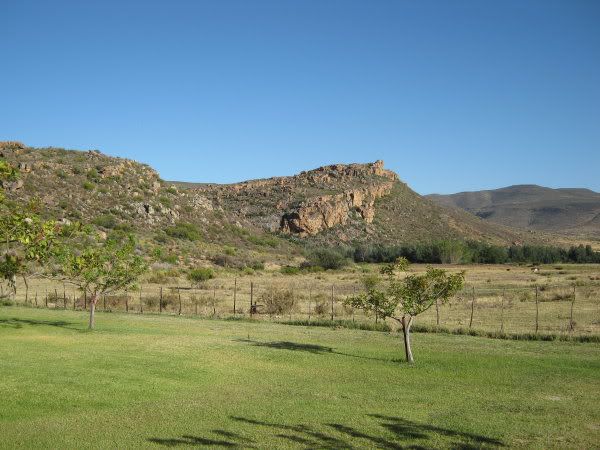 Maybe now is the time to explain that my off-road (gravel) riding experience is not that much… I had been on 3 of Blaze's Newbie rides, did an intro course at Kings Mountain, and the beginners course at the Honda Academy. Also some sand riding in Hoopstad, and a half-completed course for WD ladies and others at the Sand farm in Magalies. So let's call it less than a 1000 kms in total, before I began the trip. No wonder I am still nervous!! Add to that my dad tipping over, and yes, I started looking very carefully where we stopped on the side of the road from that point onwards (see first day). Sigh… but I won't quit!
Next morning we got going pretty early, and got to Wupperthal just before 9. Had to search a bit for the (it seems) only place in Wupperthal where you can have breakfast, the Lekkerbekkie tea room… had a very nice breakfast, took some pics and off we went again. We still had a long way to go, heading towards Kimberley to visit my great-aunt.
Pics of Wupperthal,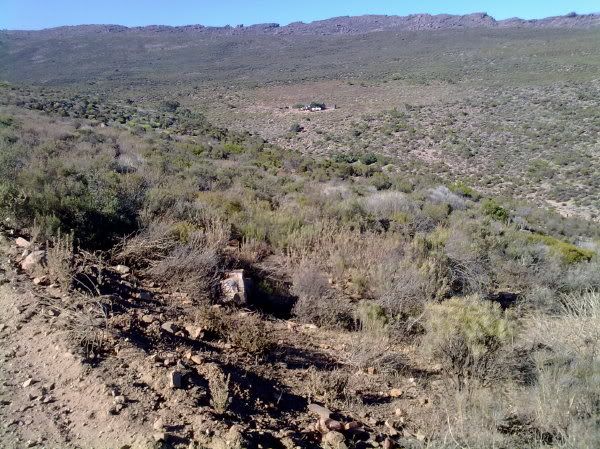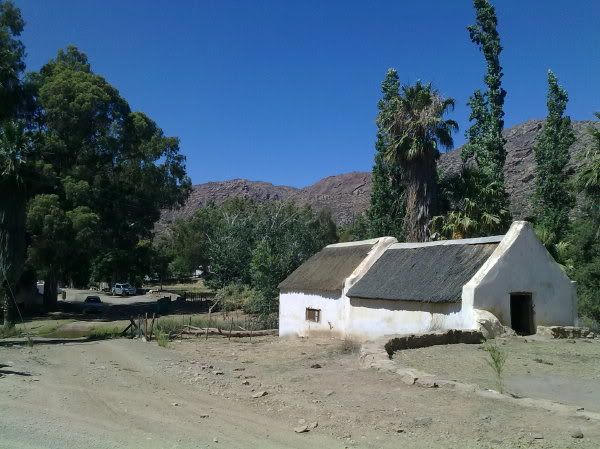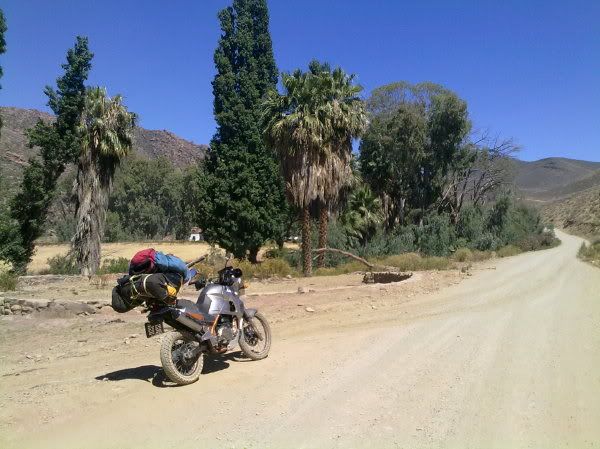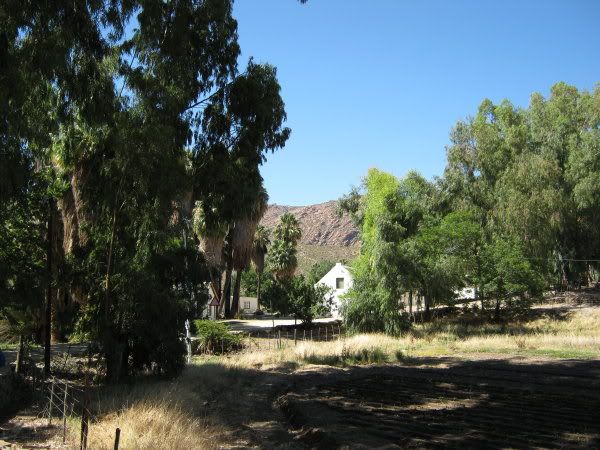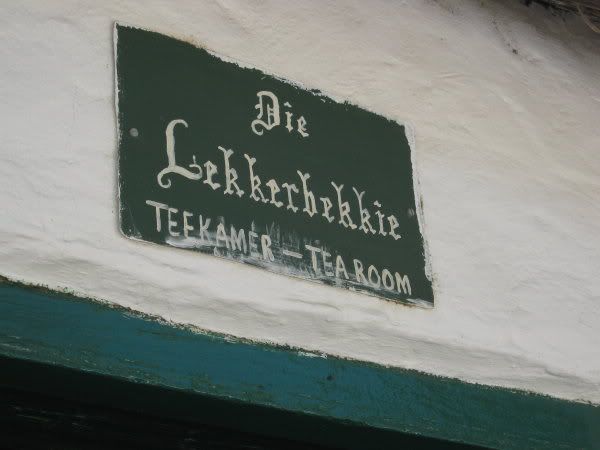 and the way back up that mountain...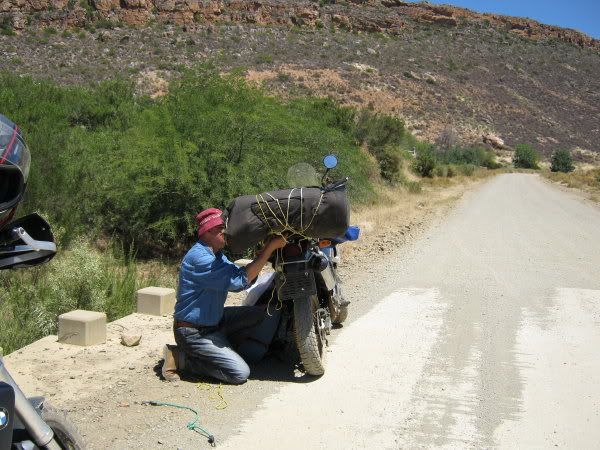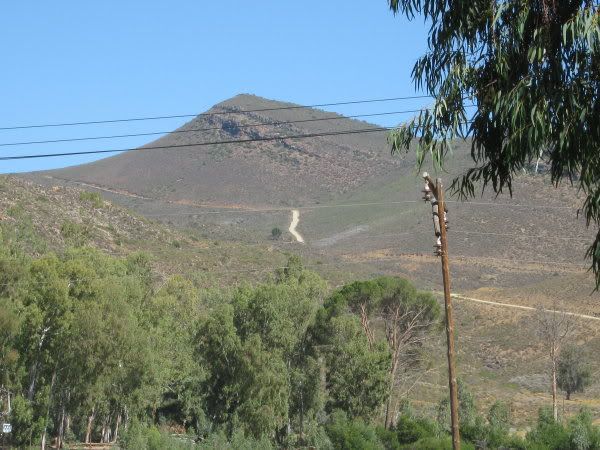 We contemplated going straight to Calvinia from the Wupperthal turnoff, but decided the slower speed and unknown condition and length of the direct gravel route, given the fuel left in our tanks, did not warrant the shorter way. So we headed back to Clanwilliam, and from there followed the N7 to Calvinia over VanRhyns pass… absolutely awesome view over the plains! Didn't stop for pics, Dad was in a hurry and had pulled away out of sight from me riding behind.
We weren't quite sure of where we were going to stay over, so carried on until we got to Williston. A very friendly estate agent we met at the garage took us all over town to show us all the B&Bs he would recommend. Picked a place called Annie's, nice old house with comfortable beds, an elevated swimming pool and a horse! LOL.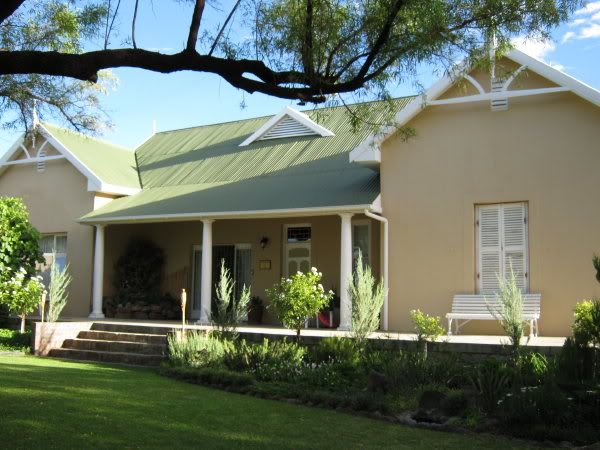 We also had a huge supper at the local restaurant, that was very nice! In the main road, across from the hotel, Portugese name… try it when you go through Williston again, the portions are humongous and the food is delicious! They even serve tripe…
The next morning early we left for Carnarvon, where we stopped for breakfast at the Lemon Tree.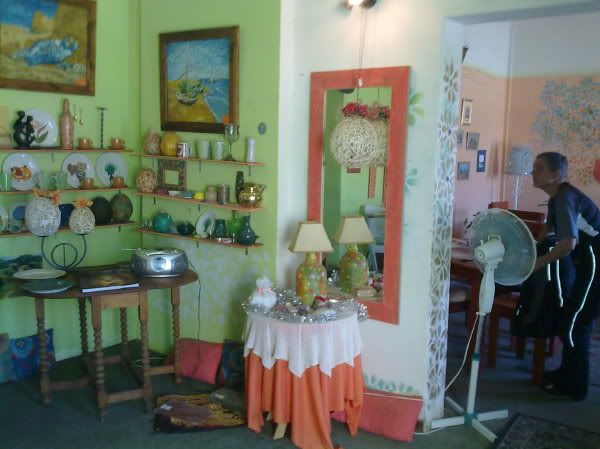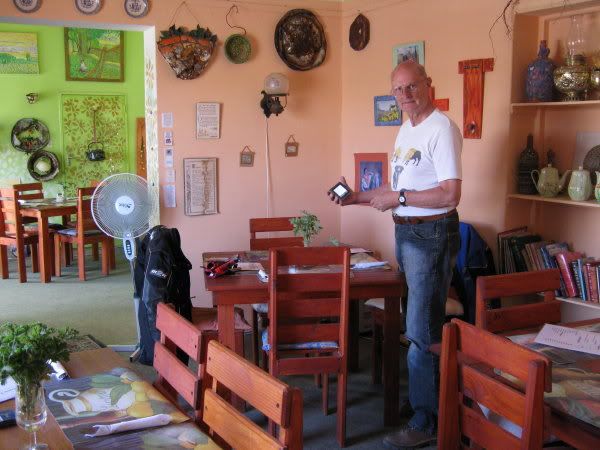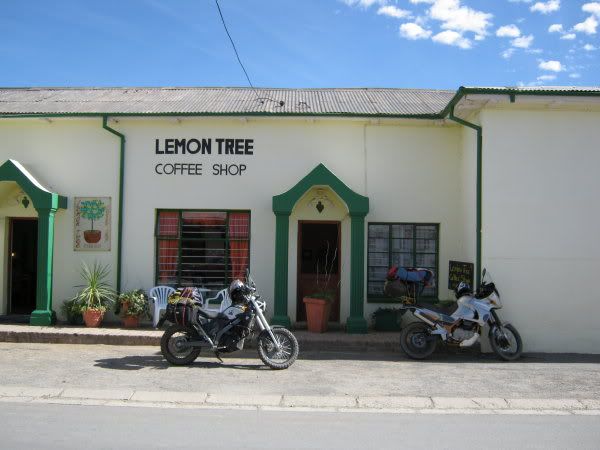 Asked the local lady at the shop, how was the road to Britstown, as the long way round via Victoria West was a bit too long, but she said no worries, the road is in great condition and it is only about 30 kilometres that is not tarred!
Phew, what a relief... I can do 30 kays, no worries! Once we hit the gravel road… well, the condition is NOT great… and the 30 became 40, then 45, then 50, then 55 then 60… and I started praying for a smooth black surface! Some sections were not bad, and I got up to a speed of about 70 km/h at one time, but the rest…
My dad had asked me a few times why on earth I put knobblies on the bike, he thought it was a waste of money. Well, those tyres saved my bacon on the gravel, of that I am sure.
When riding on corrugations before (on the Blazes rides) my bike would develop a severe tankslap. This time round, with the knobblies on, there was no sign of headshaking! Whoo hooo!!!
And I am very impressed with the amount of rubber still left on them after 4800 kms on mostly tar! Thanks to AdventureMX for fitting the TKC in front and the Kenda on the back! Great service!
While we are talking about equipment… Groenie built the pannier racks for my soft luggage. I have to say that they did not budge one millimeter, even on those corrugations! Thanks, Groenie.
From Britstown, to Strydenburg, to Hopetown, and the closer we got to Kimberley the more the clouds started looking black and angry all around us, with flashes of lightning visible in the distance. Fortunately we seemed to be riding in the dry spot, and the rain held off until we got to Kimberley.
Had a nice kuier with the family (my great-aunt is 88, and still very sprightly! And of course my dad did not tell her beforehand that we were travelling on motorcycles!! ) on Old Years Eve, rain and all, but I didn't manage to stay awake to see the new year in…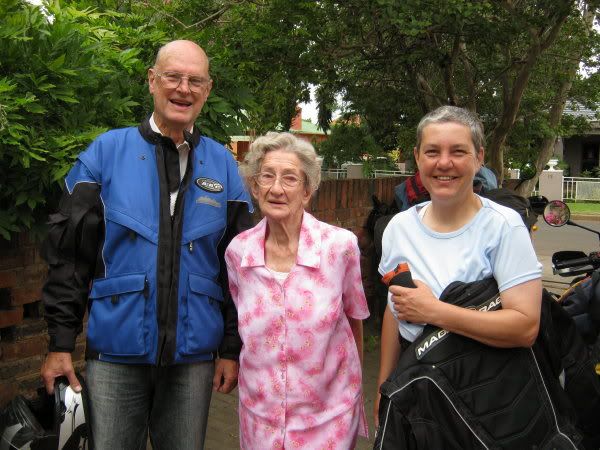 The last day
…
From Kimberley we pushed straight for home. Not sure about traffic and roadworks, we decided to get off the N12 at Bloemhof, and headed for Hoopstad (sorry we didn't pop in for coffee, Milkybar, we were a bit pressed for time, maybe next time?), then Bothaville, Viljoenskroon, Potch.
In hindsight, it was not a good idea. We had to keep to about 60 km/h, because of the very bad condition of the roads around there, severe potholes (almost dongas in some places) so fast riding was definitely out! Hit some hard rain just outside Carletonville, so on with the rainsuits again, and picked up the N14 just outside Randfontein.
Breakfast seemed a very long time ago by now, and when we got to the big one-stop other side of Krugersdorp, we had our last meal together for the trip.
With the rain spitting down, just like when we left 18 days ago, we got home to Pretoria about 6 that evening, New Year's Day, 2010.
The final words
For some people it might not sound like much, very little gravel, no Baviaanskloof, no Attakwaskloof, no Eselbank…
but for my dad, aged 72, having had a quadruple heart bypass a few years ago, and who a year ago probably did not think he would ever ride a bike again, it was a wonderful experience.
And even though I was stressed badly quite a few times, this trip is something I will always remember… and I feel very privileged having been able to share the long road with my dad.
Thanks, Dad, you are a star! Where we going next?
:
:
:
:
:
:
:
:
:
:
:
:
: