I will be riding out to Sturgis in less then a month with 7 other riders. I am not new to long distance riding but 6 of the 7 are. So I offer a day trip to work out any issues and get the guys ready for what they are in for. I don't mind long days of rider but they are usually 25% hwy (as I live on Long Island, NY) and 75% back roads. 300 to 450 miles is an all day affair, but in order to get ready for the trip which will be 100% hwy I knew this would have to be a hwy ride. Only one guy (my cousin Don) was up for the challenge. While talking with a co-worker about the day ride he was intrigued and came along (he is not a newbie and knew what he was getting into).
So now you understand why we took this ride.
The plan was to leave Long Island at 5am, Sunrise was 5:25 am so we would have daylight for the entire day. The GPS route had us riding 735 miles in 10 1/2 hours. The first stop was planned for Cornwall CT 130 miles for fuel and breakfast. The diner would open at 7am so I figured we would arrive to help them unlock the doors. As scheduled we arrived at 6:45, fill up with fuel and pull in to the diner, as I removed my helmet I reached up to remove my ear plugs to fine one had made its way beyond my ability to pull it out, nor could my two riding buddies. Next door was a Walmart so off I went to get some tweezers. 10 min later we retrieved the plug and were off for some food.
Back on the road at 8am and made our way north, traffic slowed as we approached the Hartford rush hour and was not bad at all. I think we went through Mass but that was just a blink and we had made it to VT. Stopped at the Welcome center but they did not offer us any cheese or Ben & Jerry's. 9:45 and we feel great, continued up interstate 91 to 89 and stop for fuel in Rutland. Don was riding a new V-Strom 650 and I requested a swap. So off we go back onto 89 north, dark clouds ahead, one drop, two drops, buckets of rain fall within 2 minutes it stopped. Blue sky ahead and we dry out very quickly. By 12:45 we find ourselves at the Grand Isle ferry, without any delay we ride right onto the boat and across Lake Champlain.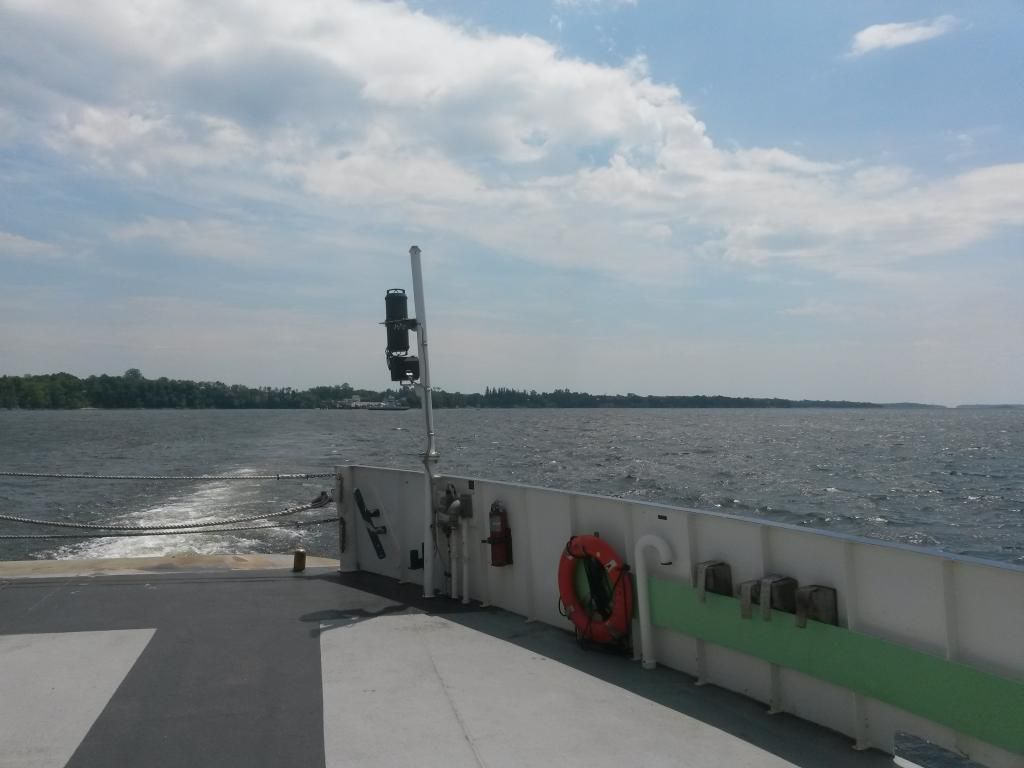 Only 26 miles from Canada, Don states he never thought he would be this close on a day ride. Back on my BMW we head over to interstate 87 and start our ride south. Knowing the other two riders were going to need fuel we get off the hwy to find the closest station is 10 miles north. Well we almost made it, 3 miles from town the Harley had enough and rolled to a stop. A nice we walked (ok I rode) up to a house about 2/10 from the road to see if they could provide some gas to get us to town. With 1/2 in the tank we pulled into the station. Time for some lunch but not much to offer, Bud's pizza and deli was close but when we arrived it was a tool shed. Back south we come to Half Way Inn, the sign said "Motorcycles Welcome" and we were on motorcycles. A nice lunch and back on the road. We are running a little behind schedule at this point so we hammer down the hwy towards Albany just in time for the evening rush. Well the folks heading north were stopped but we just keep moving onto the NYS Thruway and below Albany we stopped for fuel. Done with the interstates I route us over the Rip Van Winkle Bridge and make our way to the Tonic Parkway. This is a great twisty road with lots of tree coverage. One last stop 60 miles from home to say our goodbyes and great riding. Yada Yada Yada
The trip total was 764 miles for me, 776 miles for Rich and 820 miles for Don.
BTW I am the FF on the right, Don in the middle and Rich to the left