Ran the oldest dual sport event in the country today, the Michaux Dual Sport in the Michaux State Forest of Pennsylvania. Its a one day event thats been going on since the 70's and is limited to 140 riders. I've been signed up and waiting for this one since February as most of the route and all of the trails are only open to motorcycles for this event and the Michaux Enduro in September.
I rode out to the start/finish the night before as there was camping on site and I didn't want to have to be on the road at 5am to make the start.
Good morning!
The DAMN (Dual Sports/Adventure Riders of Maryland and Nearby) guys and bikes, you can see my hammock in the background.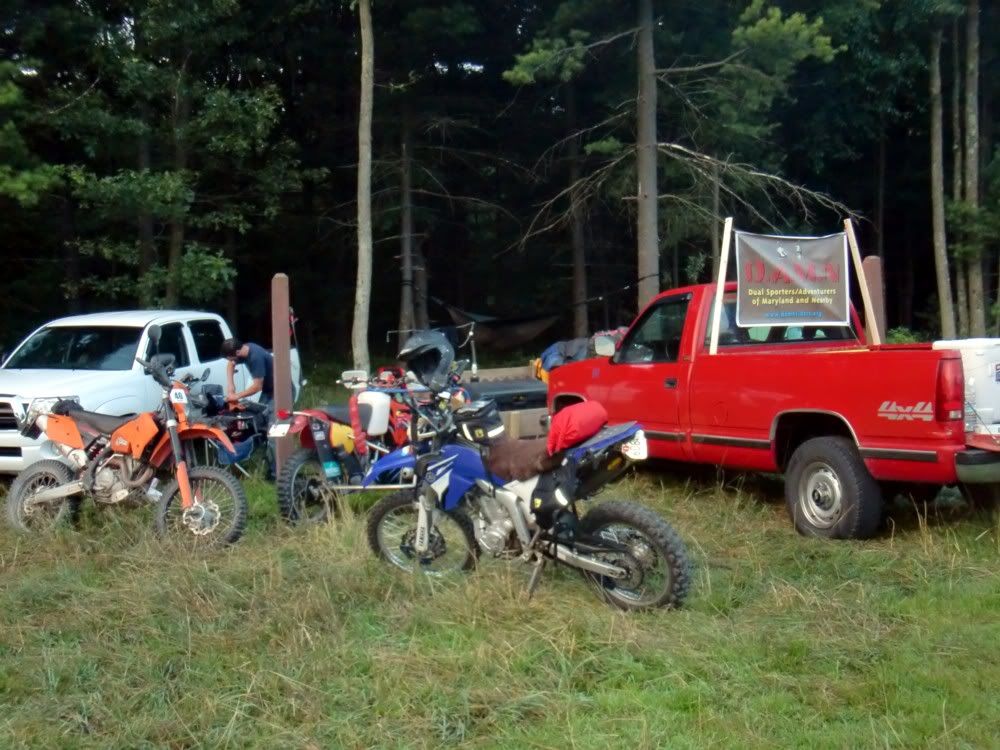 Ken's CR500 hack.
Street legal.
I wanted to monkey on it but arrived after everyone had started drinking. :(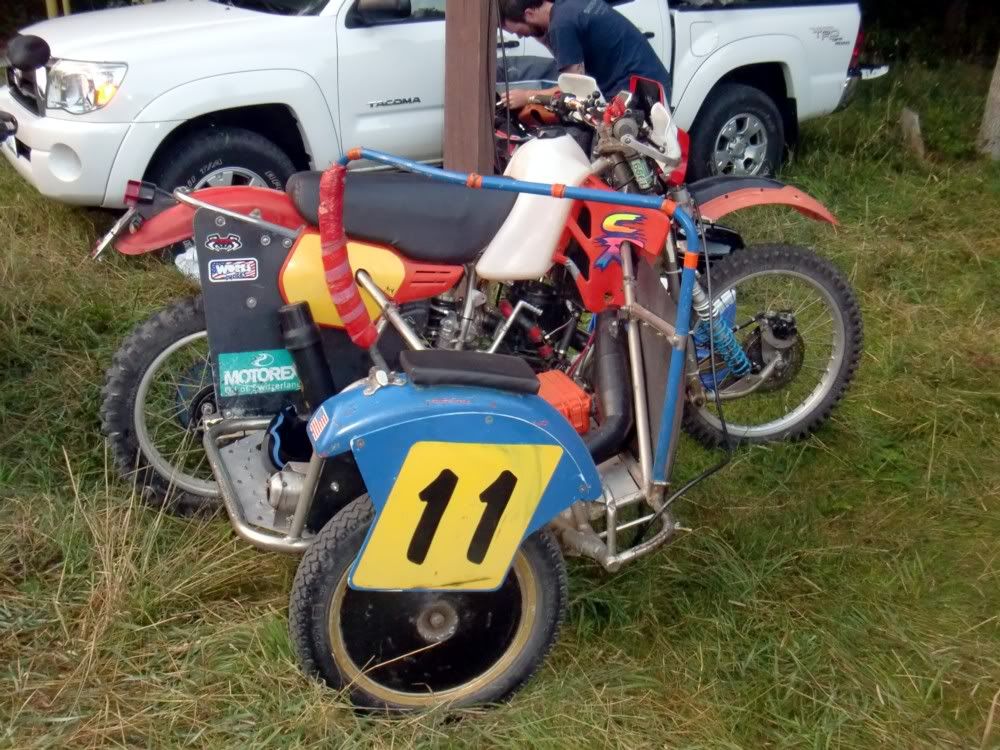 He's currently building a hack to race on Pike's Peak next year, should be interesting.
No time to piss around, the course opens at 7am and the sweep riders leave shortly after 9am, off we go!
Down the road a bit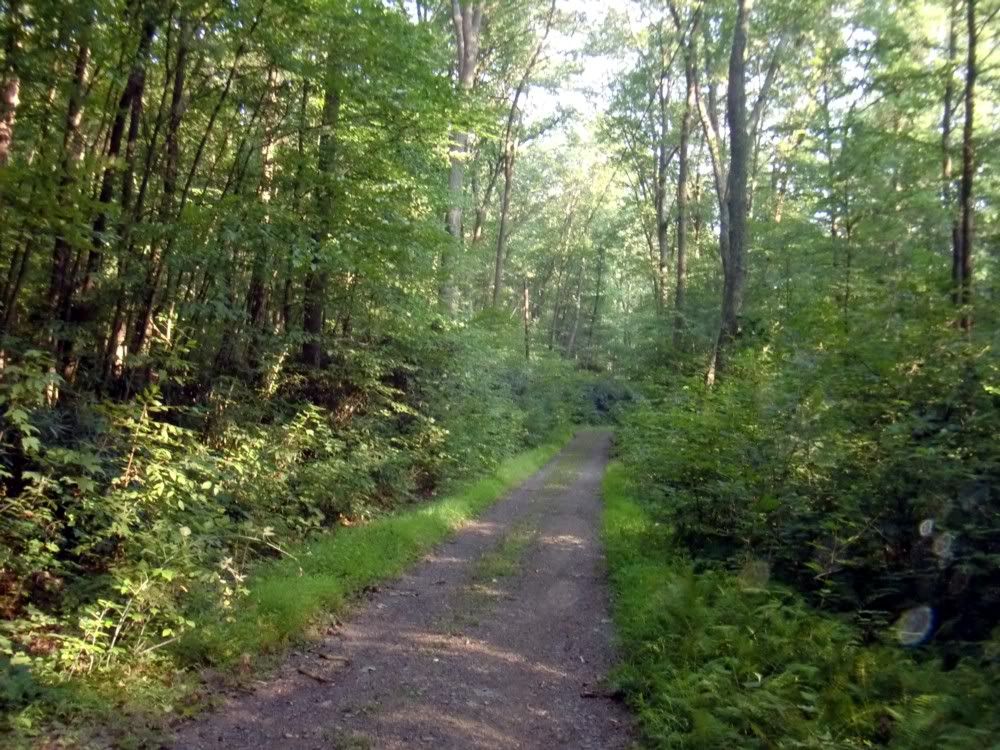 Into the first option, about 10 miles of this and tighter, twistier track. Lots of fun! :)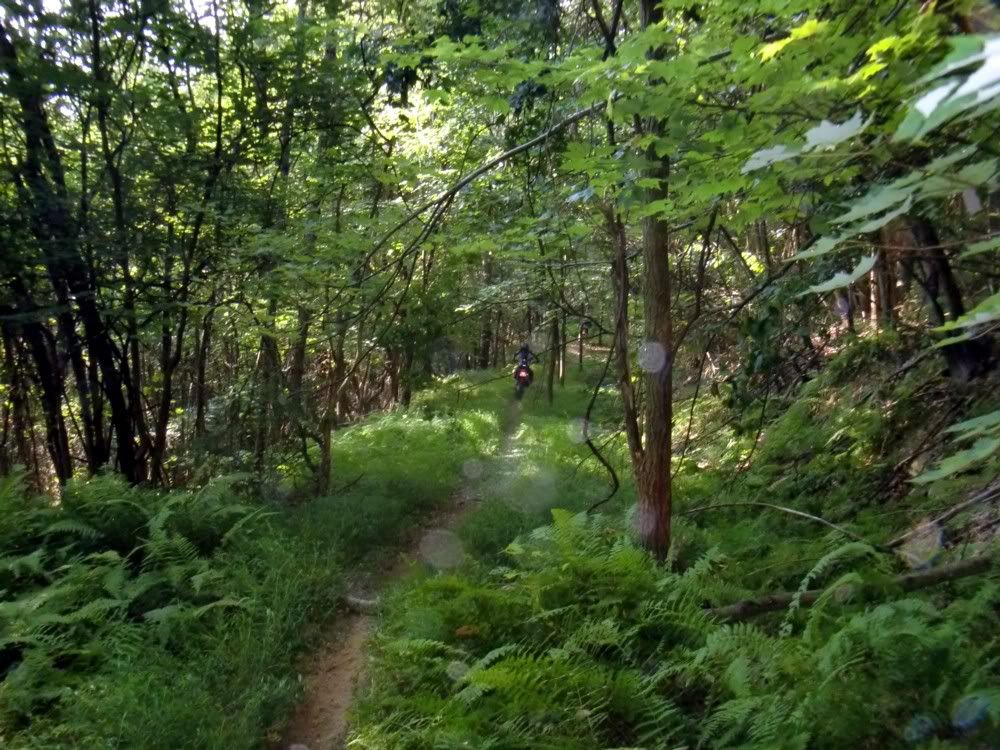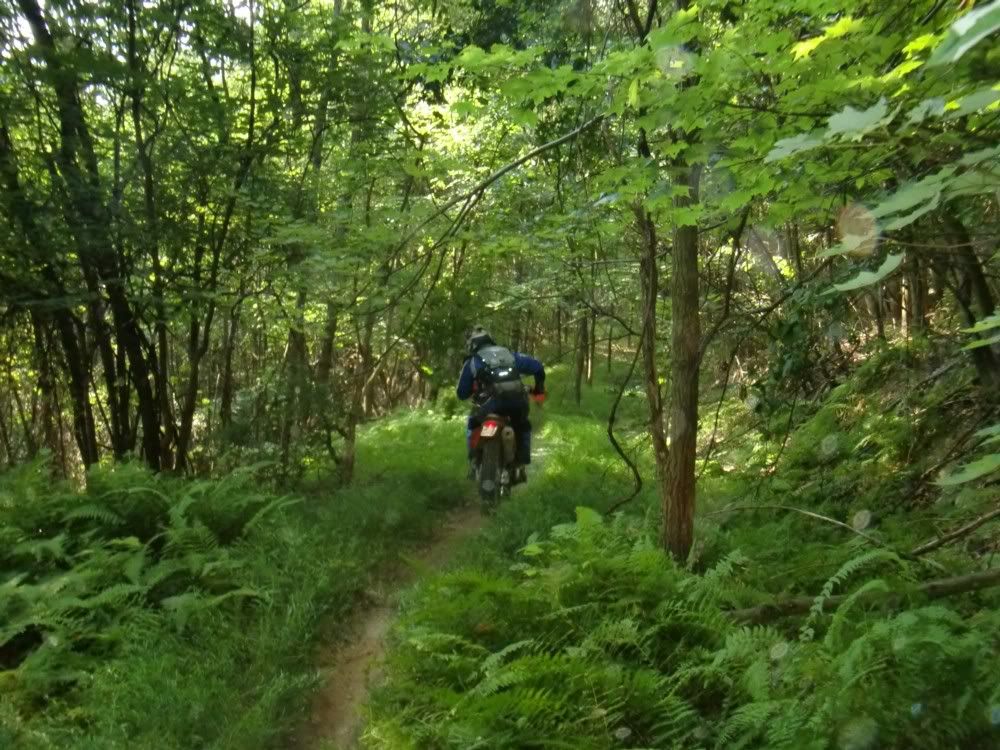 First DAMN not-a-detour. The lead rider of our group turned down this road and started up this hill thinking it was the course. It wasn't. It ended at this steep ass long hill climb.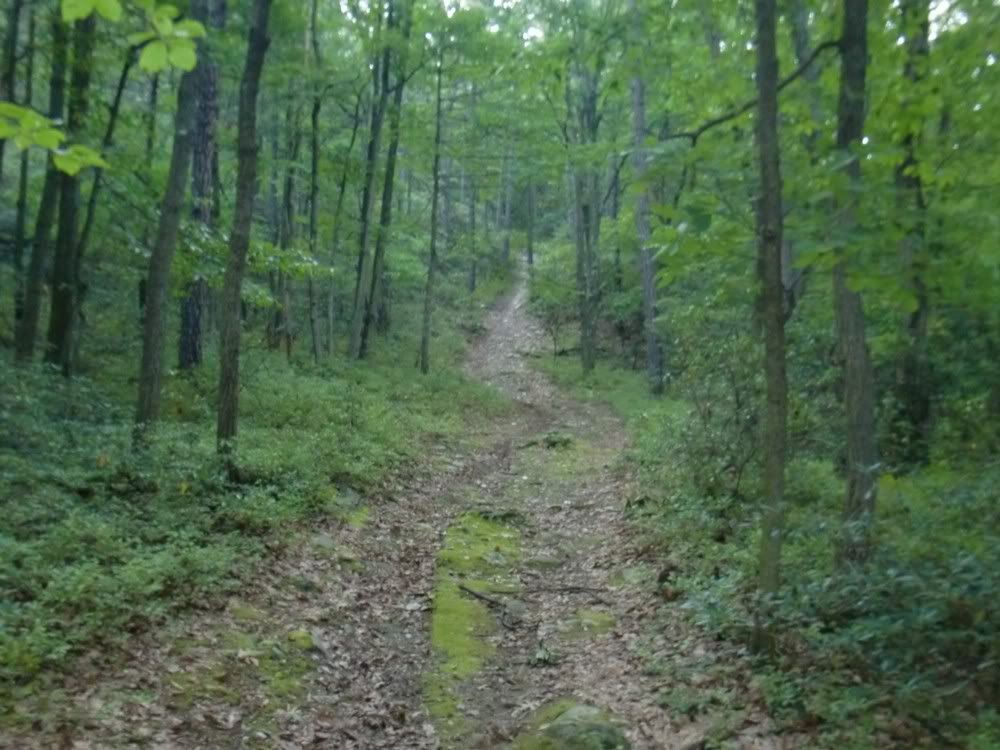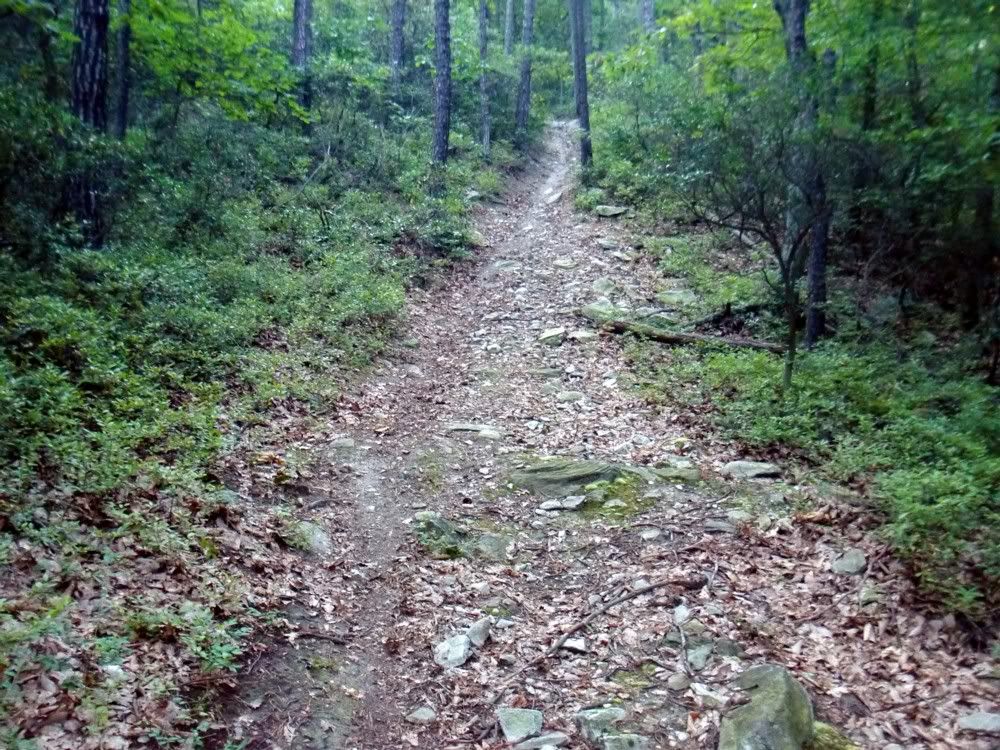 See that bump at the top? Well, first, thats not the top. It turns left and gets steeper from there. Second, thats a big boulder that will pop your front tire waaaaay into the air if you aren't expecting it. Luckily I went into the side of the hill instead of going over the back and tumbling down...
Fearless leader coming back down after making it up and realizing its the wrong way. :laugh1:
Waiting at the bottom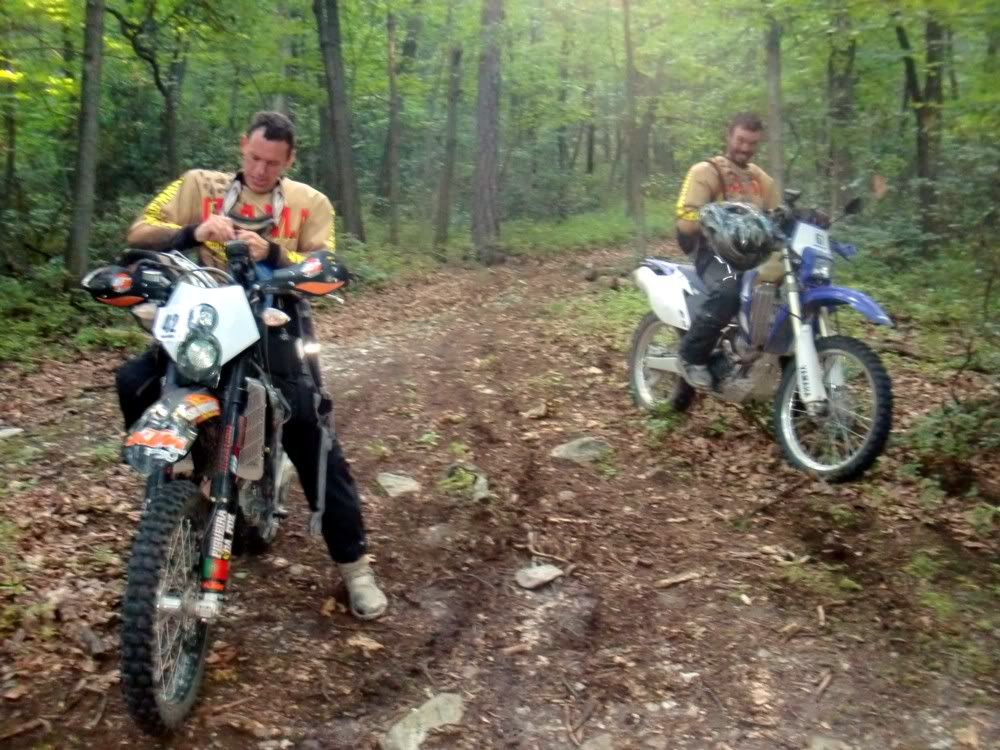 Shortly afterwards we turned onto the second option section of the day, and the start of my troubles. It was only a half mile of tight single track through a newly clear cut bit of (former) forest. Lots of stump and roots, the brush was barely wider than my bars. Over the first big hump, which was about 4ft tall, the trail made a hard right left kink around a stump. Got around the stump, grabbed a handful of front brake like a jackass and threw myself up and over the bars. Somewhere on the way down I slammed my left knee into something, either my bars or a rock, and have a big knot and bruise forming. Also bruised my left palm...
Oh well, time to eat (breakfast stop)!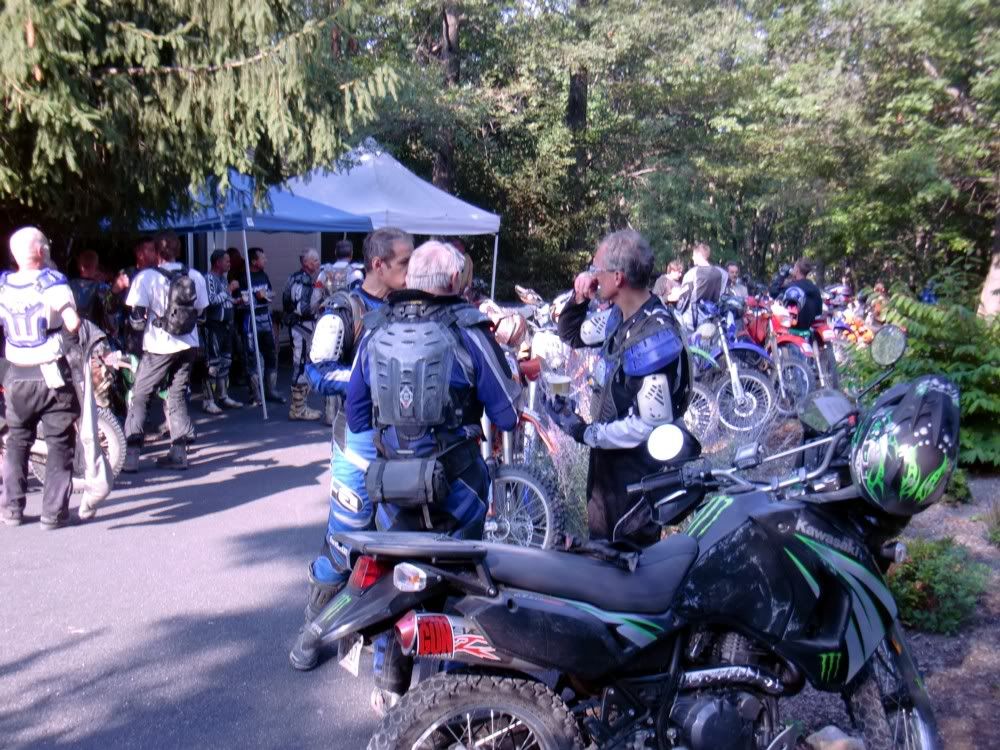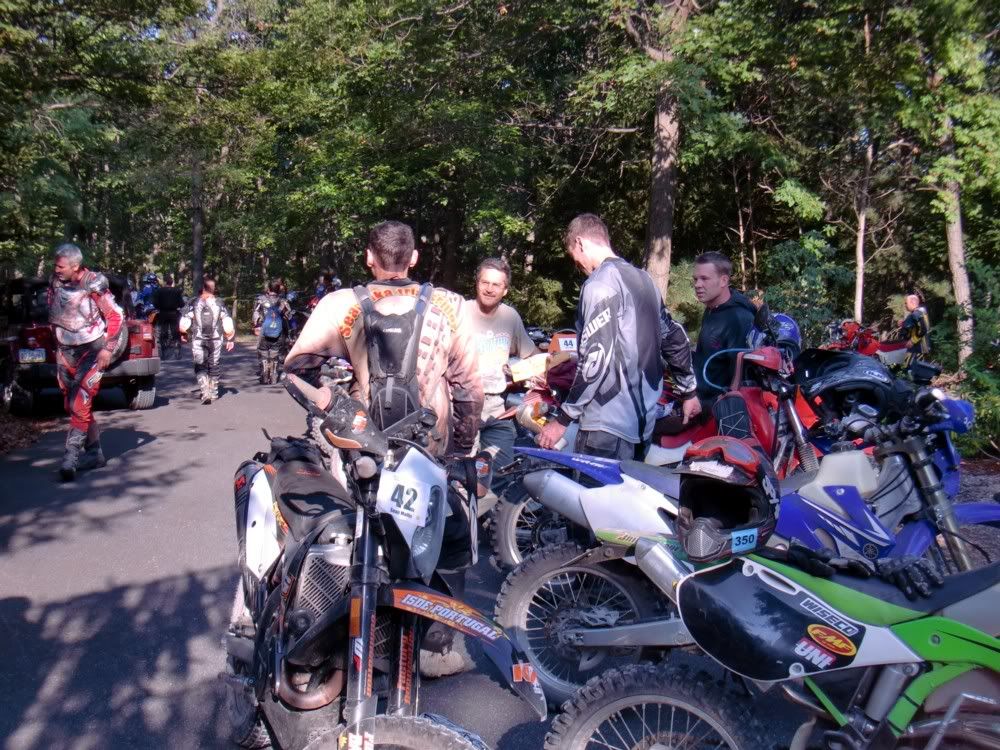 After the first section, still in one piece...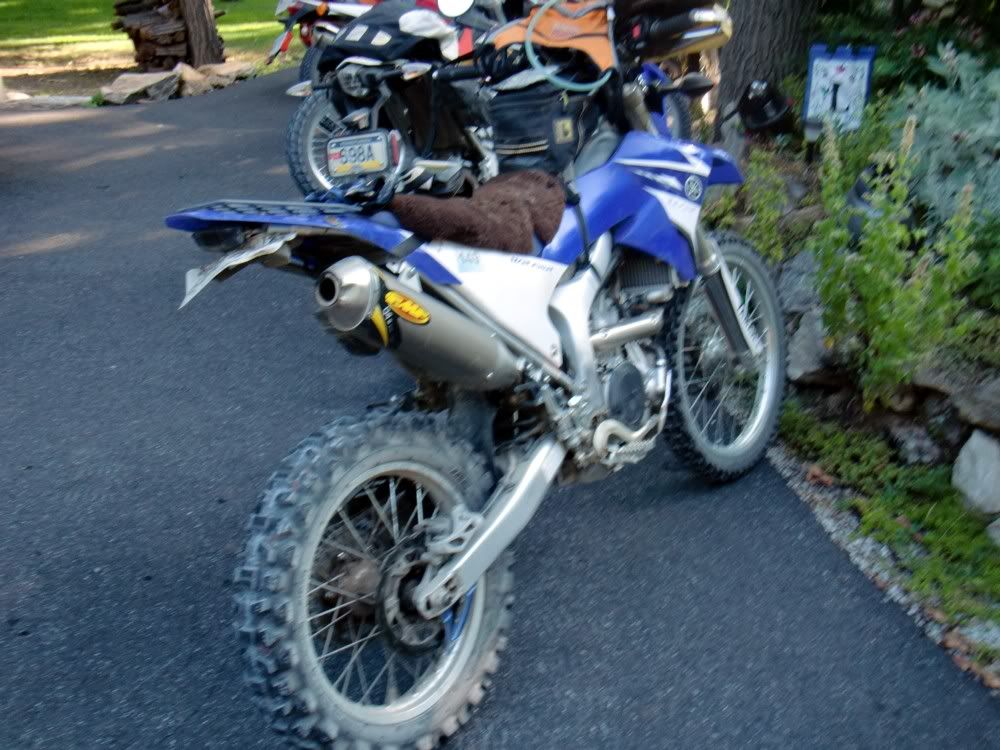 From here I lost contact with the group of guys I started with. They wanted to run significantly faster than I did (and were capable of it) plus didn't want to stop to eat (I did) so they took off and I waited for the next group of DAMN guys to show. In the meantime...
At the breakfast stop, there was another option section that was a little short mile long enduro course laid out over about a mile. It was timed, make two laps of the section and if your two lap times were closest to matching you'd win a free set of tires. It was the hardest option of the day so of course I tried... and failed. Miserably. Fell several more times, further banging up my knee and hand. I was wiped afterwards, but it was time to roll on. Just as I was getting ready to set out, the other two groups of DAMN riders rolled in so I joined up with them for the rest of the day.
Grady
JR and Dave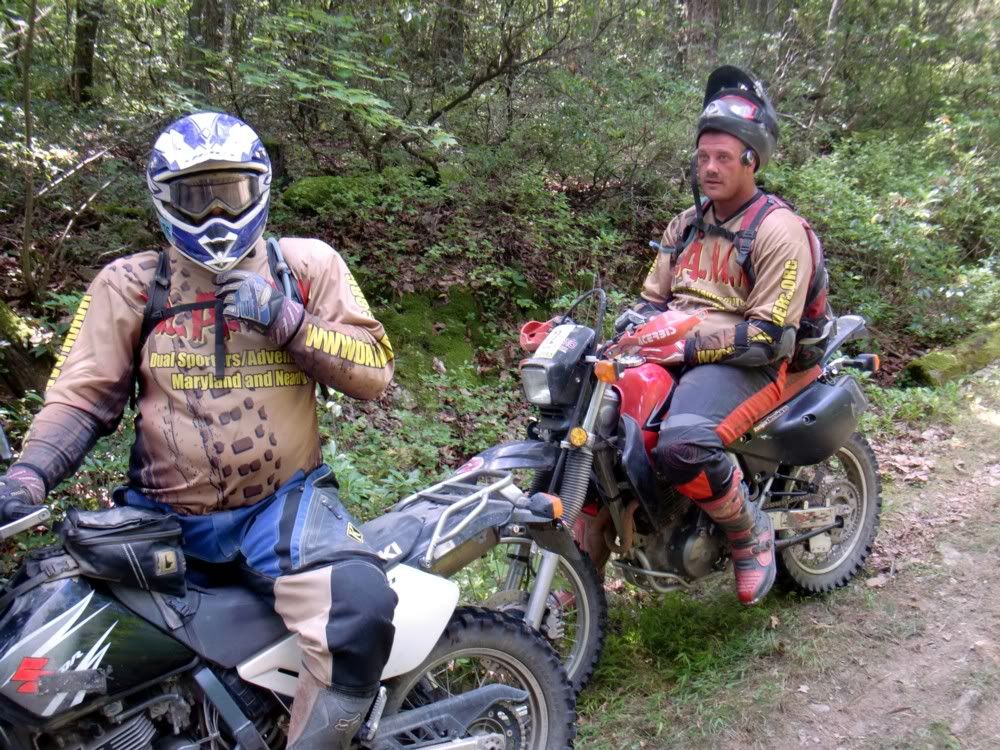 Rode all but one of the options in the afternoon. There were 3 or 4, can't remember, in addition to the one I skipped. The first was a long section of mountain bike single track that was a fucking blast! Second was a fairly rocky ATV trail. About halfway through it, I got my left foot caught between a stump or a rock and my peg... crunch... somehow I managed to not break my foot, I think. I can walk on it, but its definitely sore across the bridge. We'll see how it feels tomorrow...
Some of the main course...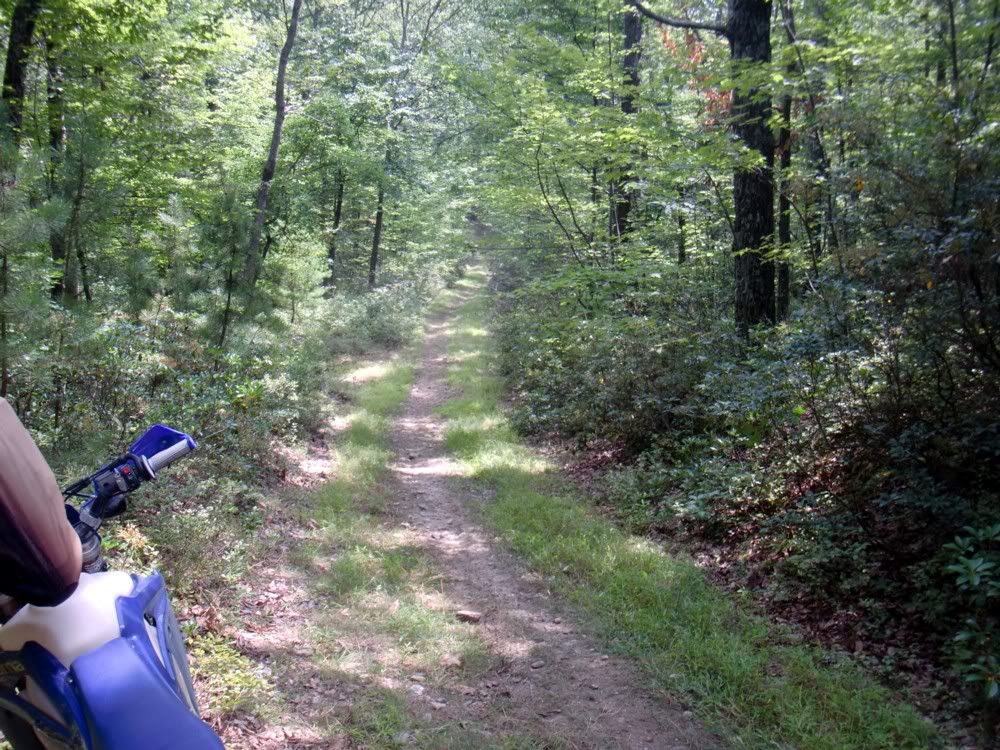 The last option before lunch, pretty good example of what they were all like (except the ATV park, which was wider and much much rockier). Much of it was barely handlebar wide if that, there was lots of bouncing off trees and crashing through brush, it was awesome. :)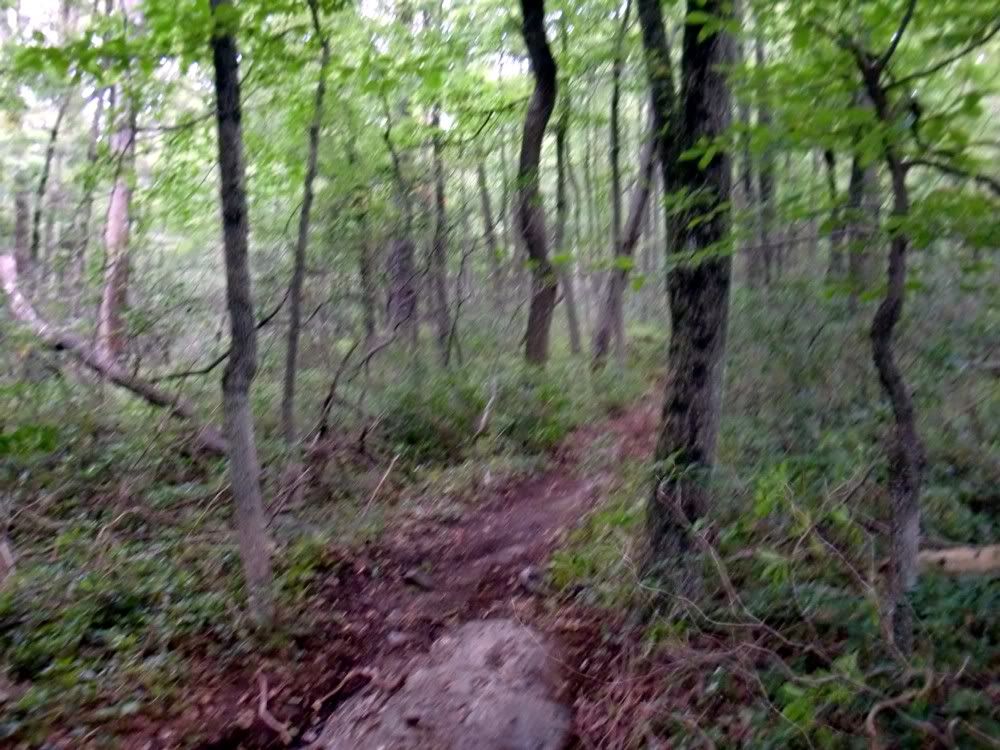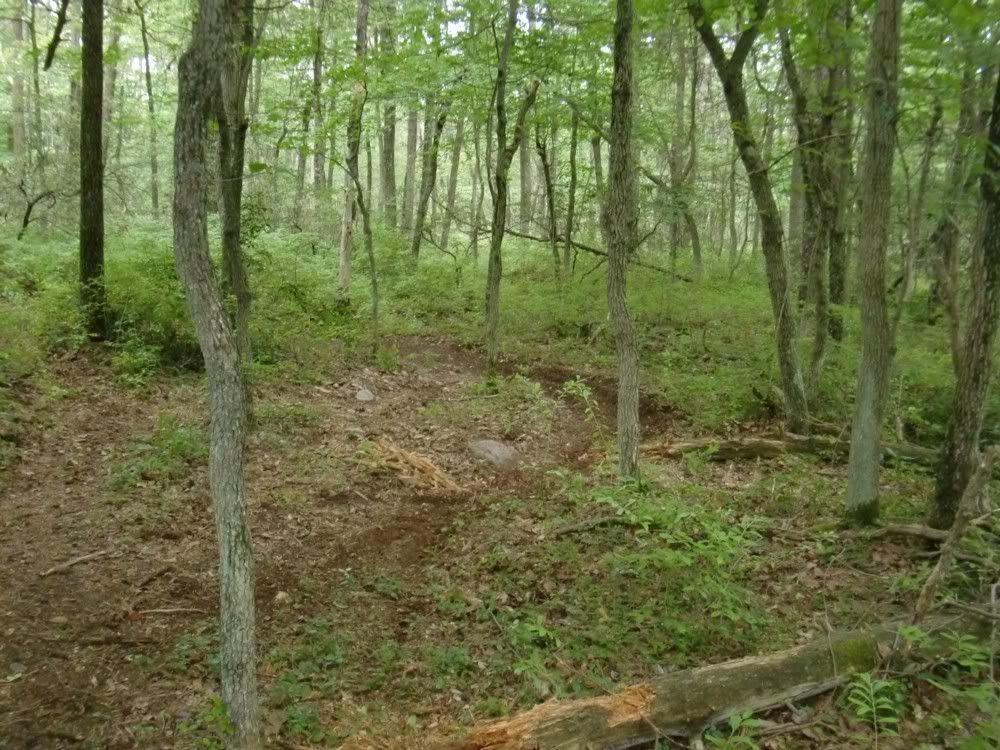 Stopped back at camp for the lunch break...
Discretion being the better part of valor, I decided to call it a day. My arms were wrecked from holding on, with my bashed knee I could grip the tank over the rough stuff so instead I was holding on for dear life. And my foot still hurt badly. And I had a two hour ride home. Packed up, said goodbye to the guys, and headed home.
But first, I had to make a stop at my girlfriend's place for dinner.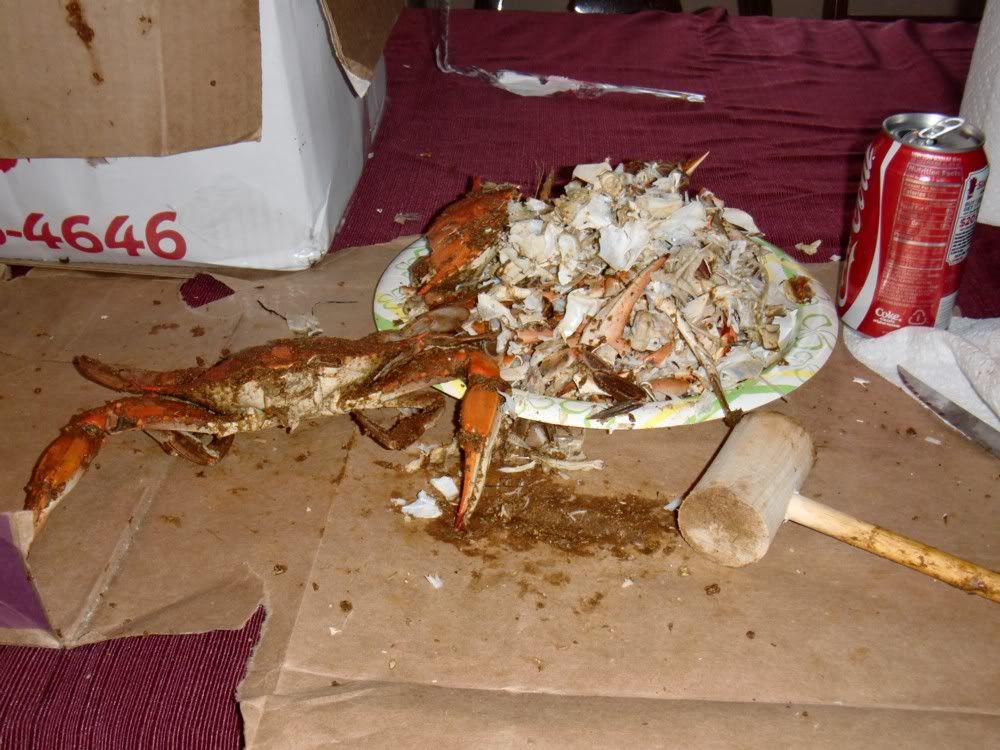 Home at last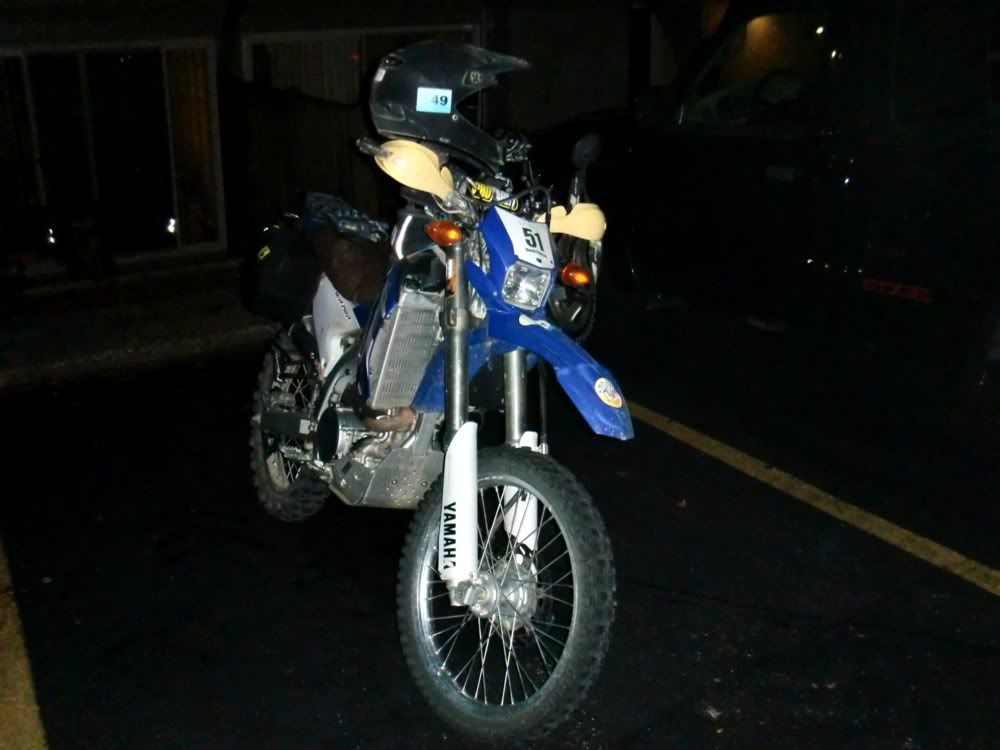 Oh yeah, and I won something from the event too. For being the idiot who rode the furthest to the event, I won a prize! An MSR inflation kit, basically a co2 pump and chuck. Hopefully I'll never have to use it lol.
Now its time to shower and clean my very very very dusty and dirty air filter.