Well, this year I didn't do it on the R11RT Gentleman's Express ('cos I sold it
)
The 1150GSA got the nod
When Humvee muted a trip of tossers to go to the Moto Piston, Picos and Pyrenees and divulged the entry list.....................I was in
We set off from Portsmouth on 6/10, after a B&B halt in Horndean and a wet start in Pompey
Safely onboard, we assembled on the deck and said farewell to the naval port, the afternoon was spent in the bar, interspersed with reading Practical Motorhome..................one can dream of a wobblybox
At about 6.30pm...................things got very blurry and a bit choppy to say the least................I took the advice of a young, pretty french crewmember and retired to my cabin, with a bottle of water and 2 dry bread rolls to ride out the storm.
Meanwhile, the other hardy tossers, hit the a la carte restaurant - however this was shortlived with most only managing a paltry starter before turning a greener shade of vert
It was a rough night
:
Next day, everything returned to normal on the seas and we enjoyed the rest of the trip
Disembarking from Santander, everyone followed me out of the city streets to the m/way, Humvee got bored following the old 'oilhead pig iron' and then took the lead and we headed out along the coast road towards Santilliana and onto Cala San Vicente
A late lunch ensued in Cala San Vicente, where we met a guy on a 690 KTM, who knew Loz well
The locals were bemused by the high tide, which was going over the road and into the car park and our bike were nearly swamped, 10 mins after this pic was taken, the quay was awash
We headed out of town and towards Unquera towards Panes and onwards down the Hermida Gorge, before turning off along it to do the LWR to our B&B @ La Pisa (Cookie decided the SWR was his preferred option) towards the reservoirs
A spectacular road ensued though......................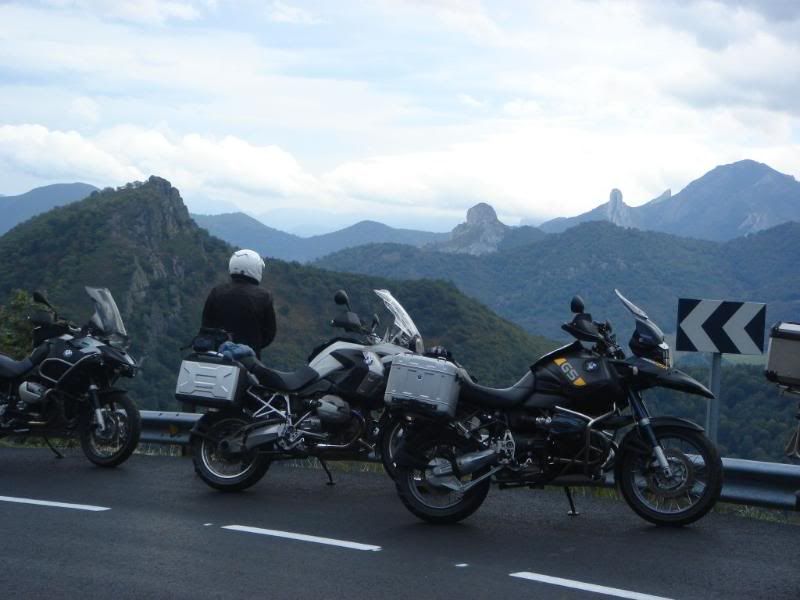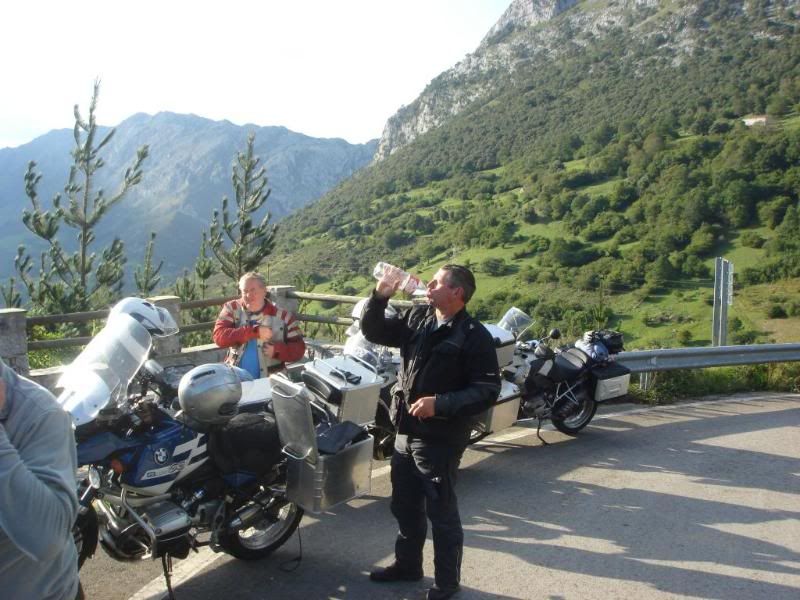 The B&B @ La Pisa
http://www.lapisa.co.uk/englishhomepage.html
was superb, great for a largish group. We stayed 3 nights and the food was truly excellent and rooms were comfortable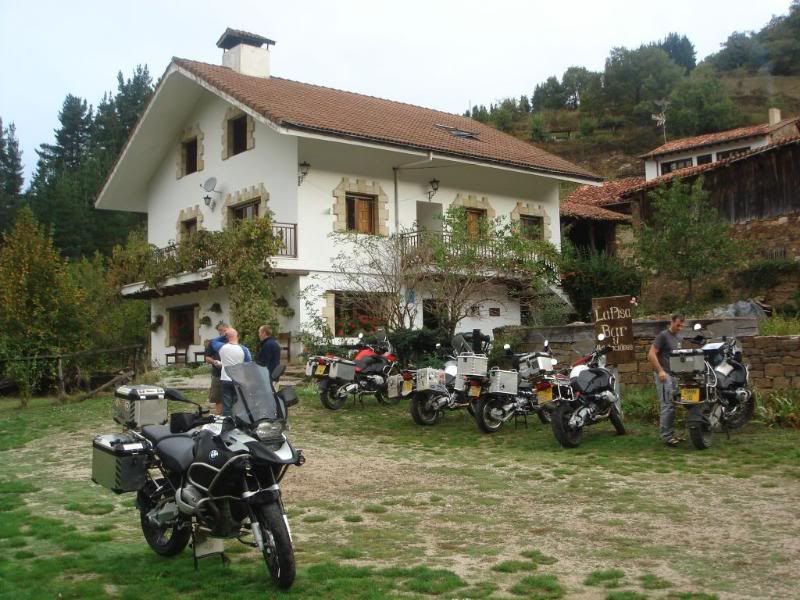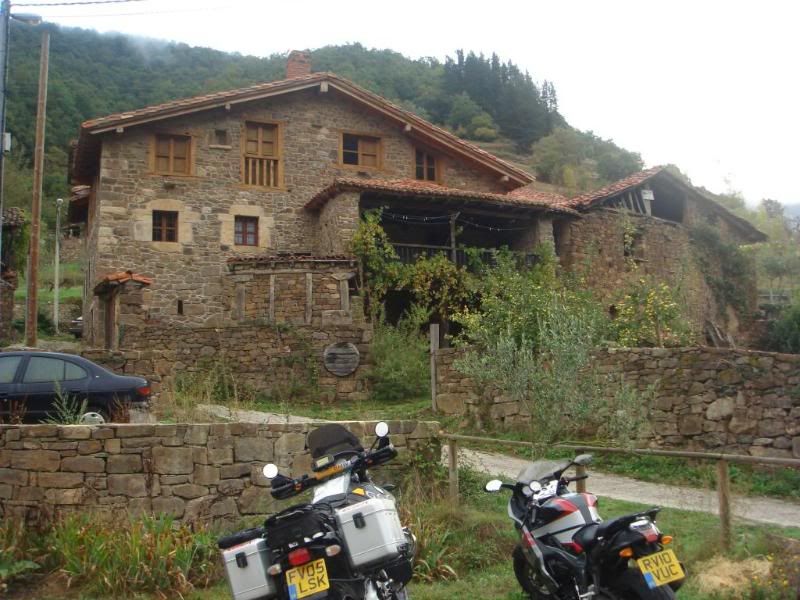 Everyone @ La Pisa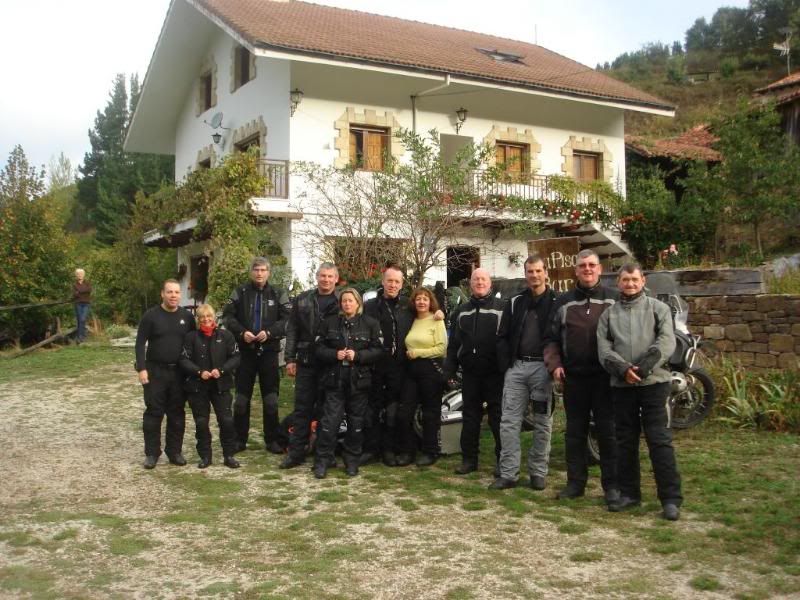 Friday, we hit some of the Picos roads, which were as stunning as ever
Coffee Stop, en route
We ended up in Potes in the late afternoon, I really like Potes - it sums up the Picos - small, friendly and quaint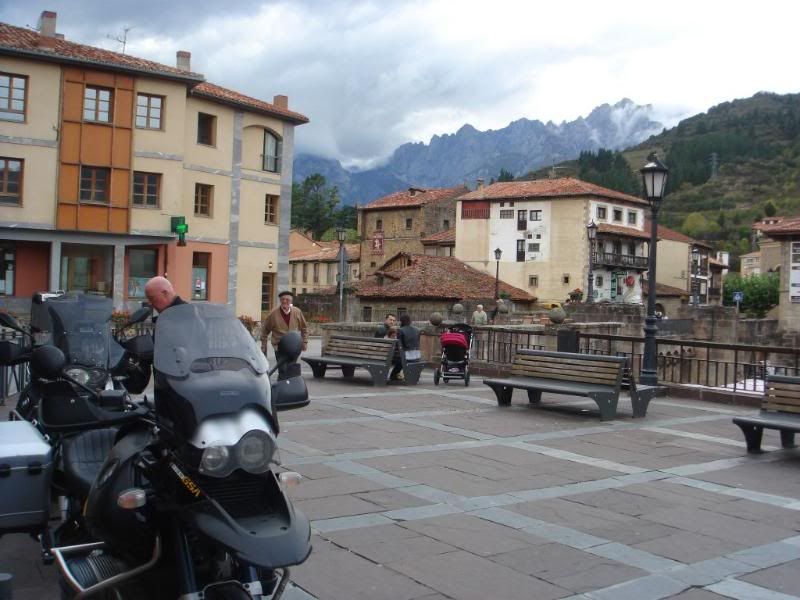 Next day..................we ventured over to the Moto Piston Rally @ Colombres, which we can all recommend as a fantastic event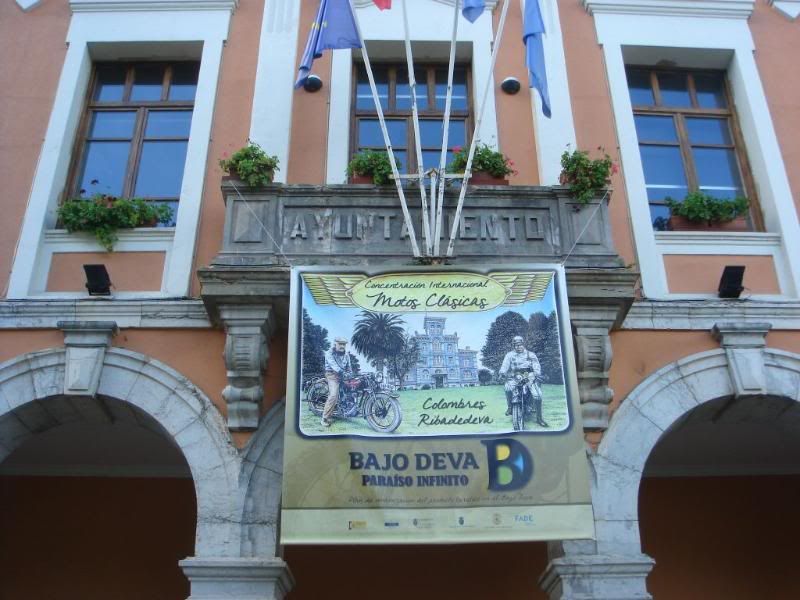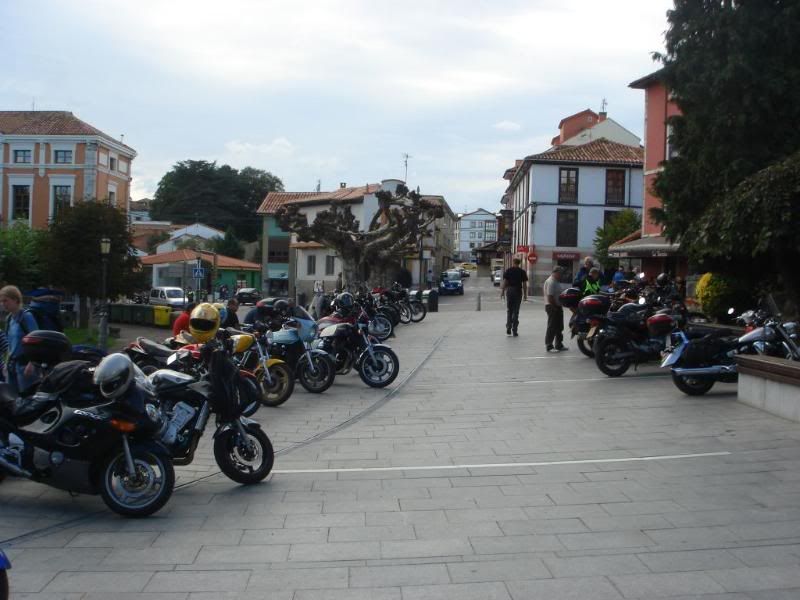 Remembering our yesterdays, a Bultaco Frontera Enduro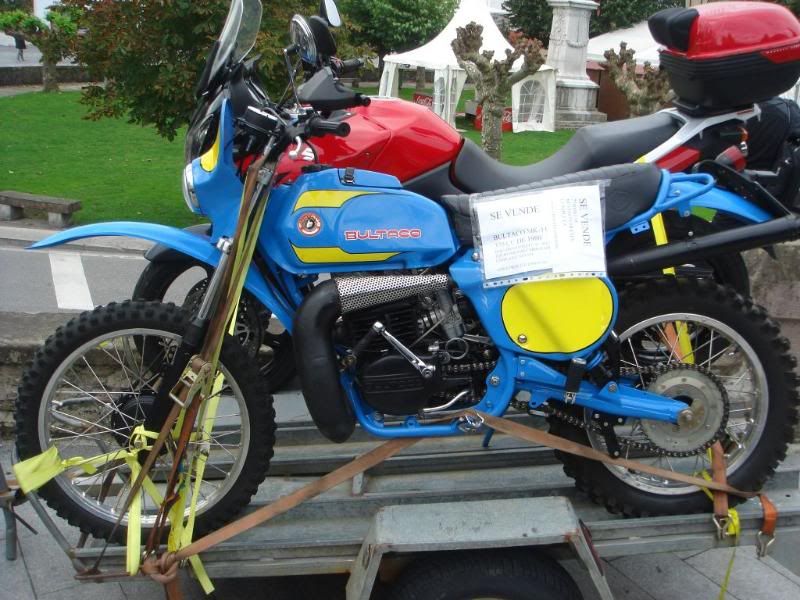 This young couple decided to book their nuptials for the busiest day in Colombres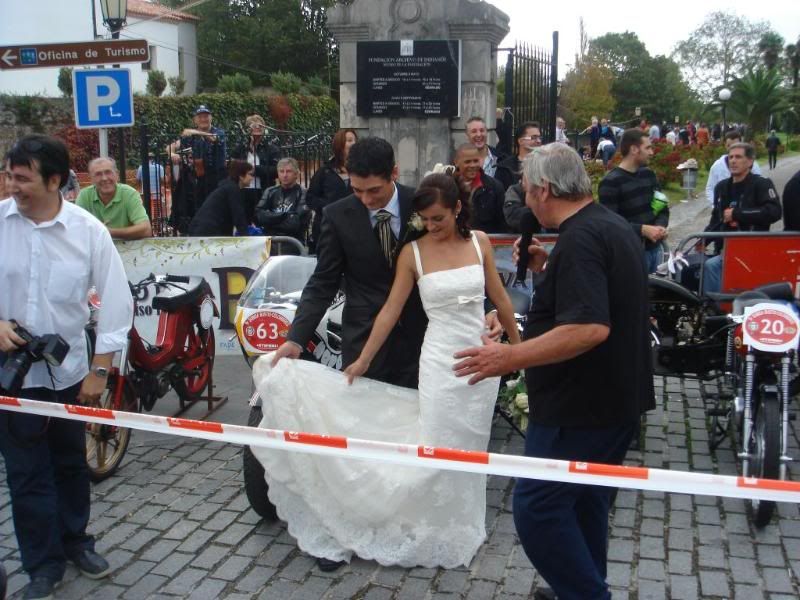 and this was the Latin American style hacienda that they did the deed in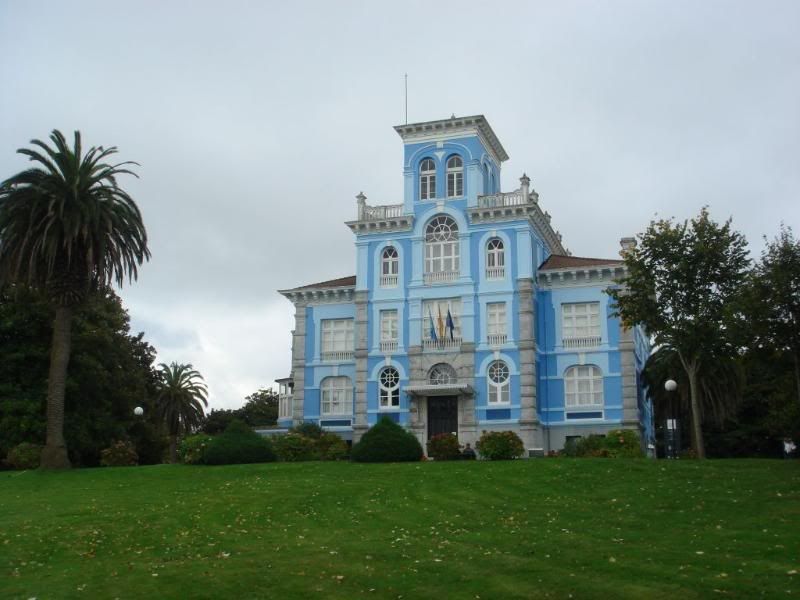 Is this the biggest paella ever
After a classic bike overload, we headed back to the B&B and much drinking followed, some people we decidely the worse for wear on the Sunday morning (Oscar and Gerry
:)
We climbed out of the Picos and over towards Pamplona, across the hills and Plains.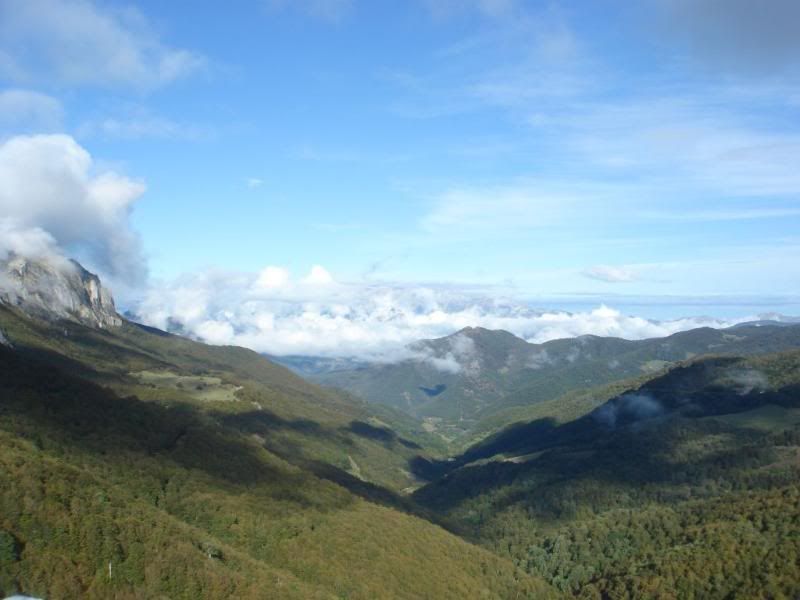 We saw much evidence of Sunday hunting of wild boar and many rural villages were thronged with triumphant hunters and their dead quarry of dead boar, lying in the town's squares..............not a sight you see in the UK anymore
Arriving, rather soggy on the outskirts of Pamplona we settled into the hotel and dried off. Noting it was a wet Sunday night and there was little in the way of local restaurants, we headed into town on the local bus and found a stunning cellar eatery in town.
Our secret weapon was Oscar a Spanish GS'er, residing in the the UK - who made sure we ate all the finest food and received the very best Spanish service all week, the locals realising we were simply not just stupid english tourists - but had a 'local Spaniard in the camp'.
Not only did he smooth over the food ordering, he explained local culture, politics and nuances, which allowed us to fully enjoy the Spanish experience.
Oscar we're indebted for your help, all week and it was a pleasure to holiday with you
Today....... must be Monday, yep Monday and for Mondays .....naturally it was raining
The rain soon cleared and we took the N240 towards Jaca, alongside the Yesa reservoir
Here's the road.....ribbons of tarmac
After Jaca, we climbed up the foothills of the Spanish Pyrenees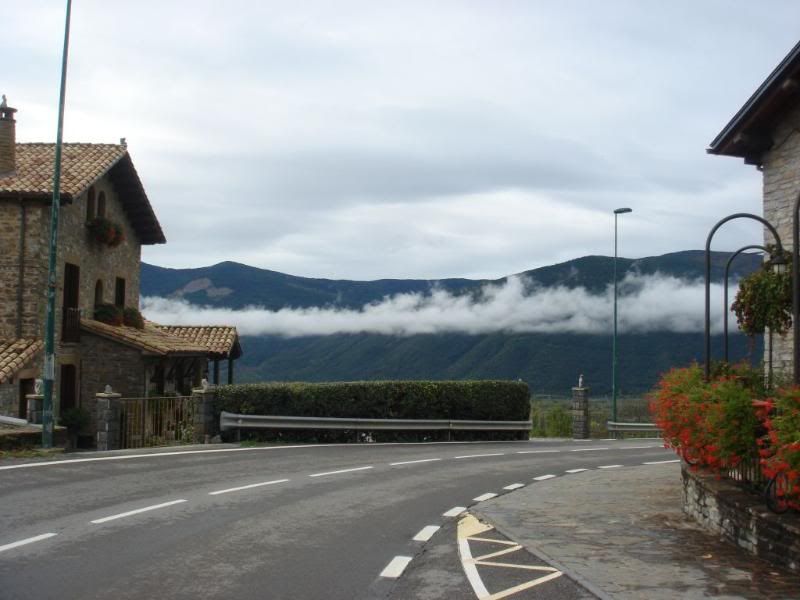 and then along deserted and abandoned mining valleys..............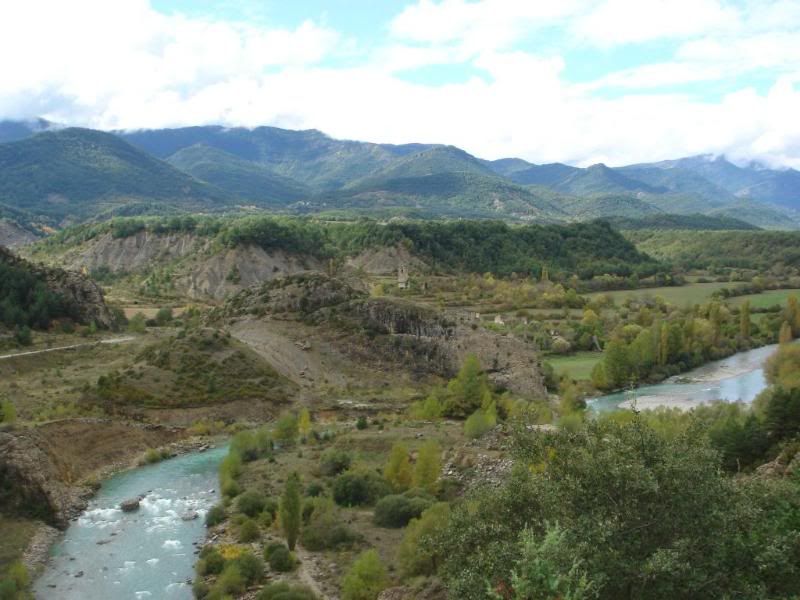 arriving in our 3 night destination, Vielha by late afternoon.
We stayed at the Hotel Aran
http://www.hotelaran.net/hotel/en/pre.html
Excellent, if not a little quirky and with free garage parking for bikers too
From Vielha we explored the Pyrenees and the next day we ventured to Andorra, via Sort and traversed some spectacular roads and trails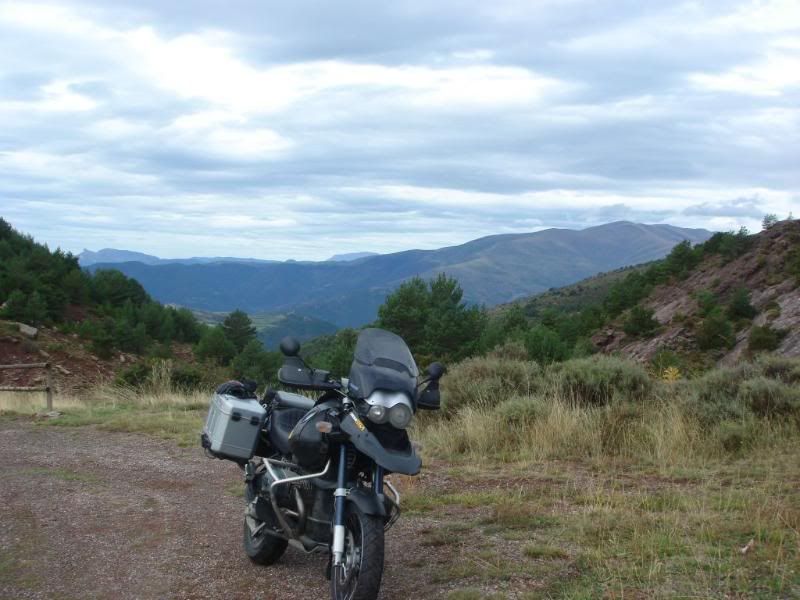 Yours truly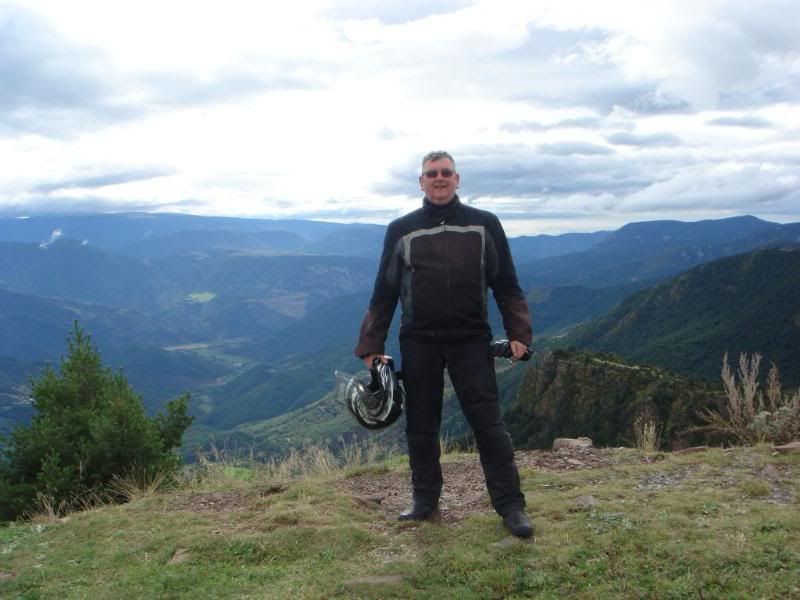 Andorra was busy, as usual.....................but the ride home along the Sort valley was splendid
Here's a vid from Possu, showing the Sort area from the 2007 AdvRider Rally - we rode tarmac, but next time I'd like to ride the dirt
Our next free day in Vielha, Steve and Julie and myself. decided on a less frenetic day, so we just had an afternoon ride for lunch at Bagniere de Luchon, over the border in France
It is a typical french spa town, very pretty and chic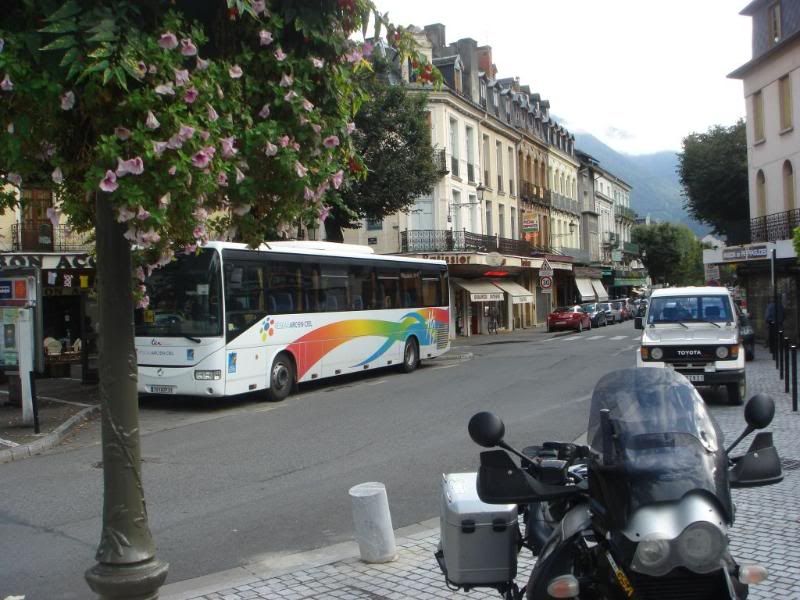 After a walkabout and a splendid 10Euro lunch, we headed back and found this delightful French village to explore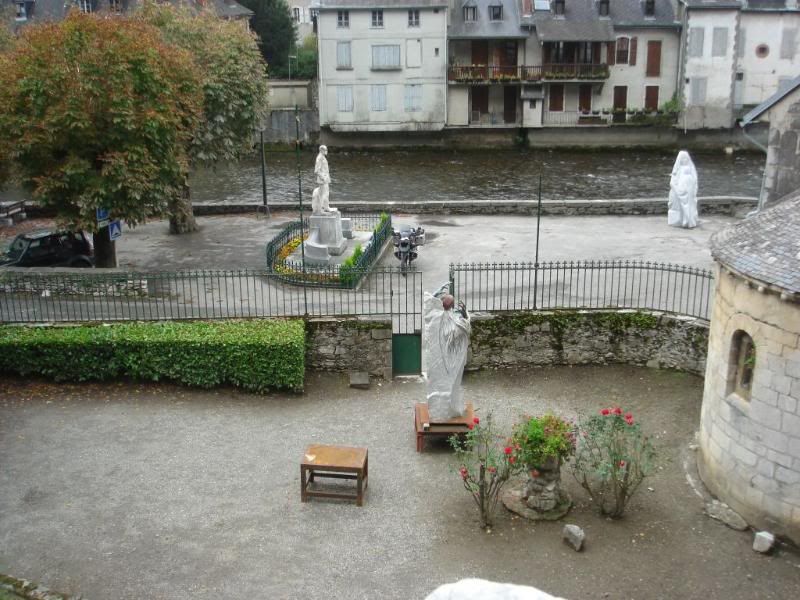 Thursday was big day, in more ways than one for some
We were heading over towards Lourdes, via Col D'Aspin, Col De Tourmalet and Col D'Aubisque..................however it was the day that fellow GS'er Gerry Huxtable hit a car and broke his leg, thus ending his trip
We were far on, down the route when we heard, from Cookie and Angie who had stumbled upon the scene and gone with Gerry H to hospital.
Humvee and Oscar headed over there too, when we knew Gerry was relatively ok, we carried on to secure the pre-booked hotel and tell them that some of the party would be late arrivals
The roads were stunning, yet again and the weather too was superb
Real tipees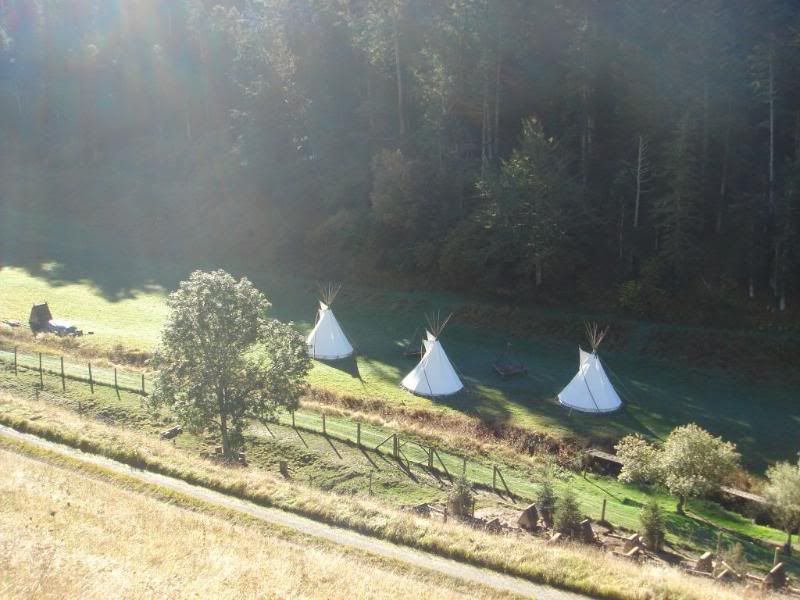 Pyrenean sihouettes
First Pyrenean snow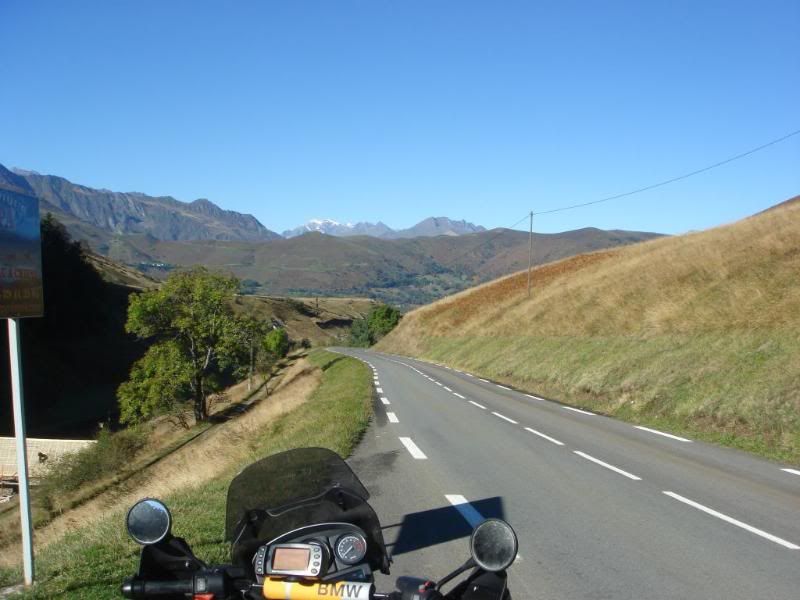 Autumn fall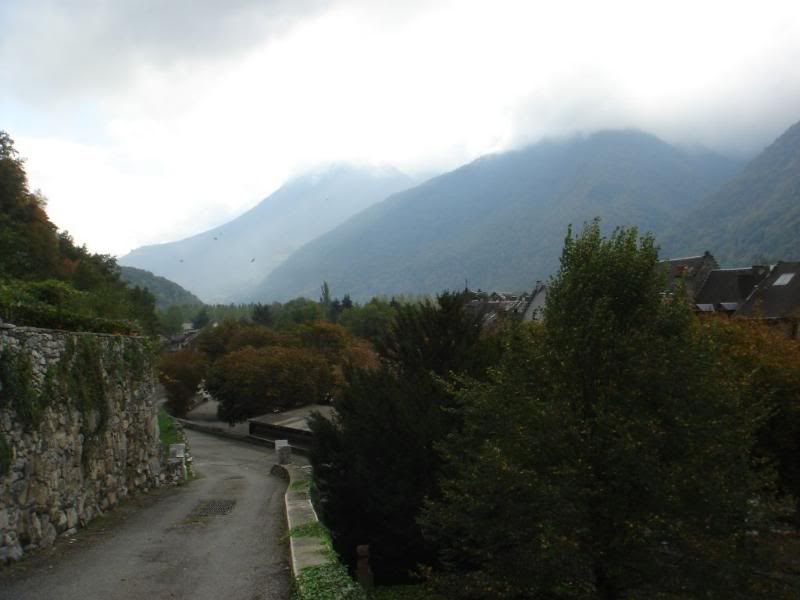 Col Du Tourmalet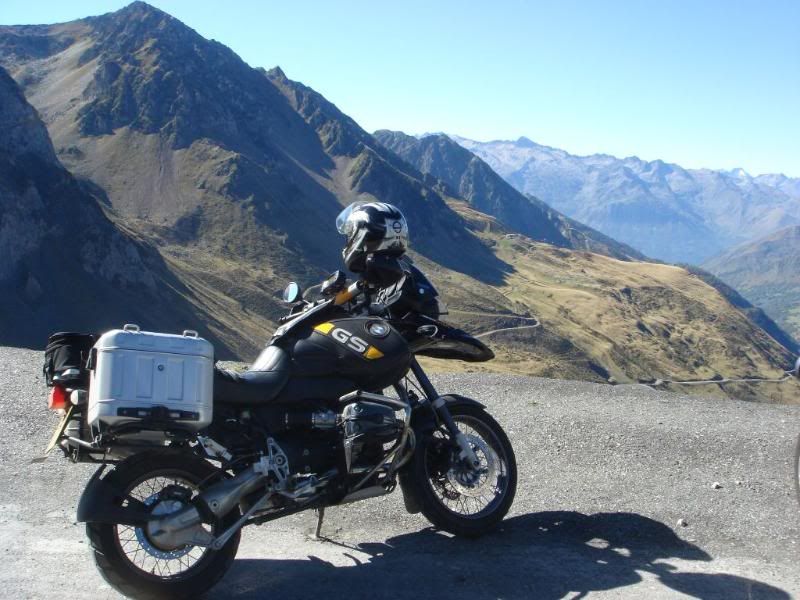 Pyrenean Valley basin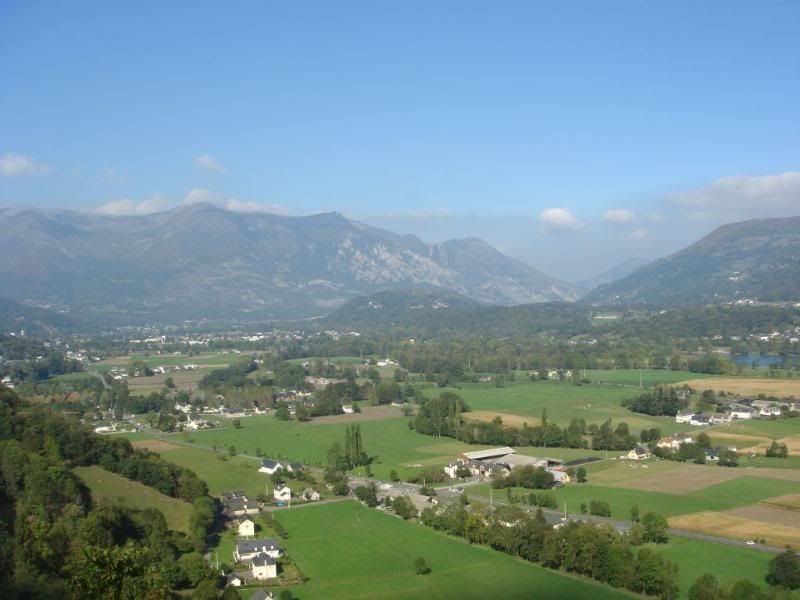 Everyone arrived at the hotel in Oleron St Marie, knowing Gerry was ok and in the best hands, so we had a few beers to toast him and ended up in a french bar, dining on steak and pigeon breast, for one of the best nights out of the trip (sorry you missed it Gerry)
After another late night, we traversed the Pyrenees for one last time and made for Jaca and the N240 again......................our destination a small fishing town in the basque country, above Guernica for our final night abroad.
The hotel Axturra
http://www.hotelatxurra.com/
took some finding and the GPS took us down forestry roads, which were impassable. So once rerouted we were ok
The hotel was really special, very comfortable and we'd obtained a local discount courtesy of Oscar, our fellow rider and basque national
He showed us his hometown of Bilbao and the famous Guggenheim, on the morning before we were due to catch the ferry home @ Santander
The Guggenheim
The ferry home was much calmer and we had a good crossing
Thanks to the others, I had a fantastic trip
Here's a link to another report of our trip
http://www.ukgser.com/forums/showthread.php?t=246183
Hope you enjoy our trip reports