A WEDNESDAY RIDE
with Blue Mountains Ulysses
Everyone is welcome to join us for the ride
Meet: Blaxland McDonalds, GWH, BLAXLAND, NSW for a 9.00am Start
Ride Leader: Noel H
Ride Report/Videos: Eric B
18th August 2010
Destination:
Pioneer Park, on the Central Coast near Gosford NSW
Weather forecast for today was 8° to 21°C with possible late rain. I packed my lunch, filled my thermos and left home and 8:00am, heading along the F4 to Blaxland. The weather conditions were a little bit chilly this morning. Arriving at McDonalds at about 8:20am there were already a heap of riders. Noel H was over his flu, so I was glad to see him, thinking to myself it will be great for him to lead the ride today, so on discussing where we would be going, he thought we would like to go to Pioneer Park on the Central Coast near Gosford. I thought he would suggest this as he had done a reconnaissance ride a couple weeks ago, although we have been there before it is a great ride. At about 8:50am we had 18 riders. Noel H would lead the ride I do not have them in order but here we go, followed by Allen R David E, Les W, Bob P, John B, John E, Peter M, Allen G, myself, Len p, Ross P, Richard M, Alan S, Malcolm K, David C, Rod B, John McC would be tail end charlie.
The idea was that John McC would be able to stay in touch with Ross P on their radios, this by the way didn't happen as they got out of range, maybe while riding, we left at 9:00am and headed up to Springwood to go down the Hawkesbury Valley Road to Agnes Banks and then through Windsor, around through Maraylya, through Glenorie onto Arcadia then down to Berowra Waters where we would have morning tea. When we got to the top of the Hawkesbury lookout the road was closed due to roadwork so we had to turn around and head back up to the Great Western Highway where we would continue down through Lapstone onto Castlereagh Road then out to Windsor making our way to Berowra Waters. I thought to myself riding back up to the Great Western Highway that it was really slack that they did not have a sign up saying road closed due to roadwork, it would have been so easy to do, it would have also shown some consideration for motorists, but it was a great day and I thought what the heck. We turned off the M4 at Emu Plains. When we got to the traffic lights to turn right, the last six missed the green light to turn right which was understandable considering the amount of riders that were on the ride. I was stopped by the lights having five riders behind me so I thought I would catch them on Castlereagh Road, then when we got to the Cranebrook turnoff, they turned right and I continued straight ahead along Castlereagh Road towards Windsor. The three riders at the tail end turned right at Cranebrook and continued on along Cranebrook Rd to Taylors Road making their way to Windsor by that route. That was the way Noel had gone, I knew where we were stopping for morning tea, so that was no problem, then when we get to McGraths Hill we find John McC and a small group waiting for us there so we joined up and I led that group down to Berowra Waters where we caught up with Noel and the other riders. We had morning tea in the sun, it was quite warm I think we will be having an early spring, I was quite surprised I did not get a real roasting getting lost again.
After morning tea Les W would leave us as he was not feeling 100%, also Richard M had other commitments, Ross P would also leave as he was attending a Vietnam Vets memorial evening. These two guys put their hand up all the time, I don't know how they do it, bet if I got crook they would come around and cut my lawn, so we were now down to 15 leaving Berowra to cross the river on the ferry, winding our way up the hill then getting onto the M3 we continued on along until we got to the Gosford turnoff, turning left there we continued on down through Gosford out to Pioneer Park. While having lunch at pioneer park I noticed a couple of things, one was that we could not all fit at one table so we were spread around a little bit and consequently you have three or four groups all having different conversations telling different stories and reminiscing so it does make it not quite as personal as if you were a smaller group.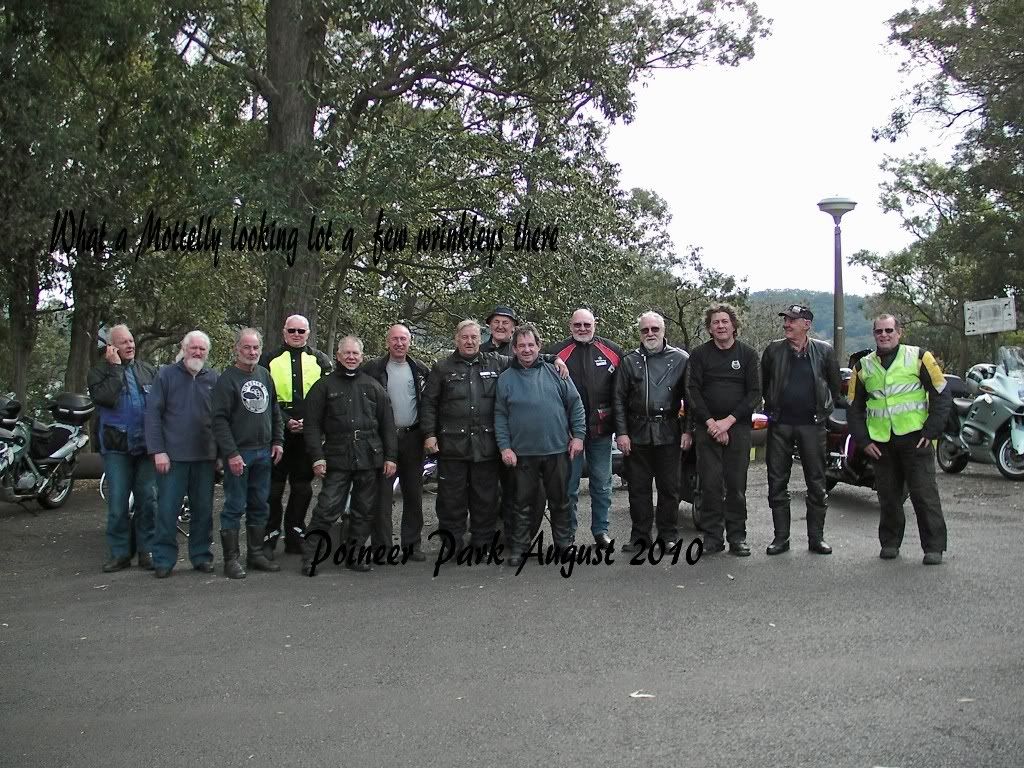 After lunch we would head back along Gosford Road where we would stop at the top of the hill to refuel, then continue on to Berowra waters again for afternoon tea following the princes highway back down through Brooklyn. I was tail end charlie on the way home as I wanted to take some video off the bike camera. I did get some good footage, arriving at Berowra waters to have afternoon tea, there were a couple of riders that continued on, Malcolm K and John E as they had commitments. Leaving Berowra Waters we headed back up Bay Road back through Arcadia, around through Scheyville where we lost a group in front of us again, so there were now three of us and we continued on along Pitt Town Road, then through Pitt Town. The others had turned left along Schofield's Roads to make their way onto Windsor Road. We got to McGraths Hill, turned left and then turned right at the traffic lights to go over the new bridge and as we did this there were a couple of riders went over the bridge as we were waiting to get onto it. It was a bad mistake to do this and as it is very difficult to get onto the new highway at that time of day due to heavy traffic, just as I got to George Street at Windsor John McC turned right at the lights coming a different way, I turned left and headed along George Street to the Northern Road, even then the traffic was back to the round about on Blacktown Rd. So I made my way home by an alternative route arriving home at approximately 5:00pm after having done 310km for the day's ride. I put my bike away, made a coffee then rang a few of the riders to make sure everybody had got home safely and also advising Noel H that I had done so myself. I think he mentioned something about me getting a Seeing Eye dog or taking some of those Anti "Senior Moment Tablets"
We had a great day or I know I did. Everybody else looked fairly happy when we said our goodbyes at Berowra so I look forward to getting lost again next week.
FOOTNOTE
Pioneer Park is also known as Frederick Point and was founded by early Pioneers visited by Bass and Flinders two of the Founding families in 1847 were Charles Cooper and Daniel Catherine who were buried in the Cemetery. The family graves were removed and they were put somewhere else, I believe to this day the descendants do not know their whereabouts. Their are 497 graves, I counted them while you guys were having lunch. The Soldiers memorial was donated by the local Lions club, it honors soldiers that fought in the Boar War the Second World War and Vietnam. As you probably are all aware of, I video lots of our rides some parts are from my bike some from my camera, this is one of my many hobbies, also tricking up photos, if you would like any of these just let me know they cost you nothing as I try to promote Motorcycling this way, all you have to do is let me know by Email or phone 0425 260 885 pick a Wednesday that you will be there and I will bring them along. I am the little wrinkly fat guy that rides a Harley.
In the meantime stay well ride safe look forward to your company next week.
Regards Eric Baldwin.
I have add some photo from an earlier trip
Regards Franz (BMBEN)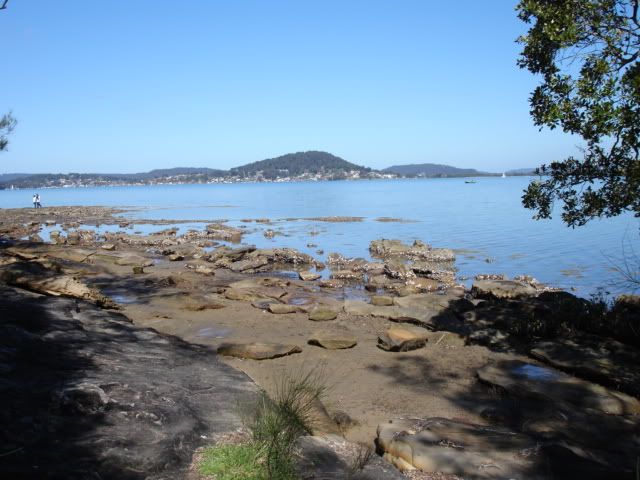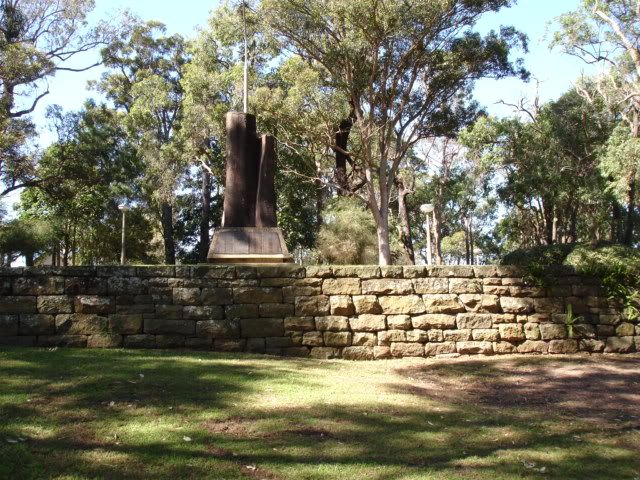 Map Link
http://maps.google.com.au/maps?f=d&source=s_d&saddr=Great+Western+Hwy,+Blaxland+NSW+2774+(McDona ld%27s+Family+Restaurants)&daddr=Hawkesbury+Heights,+New+South+Wales+to:Blaxl and,+New+South+Wales+to:Great+Western+Hwy+to:Great +Western+Hwy+to:Great+Western+Hwy+to:Castlereagh+R d+to:Castlereagh+Rd+to:George+St+to:Windsor+Rd+to: Cattai+Ridge+Rd+to:Bay+Rd+to:Sydney+Newcastle+Fwy+ to:Sydney+Newcastle+Fwy+to:Albany+St+to:Bay+Rd+to: Scheyville+Rd+to:Windsor+Rd+to:Cranebrook+Rd+to:Ol d+Bathurst+Rd&geocode=FT4U_f0d3yr6CCGScfpCTculng%3BFaZP_v0dsr_6C CmBswHYzoYSazGKXHTTzULPog%3BFXka_f0dnCD6CCnr-vkSbYgSazG8m32U3ZCtow%3BFUrK_P0dCF76CA%3BFYQD_f0dz Af7CA%3BFbIC_f0dDk37CA%3BFYhP_f0d1Gj7CA%3BFUyz_f0d BHD7CA%3BFTbr_v0d_gD9CA%3BFdIS__0dYIr9CA%3BFVQ8__0 d2sP_CA%3BFTJO__0dLOcBCQ%3BFa03AP4dfBoDCQ%3BFV6PAP 4d1xEDCQ%3BFdyhAf4dXUwFCQ%3BFTJO__0dLOcBCQ%3BFWgx_ _0dpi_-CA%3BFe3p_v0dBp79CA%3BFQS1_f0d7HP7CA%3BFagW_f0dmDf 6CA&hl=en&mra=ls&via=3,4&sll=-33.963864,151.210327&sspn=1.17543,2.469177&ie=UTF8&z=10