A WEDNESDAY RIDE
with Blue Mountains Ulysses
Everyone is welcome to join us for the ride
Meet: Blaxland McDonalds, GWH, BLAXLAND, NSW for a 9.00am Start
Ride Leader: Eric B
Ride Report/Videos: Eric B
Wednesday, 25th August 2010
Destination:
Ruby's on the South Coast @ Bulli Beach NSW
The weather forecast for today was 8 to 18°C with strong westerly wind up to 25 knots. There was a little bit of cloud around as I packed my bike to head of along the M4 to Blaxland where I would arrive at about 8:10am. There were already a number of riders there, after a short discussion it was decided that we would go to Ruby's, that's at the bottom of Bulli. We actually had 10 riders but John McC would not be coming with us, he was going to the central coast. I won the job of ride leader, these guys sure like punishment so I thought the best way to go would be down Lapstone Hill, out along Mulgoa Road to Wallacia then through Bents Basin, Rossmore then onto the M5 and along Heathcote Road. We would stop at Heathcote for morning tea. I explained to everyone which way we would go so that I did not lose them.
At 9:00am we headed down to Mulgoa Road We had nine riders, I led the ride followed by Les W, Allen R, David C, Bob P, Peter M, Malcolm K, Richard M and Alan S was tail end charlie. We had no problems with traffic having had a good ride to Heathcote, arriving there at approximately 10:30am. We had our morning tea break in the park. After morning tea we would continue on to Waterfall where we would turn left head down through the National Park, making our way through two Balls Head where we would stop for a couple of minutes to have a look at the scenery then continue on across Seacliff Bridge. Arriving at Ruby's at about midday this has changed hands also name, I believe the original Ruby's is now in the caravan park. There seemed quite a considerable amount of cars at the old Ruby's but we stopped in the park because I know it as it does have some amenities. Having lunch in the shelter the wind was blowing quite a lot, I reckon we had a good 30 knots, so sheltered in one of the shelters that did serve as a partial windbreak.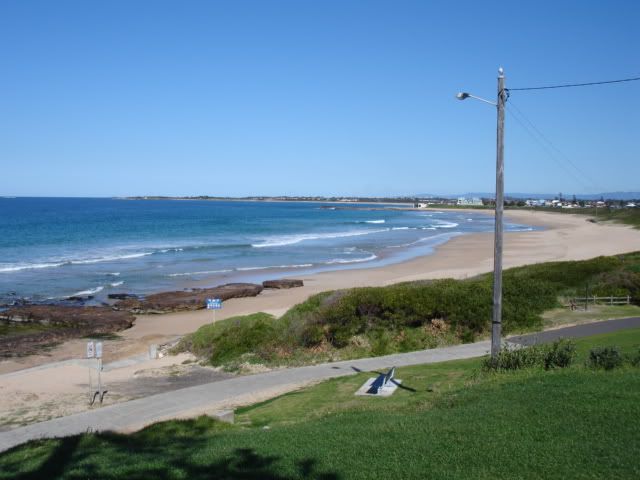 After lunch it was reasonably early, we decided that we would go back up Bulli Pass along Appin Road to Appin where a few of us would refuel, then down through Broughton Pass and stop at Menangle for afternoon tea. Malcolm informed me he would be leaving us at the top of Bulli Pass, then ride down to Shoalhaven Heads and making his way home from there, unfortunately he told everybody else but did not think to tell Alan S who was tail end charlie, so when we got to the top of Bulli Pass Malcolm turned left and Alan followed, so I have now lost a rider. I was feeling so good that I had not lost anybody then that happened, it is quite tricky at the top of the pass if you do not stay in the right lanes, you end up on the freeway on your way back to Sydney. We managed to navigate this and ended up on the Appin Road making our way through to Appin where we stopped for fuel. It was quite windy coming along Appin Road, I reckon we experienced gusts of wind up to 40 knots. Making our way to Menangle where we stopped for afternoon tea at the general store. We stop here quite often, a great little spot. When we arrived there, there was hardly any wind blowing as we sat in the sheltered area and had our afternoon tea. With a little bit of discussion we made a little bit of lighthearted conversation about losing Allen, but I was not happy loosing Allen as it was my fault I should have explained to him that Malcolm was going south.
We said our goodbyes and heading off to make our way onto the Northern Road where I would not make the same mistake again as I did before. Richard, Peter and Bob left us on the Northern Road at the Wallacia turnoff. Les, Allen and David followed me along Luddenham Road where they made their way onto the M4 heading for their homes. I arrived home at 3:40pm after having done 265km for the days ride. I put the bike away, got my mobile phone out and their was a message on it from Alan, saying he was home safe and sound, that was good news, I did apologize for not telling him about Malcolm as Allen had made his way home through Picton.
We had a great day, the weather conditions were reasonably good apart from the wind and everyone seemed to have a good time, Malcolm K did ring me to let me know that he had arrived home safely as well, also to find out about Alan. I informed him that everything was fine and he told me that he had done over 400km for his days ride.
So I shall see you all next week I think we should change ride leaders. In the meantime stay well and ride safe.
Regards Eric Baldwin.
Map Link
http://maps.google.com.au/maps?f=d&s...1,2.469177&z=9