A WEDNESDAY RIDE
with Blue Mountains Ulysses
Everyone is welcome to join us for the ride
Meet: Blaxland McDonalds, GWH, BLAXLAND, NSW for a 9.00am Start
Ride Leader: Eric B
Ride Report, Photos, Map: Eric and Franz
Wednesday, 13th October 2010
Destination:
Halfway House NSW
The weather conditions forecast for today were to 25°C in the west with possible showers or thunderstorms in the afternoon and they actually said midday. I had made my lunch the night before thinking, well I will go anyhow, if it rains I will come home. I awoke at the usual time of 6.00am, grabbed my thermos, I did not put my wet weather gear in the bag because I thought if it rains I am coming home anyhow.
I left home at 8.20am. It was a little bit on the chilly side heading up the M4 to Blaxland. When I arrived there, we had a number of riders already waiting Paul S was there but he would not be riding with us today. He often calls in to say hello to everybody. Noel H had not been with us for the last two weeks. Noel usually leads the ride, he has been doing this for the past seven or eight years or maybe even longer, so I asked Noel where are we going for today's ride, he said to me I don't know, I then said to the other riders, has anybody got any suggestions, it was quite difficult to get a reply that made any sense because they were all joking, the weather conditions would play a significant role in this, so I suggested the old burned out Halfway House. This was agreed to by everybody, I then said who is going to lead the ride, they all said guess who, so I thought well, I will have to take another spark plug lead off again, I really don't like to do this as it ends up fouling up one of my plugs so I have to replace it, they are quite expense, but I suppose anything to make sure that I do not lose anybody. Guess what two weeks in a row no one lost how good is that.
We left at 9.00am heading up the highway to Springwood where we would go down Hawkesbury Valley Road through to Agnes Banks, across to North Richmond up the hill towards Kurrajong then turn right at Blaxland Ridge Road where we would make our way onto the Putty Road. We would stop at North Colo for morning tea. We had 11 riders as I said I was nominated to lead the ride followed by Rob P, Allen R, David E, Peter M, Gary B, David C, Richard M, John McC, Noel H, and Alan S would be tail end charlie.
Arriving at North Colo at about 11.30m the conditions were really good but there was some huge cumulative clouds coming in from the west. I thought we would really get some heavy rain. We sat in the sun having morning tea as there were quite a lot of bike riders heading down the Putty Road, enquiring as to where they were off to they informed us that they're all going to Phillip Island for race weekend. One rider we heard had gone to overtake a vehicle on the double line or overtake a truck on the double line. He had misjudged it, clipped the back corner of the vehicle then crashed breaking his shoulder wrecking his bike then not able to go to Phillip Island how dumb is that. Every time we ride it is not unusual for us to see another motorcyclist overtaking on the double lines, as Rob P said, who by the way happens to be a retired highway patrol officer, he had given up on the amount of times that he had seen people do this, he said that he would never do that, he wanted to live a lot longer to enjoy a full life. We headed on up the putty road with no traffic whatsoever but I thought I would be a little bit more careful expecting other motorcyclists coming the other way, who knows how quick they would be traveling or on what side of the road.
We arrived at our destination at about 12.30Ppm and on arriving there we noticed that there was a stainless steel sculpture that was very similar to the one at the service station at Mangrove Mountain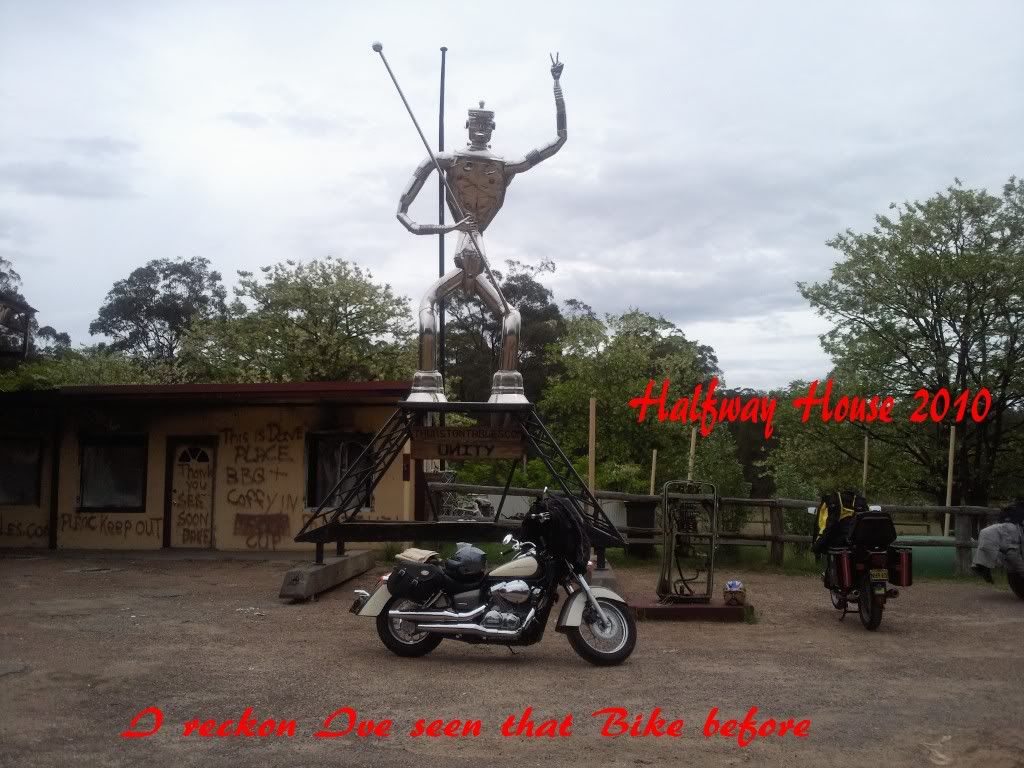 on further examination it was the same one. Male front, Female back. Then I noticed there was some writing all round the front of the old burnt out restaurant, it read that this was now Dave's place, then while we were having lunch at a nice big table with a canopy on the top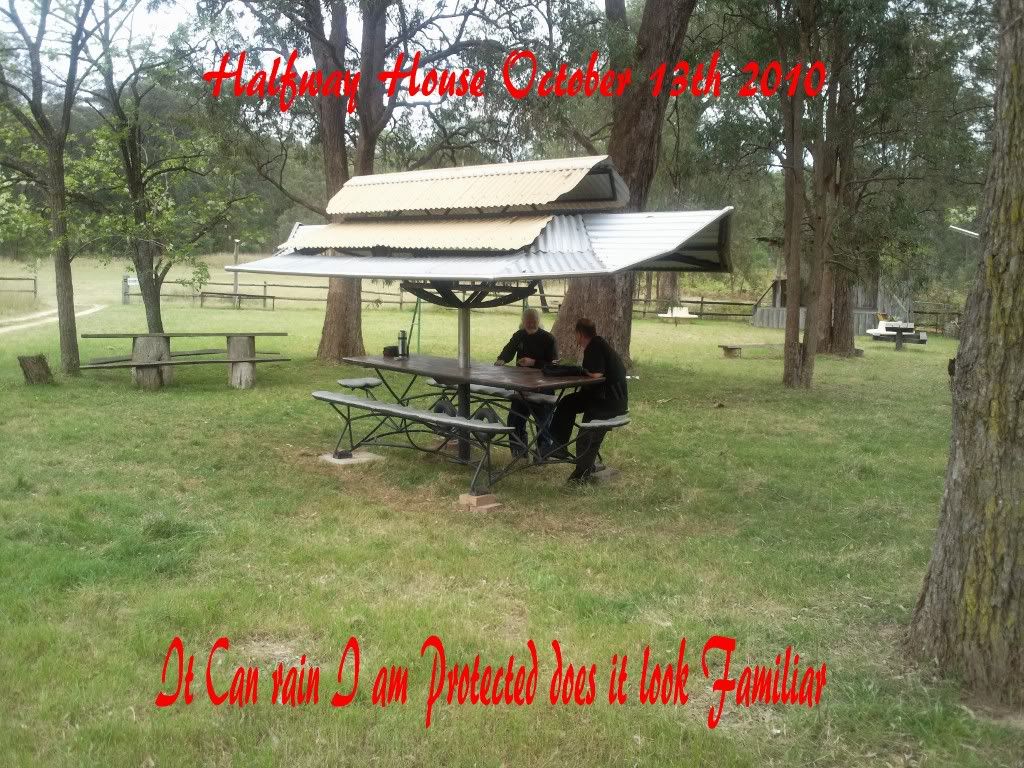 noticing that it also came from Mangrove Mountain, looking down in the south western corner almost opposite the stage there is a shed, there was a person there also alongside of it were some of his Ned Kelly mail boxes so my assumption is that Dave has bought the place intending to do it up to open it up again. I don't think there will be a service station there, we had lunch in sunny conditions, then we would head back to North Colo for afternoon tea also I would need to get fuel as some of the other riders did too, I suppose we had our afternoon tee at about 2.00pm.
I had installed a GPS that I had purchased from ALDI. I have installed on my bike it has blue tooth I think it was a great buy for $150 so coming back I was doing the speed limit on my Speedo also the GPS was reading 2ks per hour under what my Speedo read, when we had stopped for afternoon tea I was informed that I was speeding, I said impossible I only have one spark plug connected up, the GPS was reading 98 kilometers per hour.
After afternoon tea we said our goodbyes as the cloud was starting to thicken, I really thought we were going to get wet, we went home the same way along Blaxland ridge road then down through North Richmond. I was looking up at the thick clouds that were forming above my head. I was watching this really black cloud that was traveling from west to east. I reckon it was doing every bit of 60 kilometers an hour. I have not checked the speed of clouds before but this one was really traveling quickly. Allen R, David C, David E would part. I would turn right around the back roads to Agnes Banks there would be only Alan S and myself that continued on along Castlereagh Road. While riding along Castlereagh Road I did start to get a few spots of rain. I arrived home to beat the rain at approximately 3.45pm after having done 295km for the day's ride, just as I put my bike in the garage down came the rain so I had really just got home in time. We had a great day, everybody seemed to enjoy themselves, I do not think you can beat this camaraderie,
So until next week stay well ride safe.
Regards Eric Baldwin.