Well, up here in more Northerly climes, up in the Rockies, most of the fall colors have moved past their Best Before date. What a difference three weeks makes at this time of the year - many of the leaves have dropped and the colors are beginning to fade. And of course, it is also elk season, which is a bit of a religion around here. You don't normally use up a nice day that could be devoted to elk hunting to go on a bike ride.
However, it is now Oct 21st, elk season ended yesterday, and the weather forecast says that by the time I get back from my next out of town trip, not only will all the leaves be gone, but there will likely be snow up in the mountains and mountain high dual sporting will be over for another year.
Well! Carpe Diem as they say... I call an army buddy to see if he wants to go. He craps out on me. I call another army buddy to see if he wants to go - he makes the lame excuse he has to work. My third call is the charm, and this is why:
Look Ma! I still lack saddlebags for my WR. If somebody with a KLR pig... errrr... tanker won't come along, then all my fishing gear has to go into a backpack. But I'm in luck, and he graciously stuffs my boots, waders, vest, hat, etc in his bags with good grace. I owe him beers...
The skies are looking pretty promising for what was supposed to be a cloudy day. So far so good.
It doesn't take long to come to the first of the many blue ribbon rivers we're blessed with around here. A few weeks ago, the river would have been full of spawning Kokanee, but their race is run now.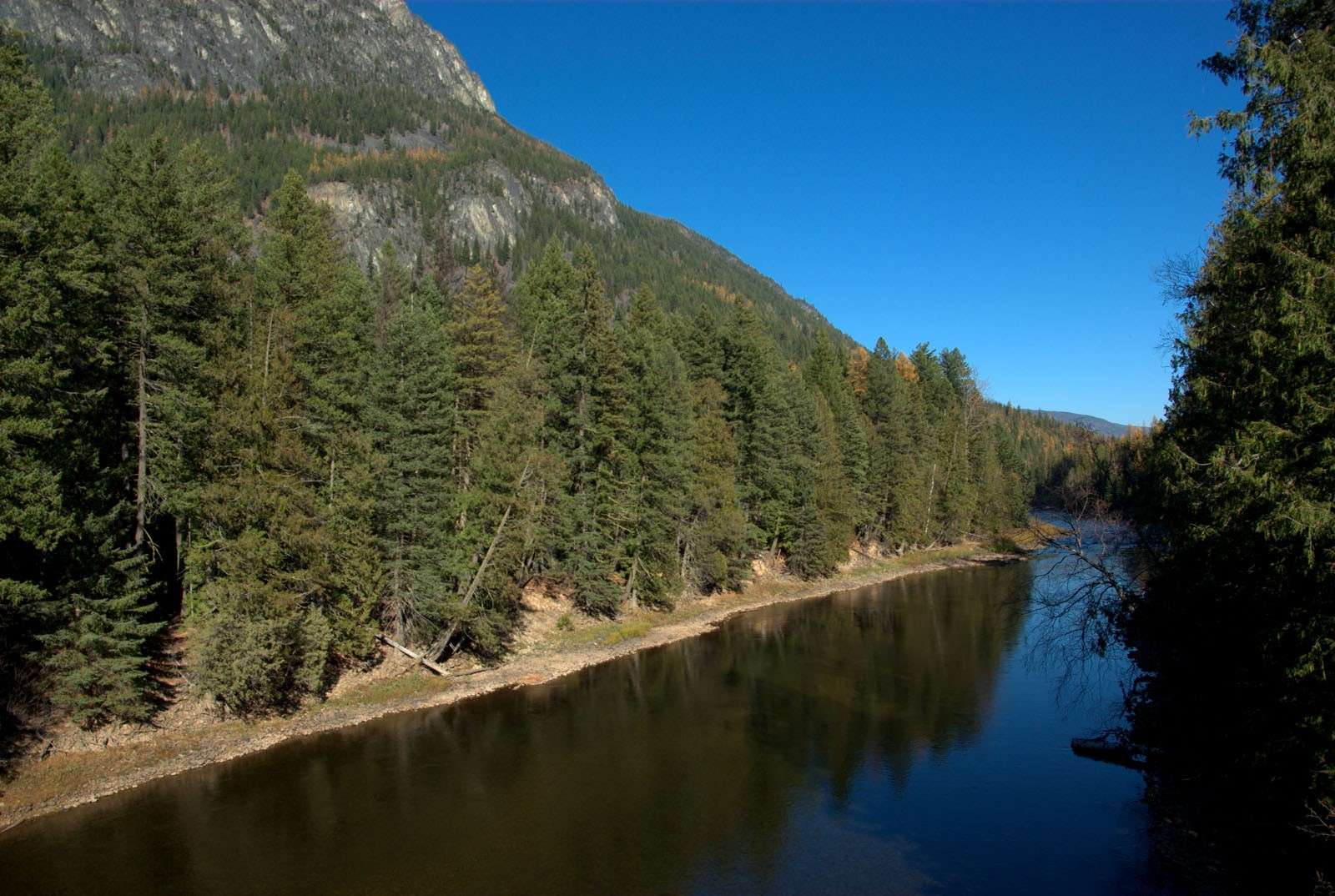 We will get back to rivers eventually - that's what the flyfishing gear is for - but for now we're checkin' out the view.
These are magical roads to me - particularly at this time of the year. They're your passport to stunning scenery. Ideal for the mechanical horse.
Not t0o far up the road... decisions, decisions. Well, let's go to the right: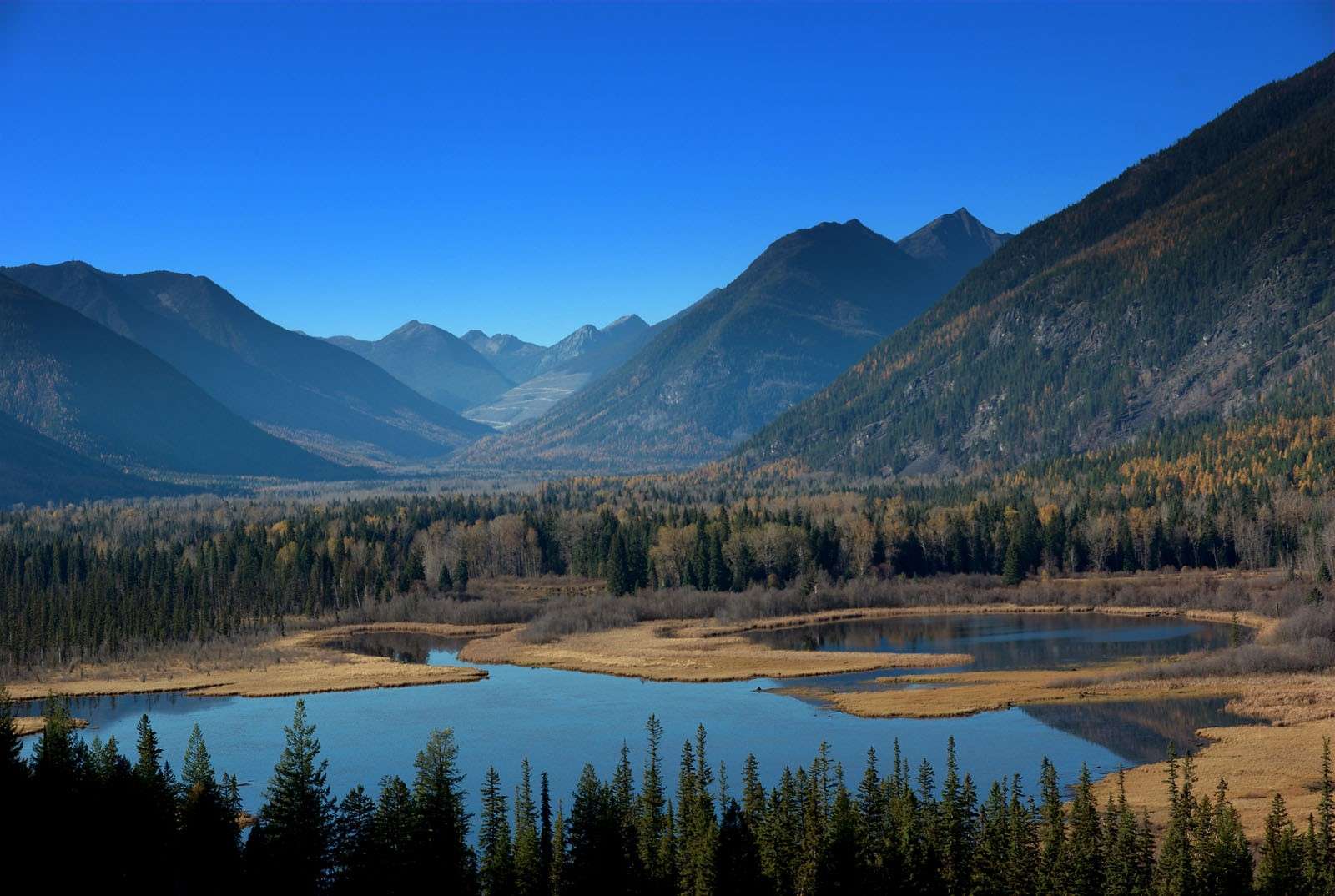 Hey! Good choice!
Of course, having grown up here and being back every moment possible over the last 50+ years, it wasn't an accident finding that little vista.
The road starts to get a little bit gnarly. Well, it doesn't seem like it has changed much to me, but my partner says he really doesn't want to fight his KLR through this all day - he'd rather just cruise along and enjoy the view. Okay, I can appreciate that, and there's always a Plan B (besides, he's the one good enough to pack my kit for me). So, a quick detour, a bit of slab, and here is Plan B: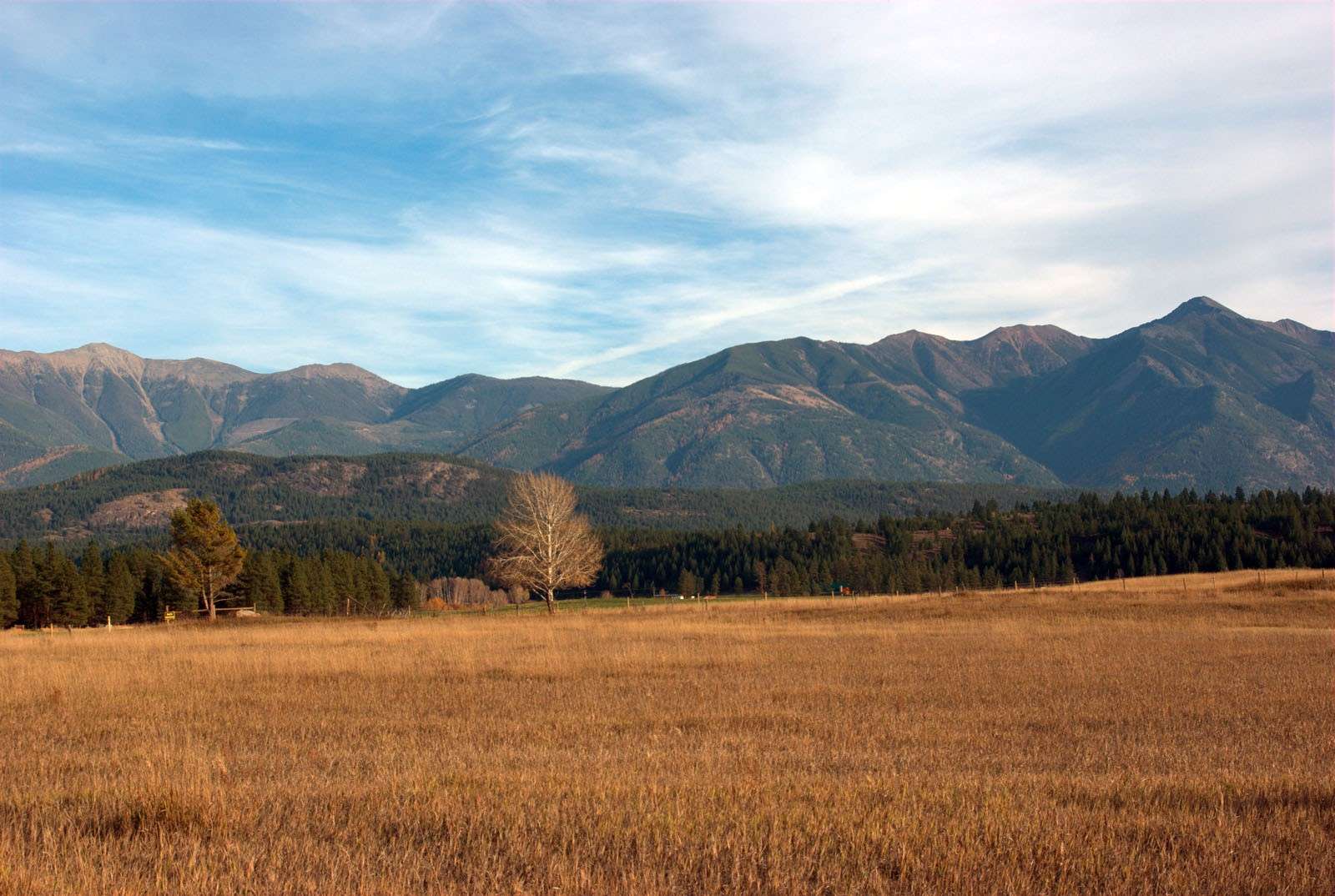 See the highest feature on the mountains towards the right hand edge of the picture? Well, we're going to an old abandoned mine right up in the little col right up at the top. Some people even drive up there with cars - very carefully - so we can effortlessly cruise up there on the bikes while enjoying the view.
Along the way - of course - we have to stop and admire one of the local lakes: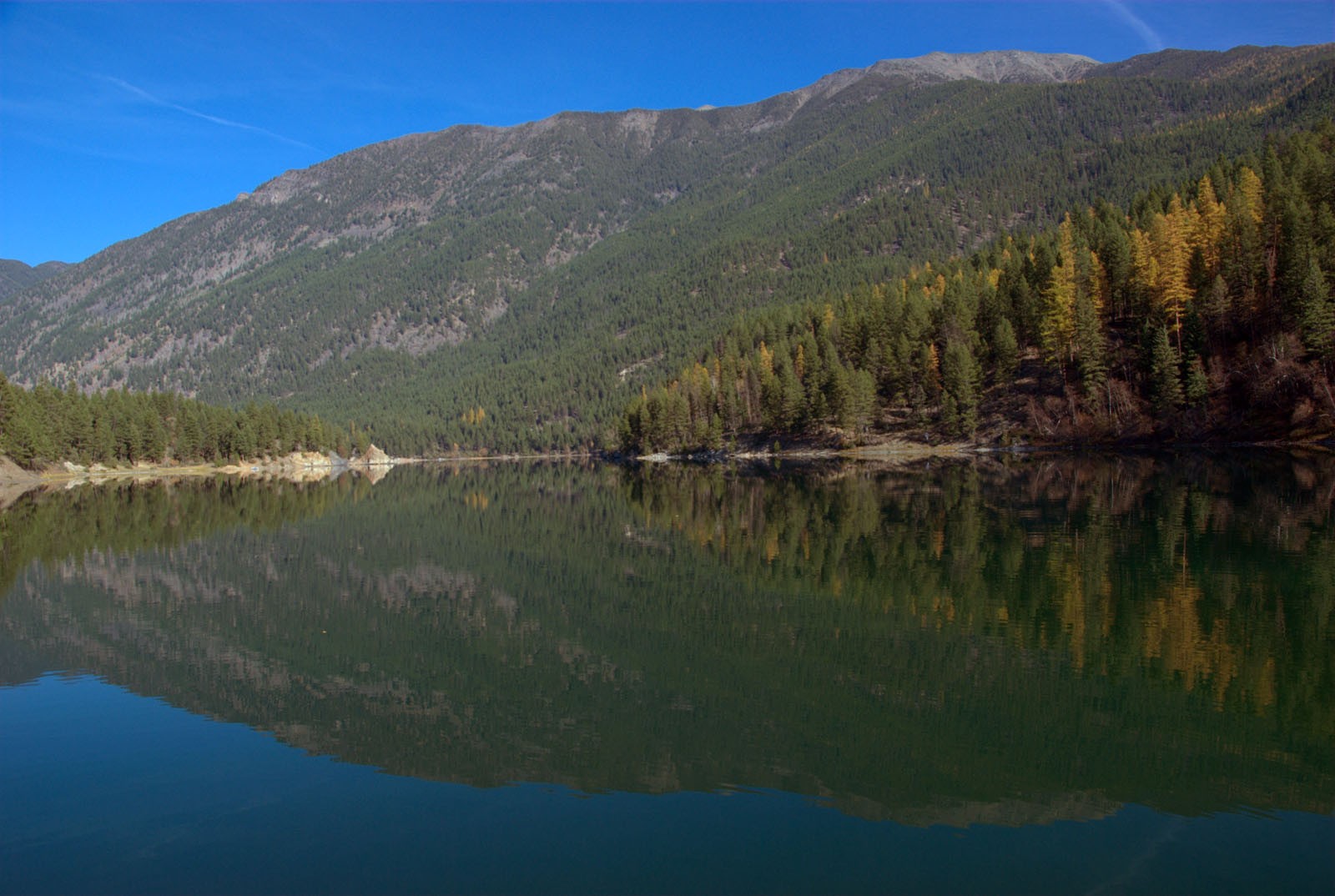 Purdy. Shame I didn't drop by earlier while the trees were still at max effect.
Time to start getting altitude.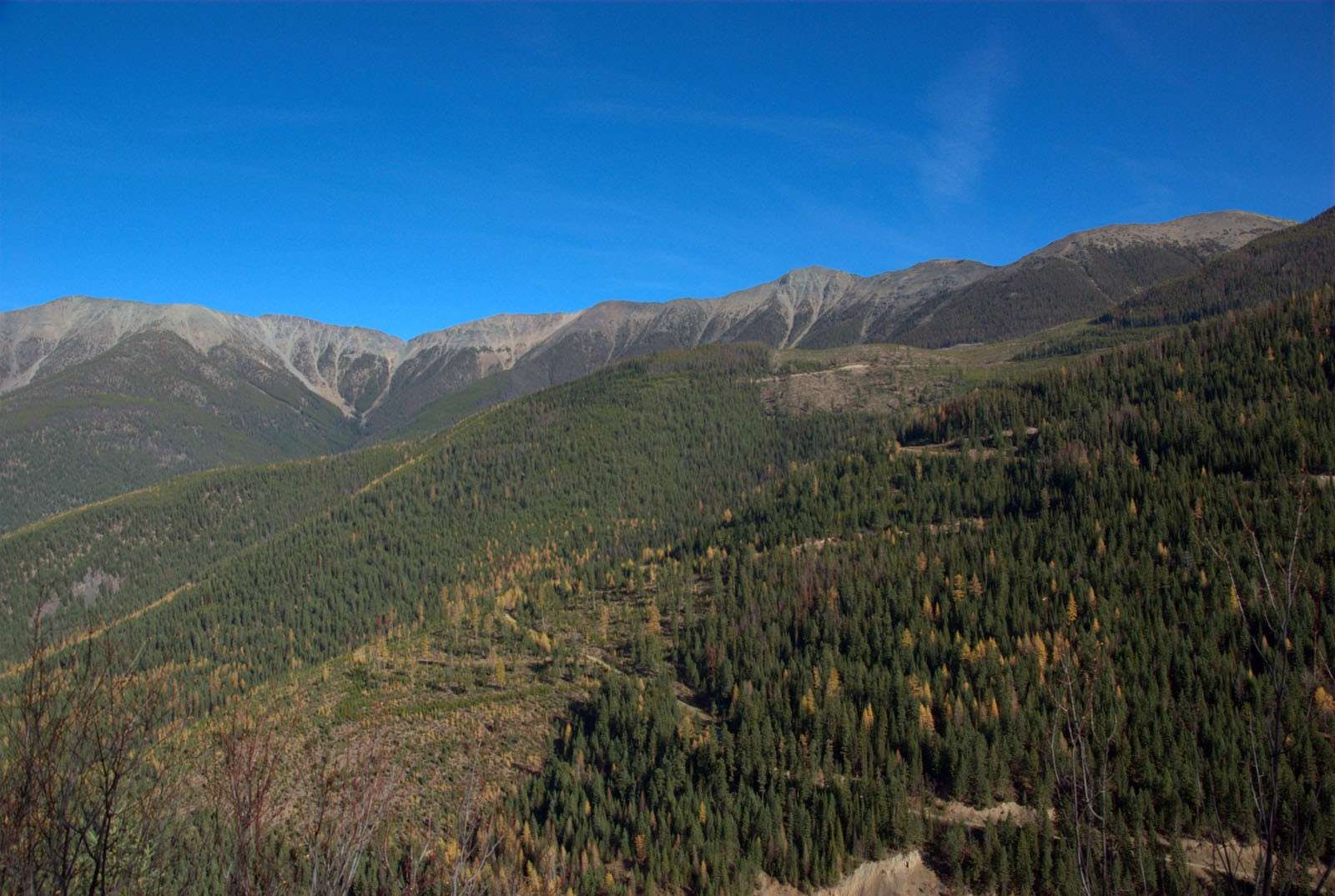 Pretty good sheep hunting country. Used to be awesome hunting for Bighorns back in the 60's before the damned domestic sheep passed on their diseases and just about wiped all our Bighorns out. I used to scamper all over those mountains about 20 years ago, but trying to put on the vertical now like I did back then would kill me now. Well, onward...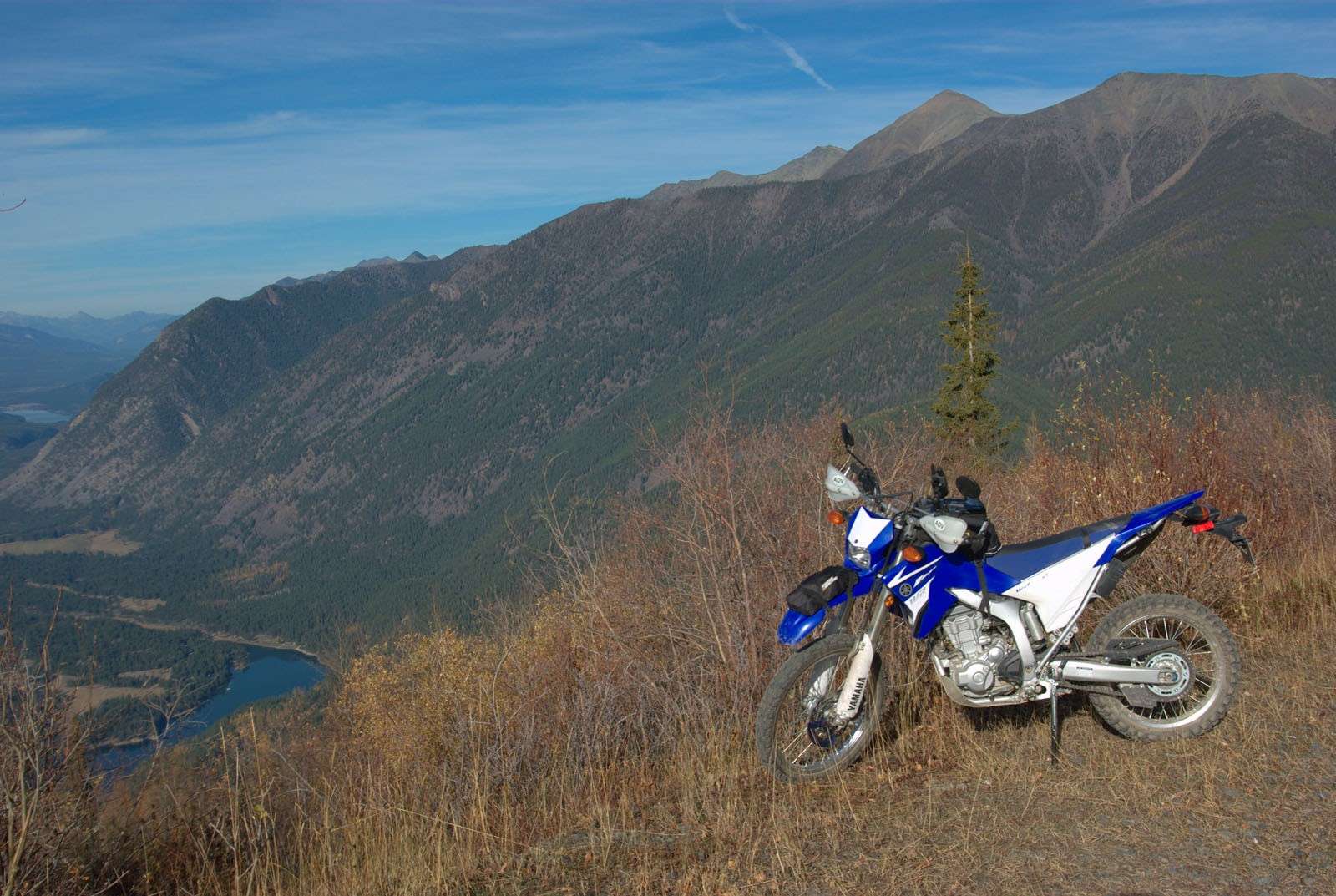 Remember the lake we just visited? Well, there it is. If they hadn't just started burning slash, as you're looking north, if it was a really clear day you might be able to see the tips of the Bugaboos. Oh well, weather and sights like this are a bonus this late in the year around here.
The nice thing about most of the streams and water around here is that you can usually drink straight from the creek or river. Usually. Nice little creeks like this can usually be depended on to cross the road every couple of miles around here: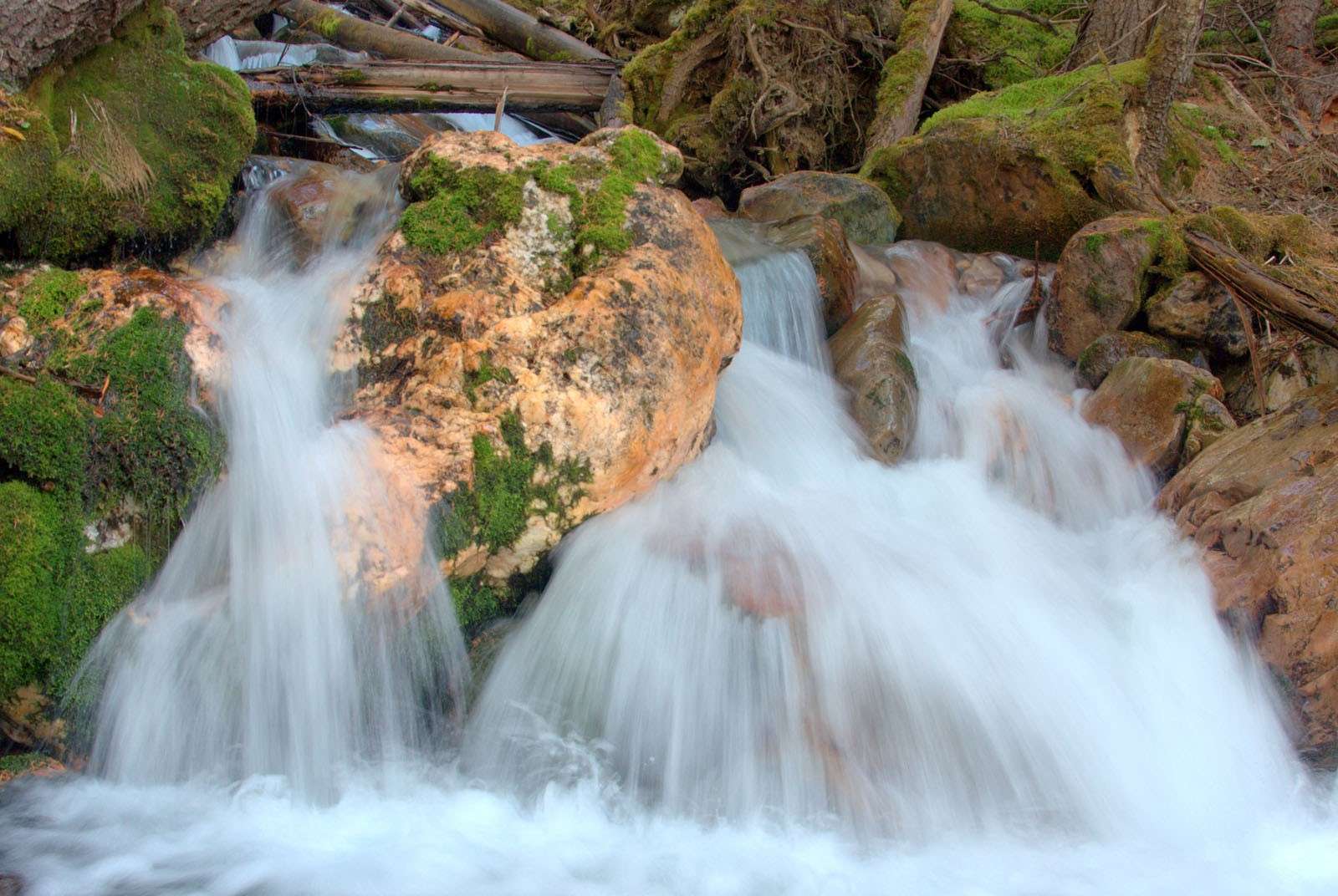 We finally break out onto the open grassy slopes of the mountain as we approach the top - remember the picture showing where we're going, you
can see them in the middle of the picture, and maybe even the road we're on.
From here, you can see up and down the Rocky Mountain Trench: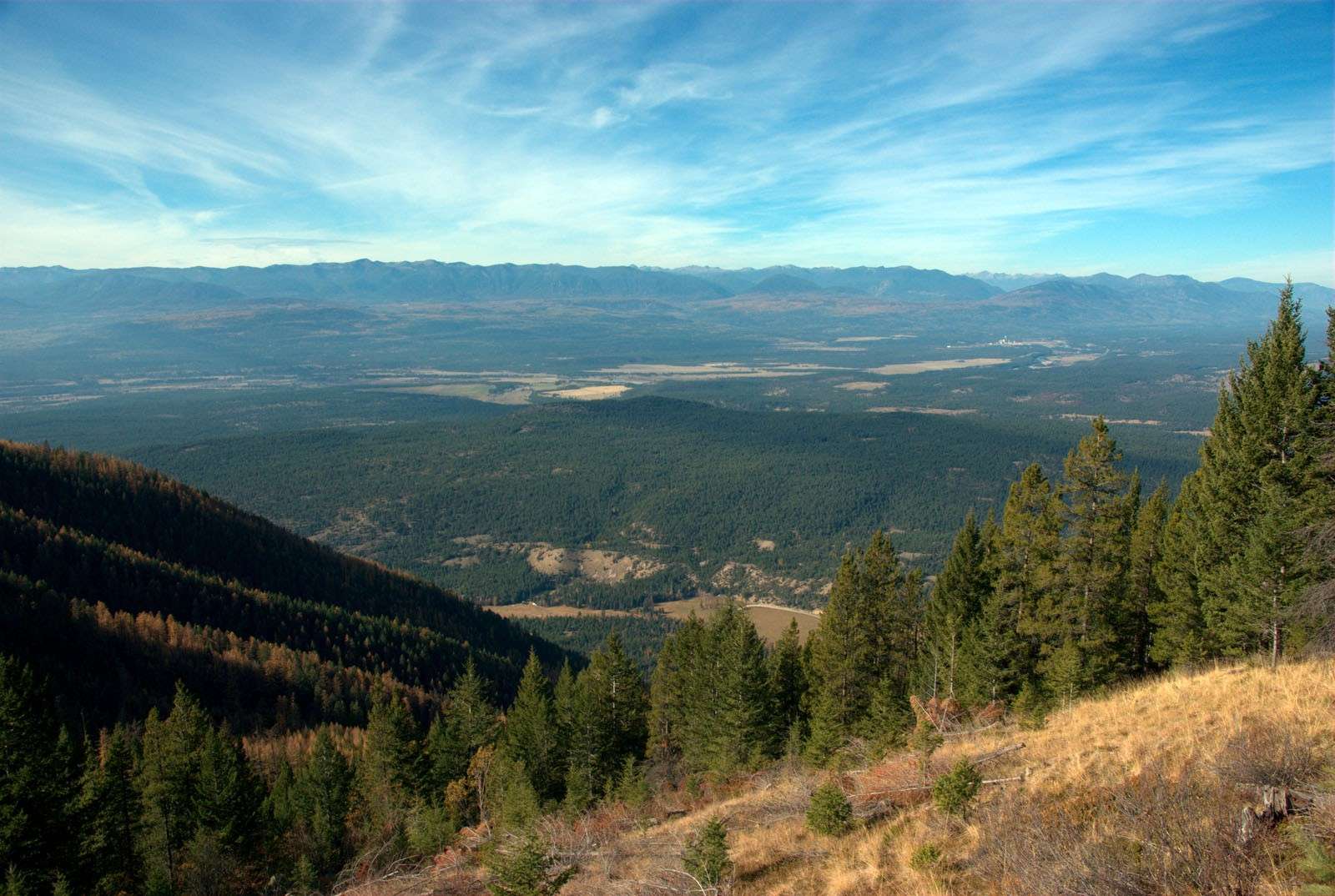 One more cheesecake WR250R shot to keep the folks over on the WR250R forum happy (although I am rockin' my ADV stickers):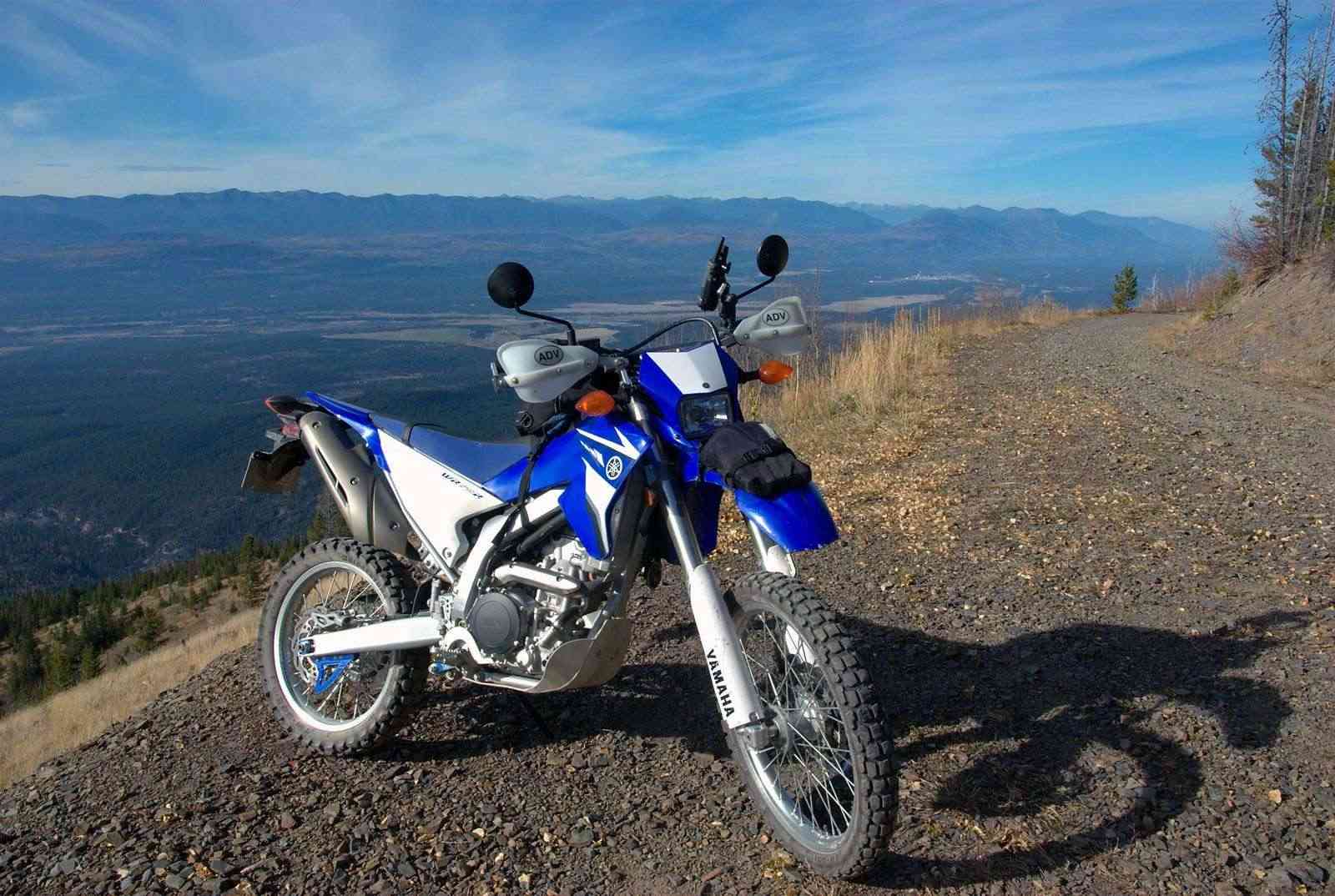 A short distance up the road, and we can see into the area of the mine site:
The mine was short lived. I remember going up there with my Dad in the mid 60s, which I think was just about the time it closed. We would park down by the shacks the men lived in and then head up on the sidehills hunting mule deer. Once you ride right up to the mine sight, you can see that avalanches and time have pretty much flattened out any buildings and structures that weren't torn down. Living up at that altitude in those mountains through the winter, in the shacks they had up there then, must have been quite an interesting existence...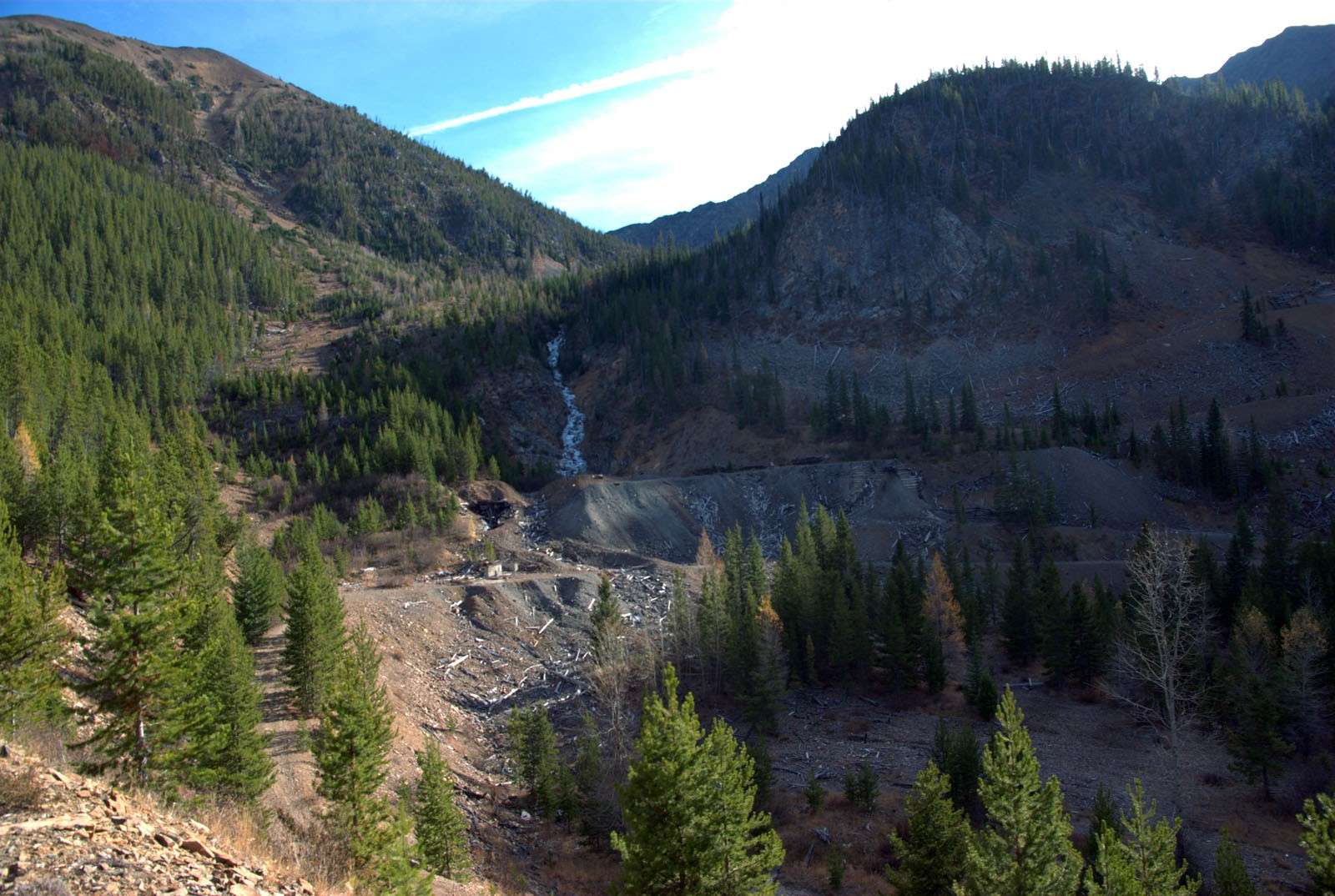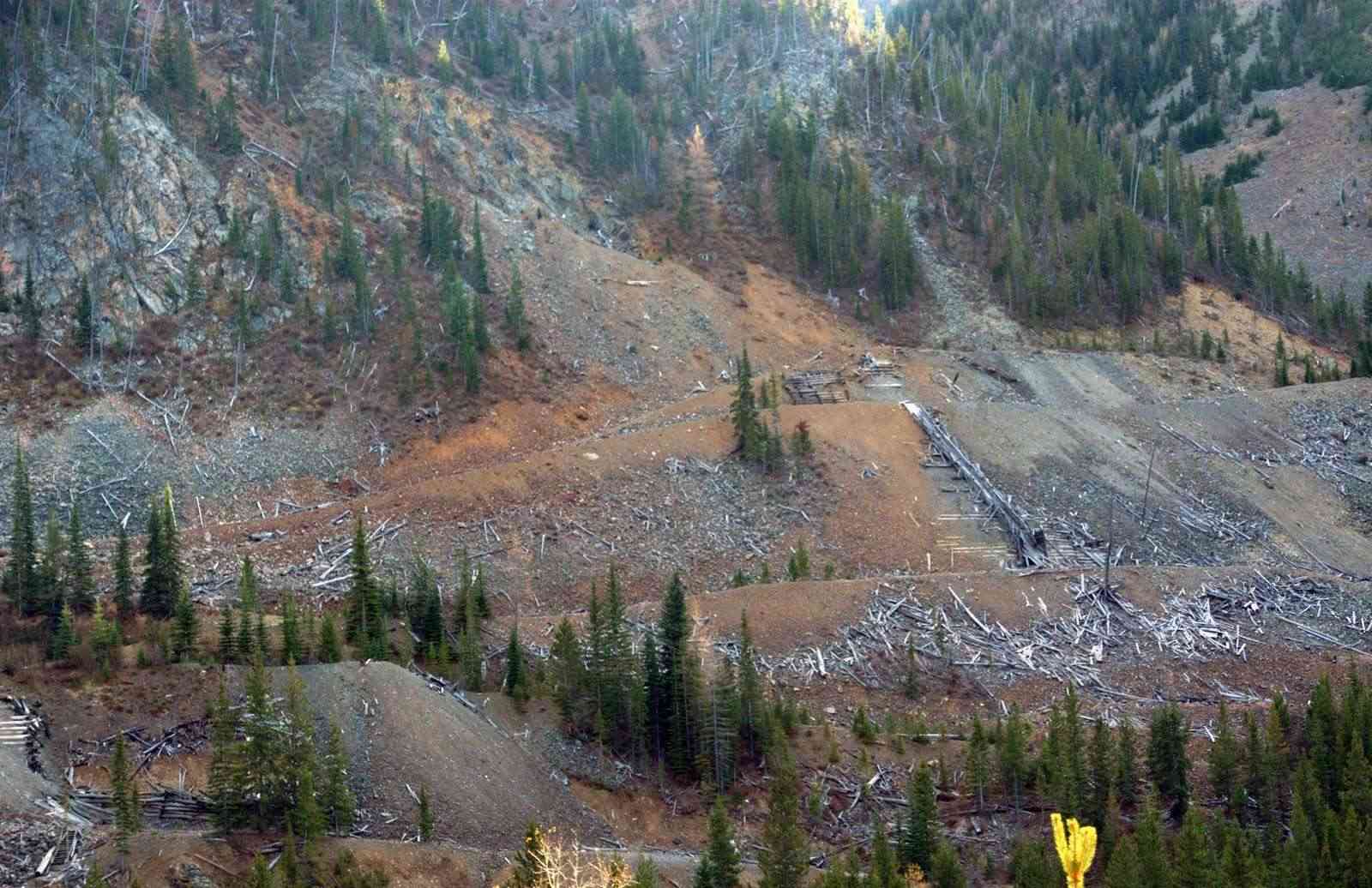 The old mine portal is still there. My partner wanted to go up and look inside, but I declined. I spent three years working underground as a blaster in my youth, so I was pretty sure I wasn't going to see anything new. And having worked in mines, I know enough to be scared at the idea of going into an old raise or any other abandoned workings. They are enclosed spaces and deathtraps for fools. So the theory was if I didn't go up there with him, he wouldn't start getting any ideas about going in if he thought I was at the bottom waiting for him.
He did go in the portal though - although he said just inside the entrance - and this picture is his contribution to the effort:
Alright, we have places to go and things to see. Time to head back down.
This shows the excellent sheep and mule deer habitat on the mountain. As a matter of fact, a good friend of mine who is a retired sheep biologist was on the mountain this day doing a logging prescription for range enhancement. This particular view would have been awesome about three weeks ago when the leaves were still on the trees in the background: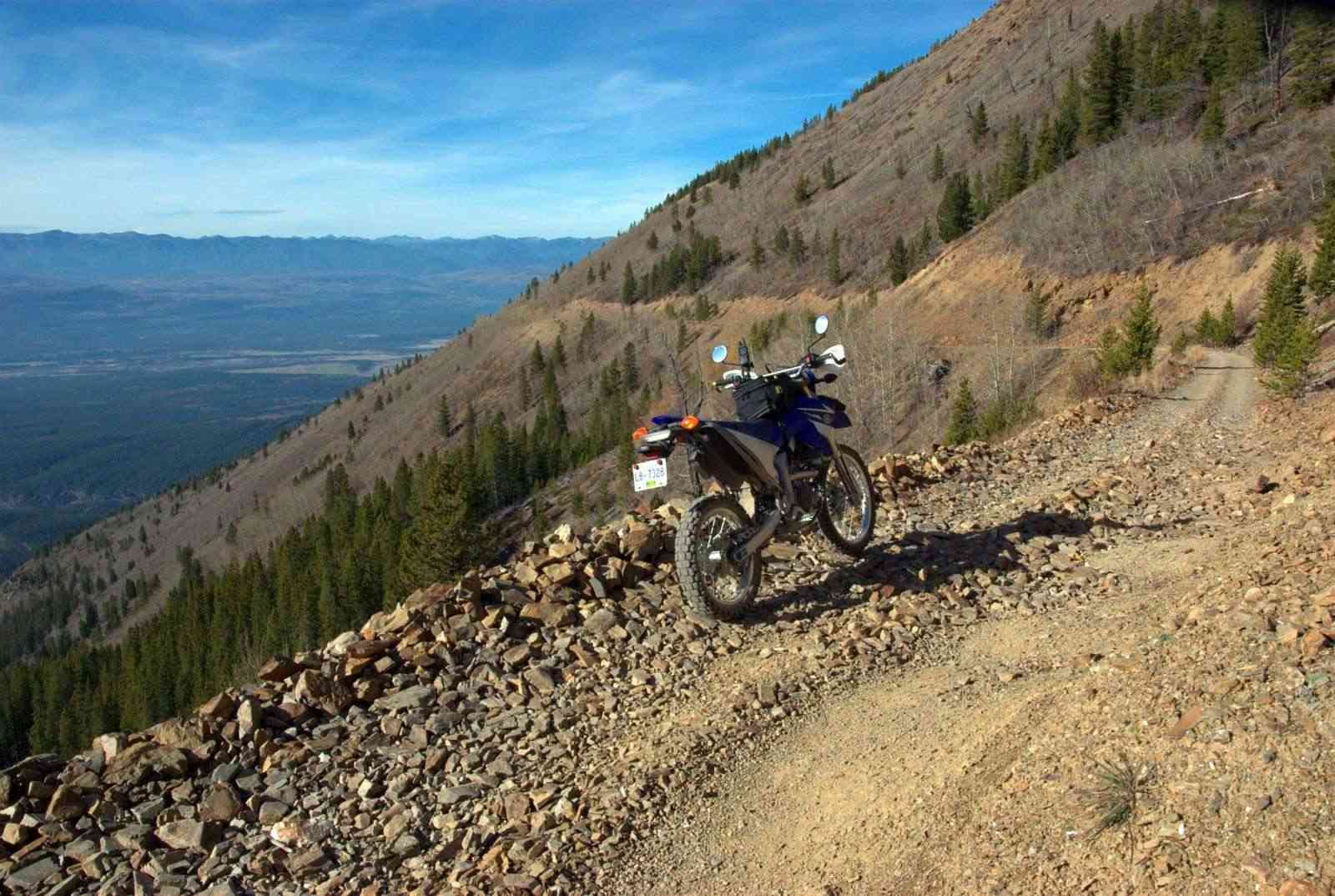 We ride a little further, stretch the bikes legs a bit, and trade one piece of sheep and mule deer habitat for another: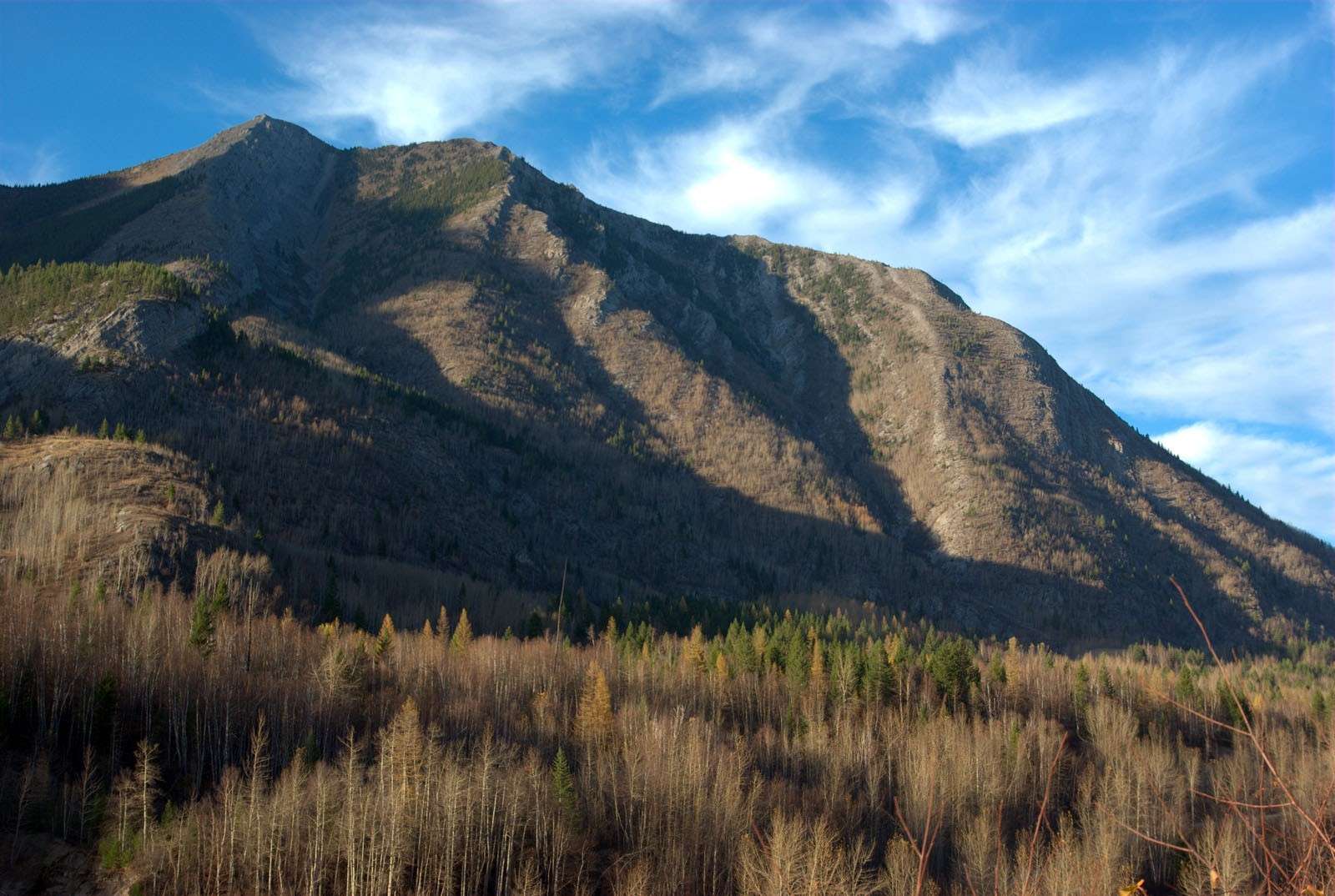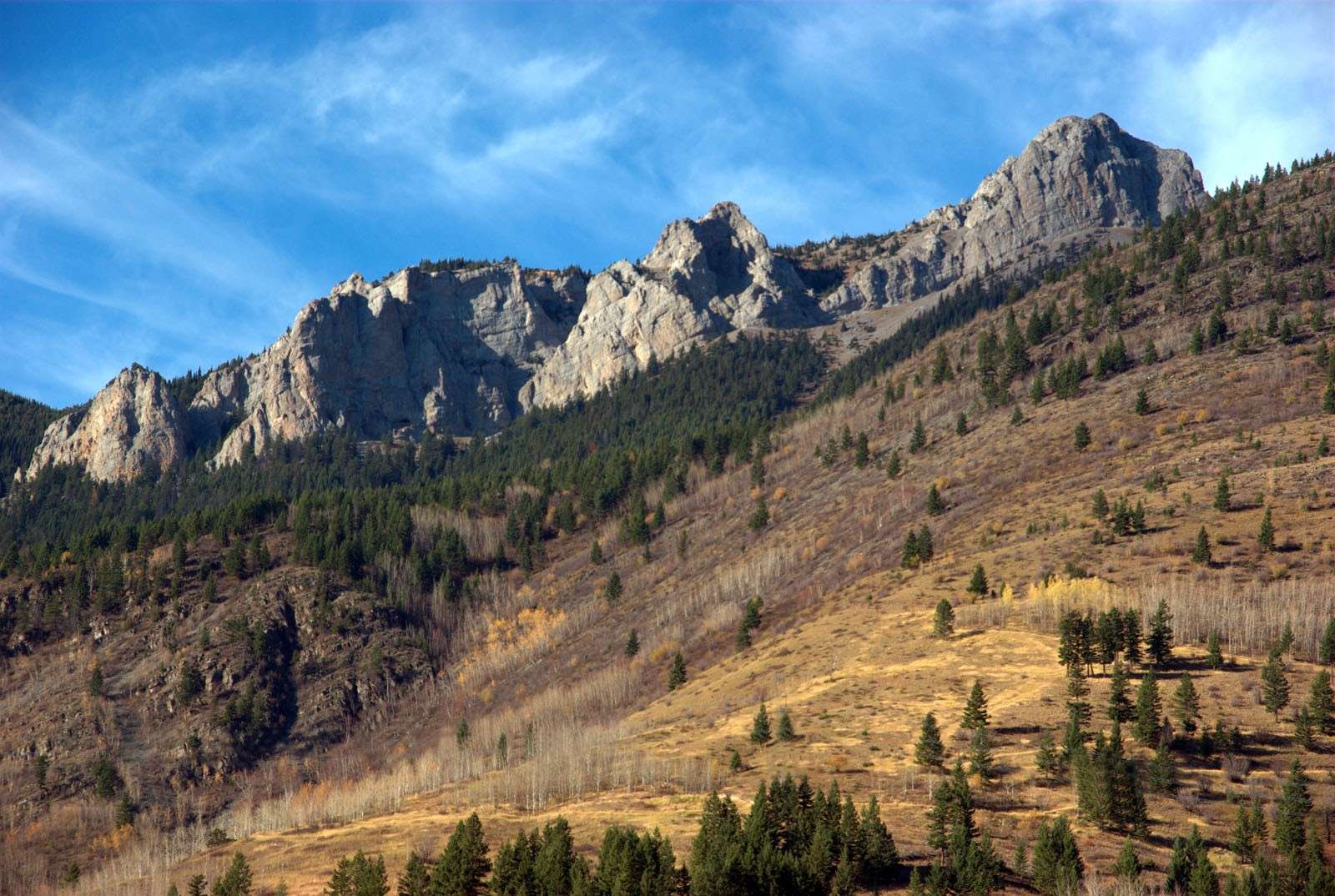 And, as we ride on a bit further, I see this guy and his family hanging out. Bighorn ewes and lambs generally aren't considered particularly noteworthy and picturesque, but this little guy struck such a dramatic pose I figured he was entitled to his 15 minutes of fame.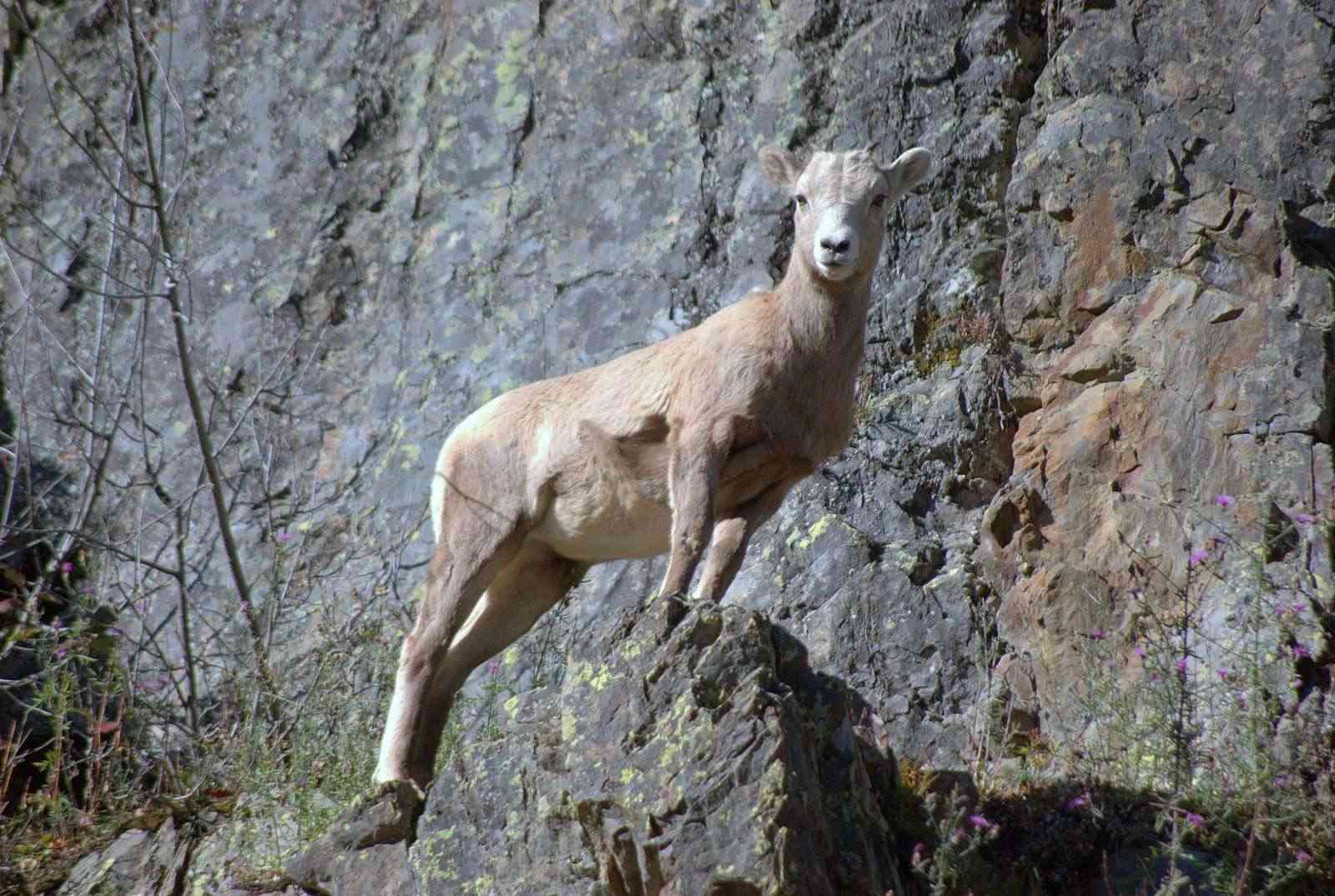 The discerning eye, BTW, will see that there is a bunch of damned knapweed established, even up here. The moral of the story being, be religious about not spreading noxious weeds with your bikes, folks. Having noxious weeds in the valleys is bad enough, up up here in the mountains it is a mortal sin.
Anyways, the day is starting to move on, and they aren't that long anymore at the end of October. My buddy suggests we make for the river because if we're going to try dry flies, the day is about as warm as it is going to get. So off to the river!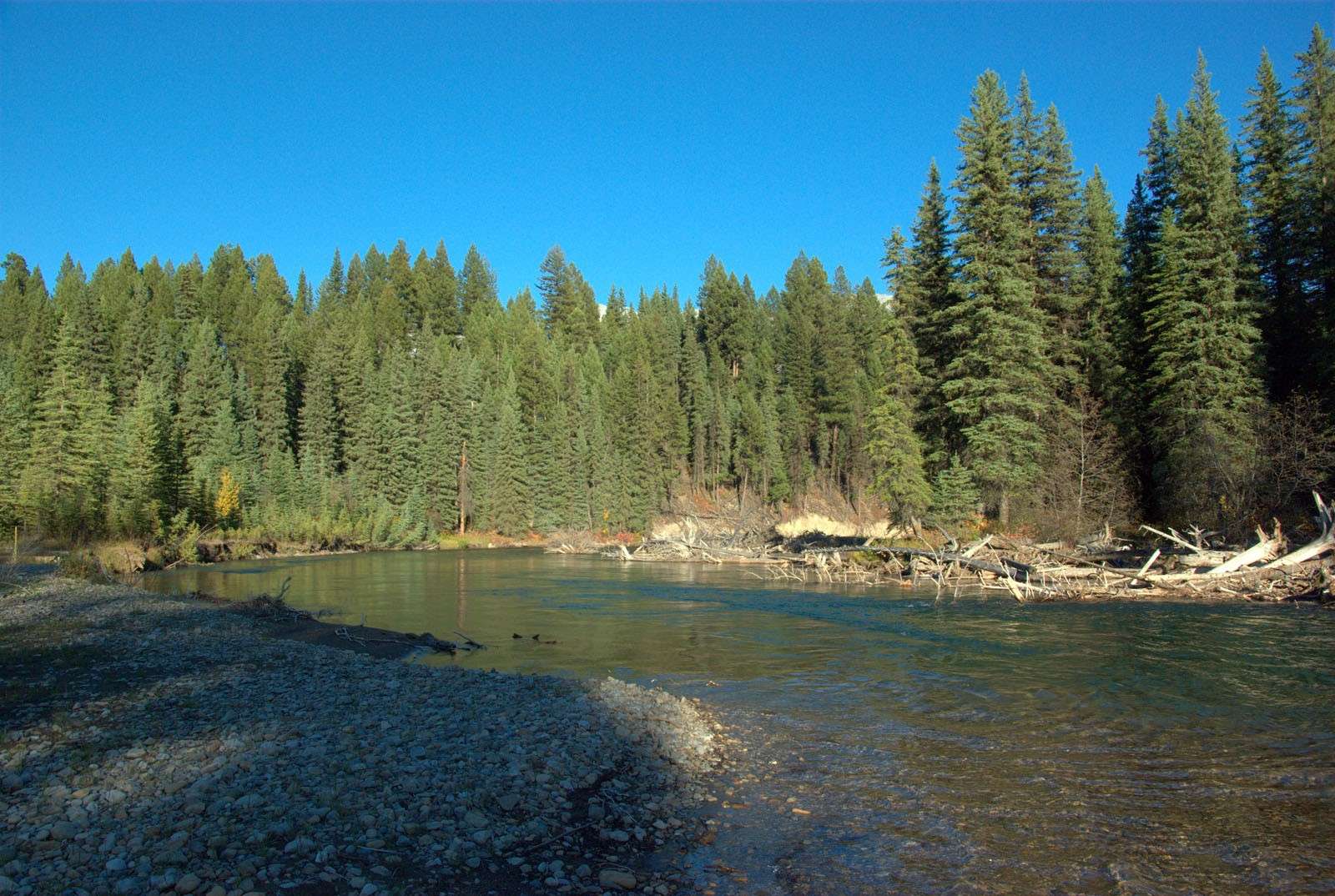 Time to unstuff his saddlebags, uncrush my hat, get into the boots and waders, and head for that beautiful looking stream.
But wait, oh look!
We are not alone: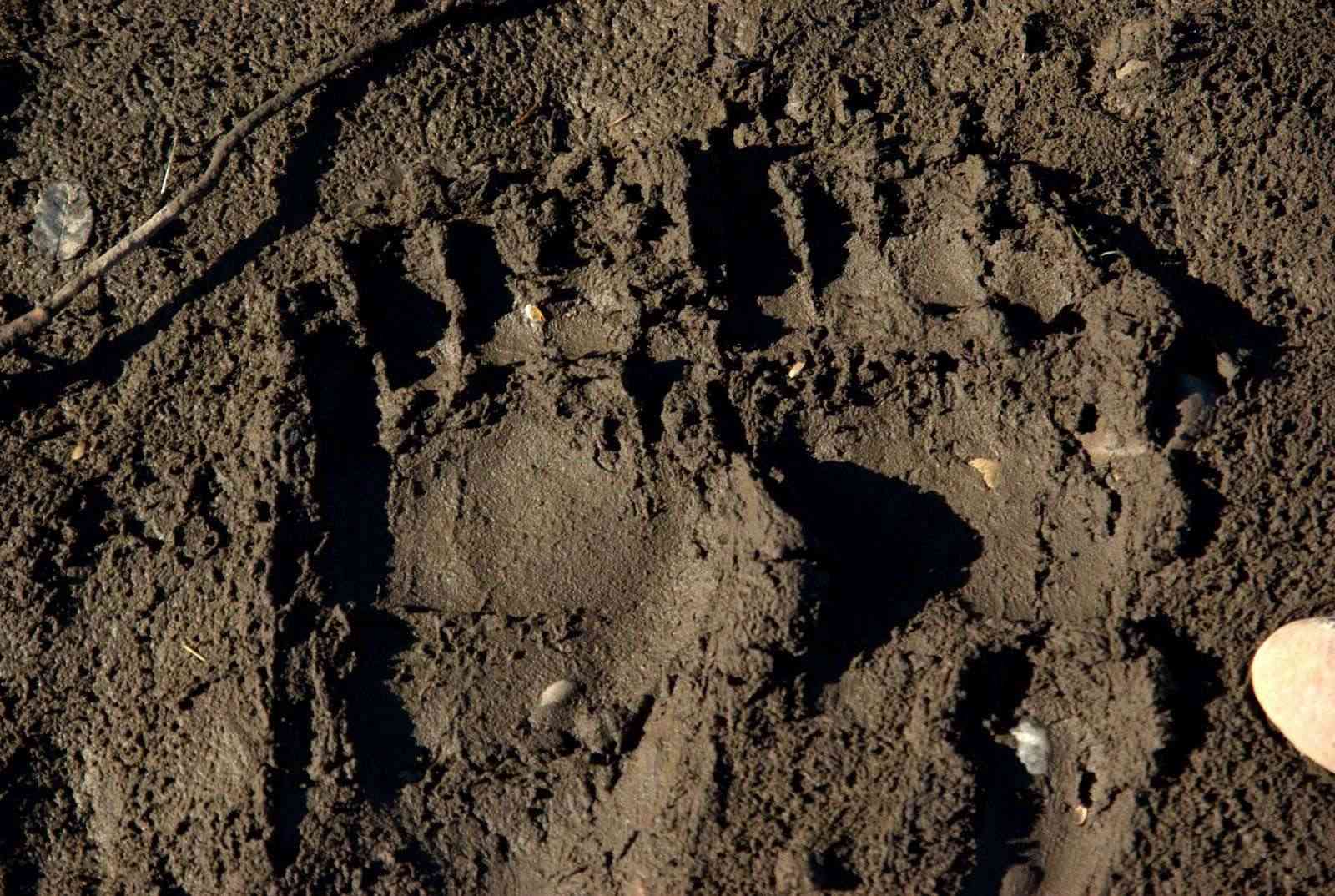 To help you get a sense of scale, that brown object on the right hand edge of the frame is the toe of my boot... Yes Virginia, that is a big bear.
Actually, it wasn't that track that bothered me so much as we walked through the alders to where we were going to start fishing.
It was the one that still had muddy water flowing into it. You'll understand if I didn't get preoccupied with taking pictures of THAT track.
While I was kinda looking down at my feet frequently for some reason or other, I happened to spot these guys, hooked onto a branch that stuck right out across a well used trail. Any of you guys who grew up on and around horses as I did will quickly realize this is the perfect setup for having an unannounced, impromptu trailside rodeo: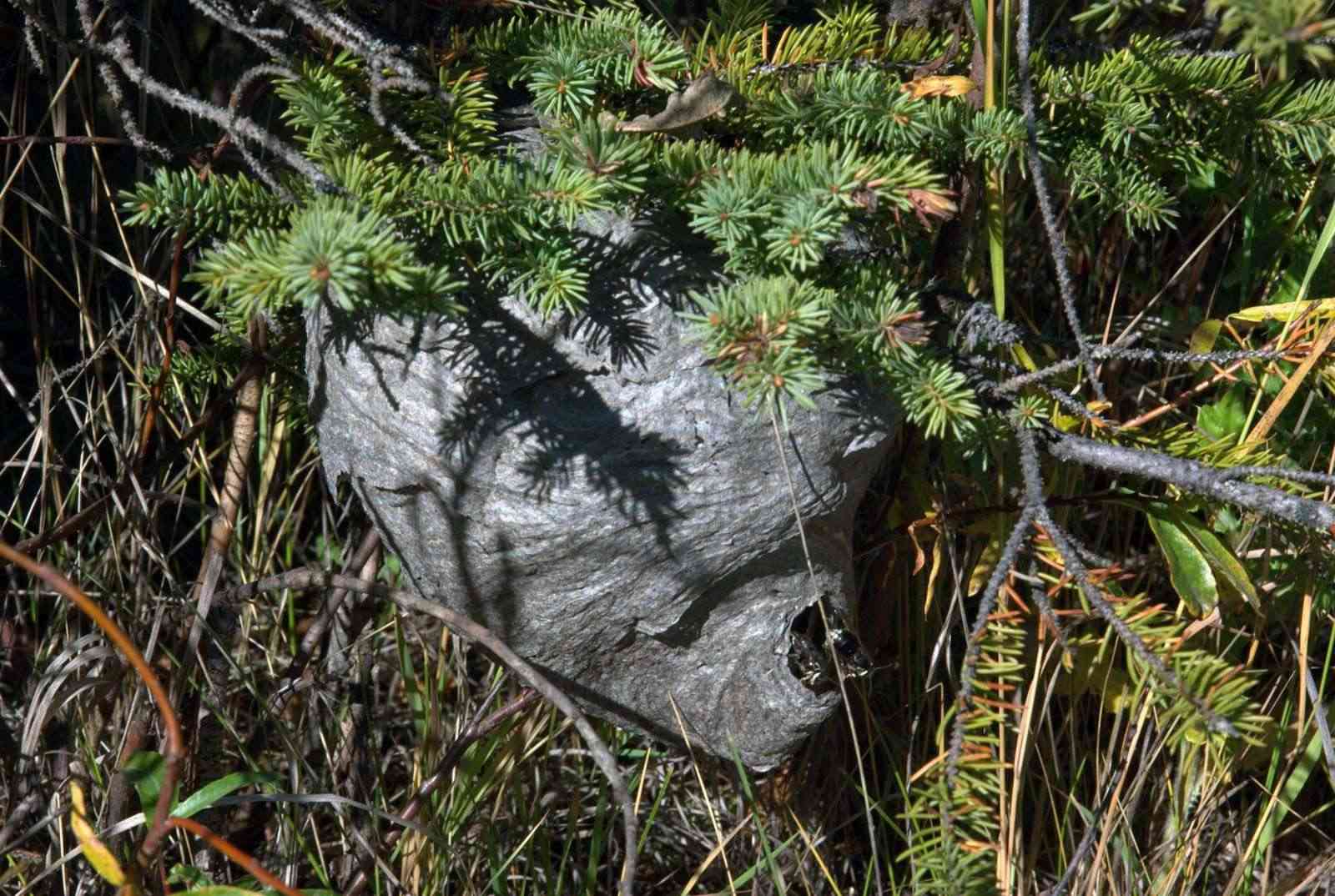 Them black ones are often nasty, aggressive little bastards as well.
Anyways, we started flogging this rather nice piece of water: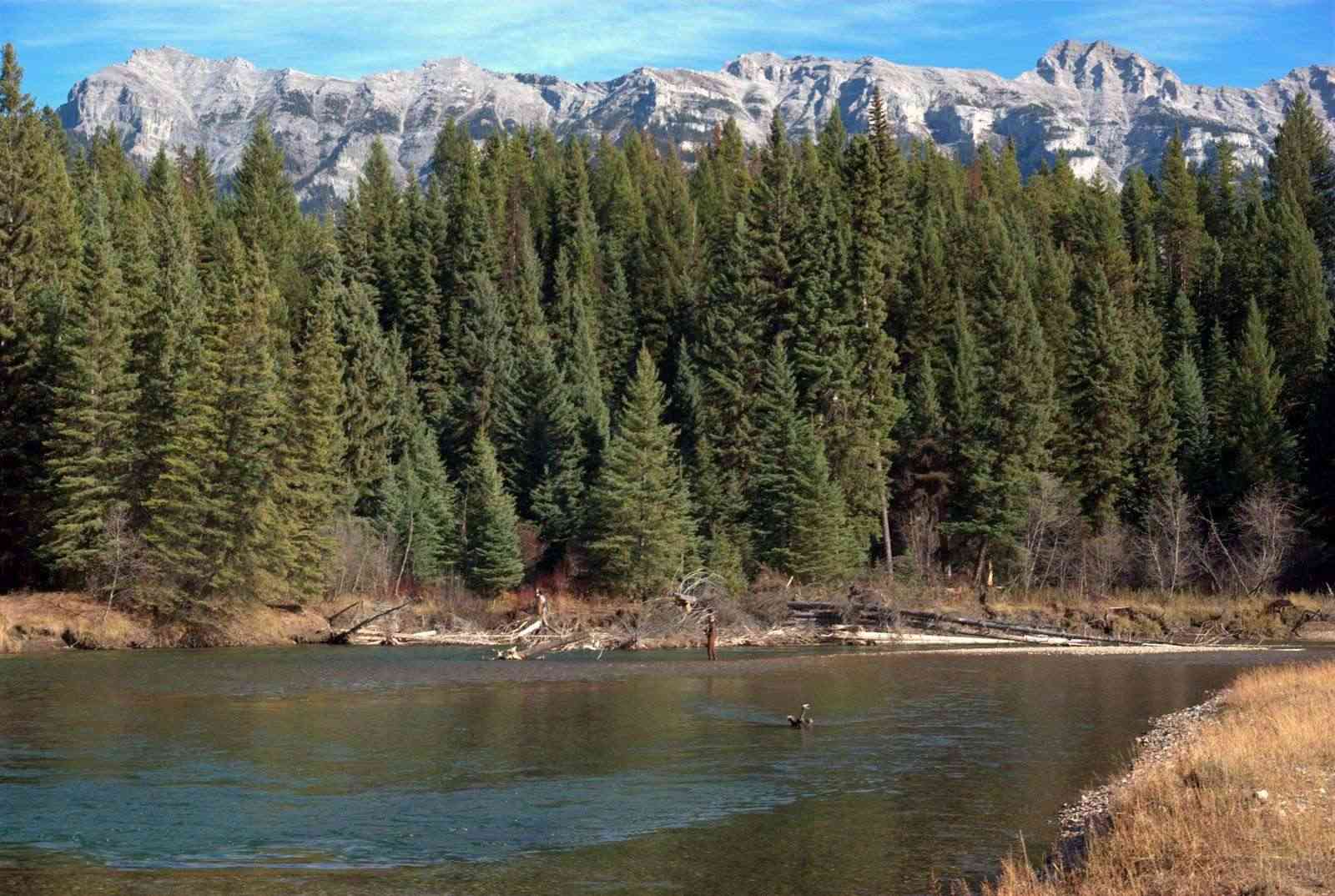 And I got into some very nice fish almost right off the bat - and for this ride report had somebody along to take pictures: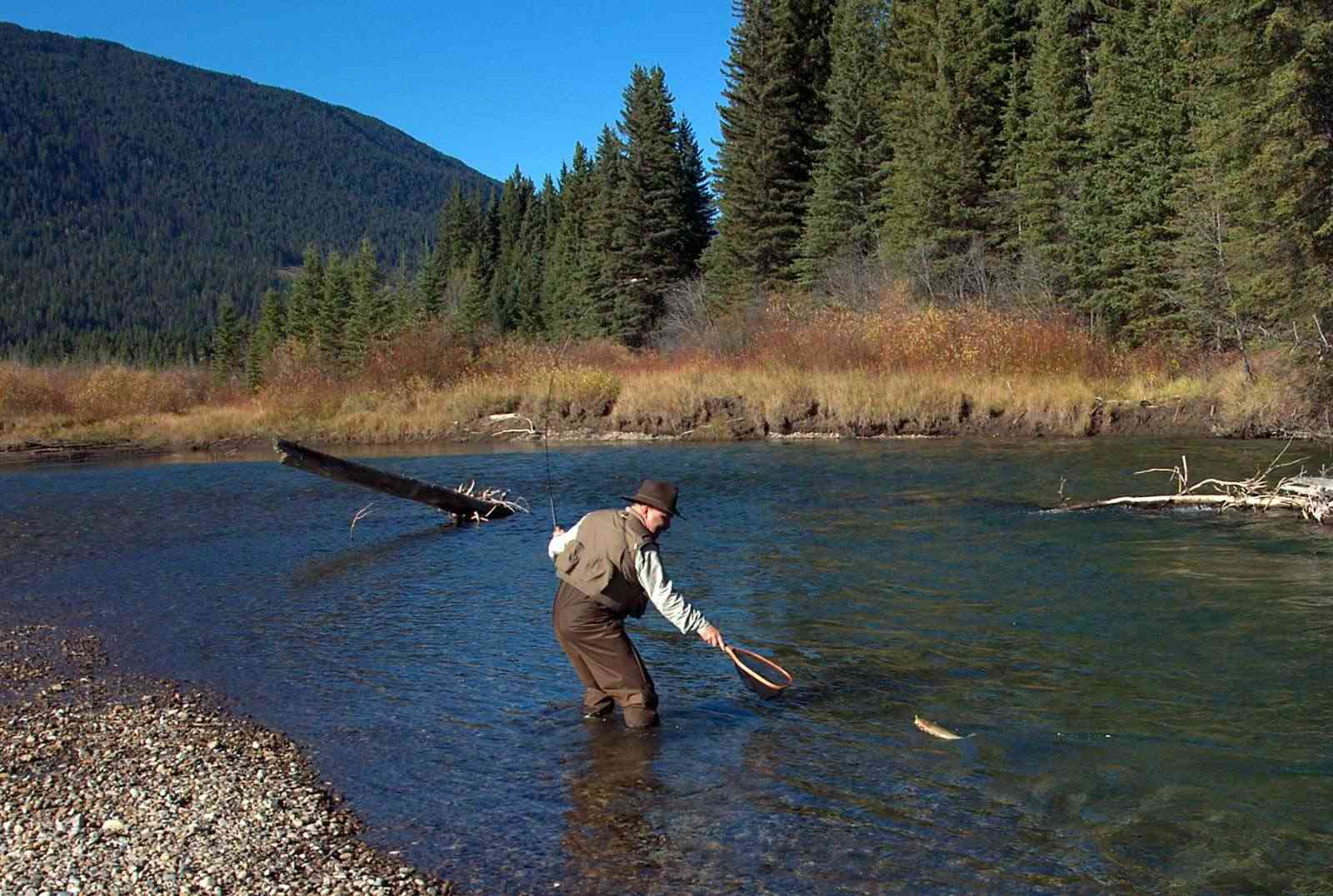 Now isn't this a purdy little Westslope Cutty? A quick photo before she goes back in the river.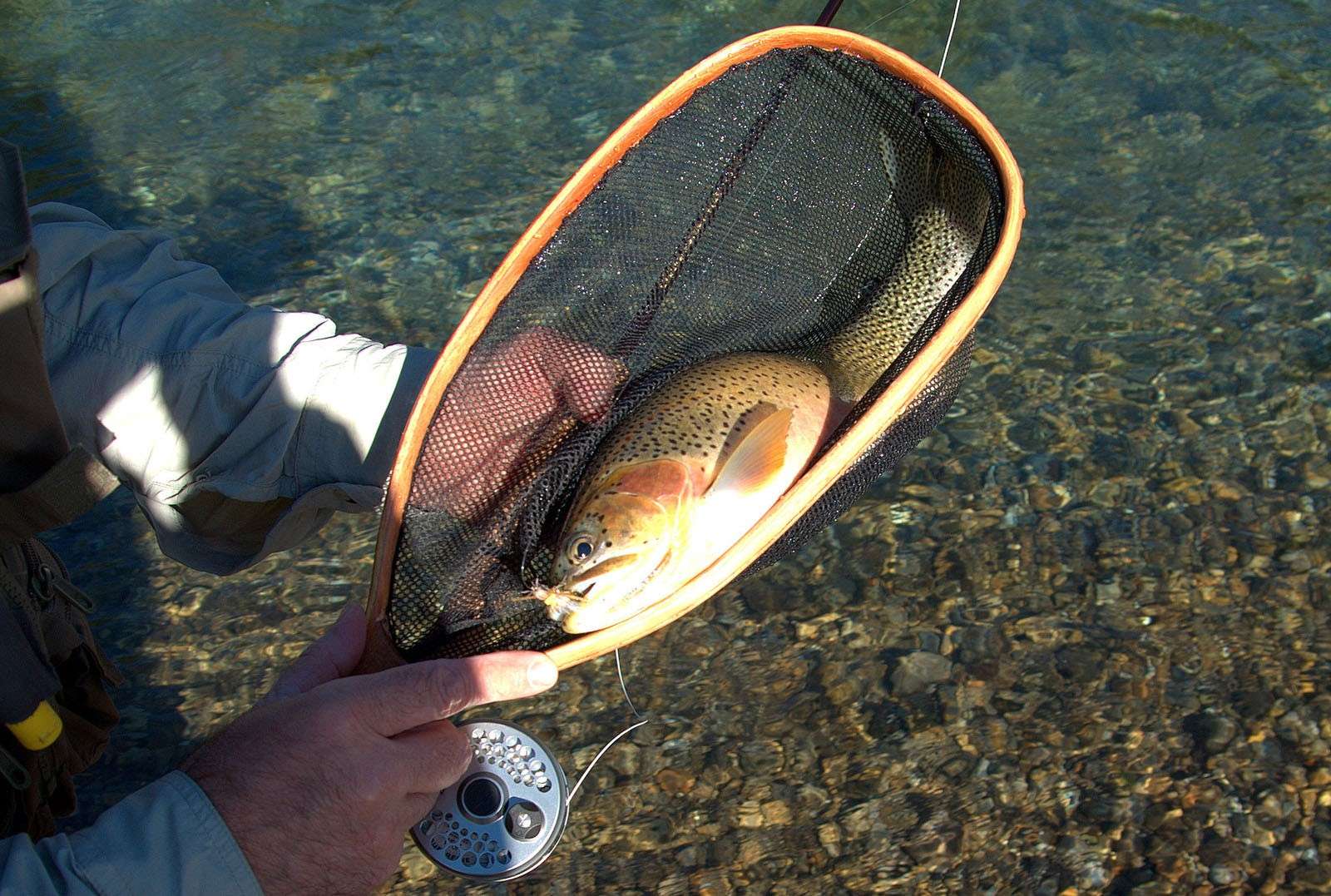 Makes it worth it jamming all that wading gear, vests, etc into your bags (or better yet, somebody else's bags).
Well, we are running out of daylight and wading in the river in these featherweight waders is too cold to do for long at this time of year. We'll leave the fish until next year, time to move on and visit a few more spots before we run out of daylight.
You can cover a lot of ground around here due to there being lots of roads like this:
A quick stop at one of my favourite local lakes as we head back over the pass and back home. We catch it just as we're about to lose the light: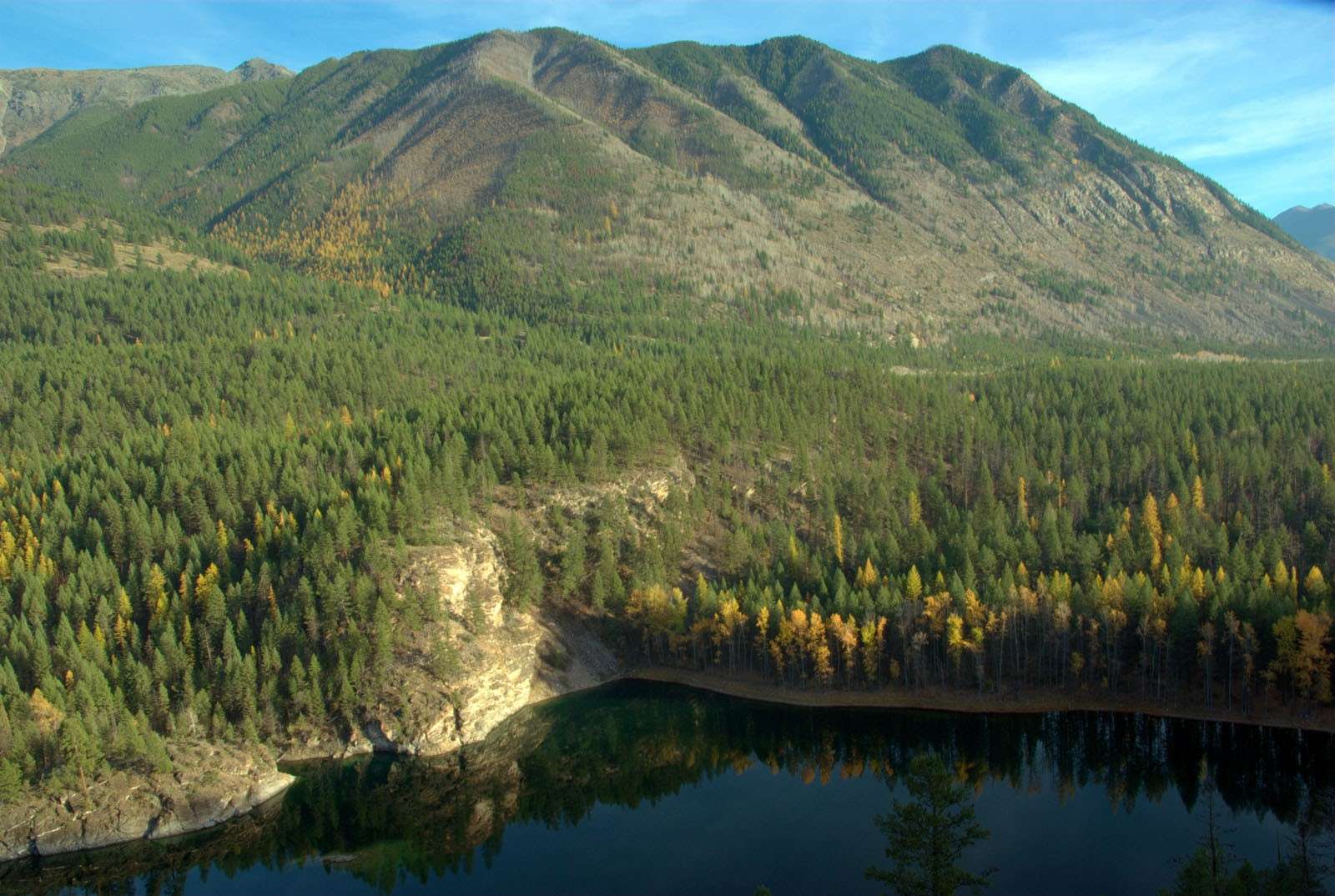 Obviously, I need a wider angle lens than what this zoom affords me.
Must be time for one last bike cheesecake photo, but I think the lights about done for the day...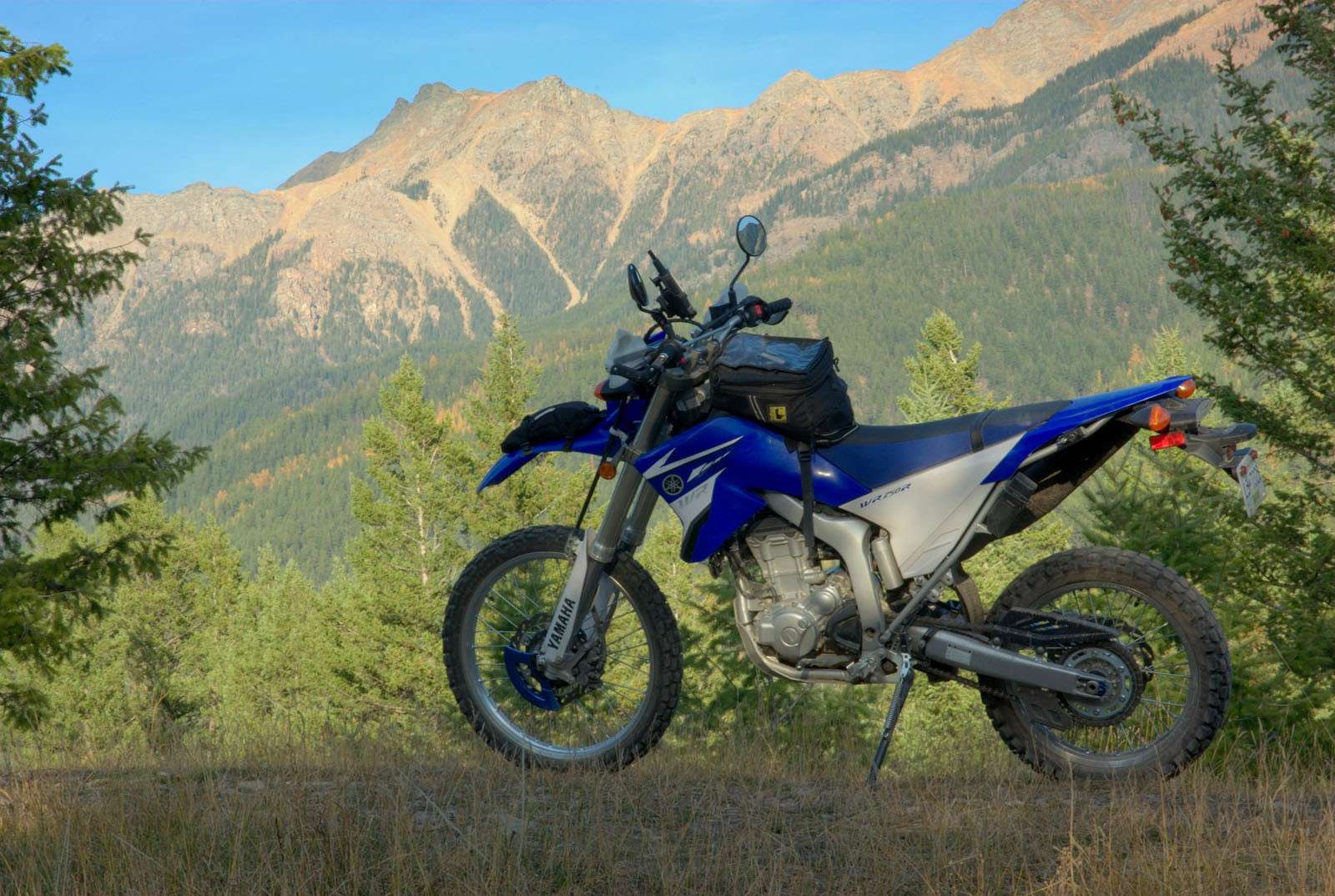 And, as we do the short remaining ride home, the tamaracks light up one last time as the last bits of sunlight touch them:
And, I get one last reward for all the stopping I do to take pictures (which is probably why I find myself riding alone so often). I make a delicious little discovery in the ditch alongside the road as I take that last picture. Out with my pocket knife, and half an hour later when I get home, I have these about five minutes away from being ready for the plate:
Shaggy Manes lightly fried in butter with a touch of garlic.... mmmmmm... another one of the wonderful things about fall!
Well folks, that was probably my last kick at the cat for dual sportin' in the mountains for this year. The weather is supposed to go Delta Sierra tomorrow for a stretch which will mean lots of snow in the mountains. I hope you enjoyed coming along and enjoying the sights as much as I enjoy living and riding here. If you appreciated the scenery, then you'll find more of the same at my earlier day trip into the mountains two weeks previous:
The Annual Streams, Lakes & Mountains Rockies Dual Sport ride - 2010
http://www.advrider.com/forums/showthread.php?t=626193
See you all in a week or so.