BMU WEDNESDAY RIDE
All welcome to join in
Meet :- Blaxland McDonalds, GWH, BLAXLAND, NSW for a 9.00am Start
Ride Leader: - John McC
Ride Reports/Maps: - Franz G
Wednesday 3rd November 2010
Destination: -
Oberon Dam, NSW
With the weather conditions supposed to be raining, what a surprise it was to wake to a clear sky. After reading Eric's last report and to find that he was going overseas, I had finished with the most important work and headed home from out west on Tuesday, so I could go back to riding on Wednesdays and do some sort of report.
I rolled up at McDonalds at 8.50am to find 4 riders, Les W, Dave C, Peter M and another BMU member (sorry, I can't remember your name) ready for the ride. They all said hello, welcome back and where are you taking us. I replied, "I am in follow mode only", But it was discussed after John McC had turned up and he would lead the ride to Oberon.
It's 9.10am and we are off. West up the Great Western Highway to the Shell Service Station at Old Bowenfels (near Lithgow) for morning tea. I left the group there as my legs are playing up something bad at the moment with DVT and collapsing veins which is making hard to concentrate and deal with the idiots on the road.
After morning tea they went west out through to Tarana then south to Oberon, where they had lunch at the dam, I think.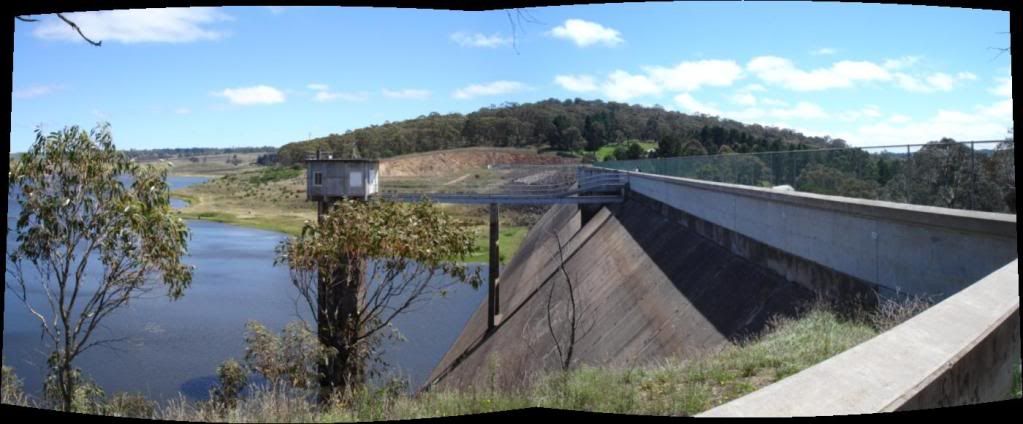 Old photo as it about 1/2 full now
After lunch they headed back east and came back through Hampton and Little Hartley, up Victoria Pass to have afternoon tea at the servo at Mt Vic (well that's what they normally do) then back down the Great Western Highway to there homes.
It was pleasant riding weather with a moderate cloud cover to keep it cool.
Regards Franz G.