BMBEN's Adventure Ride
5/2/2011
Medlow Bath, NSW, Australia
It wasn't going to be much of a ride due to the hot weather. So I met with the Blue Mountains Ulysses group at Medlow Bath and they had 3 bikes for the ride to Jenolan Caves. I did not go with them, as I wanted to get back home before the heat. I follow them to Blackheath and turned left (west) and went out to have a look at Mount Blackheath Lookout.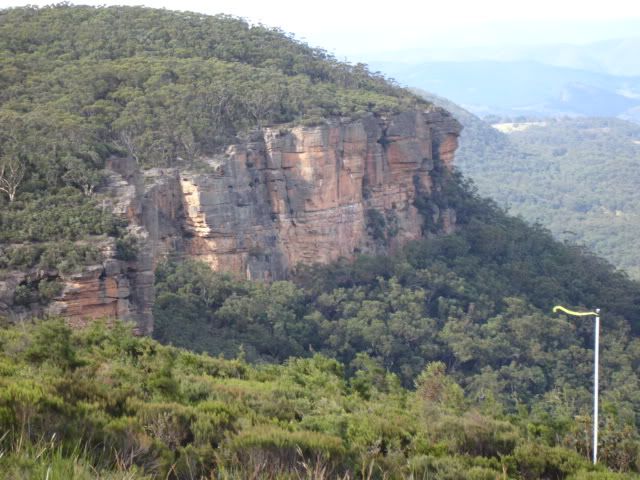 As I was putting on my helmet and getting ready to leave, I noticed 2 white specks in the distance, and when I zoomed in with the camera, I found that they are the wind turbines at Hampton on the road the Oberon. The BMU group were going to stop there for a photo but I could not see them yet. Now heading for home I decided to have a look at Point Pilcher. So back at Medlow Bath I turned left (east) and headed out past Katoomba Airfield and onto Point Pilcher Lookout. This is the next lookout along from Evans Lookout (Sydney side), which is on the left of the photo

From there I headed back down mountains, taking the back roads from Katoomba to Woodford and missing all the road works. I arrived home around 11.00am and covered 135km.
Regards Franz
Facts about
Medlow Bath.
Famous watering hole in the 1920s with extravagant old-style Hydro Majestic Hotel. The small village of Medlow Bath is located 6 km west of Katoomba, 107 km from Sydney and 1050 metres above sea-level. It would hardly be worth mentioning Medlow Bath if it weren't for the gracious Hydro Majestic Hotel.
In some ways the story of the hotel ties in with Edward Hargraves who was regarded (wrongly) as the man who discovered the first payable gold in Australia. For his efforts Hargraves received a 10,000-pound reward. Having noticed the quality of the views, he spent some of it on a property and a house at Medlow Bath.
The railway arrived in 1880 and the station was initially called, unromantically, Brown's Siding. At the outset of the 20th century, Sydney businessman Mark Foy developed the Hydro Majestic as a 'hydropathic establishment', utilising therapeutic methods from Europe. Although this aspect of the hotel was not very successful it continued on as an ordinary hotel.
The hotel's overwhelming presence, both physical and economic, led to a change of place name, with the railway station re-titled Medlow Bath, to honor the hotel and its hydropathic ambitions.
Point Pilcher.
Mark Foy's gardener built the original track to Point Pilcher. It is not easy. There is 5.2km of dirt road, which can be traversed by conventional car if you drive slowly. The reward, however, is a superb view down to Govetts Creek and across dense bushland, known as the Grose Wilderness, which has remained totally untouched. This is one of the most isolated areas in the Blue Mountains.
Thanks to Google Maps
www.maps.google.com.au
, Sydney Morning Herald