Hey everybody,
just wanted to show you some pictures of the enduro training i did last weekend. Maybe some of you want to (or already have done) such a training and these pictures and ride report might help with your decision!
A little about myself: 26 years old, drive a 1150GSA since last year (after previously riding an Yamaha R6 for 4 years).
The reason why i wanted to do such a training in the first place:
I live in one of the most densely populated areas in Europe, the Ruhr-Area in Germany, and going offroad is almost impossible and mostly illegal, so i couldn't just go out and try it myself.
But nonetheless i wanted to try what my GSA could do and learn how to ride different terrains - since not all countries in the world have perfect roads. I just want to know that in case i get to a more difficult part on one of my future travels "Well, you've done it before. You can do it again", you know?
So i looked online to find an enduro training that is also available for such heavy machines, such as mine. There's an official BMW training center in southern Germany which is very expensive as you could guess.
I found another one, just 150km from my place. It's a german guy named Stefan who does these sorts of trainings in Bilstain, Belgium. They have a huuge 45 hectar large enduro park where everything from trial bikes, Enduros and Quads can have fun. Since it's closer and cheaper than the BMW training, i booked it!
June 11th came, i got up early since i had to drive 150kms to get there and be there at 9:30am.
This is what greeted me when i arrived!
The host had his own "support truck" where he transported all his stuff and spare parts and everything. Pretty impressive.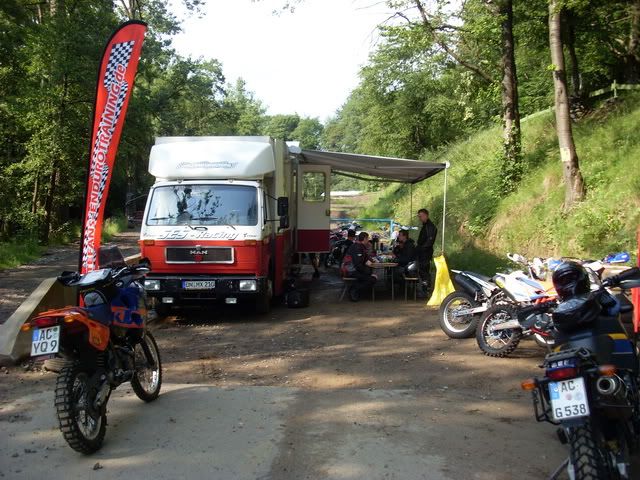 So i parked my GSA beside some of the other bikes, another 1200 GSA for example. (Mine's the one on the left)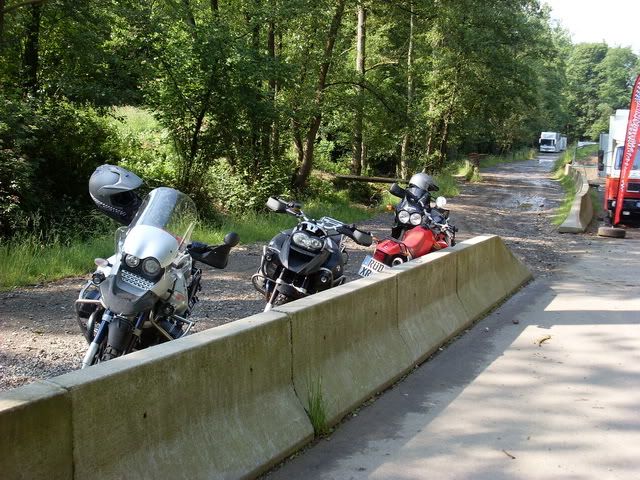 Stefan had some of his bikes with him - sure you can if you have such a huge support track with lots of space :)
I guess these are the bikes that the terrain is usually meant for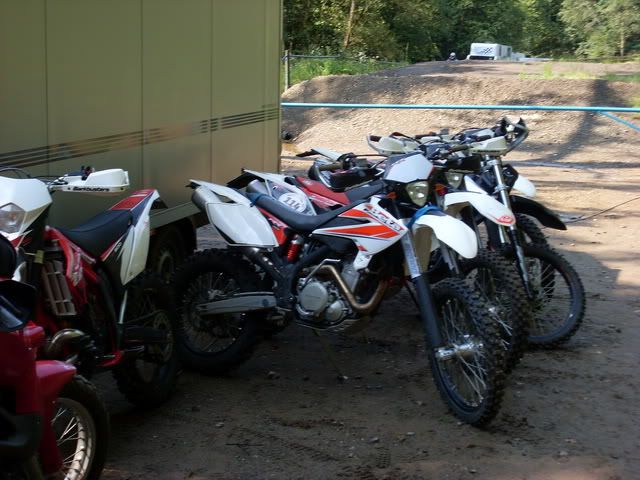 Okay, the first day wasn't as spectacular as you might guess but we just focused on the basics. Most of us had never ridden on dirt or gravel before so we had to get used to standing up while riding and just getting a feel for the bike and terrain. Learning to maneuver at slow speeds while standing up is harder than it looks like :)
When we started getting used to this the weather though it might make things a little more difficult for us and threw us a heavy shower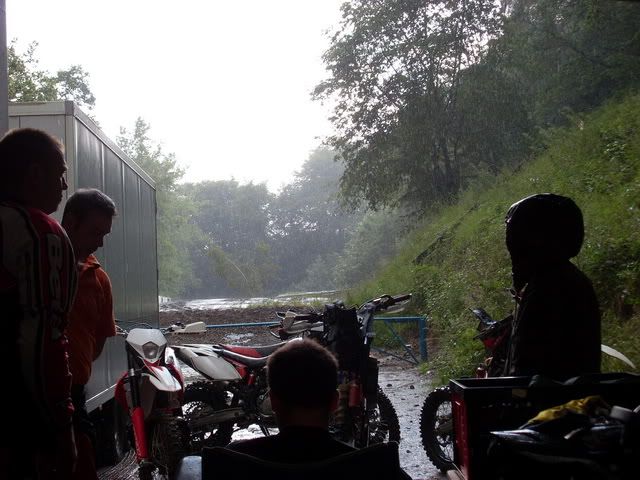 All the dirt of course got muddy and everything became quite slippy.
I was pretty concerned with slipping, falling and whatever at first but learned that the bike, combined with a good profile tire, is much more stable than i would have imagined. If you just keep it steady with the throttle and clutch it can easily handle situations i would have previously thought were impossible. That show's that riding offroad happens mostly in your head - if your not confident that you can do it, then you won't.
Like i said first day was just basics and i didn't take that much pictures because i was mostly focused on not falling down :)
Second day started with the last of the basics. Breaking on loose ground..
Getting instructed: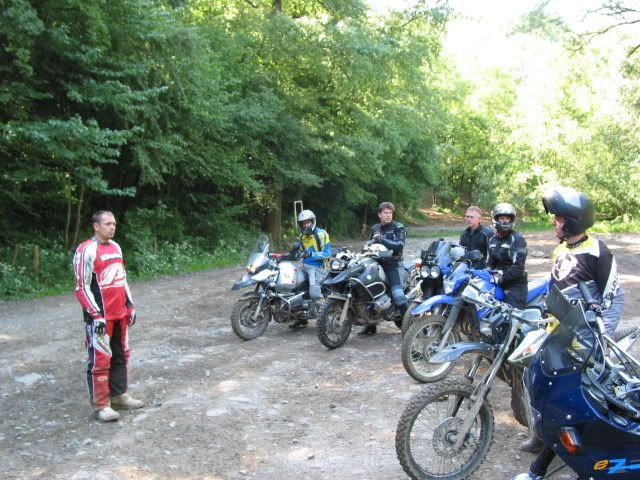 This is how it's suppose to look: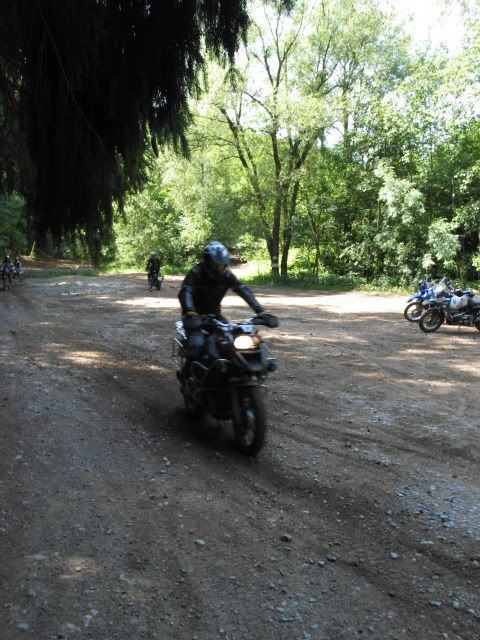 This is what it looks like when you do it wrong: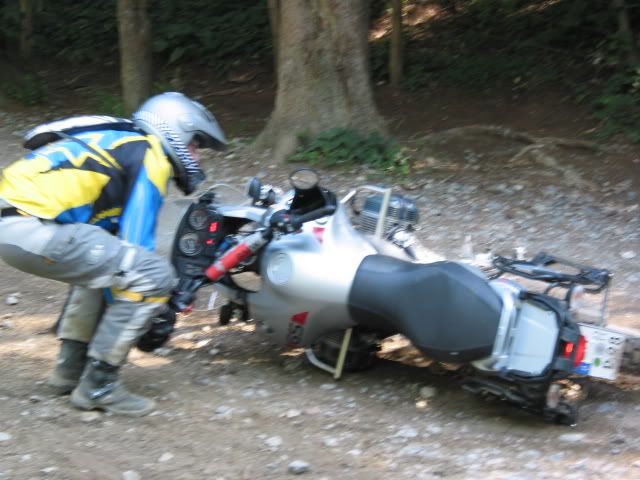 Picking up your (heavy!) GSA is part of the training :)
OK since we covered all the basics now we started riding through the large enduro park for a while and ended up on this plateau: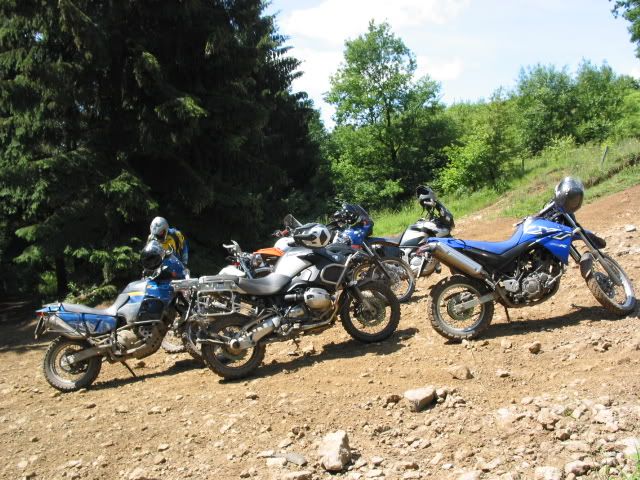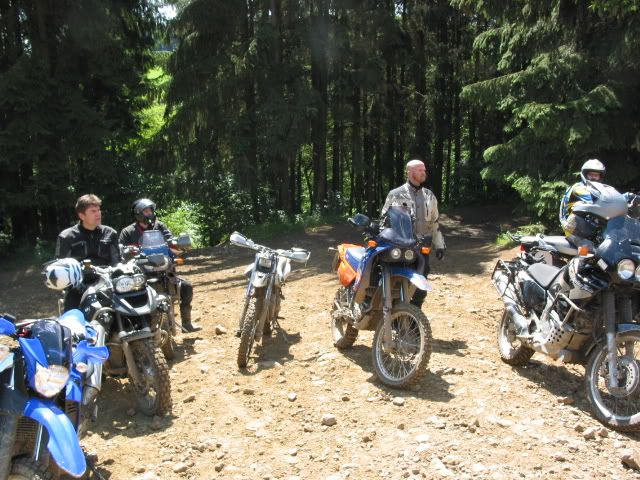 This plateau Stefan led us to was to advance our skills and do some lessons that were not possible in the valley. As you can guess all these lessons involved things like what to do when your climbing a hill, what to do when you decide mid-way that you want to turn around, coming to a stop while ascending and stuff like that.
The "hill" we used to try was pretty small but it was challenging (for the newbie) nonetheless: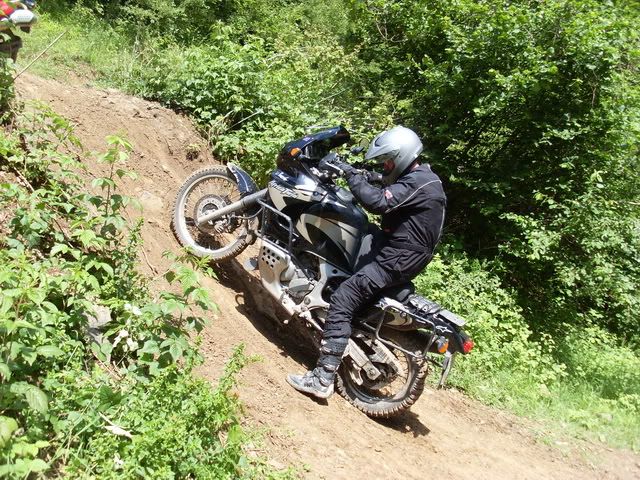 We spent some time there learnt how to turn around, ascending, descending and stuff like that. And the day was over faster than you would imagine!
When we got back to basecamp there was some sort of trial competition and i snapped a few pics: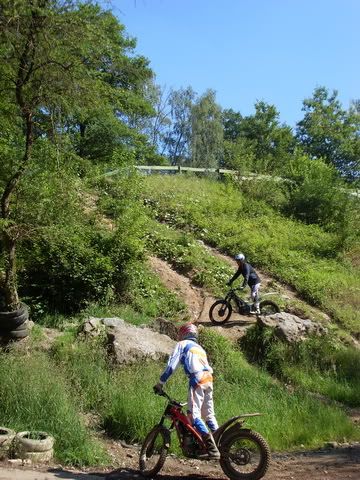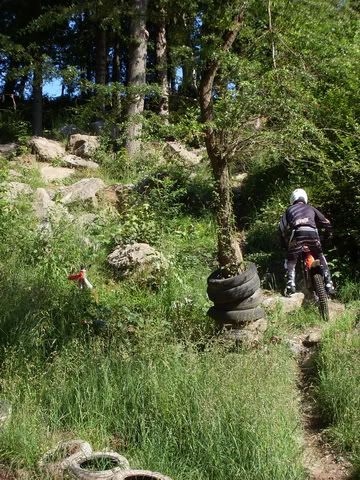 That was it. 2 days of fun.
Things i learned these two days:
- A lot about riding offroad
- That GSA is heavy :)
- The machine can do more than you imagine.
- It's all in the head!
Hope you liked my RR and it helps you if you're thinking about doing the same - Feedback and questions welcome anytime!