I apologize in advance for the lack of pictures. The sheer number of beautiful views and waterfalls overwhelmed me to the point where I forgot to get any really good shots. Part of that was the need for speed that day, and other was sheer laziness!
Me and a buddy did the ride up to Boston Bar and camped in the Nahatlatch Valley. I was surprised that pretty well the entire road is passable by car, let alone anything with any off-road ability. There was only one very short little section that was unsuitable for anything other than a quad, bike, or jacked-up offroader.
We started off in Cloverdale with 2 DR650's and a brand new KTM 990 Adventure R
. We took back roads through all the municipalities, over the Mission/Abby bridge, then the Lougheed through to Harrison Hot Springs. Unfortunately, the KTM was only out for a quick ride, being on stock tires and not even broken-in yet, and so had to turn back. The DR650's kept on, making great time past logging trucks and slow little cages creeping up a beautifully well maintained FSR.
Cogburn Beach
We did a quick detour up to the hot springs at Clear Creek (that road is beat to hell!), where we declined to swim due to the pain in the posterior of unpacking and then repacking the bikes and dry bags.
Back on the main road, we tried and failed miserably at hill climbing through sugary fine sand (apparently 600lbs+ of bike, gear, and rider don't hill climb that well
). So we kept on going. Somewhere around the summit we chased and photographed an enormous black bear (who tried to ignore us), and then blasted down the somewhat less maintained road down to the Nahatlatch main. We then ripped in to Boston Bar for fuel and snacks, then back out into the Nahatlatch valley for the night. Great camping up there, but the mosquitoes are thick and hungry! If it wasn't for a massive amount of DEET and long sleeved clothing, I think I'd be a dessicated piece of jerky!
This morning, we took off to the far west of the Nahatlatch park into the Mehatl Creek park. The FSR into this area had previously been gated off and inaccessible to any motorized vehicle (a very effective gate and concrete blocks), but for some reason was now open. A very short distance past the gate was a huge abandoned logging camp. Acouple dozen or more large ATCO portables with roofs, a giant garage, and a mess hall with various assorted junk lying everywhere. The camp didn't even appear to have been abandoned too long, either. Vandals have definitely had their way with the place, smashing toilets, breaking windows, tossing furniture around, but nothing had that feeling off being left to rot for a significant period of time. We found a few magazines and newspapers with dates on them, and it looks like these buildings were still being used in 2004. Odd, since I believe the area became a park in 1999...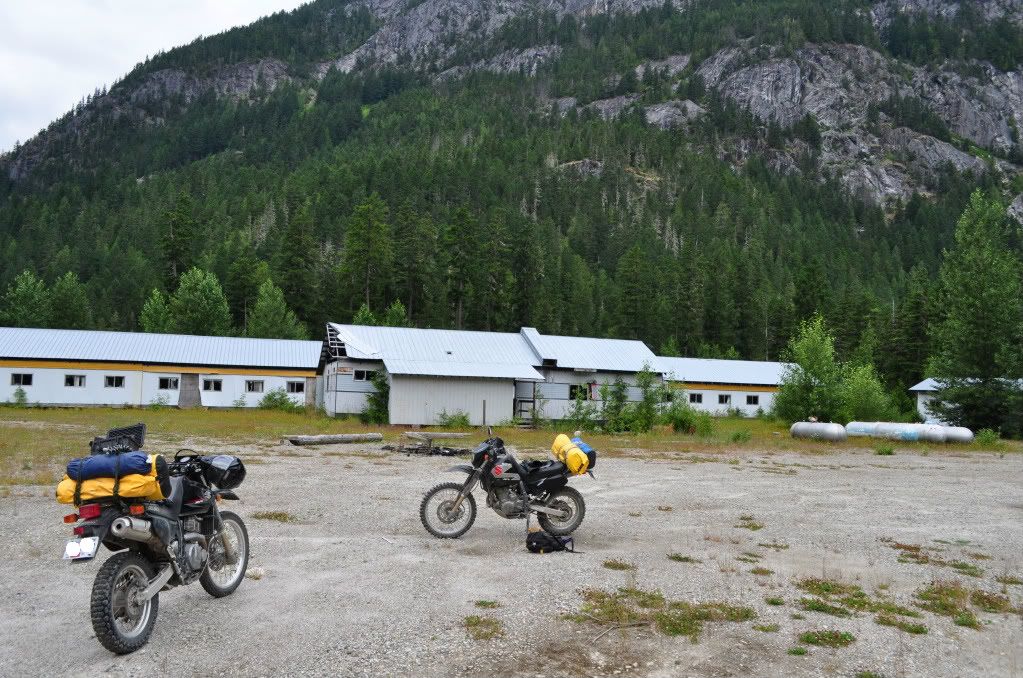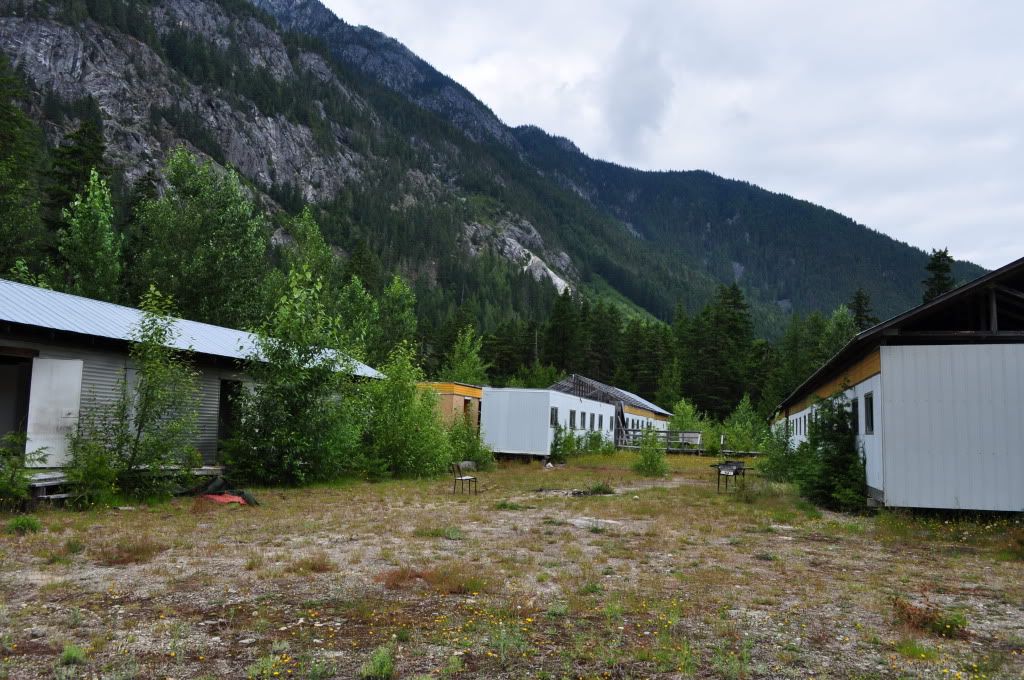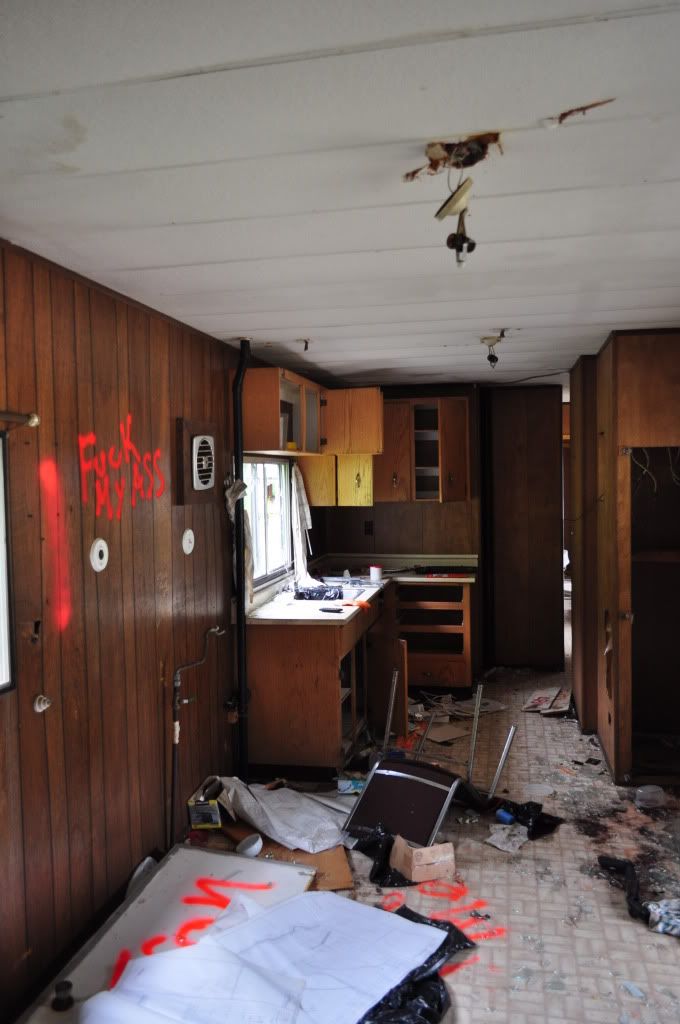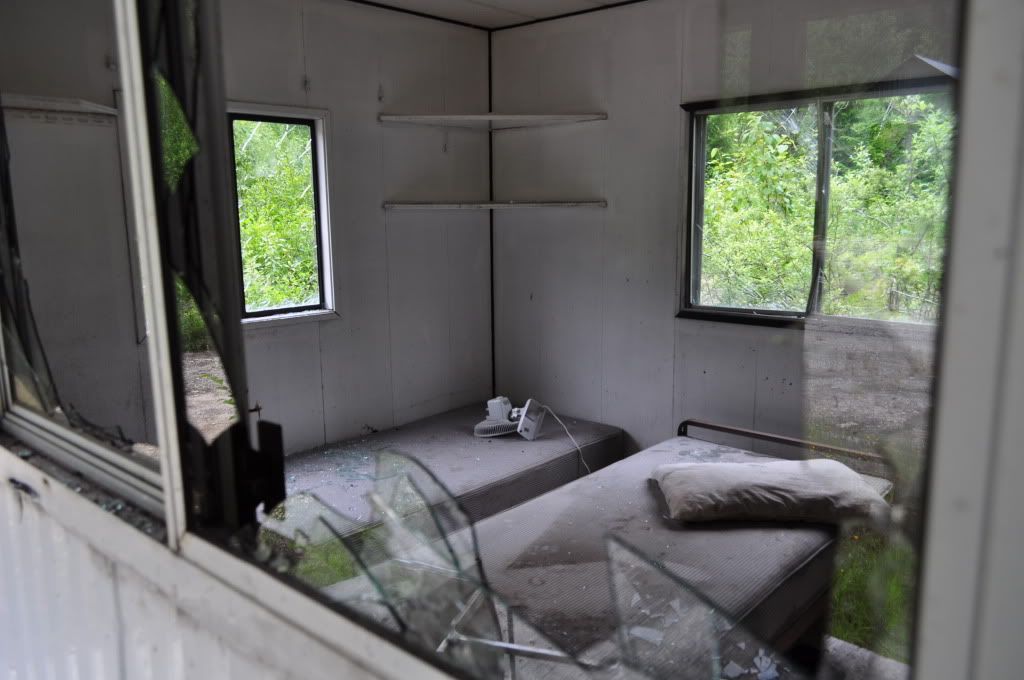 After poking about the logging camp for a bit, we took off up the mainline again, enjoying a nice, poorly maintained FSR with some great views until we were stopped by a pretty significant landslide at about the 55km mark. So, with both of us being expected back in town for dinner, we turned around and raced back to Vancouver. My buddy decided to swing back along the Kookipi creek FSR while I, without the oversized tank he has, headed for Boston Bar for fuel and a blast down the canyon back to Vancouver. It turns out I made the best choice anyway, since buddy messaged me to let me know that there were construction crews on the Kookipi putting in new culverts and maintaining the roads, essentially putting the road out of service for several hours while they do their thing.
So, end of the day, my rear end is alternately numb and indescribably sore and my trusty old steed has a little over 700 new KM's on it. Not bad for about 28 hours of time away from home.
On a sidenote, I put the order in for a new seat and tank tomorrow, if I can walk to my computer...