So... two week vacation! And I took the motorcycle
My brother, when I got back, said "I thought you were just gonna get that to learn on, and get a bigger bike to go everywhere on, not just go everywhere on the little one." Well, ride what ya got, eh!
Put on 5600km, at least.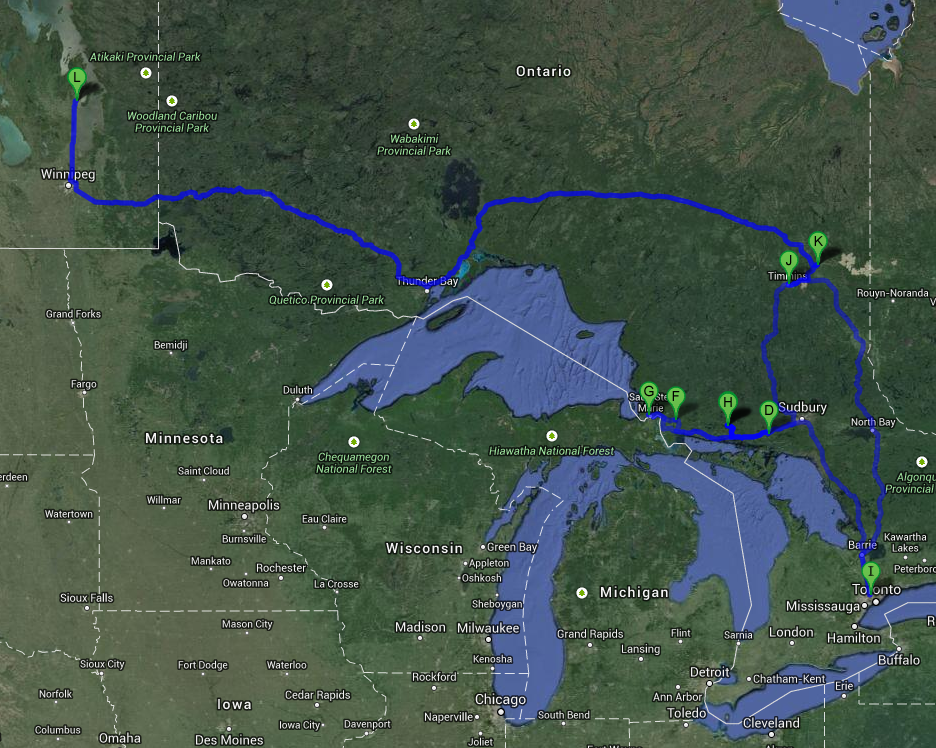 To start off, packed! The last trip my setup ended up with the bag too far forward for comfort, so to move it back, and pack more, I made this. I keep telling myself I'll farkle the next bike, aside from a lighter socket and a 2008 Nuvi whose windshield mount is ziptied to the clutch cable this thing is stock... well and GO BUY BT45s now if you still have the stock Ninja 250 tires they are SO SO much better...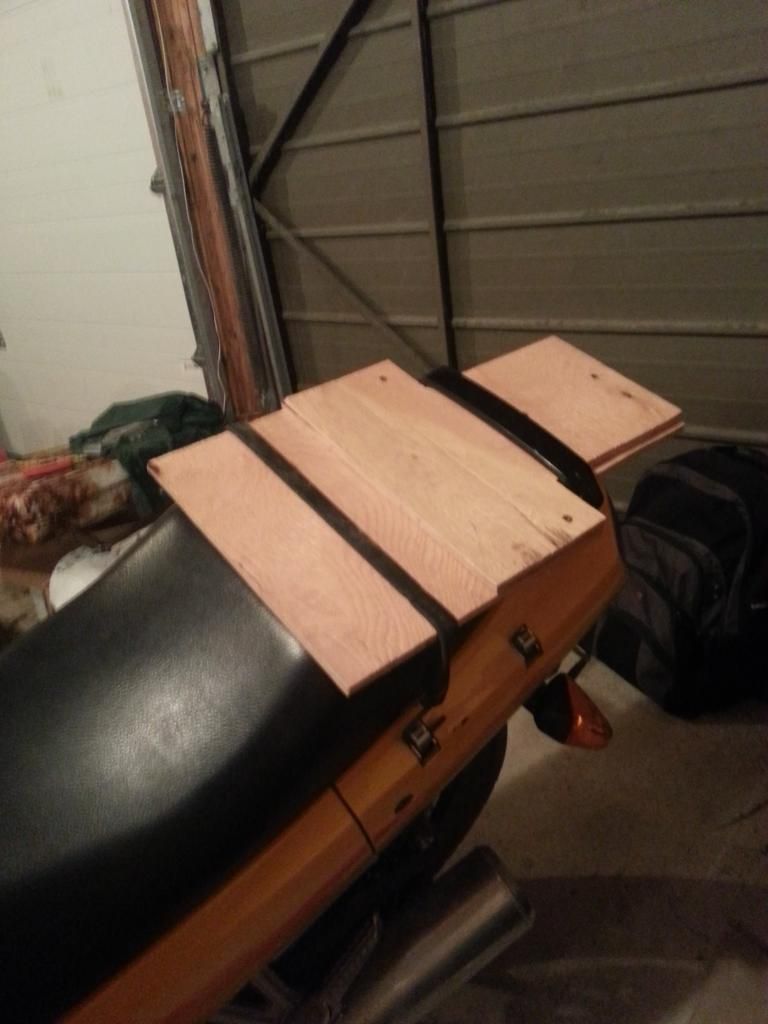 Yay now I have room... if you make this, make the narrow part longer or shorter to match your backpack. Cross the straps at the back and at the front of the backpack, tighten, and bungee cord, done. And then bunjee cord and bunjee cord etc. till you have everything... wait you forgot the kitchen sink! (seriously this is me packing light)
Rode through a lot of rain that first day, made it from Riverton, MB to Nipigon, ON.
Motorcycle camped, first time, so I got a campsite instead of up a power line or some such. Showers, etc., still cheaper than a hotel by a factor of 3 or 4. That and I was planning to go through the states on the way home, and I don't own any portable guns that are legal in both countries. I prefer bear whistles with gunpowder :P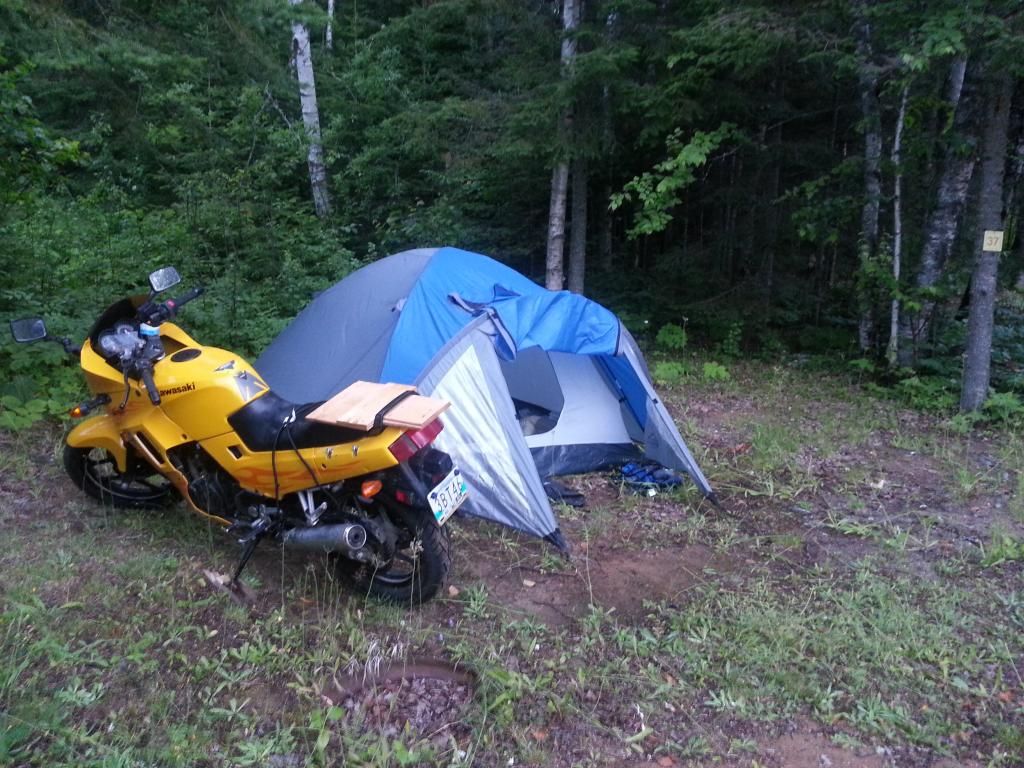 No pictures, but the Nipigon to Beardmore run is really pretty, and the terrain is much different from standard Northern Ontario pine trees. Worth a look even if you're cruising by on 17.
The Robins in Longlac doesn't take interac and I'm a plastic wielding 20th century person here, but the motel next to the Can-Op cooks a good trucker's breakfast. Recommended.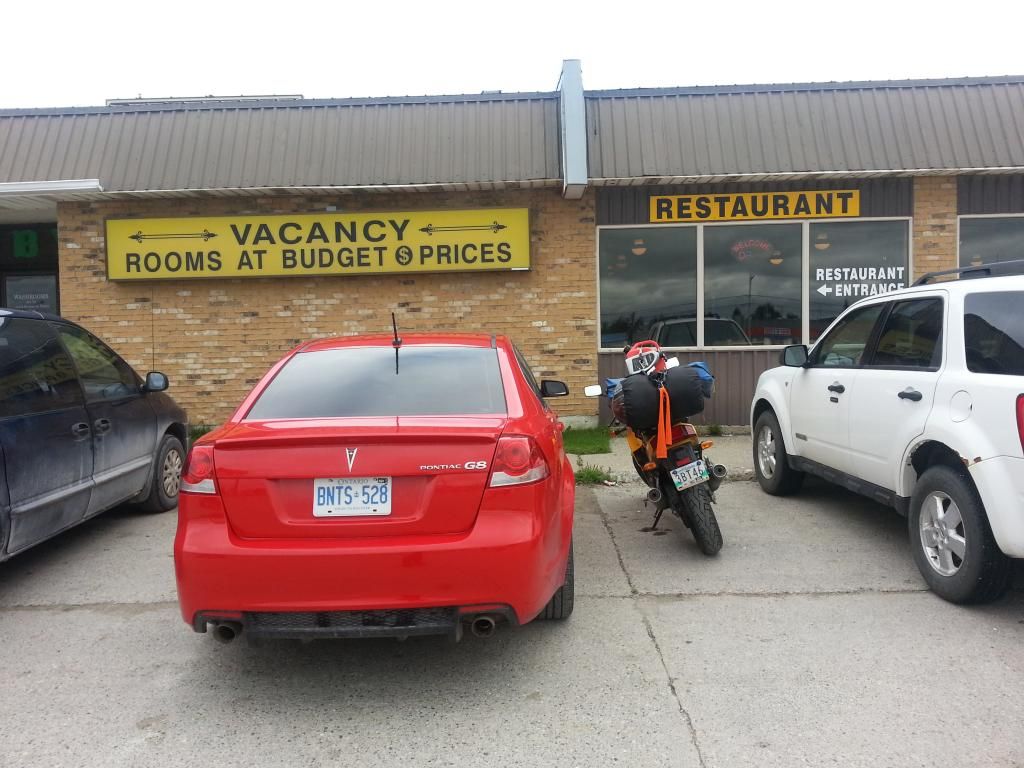 Kapuskasing, ON. Used to live here as a kid for a couple years. There was a Harley for sale out front, too much chrome for me and cruisers have that flop point in the steering I don't like. Bit of a scare as the kickstand punched through the asphalt chunk I put it on while I took the picture O.o.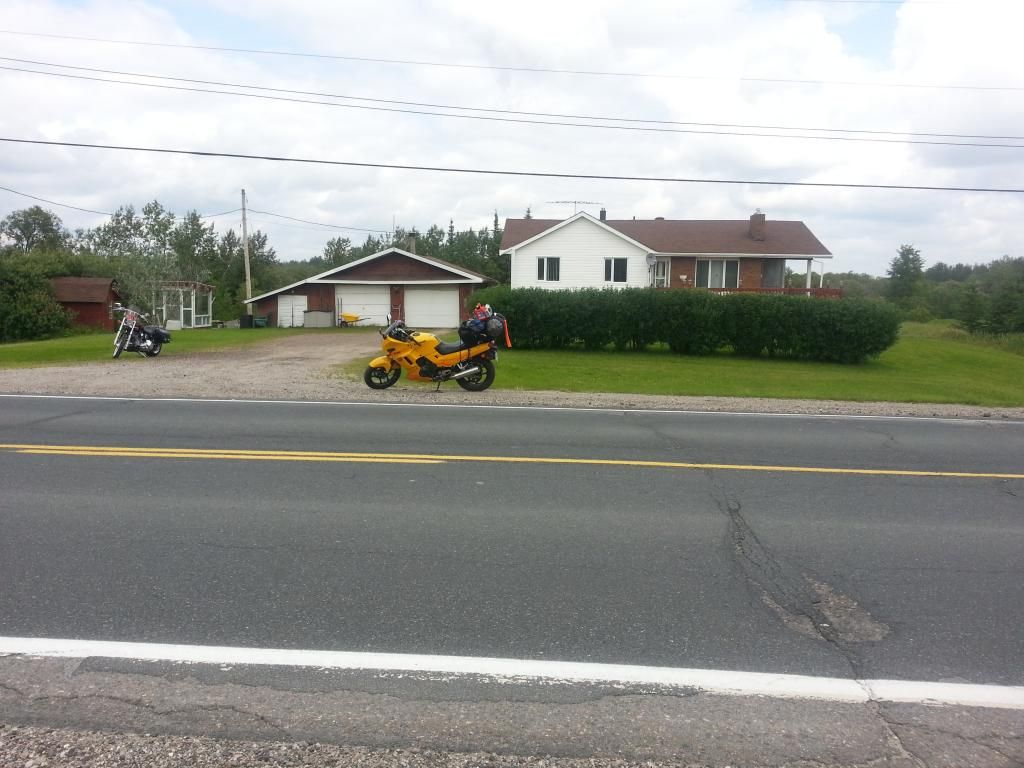 The two girls working the counter at the Kap Tim Hortons liked my bike, haha. One's Mom had had one, a black and grey. Liked my bike in an "I want the bike way" though, ah well. Haha!
Made it to Iroquois Falls. Stayed here with my brother a couple days, saw Guardians of the Galaxy and ate at the Timmins Wacky Wings, and tried to go quadding... ended up having to bring back the quad with the choke on as the dealership had not tightened the carb boot, we dumped the sand and mud out of the carb later and cleaned it good instead of riding, all in good fun! I drove the KTM very slowly back to the truck as my brother massaged the Bruin home. Never rode a two-stroke before, and my dirt bike is a base TTR125, lol.
Do note the gas can, my motorcycling family members were insistent I have that for the Longlac-Hearst 132.4 mile run. Didn't need it, still had 4 liters left. Also note the oil, this bike drains a lot out through the airbox after clipping along on the highway. Used pretty much a liter on this trip. I guess I'm ready for a KLR hahahahahahaha.
After staying in Iroquois falls headed to Elliot Lake. My Grampa met me at the 108 turn off on his V-Star 1100 and rode with me into town. On the 7th, my Grampa, Uncle and I went down to Trailside Sports in Espanola for a quick couple hour ride, good fun and first time not leading a convoy on a long trip, on July's Black Hills run my fellow riders needed my GPS (that and I was still slow). My Uncle got a kick out of how this bike is always getting the throttle pegged just to do normal speeds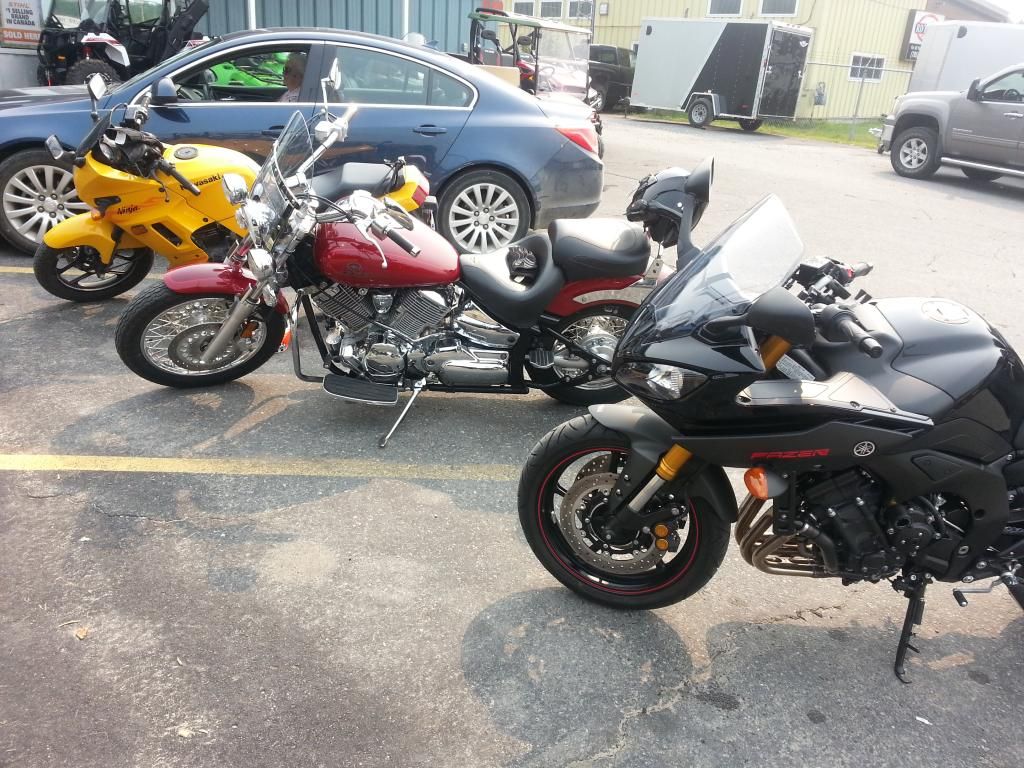 Got stuck behind very rude line painters that backed up traffic for miles, and my Uncle had a bit of a scare after having to cross the wet paint on his unmolested new Fazer... no harm done thankfully...
Had a birthday party for my little bro, 18th, he just bought an old Porsche and started mechanicing hence the cake: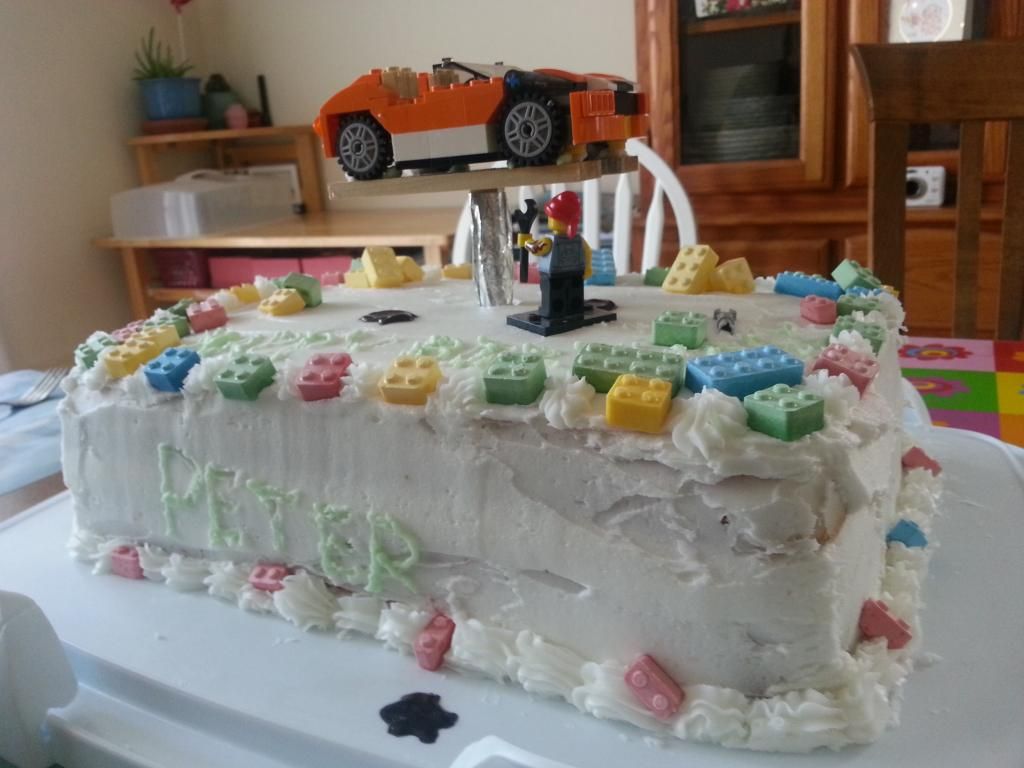 Next few days were relaxing, fished, picked blueberries (Alpine Stars riding boots are actually not bad as shoes for everything, except maybe the sneaker-like grip)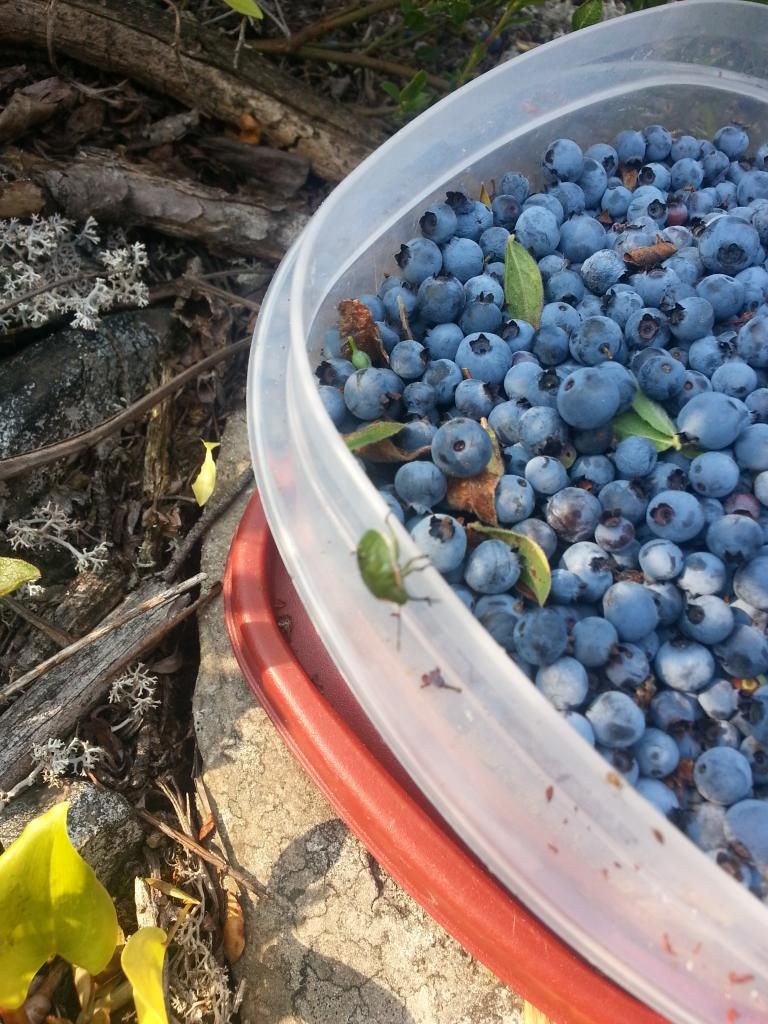 Headed in to Sault Ste. Marie, where I went to college, on the Sunday. Rode in on highway 638 between Bruce Mines and Echo Bay. Best road I, in my limited experience, have been on. No tar snakes, barely any traffic, and there were two road signs of note: 11km of twisties, then, after a hard right, 32km of twisties! Got rid of a lot of those annoying chicken strips acquired from living on the prairies and traveling on the brutally slow Trans-Canada. I've heard the 129 to Chapleau is good too, at least as far as the Deer Trail. In the Soo, I met with an elderly couple I'm friends with, who aren't doing so well, she's just starting to get dementia and he has cancer in the lymph nodes... they were much better than I had heard and remembered me and we had a good chat. Went to Church at Bethany Baptist, went to Wacky Wings again with friends.
The Ninja 250 is a terrible ADV bike, no power on any sort of a steep grade, caught it before the plastics touched but still broke a peg. Ah well, easily fixed.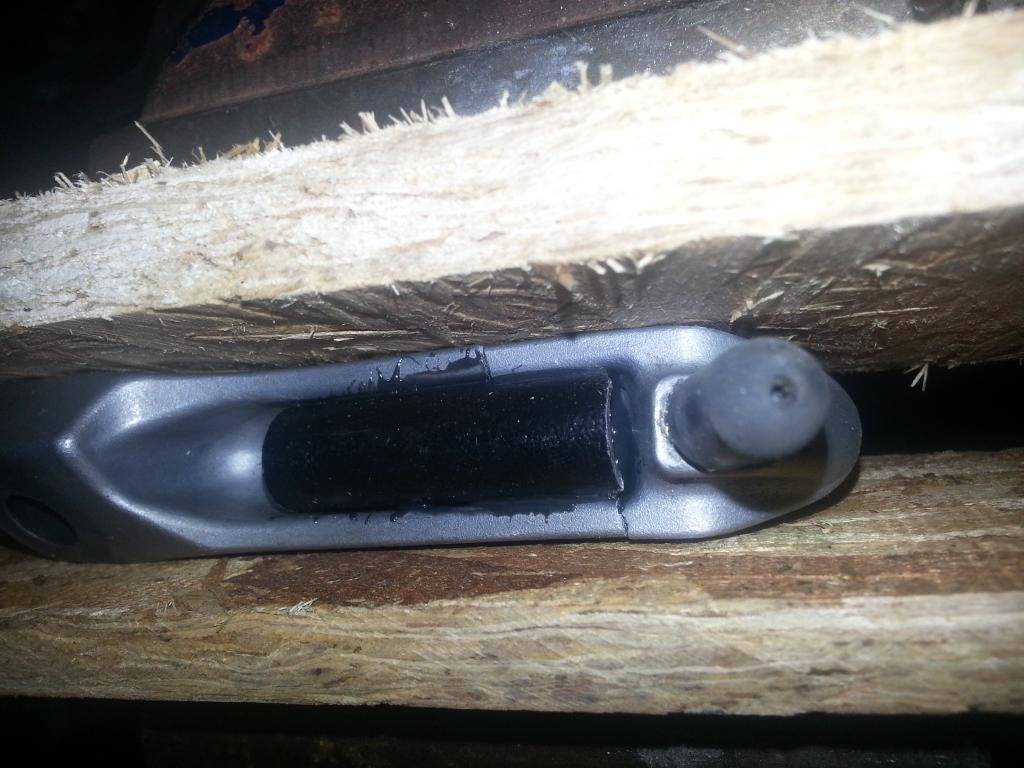 As an aside, my first word was "Alligator". The toy that prompted this is still at my mom's. You know you're home when... well that and the blueberry pie. And butter tarts. Nom.
Then comes the part where I did stuff without taking pictures. Went in to Toronto on the Thursday, took my Ninja on the fast lane on the 400 series eastbound, traffic was moving 124 to 127kph. No problem, no headwind. Got a cheap hotel in North York just off the 400, at the northernmost part of the TTC proper, and took the bus and subway in to meet an old friend who lives downtown. We toured U of T where she teaches and attends (grad student!) and then ate our way through Chinatown and Kensington Market's ethnic places for supper. Chinese steam buns, Colombian empanadas, Italian gelato, Vietnamese Banh Mi, and bubble tea! Returned to her apartment quite full, oh, and I have mixed feelings on Cilantro. I fell asleep two stations to early on the subway back, thankfully I was going to the end of the line anyway and a kindly fellow woke me up.
Oh, and that day, I'd found out I was an uncle for the first time! So back up to Iroquois falls instead of blowing home on the interstates. Headwind on the 400 northbound so couldn't keep up in the fast lane, had to center lane it... wasn't moving any slower than traffic though. Oh, and had Wacky Wings again in North Bay.
There are pictures of me holding the baby but I don't have them yet. :P But it did happen Pifflemaster.
Camped Saturday at Happyland in Kakabeka falls. Wasn't happy about the $36 price but I'm on a (stupid) restricted license still so I'm unlicensed after it gets dark and had to stop. Still cheaper than hotels!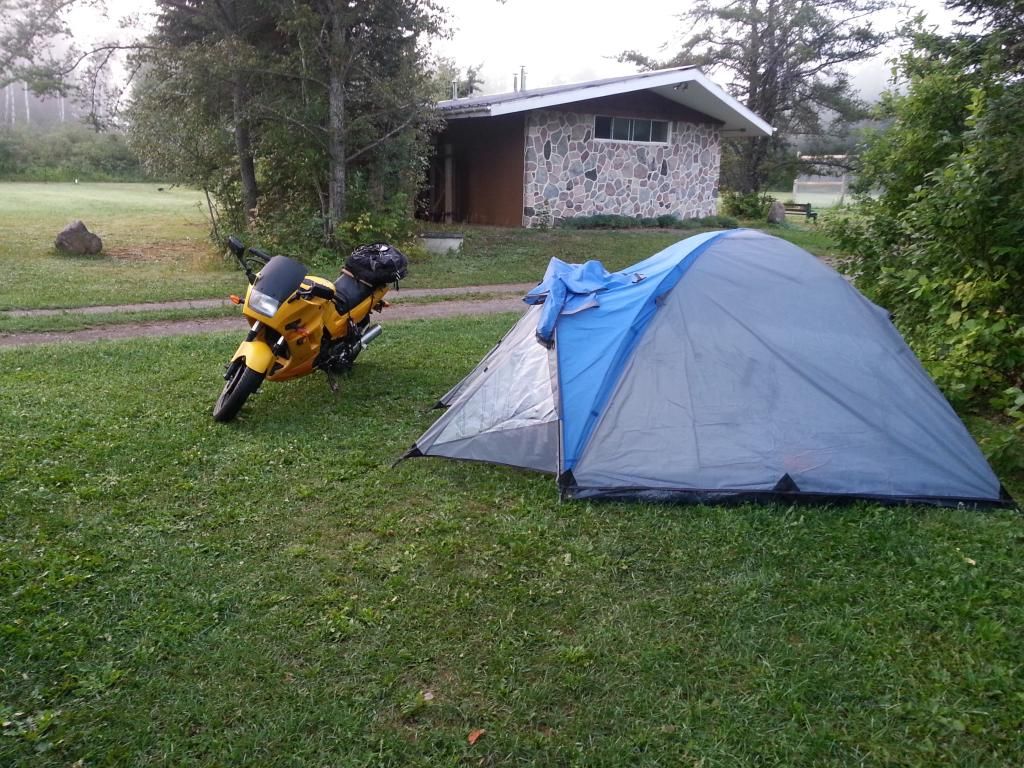 Stopped at the Shell in Upsula for breakfast, which I really recommend, they did the potatoes just right and included 4 giant pieces of bacon for the basic breakfast. Easily three times as much bacon as you'd get at a Husky. They made pies too, almost had pie for breakfast. Adjusted my chain in the parking lot, it had stretched a little. The mechanic at the garage gave me a new cotter pin, he just said buy something inside ;). Positive experience.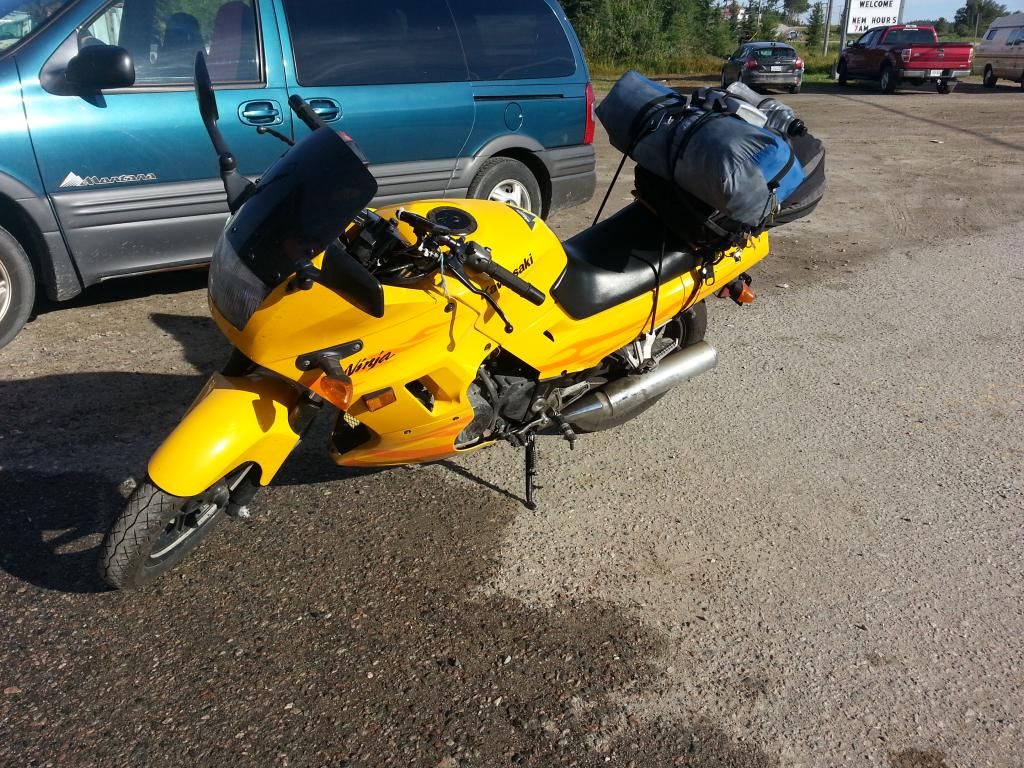 Notice, no gas or giant sleeping bag. Just the oil, water, and a smaller sleeping bag my mom had that rolls up in the tent bag.
Finally had good weather Sunday, only hit one scattered shower in Winnipeg. And the homecoming shot! Yes, the tent had shifted forward but it was providing great lumbar support. I'll have to figure out how to do that on purpose next time.