Hey everyone, Im Ryan, and i thought i would start this thread to document short trips my wife and I go on. We started riding about 5 years ago with a Honda CX 500 custom, and a Yamaha Seca 750. We did lots of short trips with them, and then decided to take them from Billings, Mt to Wisconsin. Not the best bikes for the trip, but they made it problem free. In 2009, we went to Kenya for a year, this for post will document our moto trip we too there. Since returning, we have purchased 2 new bikes, a F650gs twin, and a F800gs. I have put about 15,000 on the 800gs since i bought it in April. A pretty fun bike.
Ok, Post # 1
Lake Bogoria by Piki
So this should have been up a couple almost 2 years ago, but I'm Lazy, so here it is.
Late Jan 2010
My wife and I had been riding Bikes for a couple of years at this time, however, we were currently living in Kenya, working at a Children's home, with our trusty steeds back in the states in storage. We were only there a year, and couldn't justify the extra cost to ship them over.
But, what can I say, it's a bug…
So after about 8 months of not riding, and not being able to stand it any more, we decided to go for a ride. Also, our friend Ben was visiting from the states, he is also a fellow bike rider, and wanted to get out as well. I'm sure many of you are aware, but there is a newer breed of bike around, we are not fortunate enough to have them in the US.
They are Powerful…
They are Strong…
And they are Chinese!!!
Our lucky steeds are Focin FC125's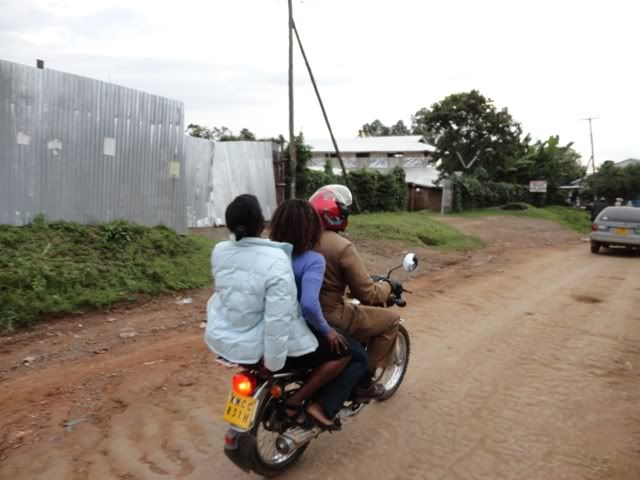 These baby's have changed the transportation scene in Kenya, as well as several other countries in Africa. They can be had at the grocery store for about $700.00 brand new, and are the taxi transport of choice in rural areas. You can easily fit 3 people and a small animal on one.
So we just grabbed one of our favorite taxi drivers, and offered him and his buddies a solid days wages for the use of their bikes for the day. So they gave us the rundown on them and gave us a toolkit… that should have been our first warning…
Helmets… well, they come with the bike when originally purchased, and are all about a xxxxxL.
Ben felt safer with no helmet than with a 5 gallon bucket on his head. I decided to fight mine the whole trip. Definitely not a safe trip, but we were riding 125cc bikes, on highways, in Kenya…. None of which says SAFE. Would I make this trip again? Not sure… (So please don't post a bunch of "no ATGATT" posts, I currently ride full ATGATT at home, and realize I was putting my life and my wifes life in danger.)
Also, a weird thing about the shifting, the pattern is the normal 1-N-2-3-4-5 but if you are shifting from up through the gears, it doesn't stop at 5, it goes back to 1. Like a big never ending circle, so you have to pay attention to what gear you are in. And they only do like 45MPH, so you are always trying to grab another gear when you are in 5
th
.
Our journey is about 2 hours of highway, and about half hour of side road, also paved to the Lake Bogoria National Park.
We stopped about an hour into our trip at one of the secondary schools that some of our kids from the children's home attended.
Some Pictures of the drive
Ben's self portrait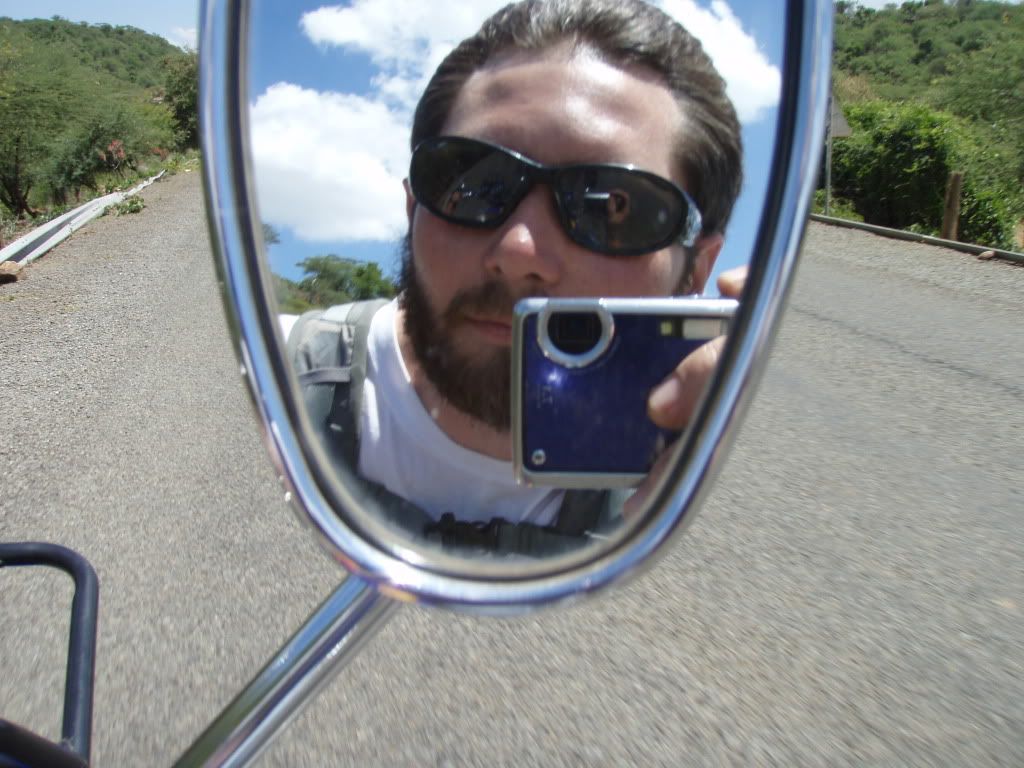 Making sure we made the right turn off of the highway.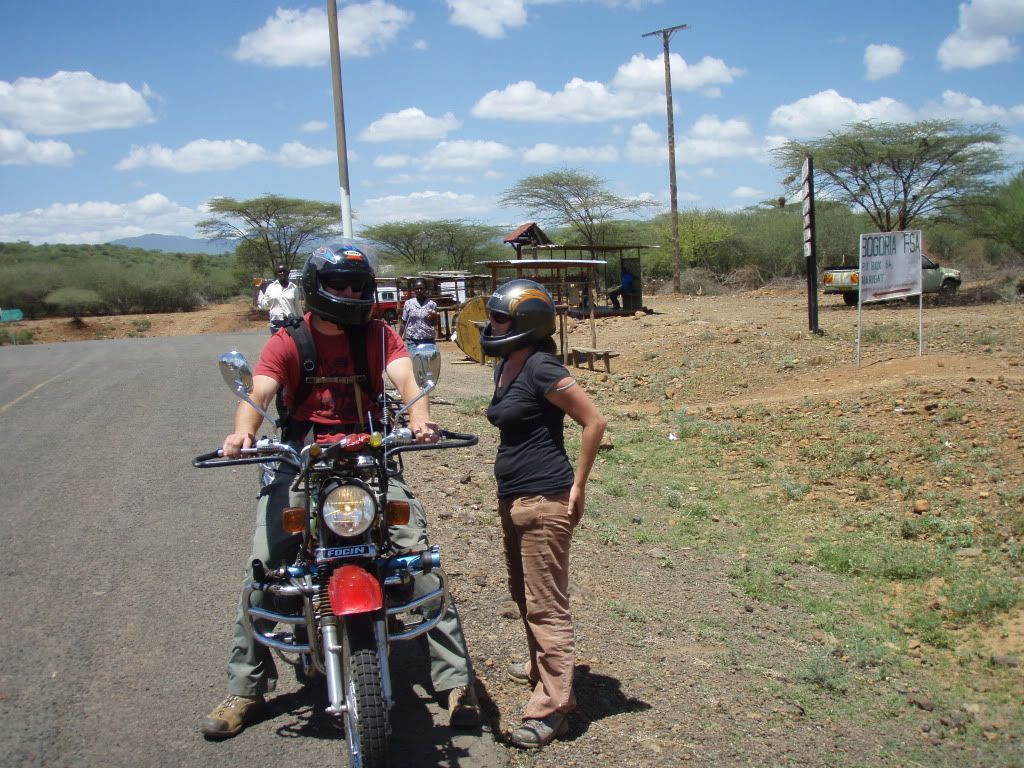 (Some of these pictures will be stolen from some of our other trips to the park, as we didn't pack our nice camera that day.)
There is a nice hotel at the entrance to the park, it has some natural hot spring swimming pools as there are several geysers and hot springs in the area.
These friendly guys are there to greet you (watch your food!!)
(Notice the brightly colored Balls!!)
More Wild Life
First and Last Kudu we ever say in Kenay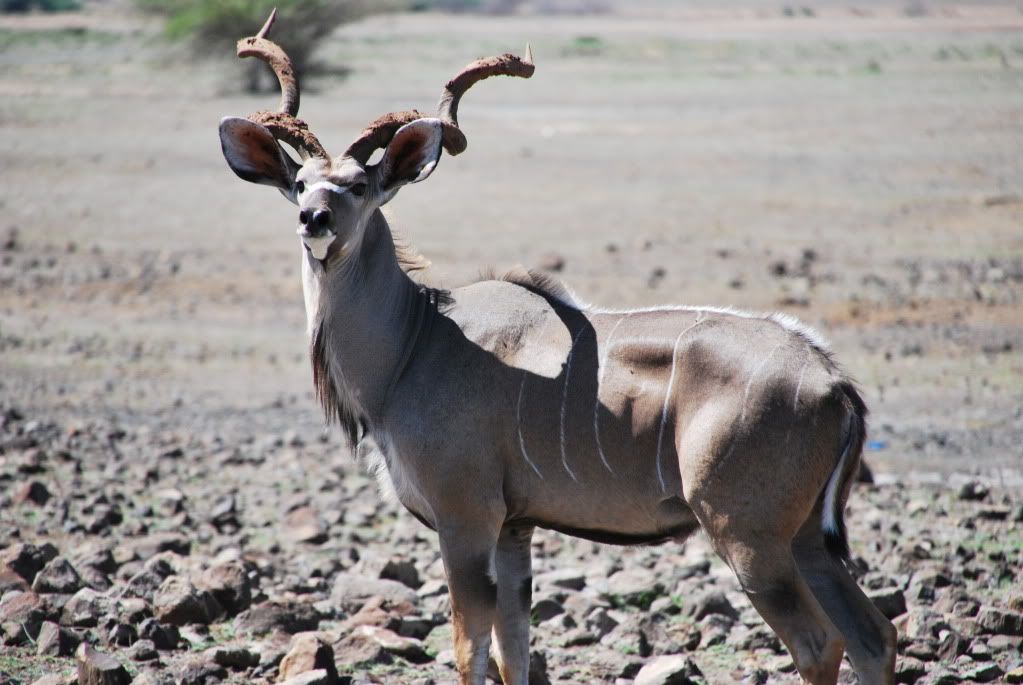 Grants Gazelle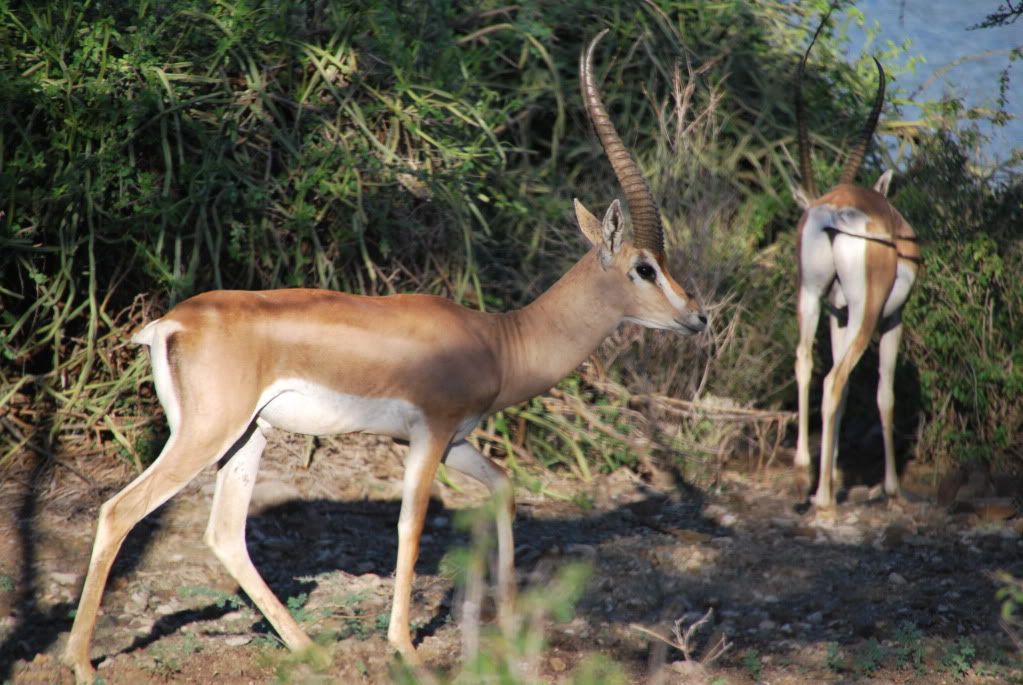 Not sure why I was making that face...
The token Zebra
Some Pumbas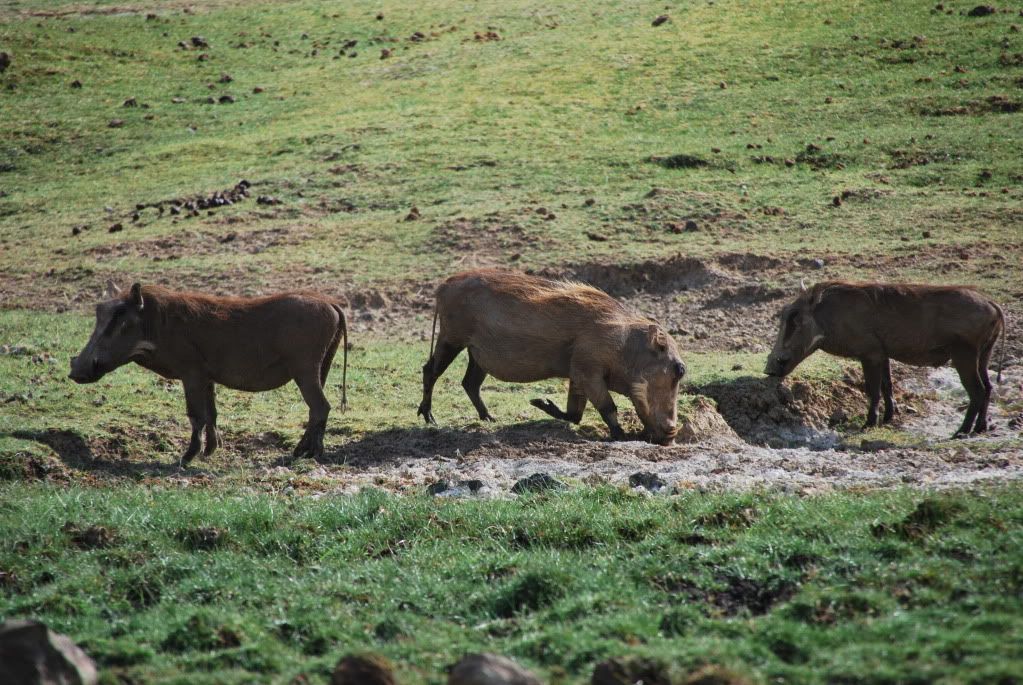 This is a Saltwater lake, and has some special algae growing in it that flamingos love, so there are tons of them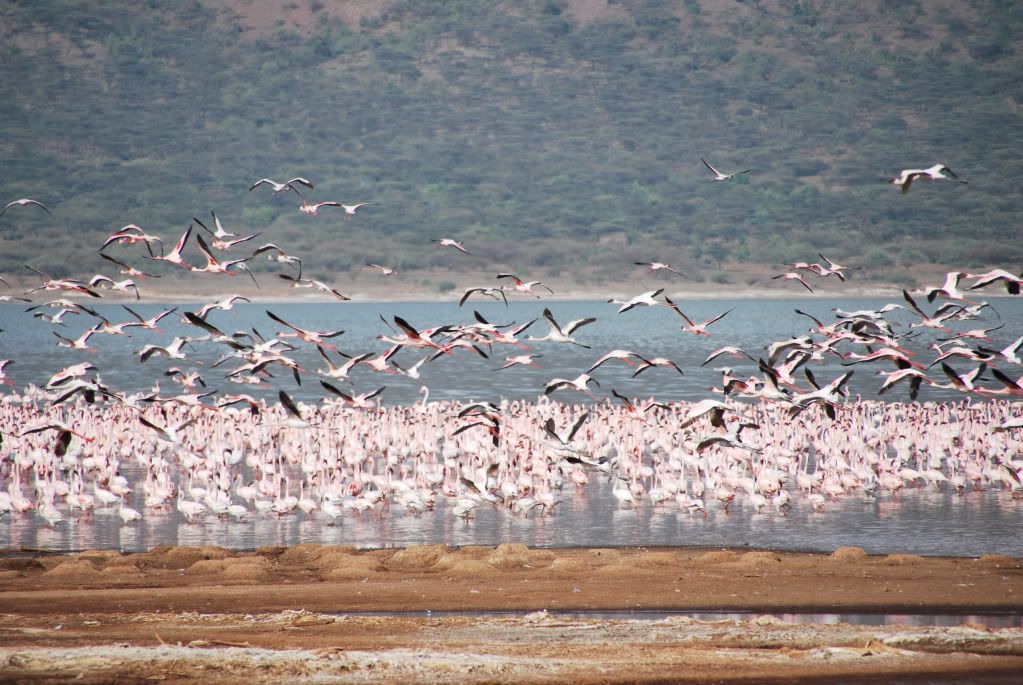 There are quite a few geysers and hot springs in the park, kinda ironic since we live so close to Yellowstone back home.
This is my Favorite Pic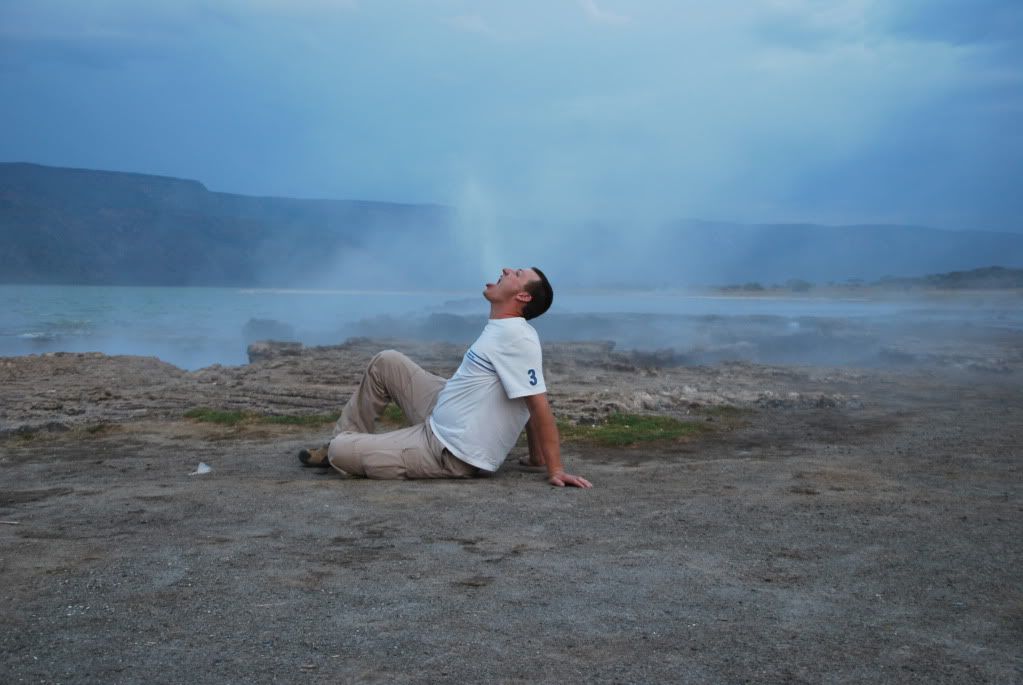 And the rest of the Ride....
Megan had her fill of riding, and was not super comfortable off road, so she sat under a tree and read while been and I rode deep into the bush!!
Me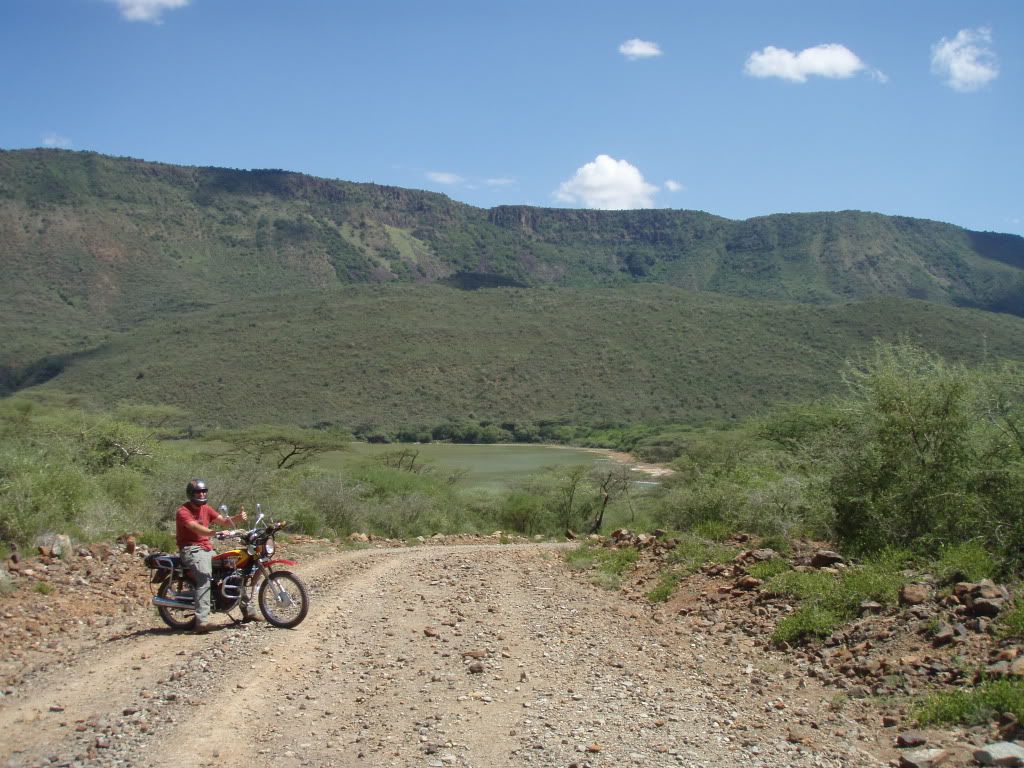 Ben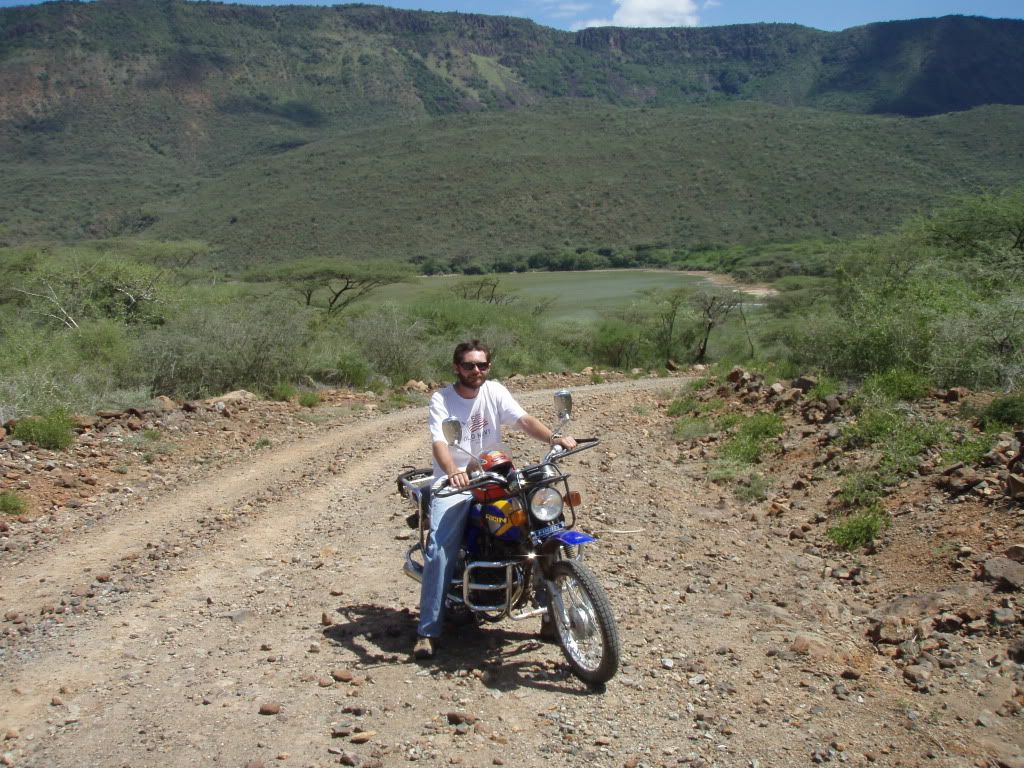 This was my first time really ever on a gravel rode on a bike, I did not know that standing up was important...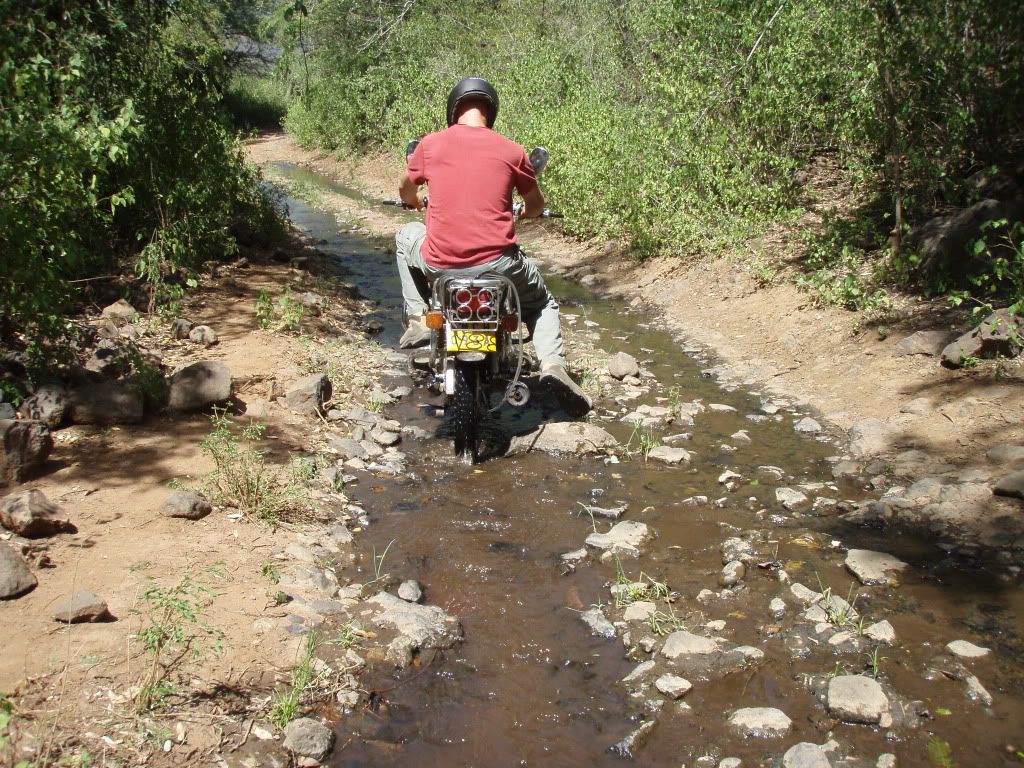 Another run in with some water...
Me First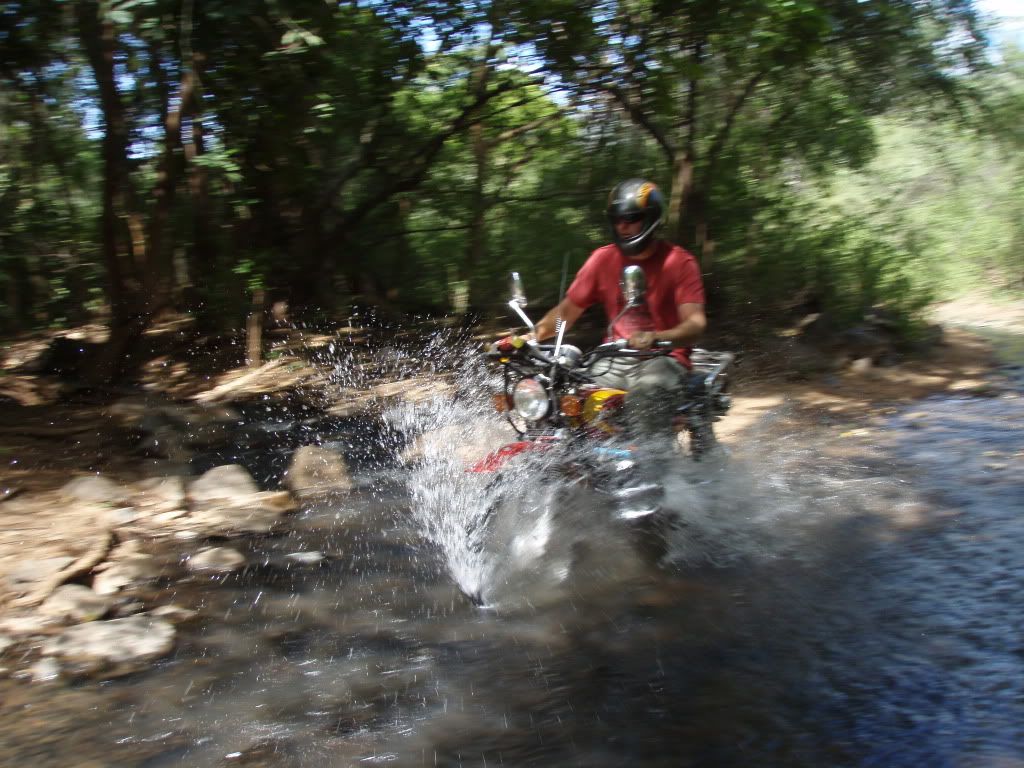 Ben, notice the much better riding position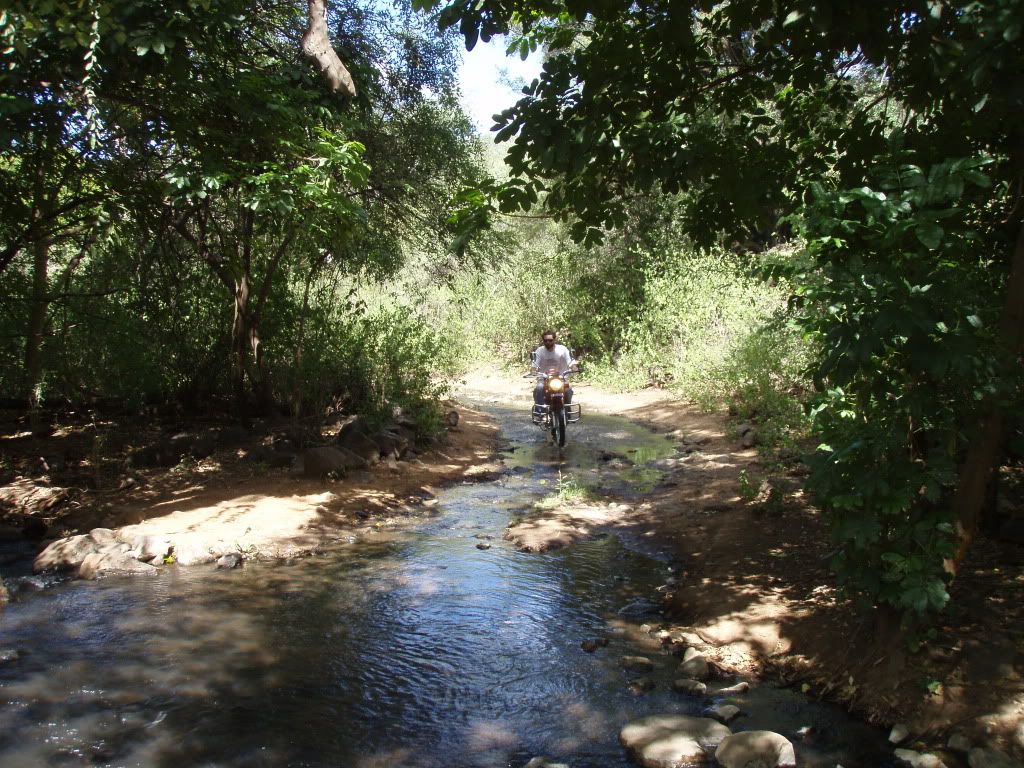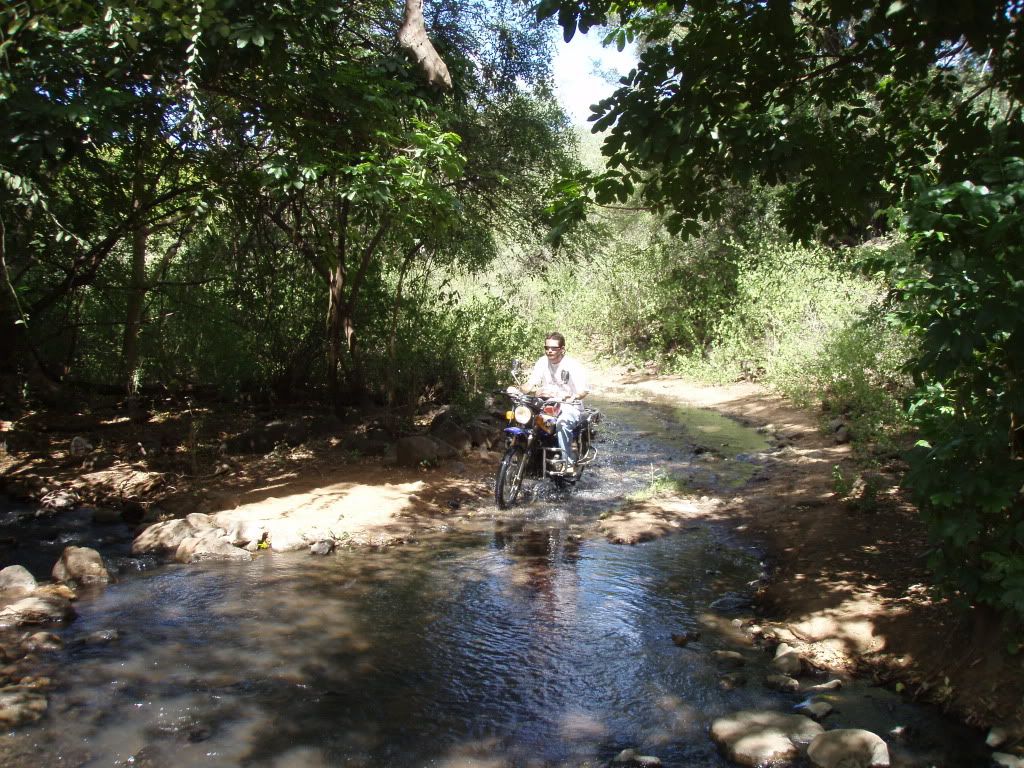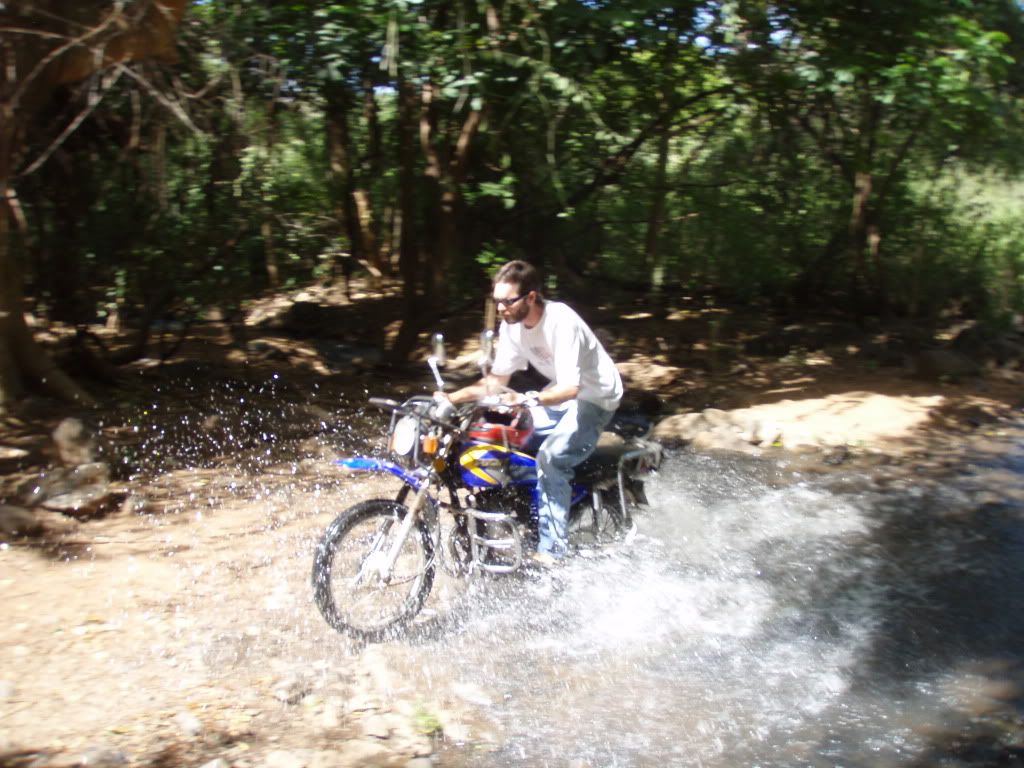 Then on the way back to meet Megan, Ben's tail end started getting a bit squirly, and sure enough, a flat. No we were given a tool kit, lets hope it has what we need. It had some huge screwdrives, some wrenches, some patches, and a hand pump. Looks like it might work. We get the tire spooned off, and pull the tube, and what do we find?
28 (i counted them) patches on the tube. One of them had started to leak. So we pulled it off, and re patched it. Got the bike put back together, and headed to meet Megan.
When we caught up to her, she wasn't real happy, as the tire fix had taken quite a bit of time, and we were pretty late to meet up with her. We had a set time we wanted to leave, as we did not want to be driving back in the dark with crazy buses and vans driving like maniacs, with absolutely no respect, regard, or even acknowledgment to motorcycles.
But we still have plenty of daylight....
Until our patch job doesn't hold....
And here we are again...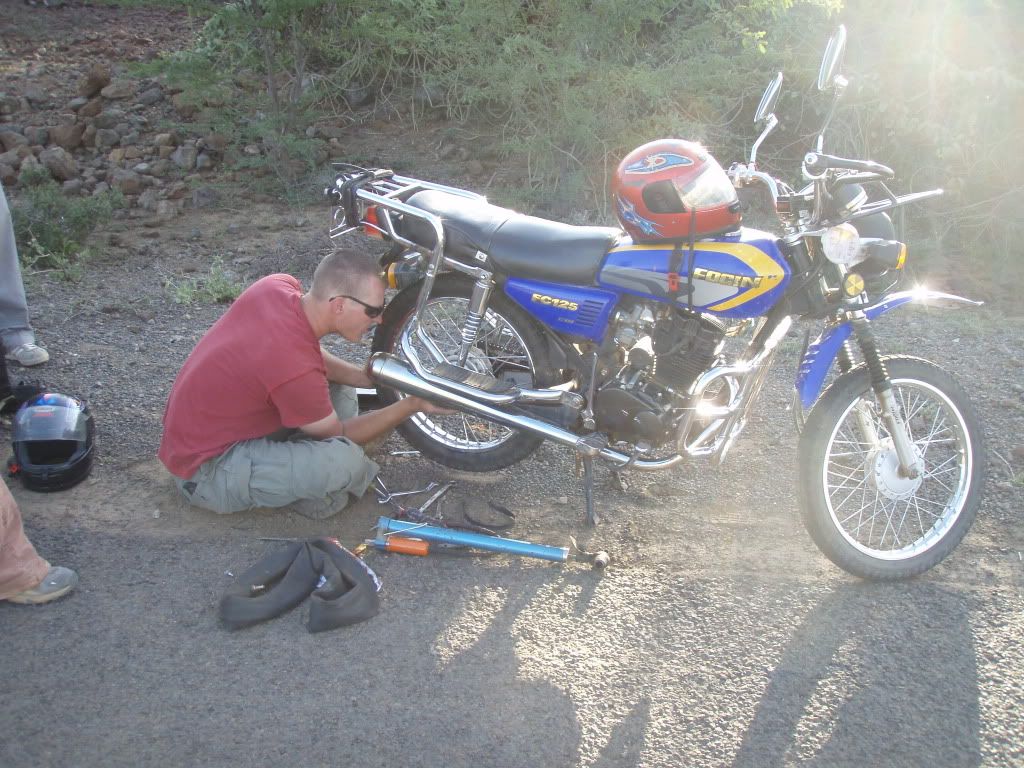 This time we were in cell phone coverage, and called a taxi to bring us a new tube from town, I didn't want to take any chances with my poor, novice tire patching abilities, on the side of the highway in the dark.
A while later, and we are on the road, for good this time. But most of the trip was in the dark. My headlight worked, but my tali light didn't, Ben's headlight was completely out, but his tail light worked, and i was the only one who knew how to get back home. So I went first, then Megan, then been. We took the least congested route back home, and hoped we didn't run into anyone who might want to rob us. Only had about 3 miles of really busy think-im-gonna-die traffic. But we made it back home safe!!!
I guess that is what adventure is about sometimes!!!!
Hope you enjoyed it, we did. If we make another trip back to Kenya, It will be a bit more long term, and I'm sure we will ship the F-twins over!!!
Ryan