Wednesday 4th Jan 2012
Sofala
The forecast for the day was 39 degrees with a possible afternoon thunderstorm. Perfect conditions for a ride I thought. I rolled out the Milwaukee Monster and toddled around to Maccas to see what sort of turn-out there'd be. By 9.00am we had twelve riders plus one pillion. I'd expected Noel to be there as last week he'd been talking about taking us up the central coast somewhere. But he wasn't here and people were looking at me and asking me where we were going. I had no bloody idea! I knew any of the beach destinations would be crowded out as I had been on a run to Bulli the day before. Someone suggested we could go over the mountains, so I thought of Hill End or Sofala. Sofala won the toss and I found myself with the role of ROAD CAPTAIN thrust upon me.
We set off westward along the Great Western Highway to Woodford and the start of the roadworks. From there we crawled along till Wentworth Falls where the roadworks ended and things got back to normal. That was until Blackheath where I got stuck behind a truck turning right at the lights. A couple of bikes rode past me on the inside lane. Fair enough I thought. We got moving again and by the time we reached Victoria Pass, a few other bikes overtook me. What was going on? Then going up River Lett Hill there were more overtakers. I'd thought this was a game of follow the leader but apparently I was wrong. Anyway we pulled into the Shell servo at Sth Bowenfels (the one on the corner) for morning tea.
By the time we left it was starting to warm up nicely and we rode past Lithgow and took the Mudgee exit. We cruised past all the power stations and coal mines and were really enjoying ourselves till we caught up to a couple of large trucks carrying transportable cabins. I was stuck behind, being buffeted by the wind turbulence while I waited for an opportunity where we could all pass them. Suddenly Ross, who'd been somewhere further back in the group, rocketed past me and overtook them on his own. Stuff this; I thought so at the first opportunity I overtook as well. A couple of others got through as well and shortly afterwards there were finally some overtaking lanes so that by the time we reached Ilford we were all together again. Apart from Ross who was nowhere in sight. The road from Ilford to Sofala is always a pleasure to ride, and today was no exception. We swept around the hills and valleys until the final descent with its terrific view over the little village. I think the Harleys rattled a few windows as we rode slowly up the street, but hey, that's what life is all about.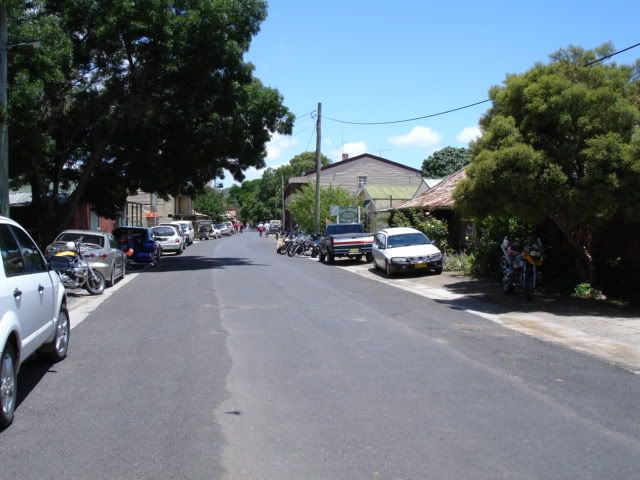 As we were parking the bikes I saw Ross sitting and eating his lunch at one of the park benches. I don't know how long he'd been there. Then we all proceeded to sit down to eat. Hey, the seats were only about 12 inches above the ground. Something was wrong! Then I realised we were in a different park to usual. The one we normally used was two doors up! Oh well, we were here now. It also gave me a chance to admire the stabilising work which had been done to the old general store next to us. The side wall was held in place with a chain around a nailed on upright, and the upstairs verandah was supported by a couple of scaffolding poles. You could almost hear the termites as they munched their way through the structure.
Time to leave and we set off southwards. I groaned in frustration when I came up behind a fuel tanker on the first hill, but he was a good truckie and indicated when it was safe to pass. As we made our way down through Wattle Flat I noticed that the temperature was rising. It had been quite mild at Sofala, I suppose because of its elevation, but we were now obviously losing height. Reaching Kelso we turned left onto the Great Western Highway and headed east. Climbing the hills towards Lithgow, the temperature started to fall again; especially at Mount Lambie, but as we descended towards Lithgow; lo and behold it warmed up. As we pulled into the servo at Marrangaroo for afternoon tea, I marvelled at the fact that nobody had overtaken me since we left Sofala. What good lads, I thought. I was pleased to see that the grounds at the back of the servo had been cleaned up. The last time I'd been here the grass was about 3 feet high and the bins overflowing with putrid garbage. Now the grass was mowed and the bins empty. I was amused to see that one of the tables was still chained to some anchorage in the ground. Maybe the other one was of inferior quality and was of no consequence if it was stolen.
The final leg and we split into two groups. Some were returning through Lithgow and the Bells Line of Road while the rest of us were returning via Victoria Pass and the Great Western Highway. I arrived home at Blaxland about 4.15pm with 366km on the clock. Another good day and not a drop of rain.
Peter M