Hey guys...
Seeing as there are many of us that like the budget aspect of riding bikes and modding them I thought I would offer a simple DIY project/thread on how to do this:
Mind you the actual cutting and grinding was done at a TORNO/shop down here in El Salvador, so Im only part of the DIY work.
Here goes:
First determine your forks suck and sag too much! By that I mean if you weigh more than mister honda(160lbs) or so and ride your bike hard that means yes.
1) Ill simplify what you actually need to do, for finding out the rate there are calculations you need to do do determine how many if any at all COILS you can cut from the overall length of your springs....
I had leftover 88 springs which are thicker and coarser wound springs: They measure 23 inches.
On this pic you can see stock 98 fork springs and the cut with spacer 88 springs: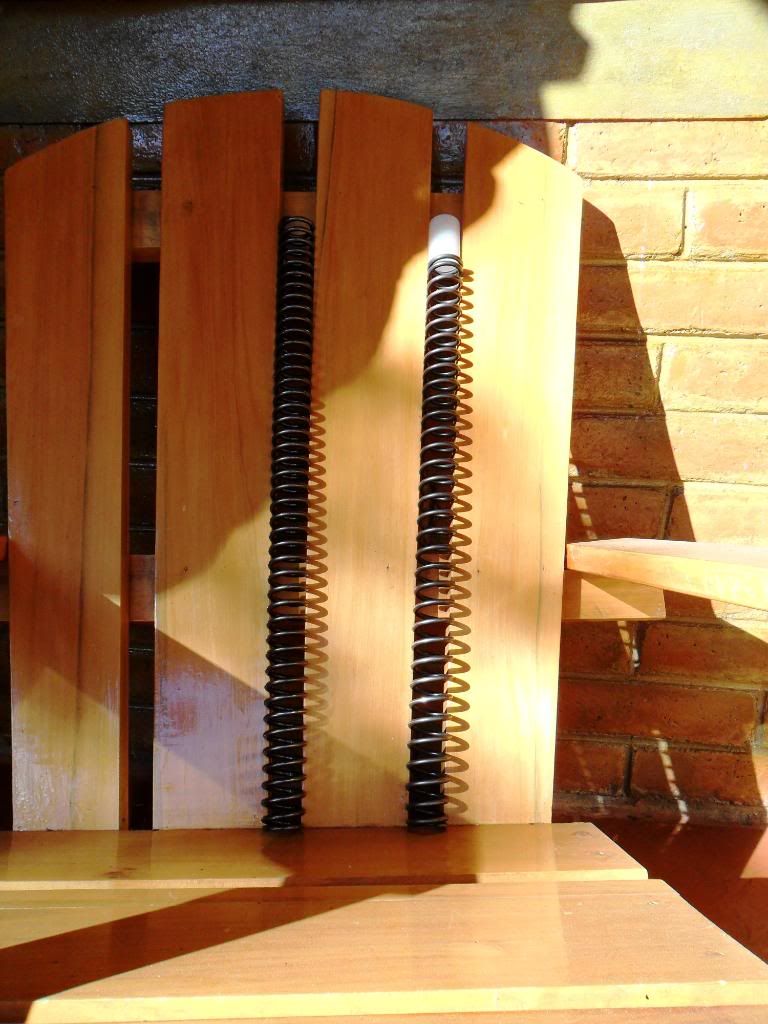 2) Most tuners/pros say 10% is pretty much what you can chop off a spring without having any issues, I beleive I could of cut my springs 20% and still not have any issues with coil binding but I tried the safe method. The reason I decided to cut my 88 springs is twofold:
They are coarser wound meaning you can preload them more and not have any issues with coilbinding.
They are about 15mm longer than the 98 springs meaning I could cut more off to stiffen the spring rate. I think I was shy, this time around so maybe on another occasion another inch of will be best.
Also, 88 springs are unique in that they are paired with "bottom out springs measuring over 2.3 inches. I believe its this issue that makes everyone with an 88-90 model complain about how soft the forks are on these bikes! So I tested out the uncut long spring and spacer on one of my 88legs and for sure the spring rate was stiffer!
Stock 88 spring rate is said to be .38-9 depending on who you ask, but this is for the two springs together I wonder what only the long spring rate is.
Remember a shorter spring is a stiffer spring!


Anyways.......................
Took my springs to the shop and said please cut 1/34 inches of my springs(then turn and bend in the remaining end so that in the end you have a flat end just like stock and 2.3 inches less length than originally... then give me a spacer equal to that amount plus 1/4 inch more preload.
Here is what was cutoff and the preload NYLON bushing, better than pvc for sure and custom made not to mention nylon is stronger and wont shatter, so kudos to the shop guy!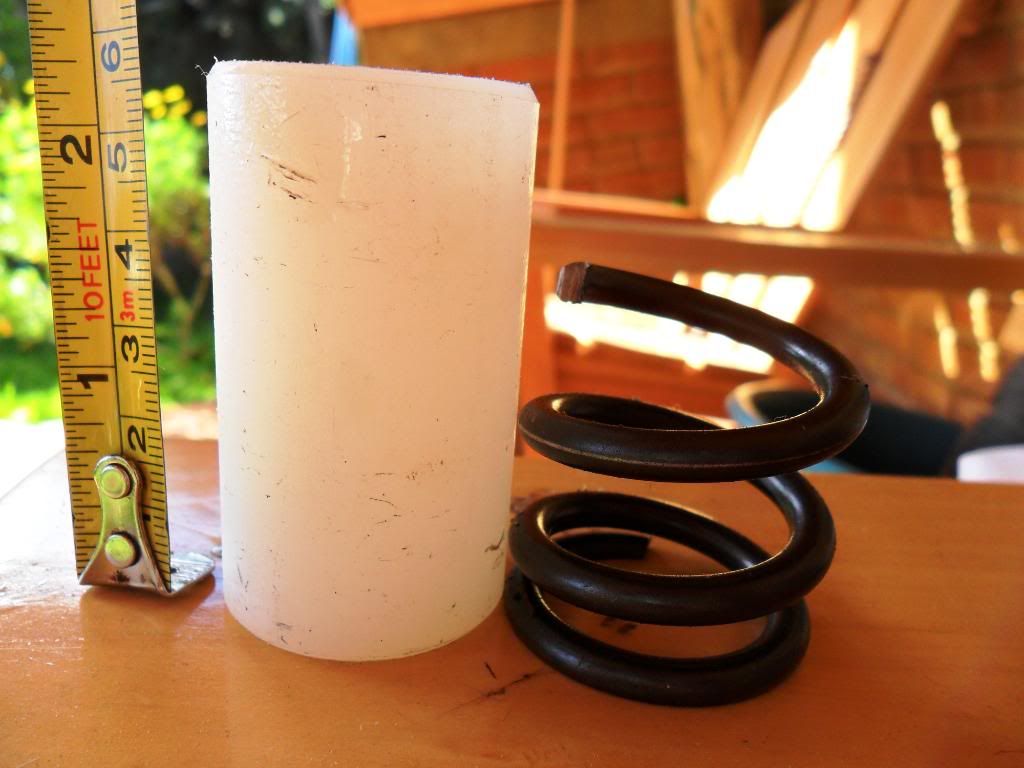 3) Start dissasembling your forks: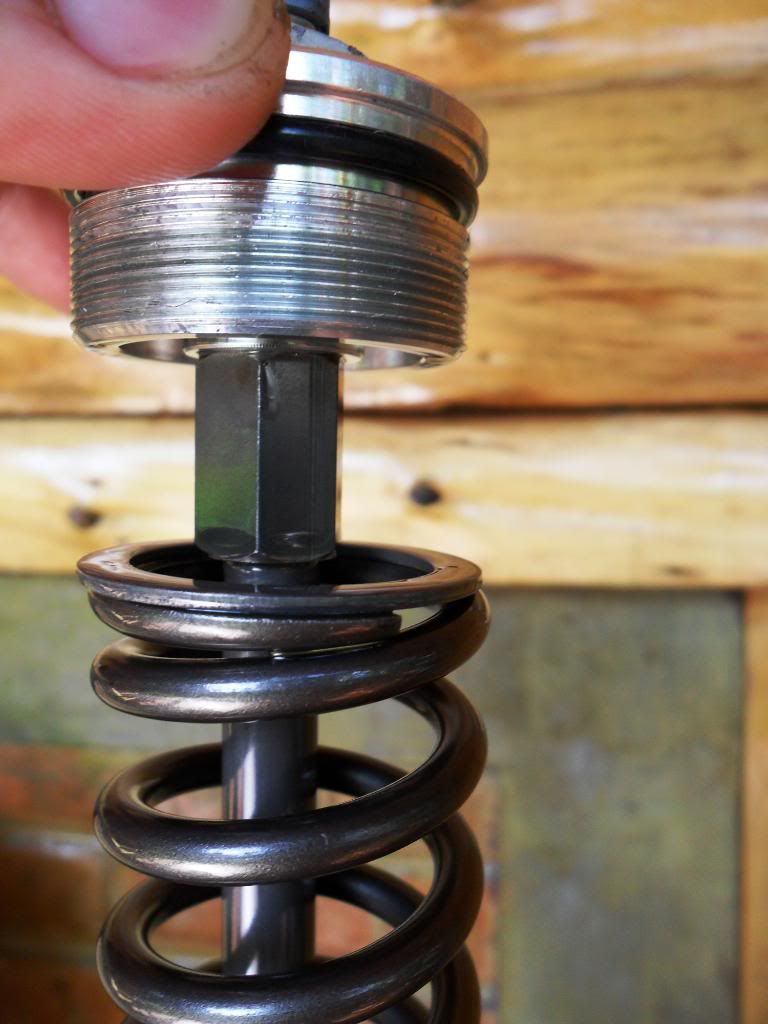 Notcice that there is absolutely NO PRELOAD ON THE STOCK SPRINGS in fact there is negative "load" as the springs are slack and have about 1/2 inch movement, in simple terms you have sag without bike weight and thats a big no no.
4) Compare old height versus new height of cut spring and spacer: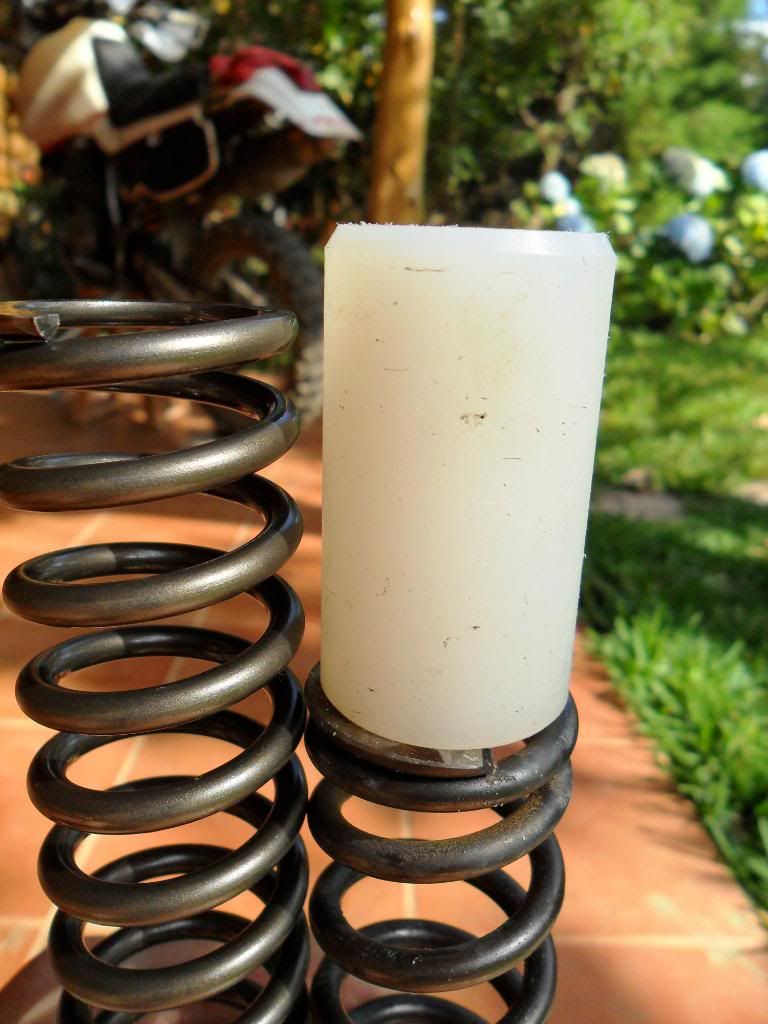 5) Assemble with old washers so the spacer does not stick and has "movement"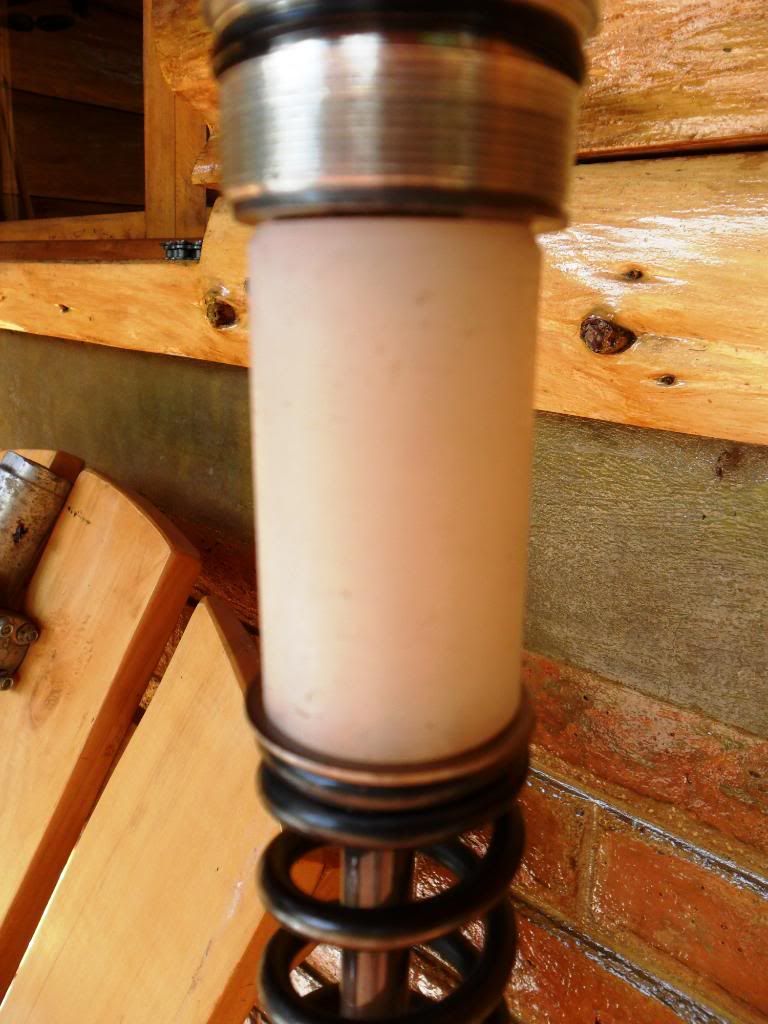 6) Rethread cap into slider with a decent 1/4 inch or so preload.
Notes***
I used info from bwb63 on TT for specific items such as how much to cut, how much preload and what fluid to use.
On that note he reccommended using the best of the budget/pro world good ole ATF, but not what was used back in the 80/90's
He said the best to use would be MOBIL DEXRON VI, which turns out is what MAXIMA PRO 7W uses/is labeled as and 3 times more expensive.
Cutting springs doesnt necessarly mean you have to upgrade to heavier weight but I went with this advice on the basis that stiffer springs benefit from stiffer dampening.
I had the option of bellray 5/10weight(there are some bad reviews out there on these forks about bellray) and MOTUL 5w, bear in mind that this motul 5weight is designed for KTM twin chamber usds and is LIGHTER than what honda wants...so that would make my forks too bouncy.
Fork oil level is standard BUT take into account that the spacer will displace more than springs, so on that note I decided to use the minimum oil level at 125mm and figured id end up in the middle range at around 120-115mm from top.
Max level is 115-110mm. I will play with this though.
Thoughts.Review:
I cant give a 100 percent detailed report yet but the first thing I noticed right off the bat was the front end doesnt sag as much as it used to on its own weight(I could clearly see the fork boots more extended and since I have a fork brace it finally doesnt look like an crumpled up accordion)
I
can't
say the forks are NOTICEABLY STIFFER...YET but Im leaning towards the idea that I am now in a higher end of the stroke/travel and I have much more movement in the forks...Im hoping this is good.
I also noticed it rides over stuff I used to suffer over a bit and it doesnt deflect as much, like rocks and gravel... and it uses much more of its travel. Again I assume this is what you want/look for!
I have not minimized front end dive...maybe a smidge,
bummer
but maybe this is more controlled by my fluid level, I will fiddle with this too.
For now my clickers are at 3 out from full hard, or STOCK.
Thanks for tuning in, stay tuned for more updates and reports...
I have a feeling this will be very helpful for those of us that like budget mods and dont want to just throw $$$ at a bike when you have decent fixes...Most know by now that almost all aftermarket springs are all SHORTER than stock...
get the idea? in other words cut stockers...
Christian
aka elsalvadorklr