Meet and greet. McDonalds Blaxland 8.30am for a 9.00am start. Destination to be decided on the spot.
Wednesday 21 March 2012
Mangrove Creek Dam
The gathering at Blaxland Maccas included: Bill H, Guy D, Eric B, Alan R, David C, Richard M, Phil W, Mr John Mcc, Franz G and myself. There was discussion on which direction to take, Mangrove Creek Dam was the unanimous decision. Next, who's the Ride Leader. I was again chosen - must be the flouro vest with the Ulysses' target on the back. Makes it easy to follow, I guess.
As we headed off down Layton Ave, Franz and Mr John waved us off. We continued down Mitchell's Pass through Emu Plains and Penrith via the GWH, a left into Castlereagh Rd heading north. The clouds looked a bit iffy. We turned off into Cranebrook Rd for a couple of k's and left into Taylor Rd which kinks and becomes Nutt Rd. A right into Torkington takes us into Londonderry, then a left and quick right into Carrington rd for a few k's, a left into Barker and through to Blacktown Rd. We rode through Bligh Park and Sth Windsor turned on Hawkesbury Valley Way. We found our way to boundary Rd. and worked our way down to Berowra Waters. On arrival some parked in car spaces and others in the car and trailer spaces.
After a wonderful cuppa and informative chat, we mounted our iron steeds, proceeded across the Berowra Waters ferry. The ferry master obviously likes bikers and let us off first. We made it up the hill and onto the "Old" Pacific H'way past other riders at Pie in the Sky. Passing road warriors cafe, I noticed it was closed, strange. At the end, we turned left to aim for Peat Ridge Rd, AND found it. A beautiful day for riding it was. A veer left onto George Downes Drive and a little over 20k's to go. Just after the Kulnura servo, the road crew watered down the road and I'm sure they threw dirt on the water just to make my Boulevard dirty (not happy Jan). I beleive the other bikes became dirty too.
Lunch at the dam was eventful. A large goanna started to wander over, eating the peanut butter crusts discarded.
David C was the hero of the day. He stood on the table, obviously ignoring his mother who said "don't stand on the table" to keep a watch on the wandering goanna. The first goanna, was followed by a 2nd, 3rd and a 4th was spotted basking under a rock. Eric took lots of footage of the creatures and the dam's water levels. I was surprised that the level was not a lot higher. It was quite a few metres higher, but not as high as I thought it would be.
We headed off back to Wiseman's Ferry for afternoon smoko, stopping of at the Kulnura servo for Eric and Richard. An uneventful but enjoyable trip via Spencer saw us waiting at Wiseman's for the ferry, it had just departed. We passed a full-sized tourist coach heading the opposite way along Wiseman's Ferry Rd. Some of the corners would be heart stopping for cars or bikes with a bus coming at them all over the road.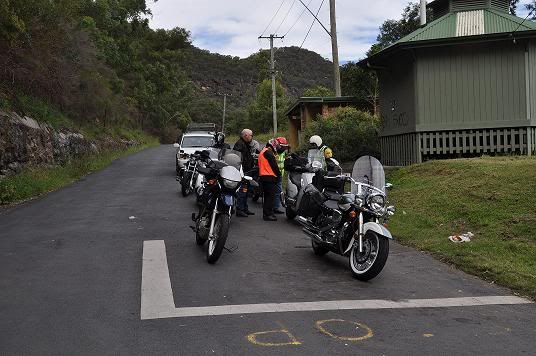 Wiseman's was a nice relaxing break in the park. (not on a corner Peter) I was surprised that we had all riders we had started off with. I was thanked by many of the guys for being the leader for the day. Not sure if it was genuine thanks for a pleasant and enjoyable ride or gratitude for not getting them lost.
As we headed back, Eric David, Alan, and Phil turned left at McGraths Hill, and the rest of us proceeded through Windsor, by passing Richmond via Hobartville and through Agnes Banks, Yarramundi, Hawkesbury Heights, etc, etc, to home.
Another great days' ride with fantastic blokes. odometer was 320kms
Thanks to all for making these days so memorable
Jeff G