Will try and keep this brief as I guess Switzerland has been done to death by the people here but here goes...
4 off us all took a two week break down the the Valais area in South Switzerland to Eischoll high above the valley. Had great apartment there and the Dutch owners were excellent in their communication and can recommend it. The apartment was on ownersdirect.co.uk and was property ref SZ635.
Bonus was it had a garage which easily took our four bikes, which were two 650 kawasaki Versys, a triumph 955 and and K1600 beemer and the two balconies front and rear were handy for drying out the tents.
Very quiet in September but a very nice Swiss village and loads of walking available but with the mountains beckoning and a bike why walk, are you mad??
It had 3 bedrooms with twin beds but we dragged one out and stuck it in the lounge as two snored quite a bit and Rob's snoring would shame a bear in a cave, more like a jackhammer in a steel drum tbh.
Always a little wary when booking these things and winging large amounts of dosh into a foreign account but rest assured this one is legit and everything went according to plan. The villagers looked a little bemused with 4 bikers turning up.
Anyways, South Switzerland came as a bit of a nice surprise, quite different from the Bernese Oberland I had been too before and the Towns and villages nestle high above the valleys which the whole of South Switzerland appears to be one big long one with varoius ones jutting oof at angles. We did the Simplon pass down to Lake Maggiore, you are only 25 miles away from the Italian border so can hop across the border to stock up on some cheap plonk and food. The Grimsel, Susten Furka pass loop is not far and a good day trip to do, Zermatt is not far although we didn't go there. We travelled down to Chamonix on a day trip as well to see the Mont Blanc massif.
We traveled through the UK from Devon and took the chunnel across, through Belgium where we did a fair bit of offroading on what the Belgium's call motorways, man have they got some serious potholes on them. We arrived in Luxemburg onto billard table smooth roads and camped overnight. Next day we struck out for the Black Forest and rode the epic B500, what a stunning roads, if you ever get the chance GO!. We camped again at a place at
http://en.camping.info/germany/baden...alisehof-18945
Not far off the epic B500, nice helpful English speaking owners, fantastic showers and toilets and some very reasonable grub and some great beer all at good prices, downside is there is a timber yard right next door so if you are planning a lie in then be aware!
We did the rest of the route down and stopping off near the Swiss border to take in the sight of the Swiss alps looming up in the distance, this is a great way to enter Switzerland from this way.
Following Gary's uncanny sense of direction and his built in Garmin on his K1600..... we soon got lost... and completely forgetting my warnings about there being a rather large mountain range in the way we ended up at Kandersteg and onto the road train.
I remember him saying something about a ferry which of course are ideal for traversing mountain ranges, Oooo how we laughed...not. Sure enough it cut some miles out but is was about £15 each and was er ..erm.. different to say the least.
Bikes are taken they are limited I reckon that 6 would be a maximum on each run, but you have to ride down the full length of the train and into the front carriage going south then out the side door, and if you are going north exit back through the train so make sure you point in the right direction going North as it may not be obvious when you go on the train and Rob went back that way but as they got him on through the end of the carriage via a door he ended up the wrong way round and turning a bike around in a narrow carriage was apparently tricky.
I would not have laughed, no really. Okay I chuckled
Anyway back up through Interlaken, camped Belfort France and home across the Ferry. 2700 miles in all so not too far.
A few photos
Alps in the distance
Grimsel
Played spot the Harley on the way up, ran out of fingers after 2 minutes Rob, Andy,
Gary
Me and my Donkey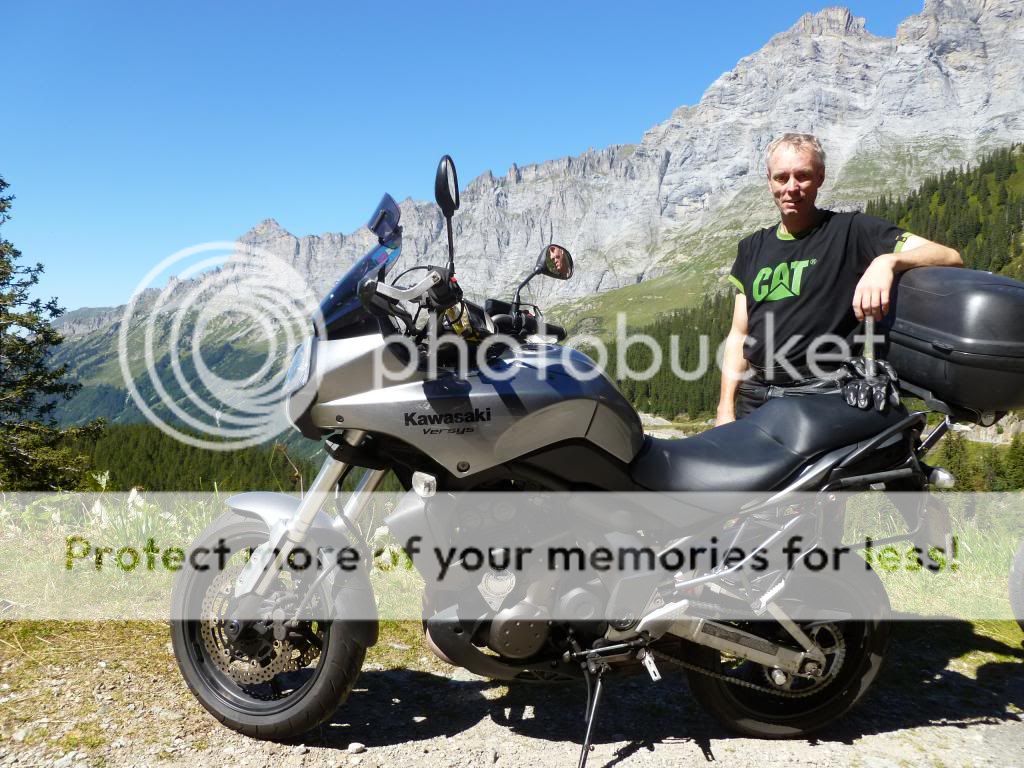 More twists and turns than a twisty turny thing
Way down to Chamonix
Chamonix
I took some helmet cam footage as well but will not bore you anymore.
Anyway plan for next year Spain and Morocco.