My brother recently picked up a V-Strom 650, and I've been tinkering with a new to me 2000 R1150GS. As he lives in Medford Oregon and I live in Portland Oregon, we decided to meet up someplace in-between on our new bikes. Chris heard about some hot springs near McKenzie Bridge, so we decided to meet near Springfield and spend the weekend exploring the area on our bikes. This was the first time Motorcycle Camping for him, and judging from his smiles, I don't think it will be his last. I'll tell the rest of the story through pictures. Enjoy.
I showed up early at our meet up spot, Hendricks Wayside, near Springfield. I took the extra time to walk around and stretch out a bit from the run down I-5 from Portland (not photo worthy).
Bit of history of the area.
Nice looking home on the McKenzie river.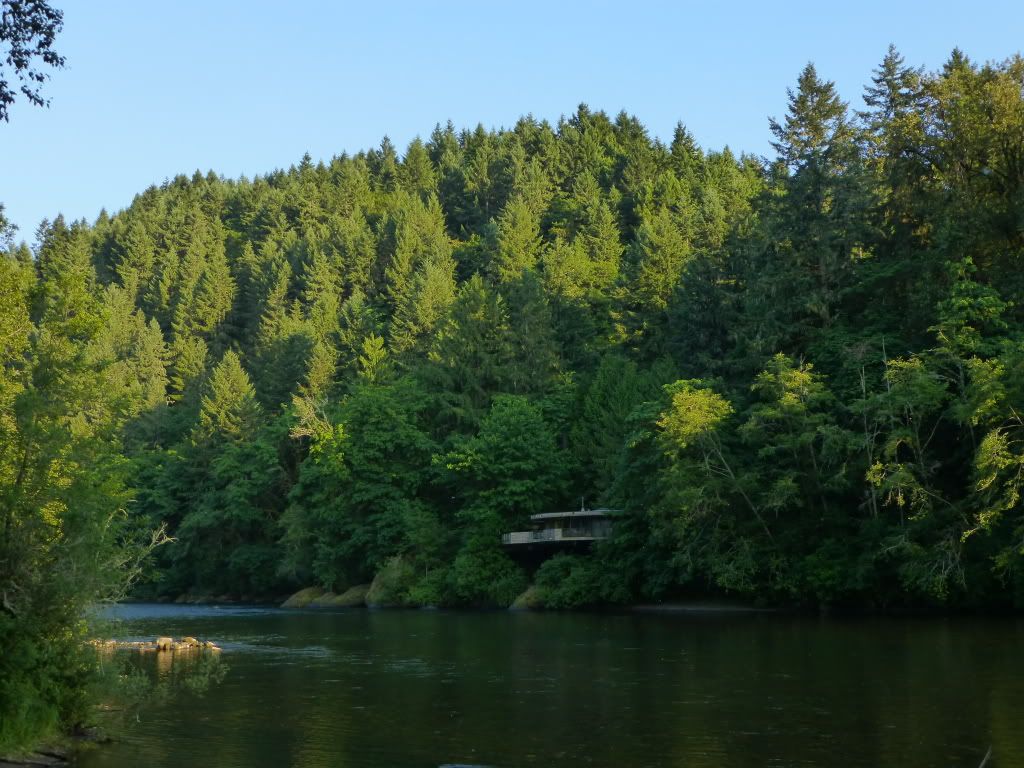 Chris showed up on an awesome looking DL650 he got a great deal on. He actually packed it pretty smartly for his first mini-tour.
We then took a high speed run up to the McKenzie Bridge area. It was great to ride with my brother (Our first ride as adults together on Motorcycles). Had to reel in the big 1150 a little bit for him (his bike is newer to him,than mine). Ended up camping at the "Delta" campground, just off the Mckenzie River. It was a very nice and private campground, and had the greatest tasting cold water. We got there right at dusk, set-up in the twighlight and had some tasty Mountain House, and got caught up.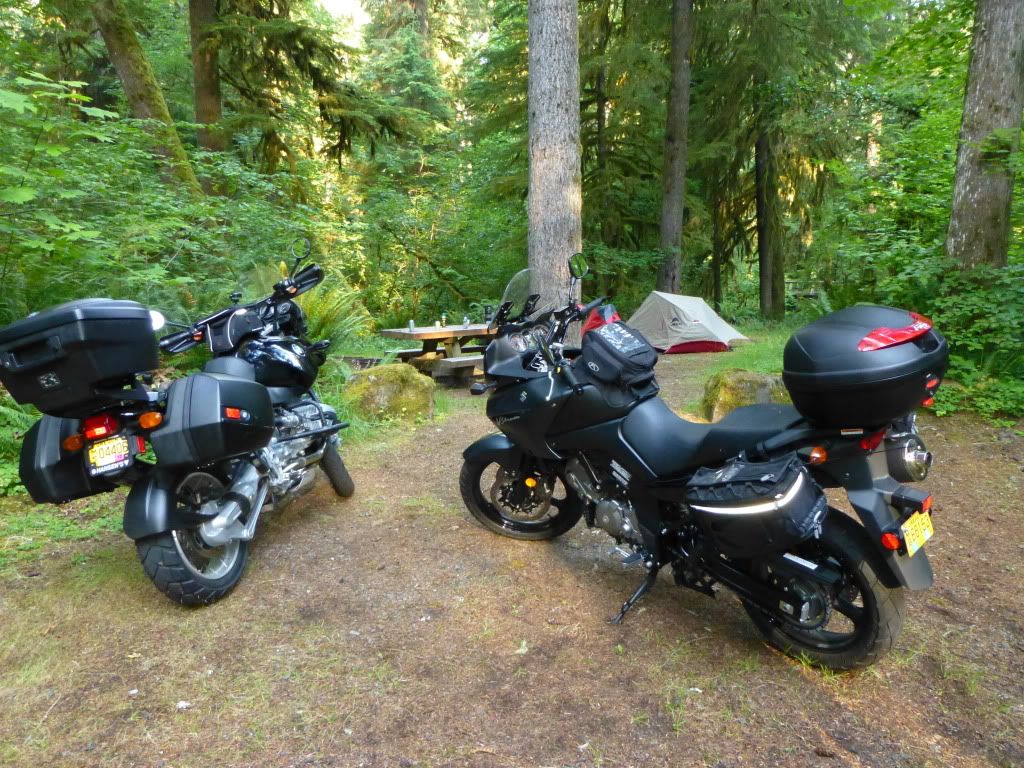 We got up early the next morning to go to the Cougar Hot Springs and soak before breakfast. We left our geear in the tent and ran down Cougar Lake to the trailhead ($6 I think). It was a little farther than I thought, but was a crisp and cool morning, and great to be alive.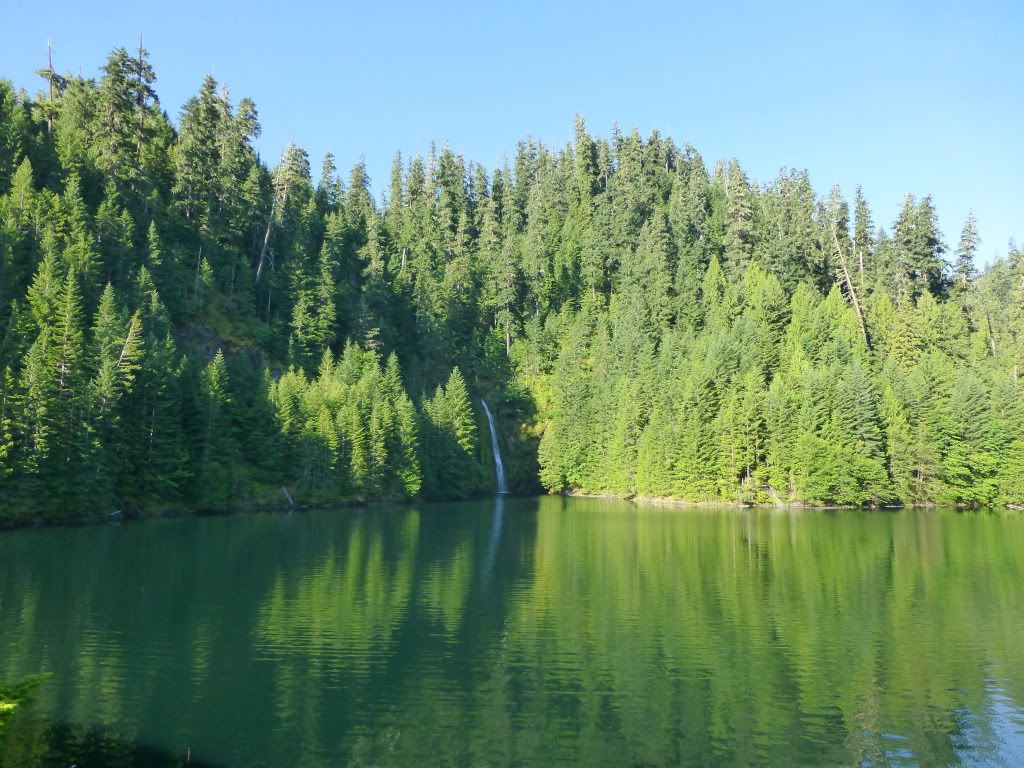 It was a pretty 1/4 mi hike to the springs through some old growth forest. Can you tell they get a lot of rain here? The trail was clothing optional as well as the hot springs, and it was used that way (Not by us).
As we approached, I thought this was the springs, but instead it was the worlds most peaceful shitter.
Sorry Pervs, no picture of the actual hot springs. There are 6 pools of progrssively hotter water and are very nice. They also aren't as Sulfur smelling as some hot springs can be. Even as early as we were, there was still a number of folks there already - mostly of the old, and wrinkly type. If you want a picture, go there and take some. Us, we just soaked and relaxed for an hour or so, then split.
We were going to try and fin a diner to eat at, but choose the wrong direction on the highway. 30 miles later, the first diner we come to is packed. Chris and I are the same when it comes to being patient...we aint. So instead we grabbed a quick and healthy breakfast at the Gas Station accross the street. Well...quick, anyways.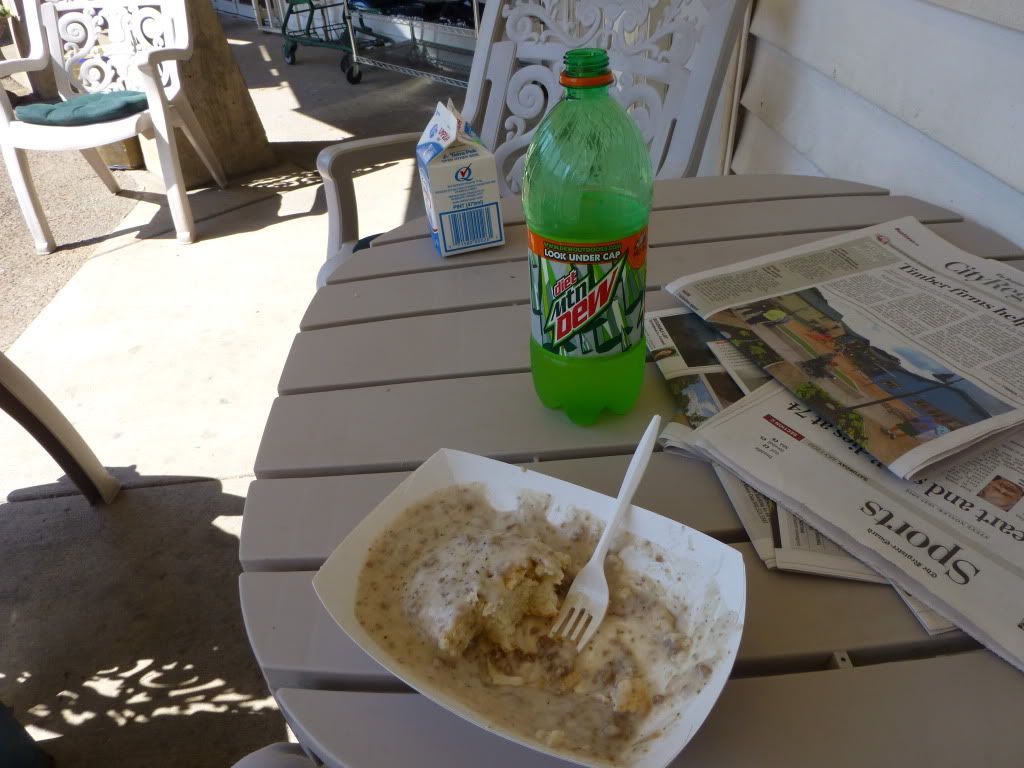 It was actually pretty good food - for a gas station. Its amazing how many gas stations have biscuits and gravy. And it's always $2 for a small and $3 for a large. Fills you up for breakfast and lunch.
After breakfast, and an improtu Inmate meetup with AppleJam of Hood River fame, we ran up to Clear Lake and poked around a bit. They don't call it "Clear" for nothing. I don't know what the visibility was, but from the dock you could see trees standing in the mud below you. But it was getting hot and we were getting zapped from the heat. I started thinking of a nap...its was the weekend after all. We found a nice campsite in the Ice Camp Campground south of Clear Lake, but Chris went looking for a free site, while I "Guarded' the first site. Okay, I actually strung my hammock up and had the nicest little nap I've had in a long time. It was cool in the trees, and after a hot morning and afternoon + a beer stop soon after arriving, it was a real treat to snooze for a few minutes.
Gratuitous shot of my R1150GS. She's been quite the mistress lately.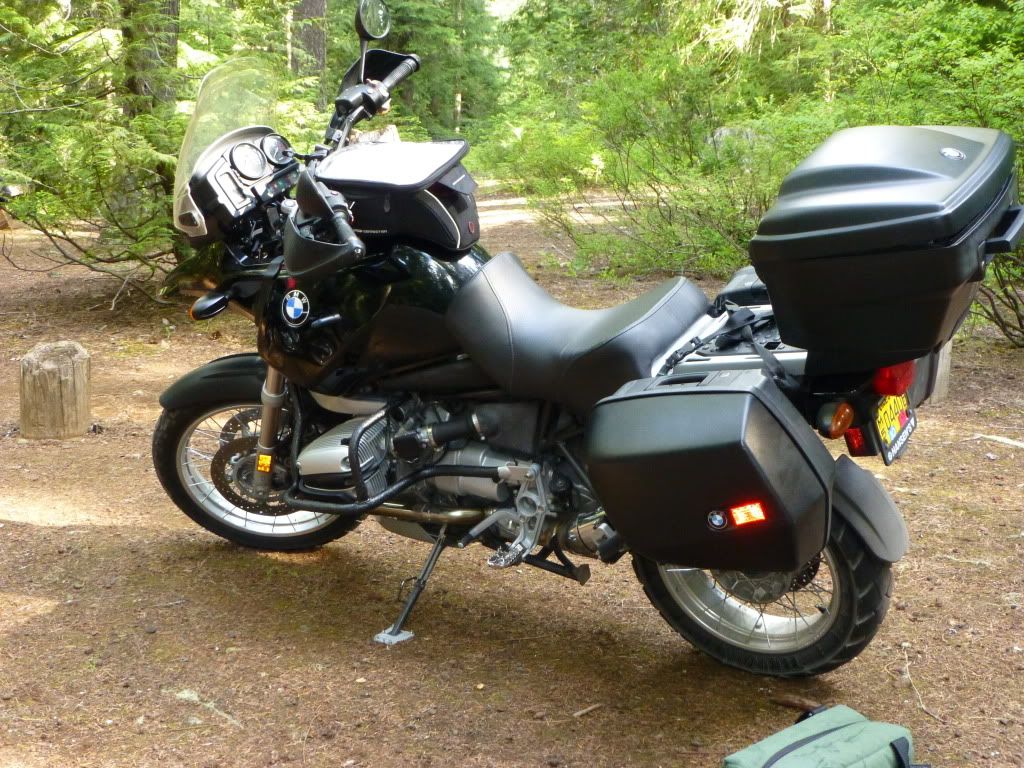 Packing up at the Ice Cap Campground the 2nd day. From there we headed back to Mckenzie Bridge and had breakfast then headed down the Aufderheide Dr down to Oak Ridgde. That is an Awesome motorcycle road and should not be missed if you are in the area.
http://www.gorp.com/parks-guide/robe...cid402080.html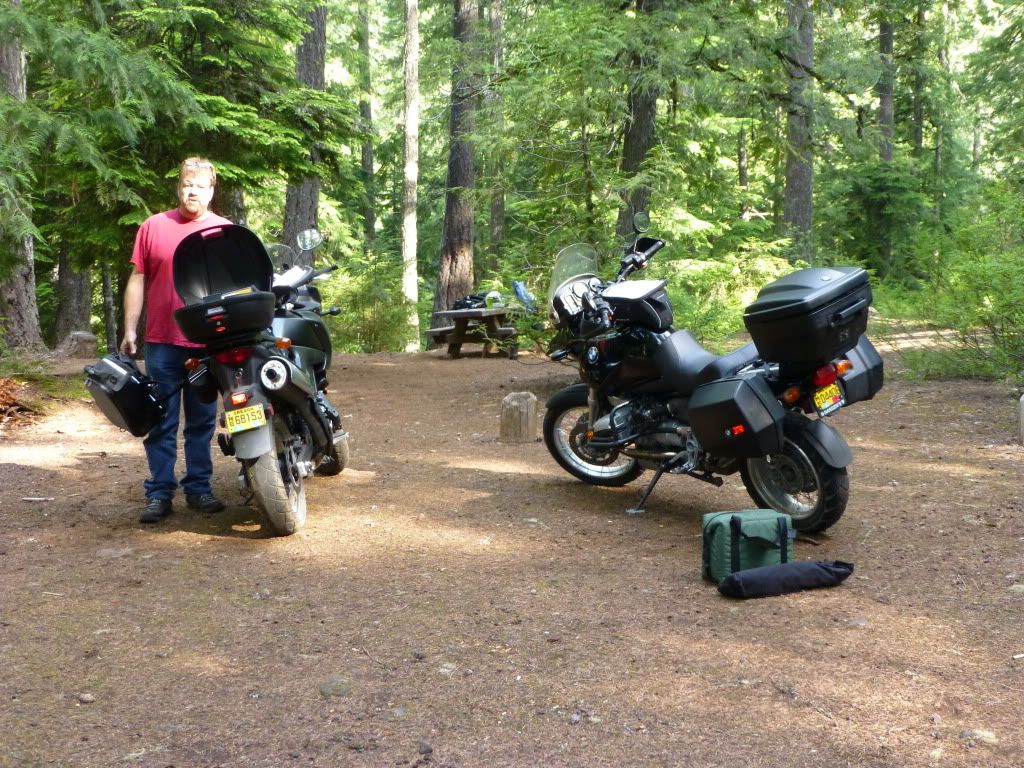 Some dam place on Cougar lake.
Pretty views abound.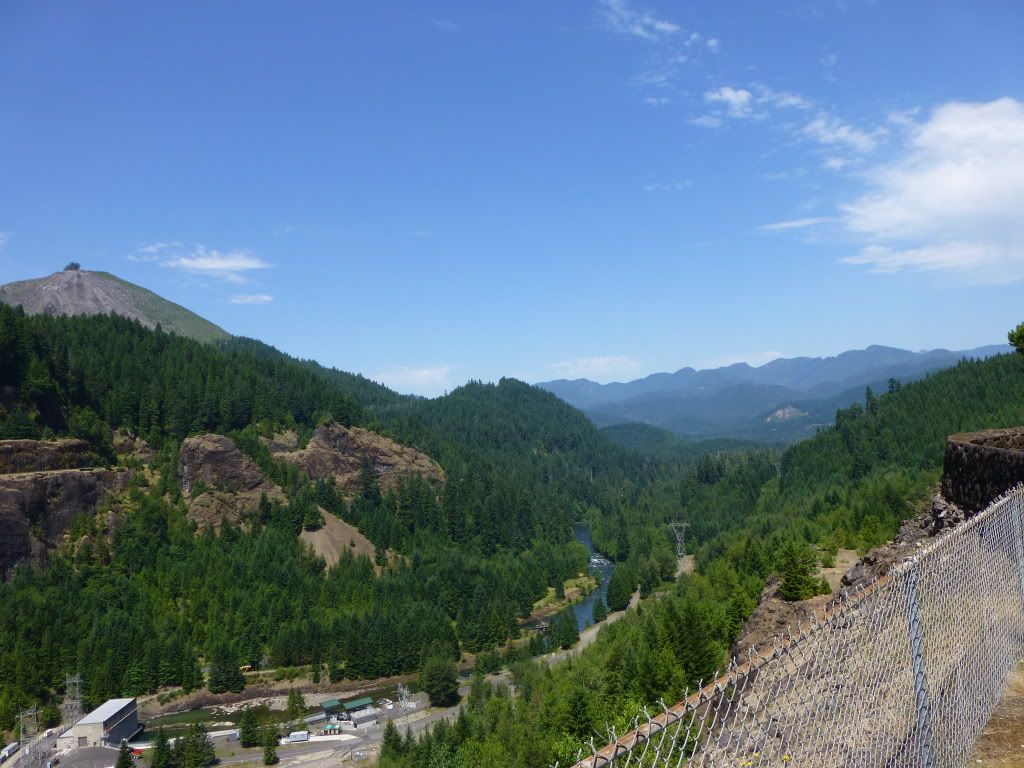 Random sightings along the Aufderheide. There be pirates that camped here recently.
'Rum' Beach
Once near Oakridge, we started noticing the large number of covered bridges in this area....dozens actually. It would make a fun tour to hit them all.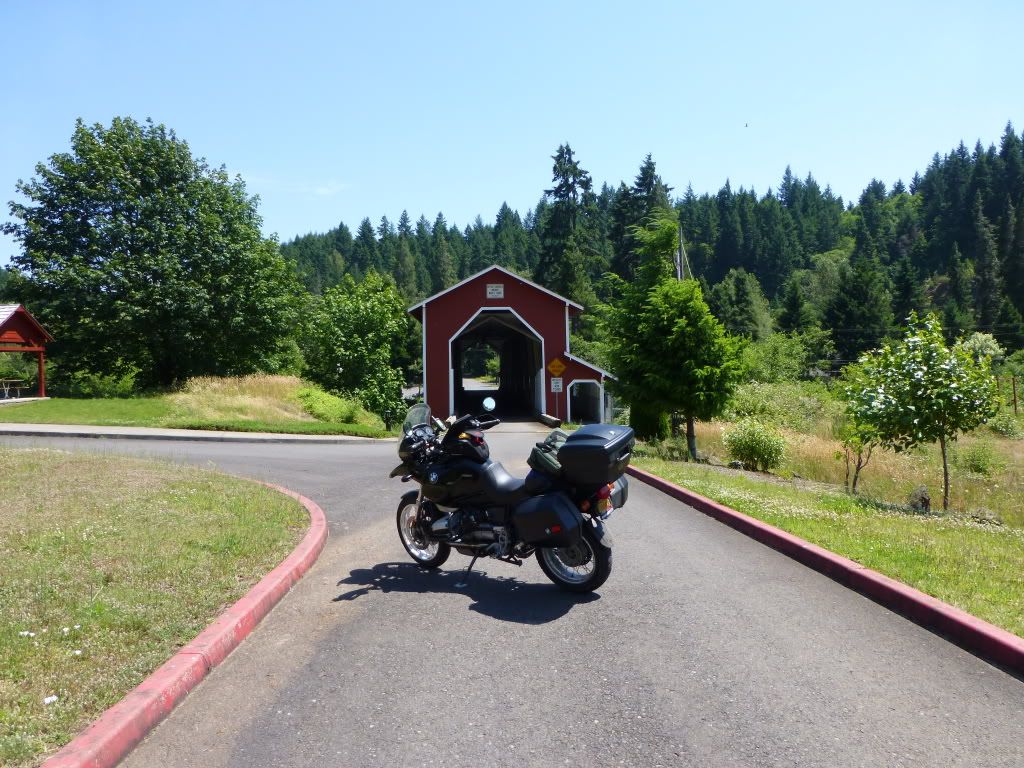 Chris says "Later Bro", and heads uphill toward Crater Lake on the way home, while I run paralled to I-5 up through Brownsville, Sweet Home and Silverton. All the while, slowly melting on my bike (95 degrees and humid out). I finally give up and hop on I-5 near Woodburn and get home in time for a cold shower before dinner.
Good trip. Fun to hang out with my brother and do the road trip thing. Next time...more dirt!
-= Scott