Day 9 –Sunday , July 29, 2012 –Bradfield, Campground, CO to Eurkea, Co
John tried sleeping in a hammcok this night and I think he froze a little bit – funny how those hammocks sleep cold. The plan today was…"head northish". First stop was just down the road to Durango. As it had been a couple of days since we had good cell service and civilization, we ran a few errands (liquor store, grocery, lunch) and hung out next to the river to call loved ones. Durango seemed nice, and in a cool little valley.
From there we just stayed on the freeway and enjoyed the ride up to Silverton. There was quite a number of Bicylists climbing the high 10,000+ foot plus summit. There was a rest area near the top where we took a little break and talked to a few of them. These guys and gals were loving life at the top, but passing them on the climb they looked a bit miserable. We got a good recommendation for lunch at "Handlebars" in Silverton. We ran into a few showers along the way today.
Handlebars was a nice little café in the touristy little town of Silverton. The views around Silverton were majestic but shown the scars of a mining past. We decided to look for a campground close by. We questioned a few folks in town and decided to head up the valley after hitting the normal stores (Grocery, Gas and Liquor). We passed some really nice looking spots right next to the river outside of Silverton, but we had accidentially switched into "motoring mode" as we were awed by the scenery and ran further up the valley to Eurkea. Even though the campground looked more like an RV park. I kinda liked the idea of a organized spot where we could burn for free, have a table to get our dinner prepared, some water, a shitter and I was hoping for a shower…got all that but the shower.
The campsite is on the grounds of the old mining town of Eureka. There were a few interpretive sites and it was sad to see that there was only a building or two left of the original town. Instead you have "a town" of RV's pulling all sorts of 4 wheeled adventure vehicles. There were probably 40 occupied sites and nearly ALL of them had RV+Toy set-ups. Surprisingly, we were the only ones on two wheels. So as we had a reputation to upload we immediately scavenged some wood, built a raging fire, and began drinking. Somebody was pretty much toast before mid evening – I'm not saying who.
There was a cool quartz vein above camp that looked like it had been mined before. They had literally blasted out a hole through the mountain in the past and now there was a raging waterfalls coming out through the mining tailings. I wish I knew more about the site, but it was cool hiking up there later in the evening with Jessie.
Didn't take many pictures today, sorry.
Coming into Silverton – Note John's Rain Gear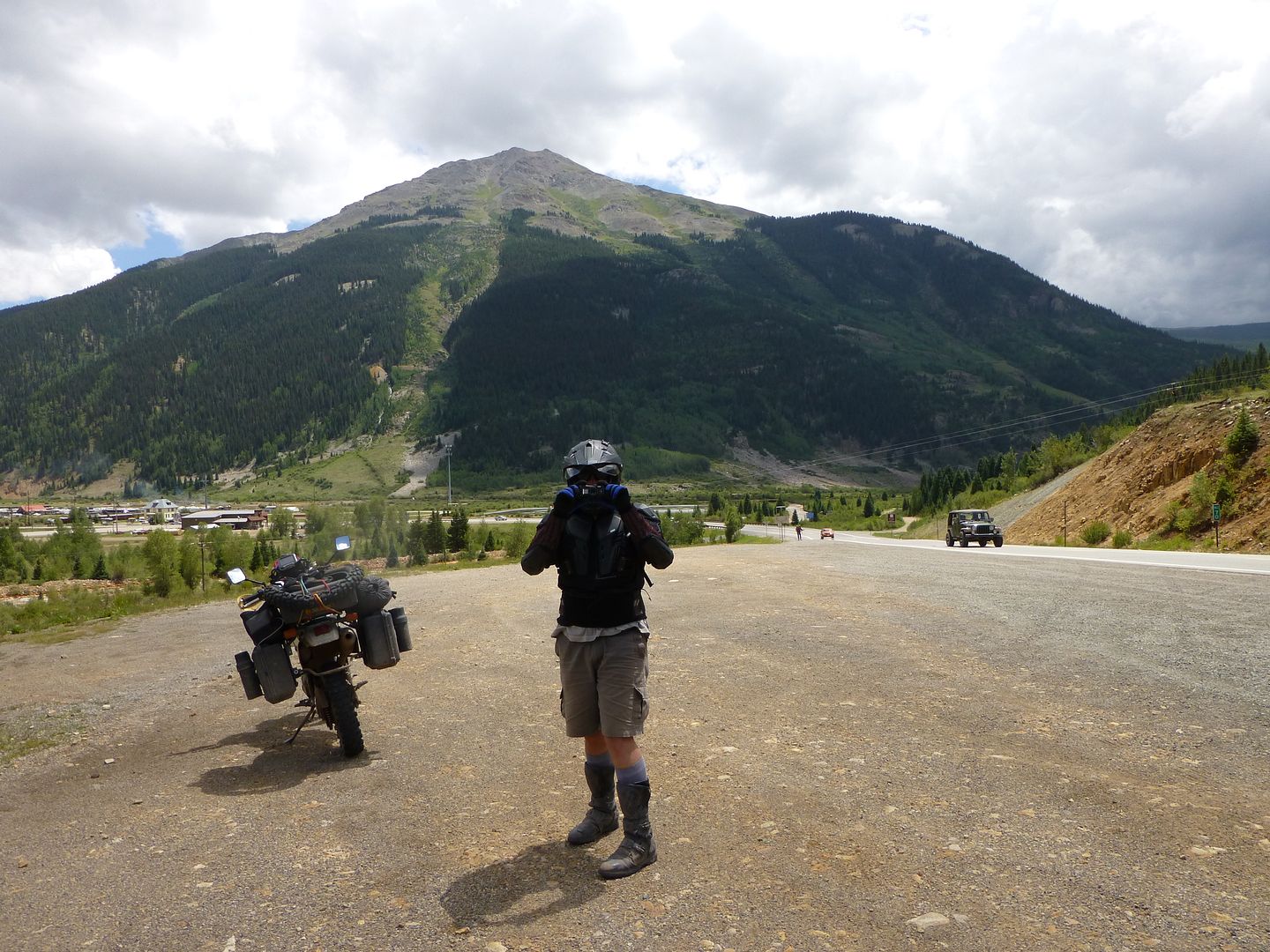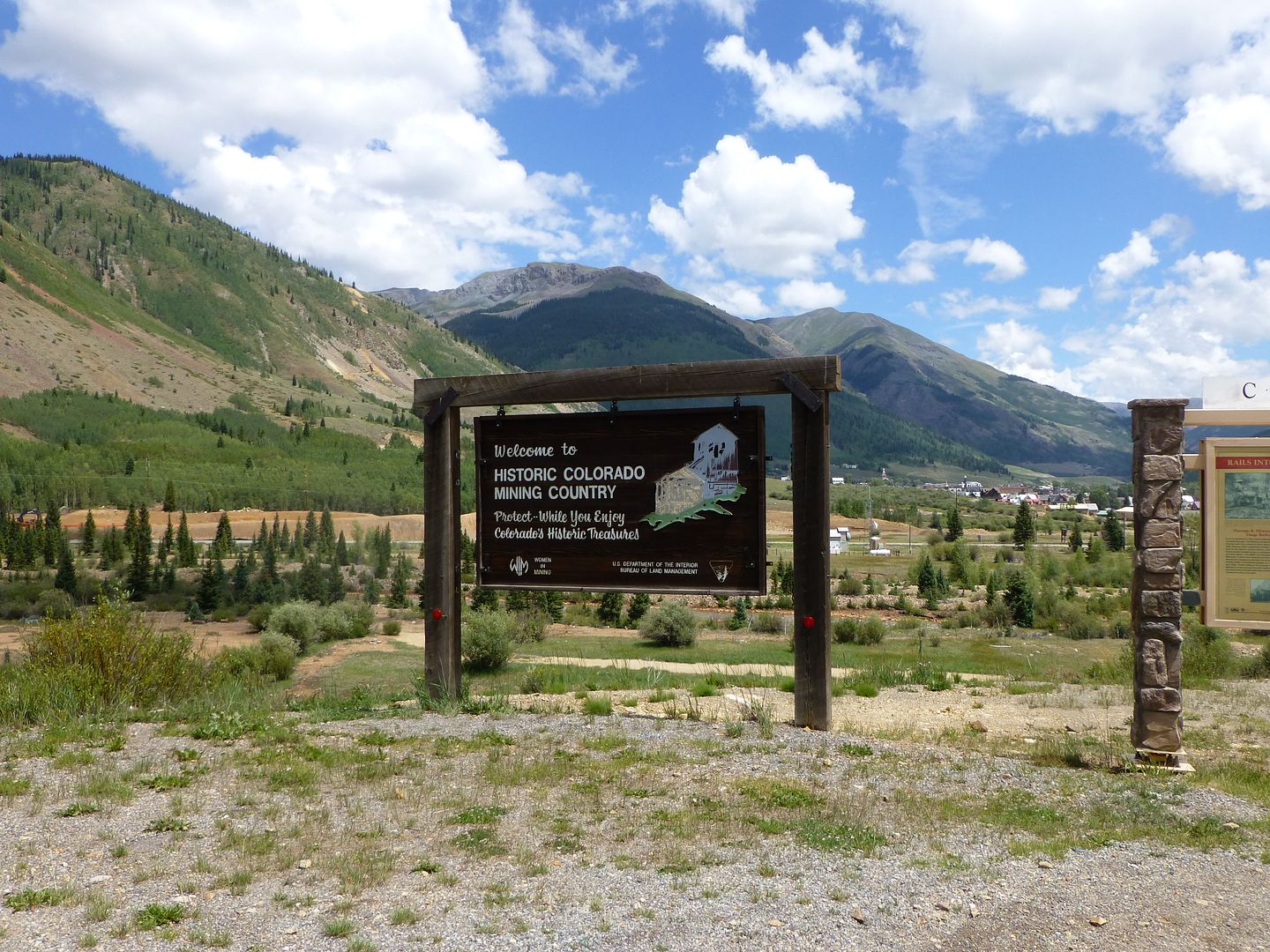 Looking back the way we came.
Things look better after lunch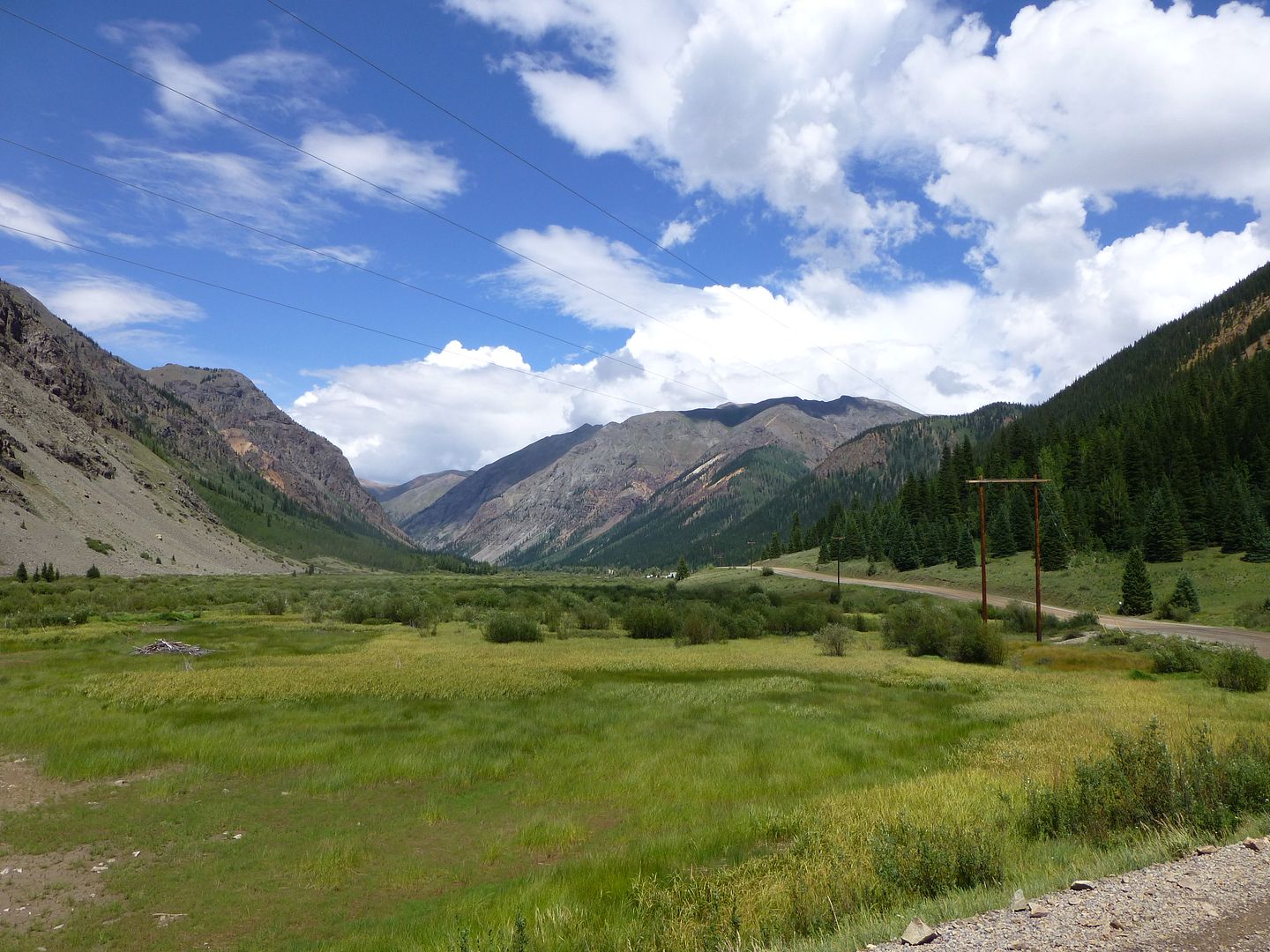 Jessie does this again
John Supervising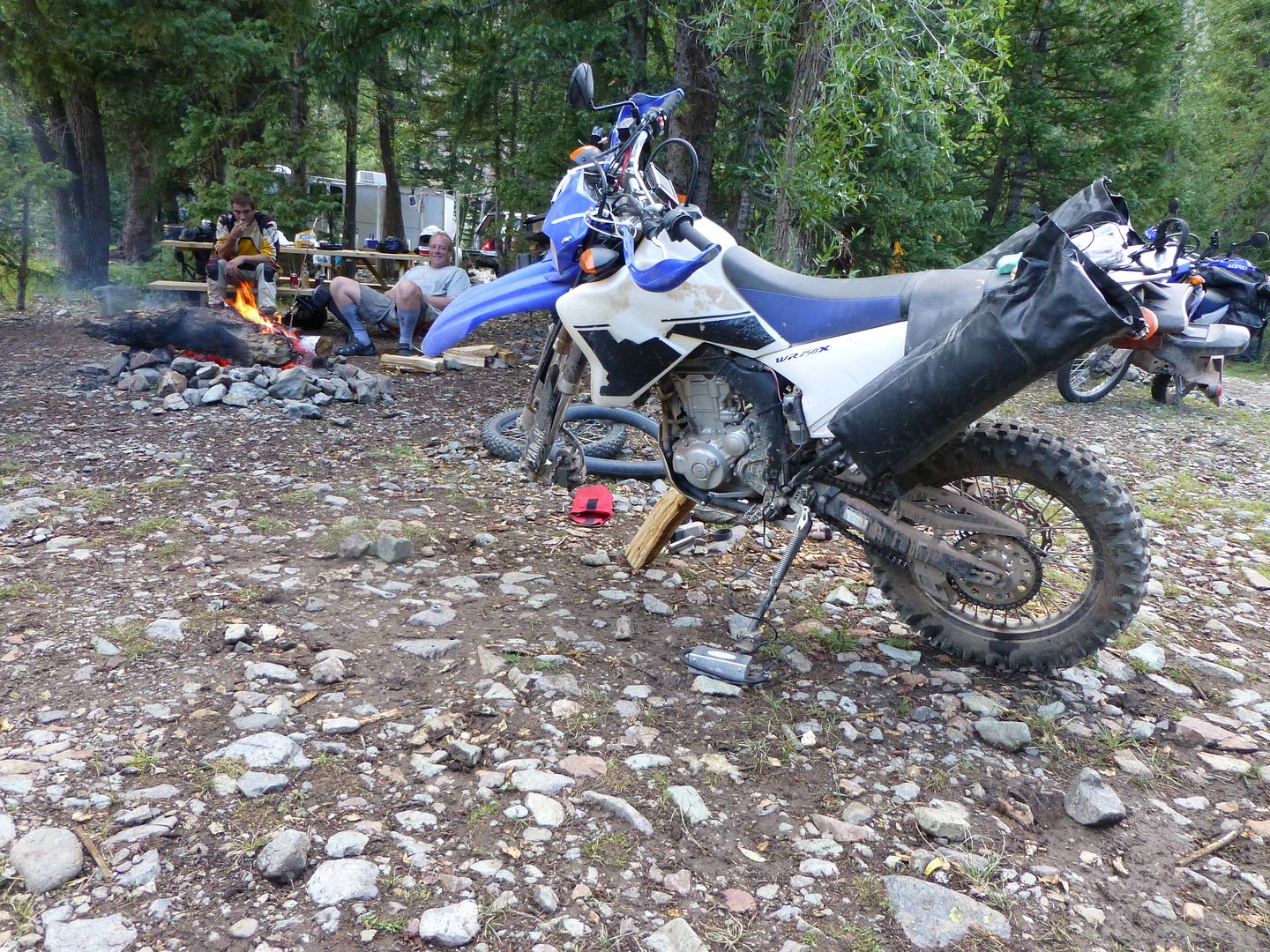 I call this one "nom nom nom nom FYYFF"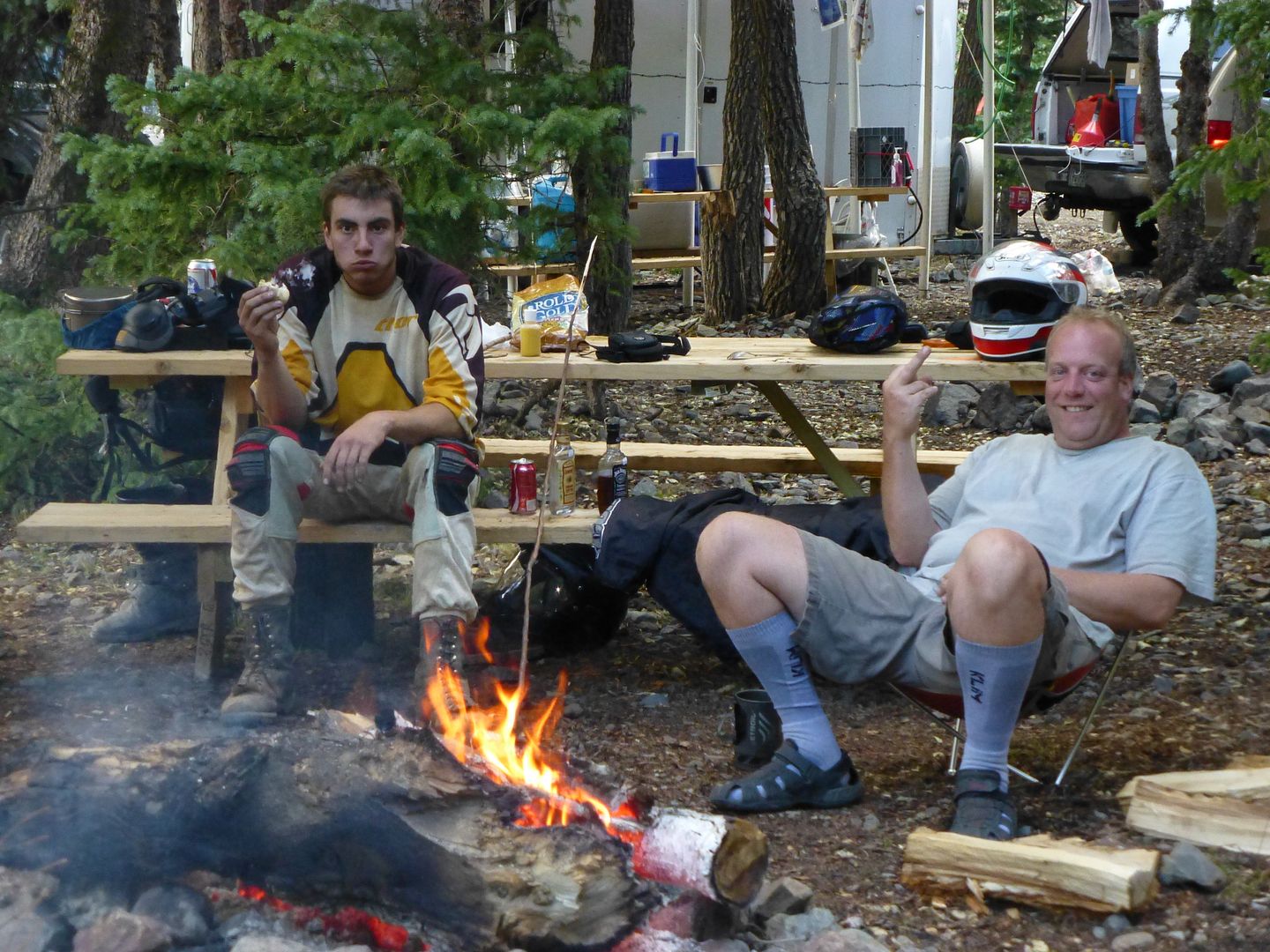 Not the softest campground…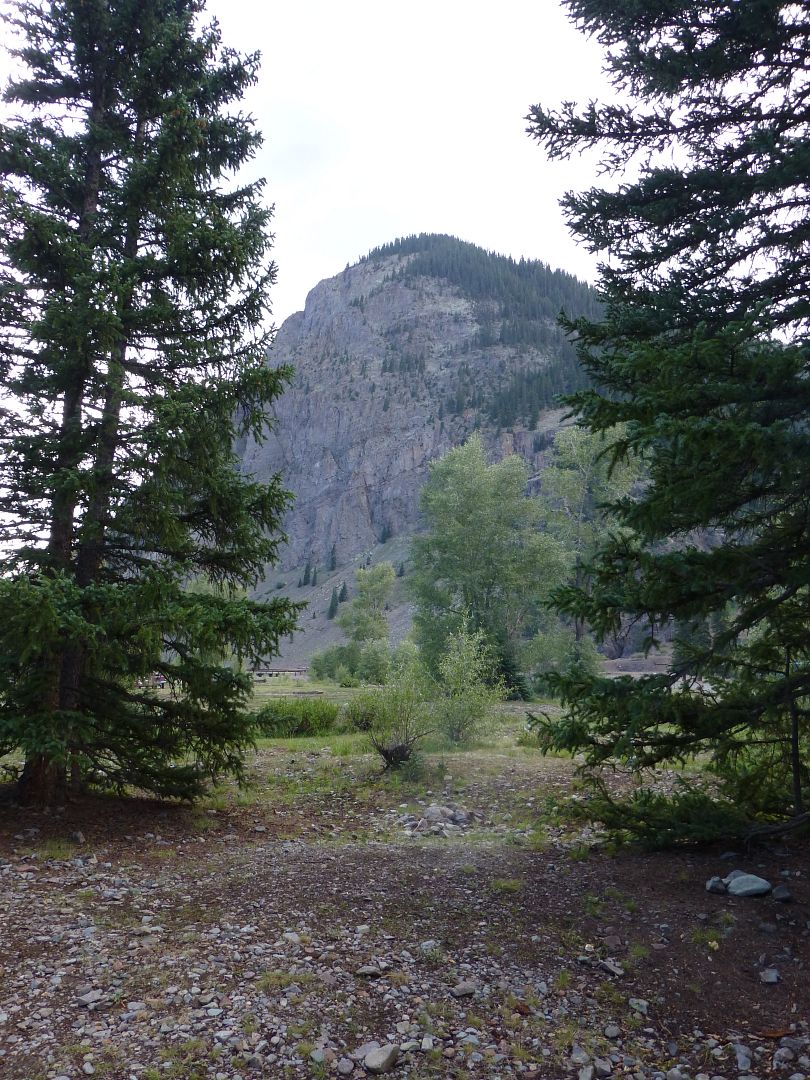 … but the views make up for it.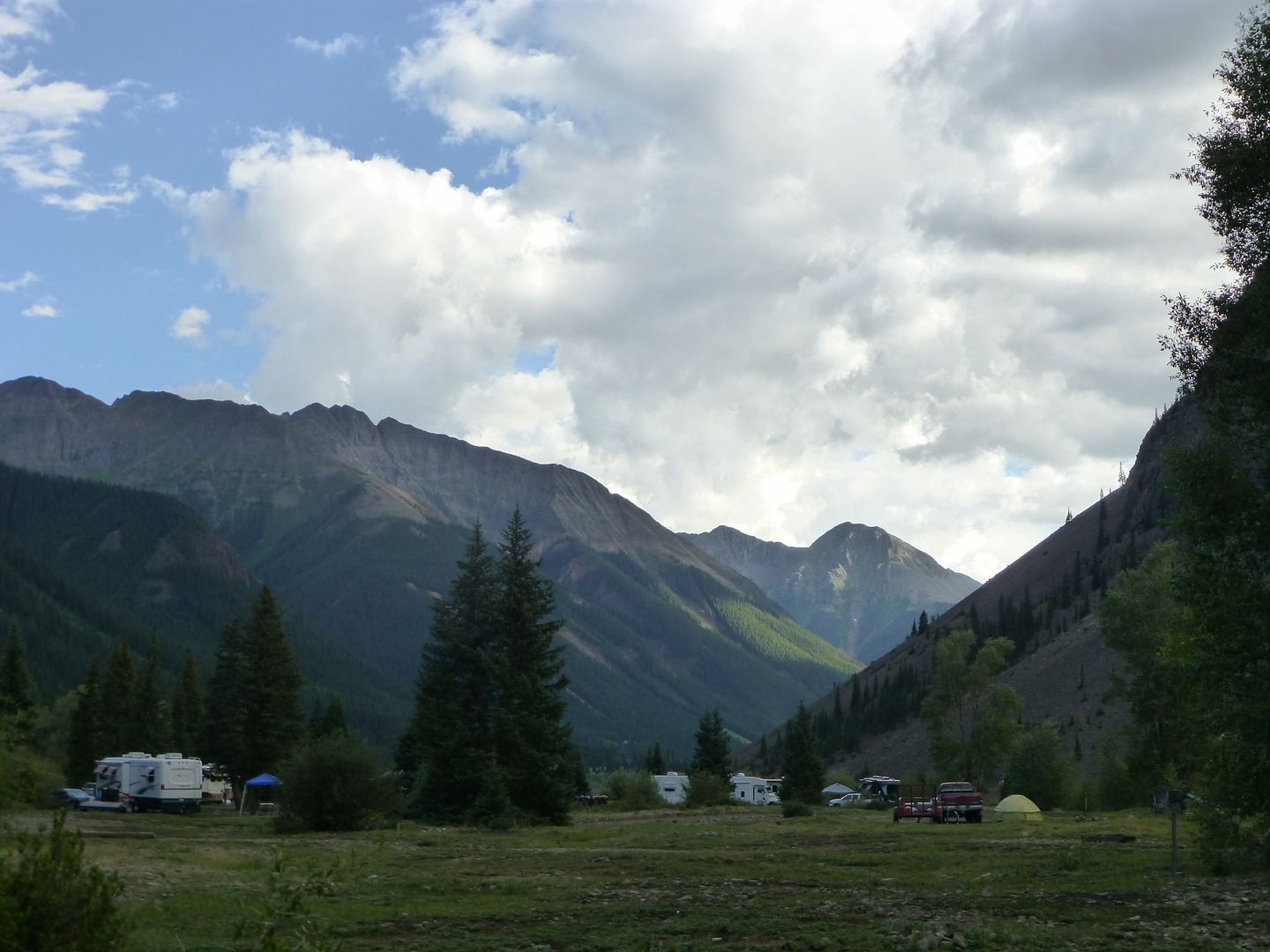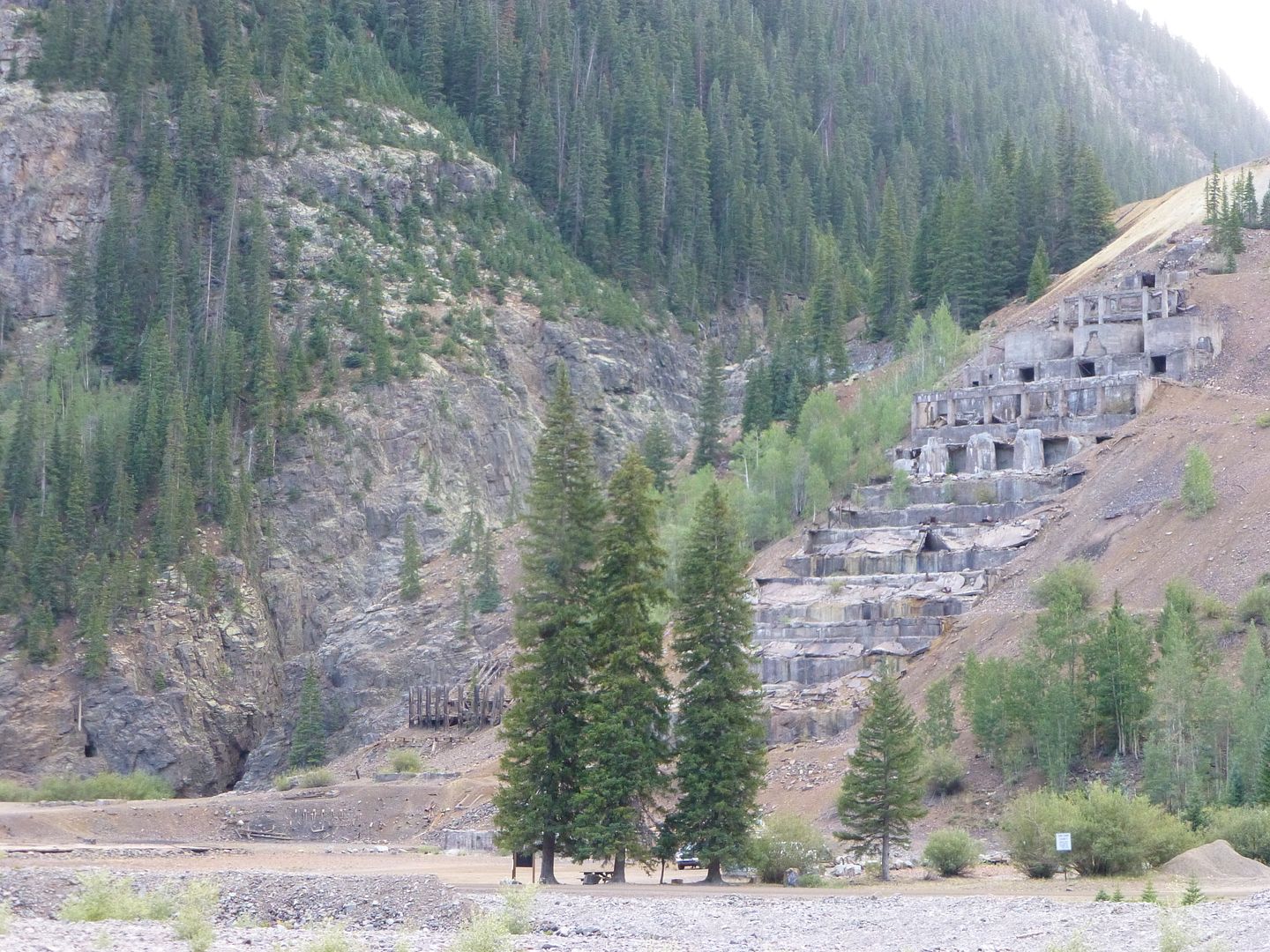 My tent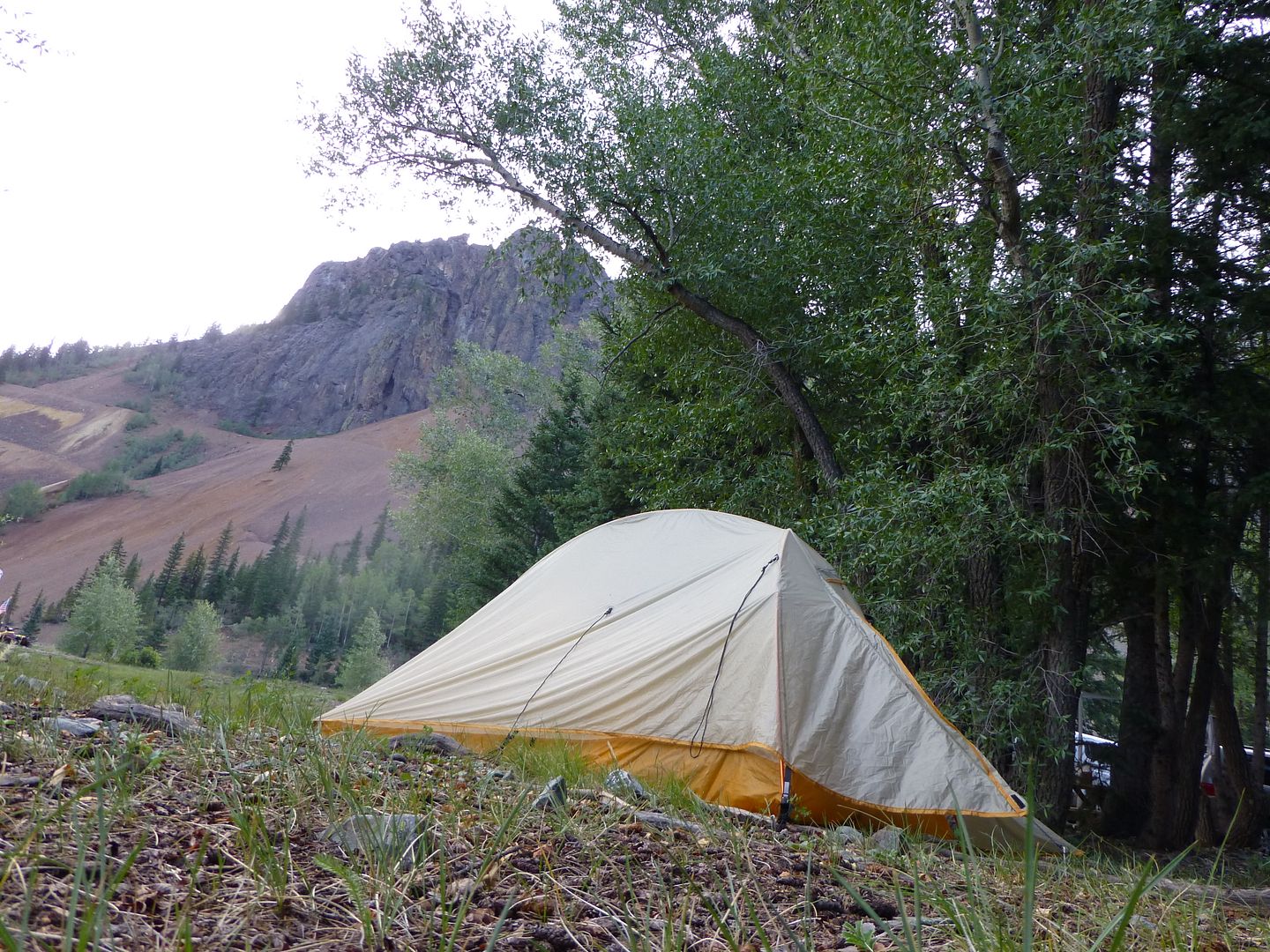 The falls behind camp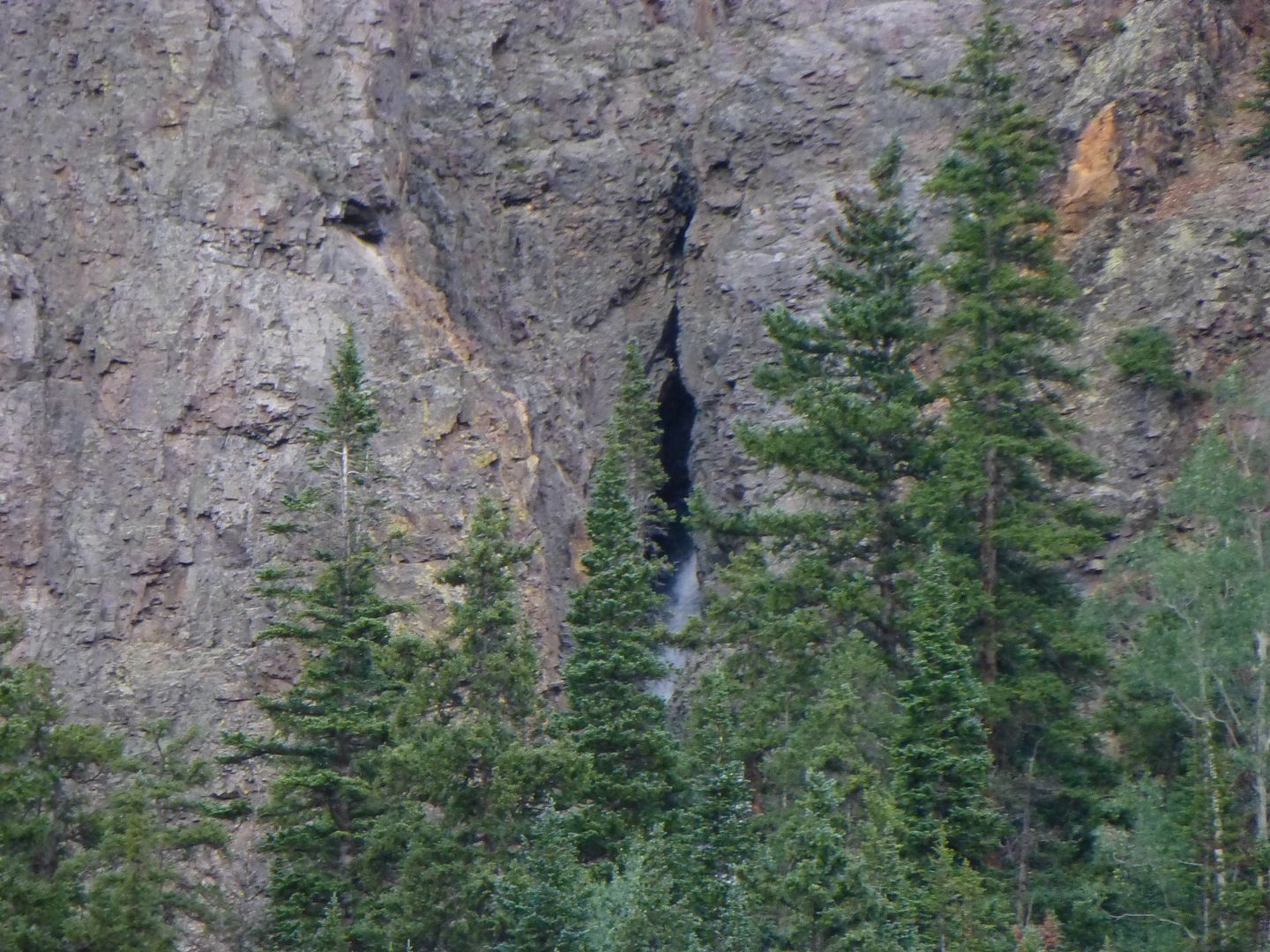 Evening hike to the falls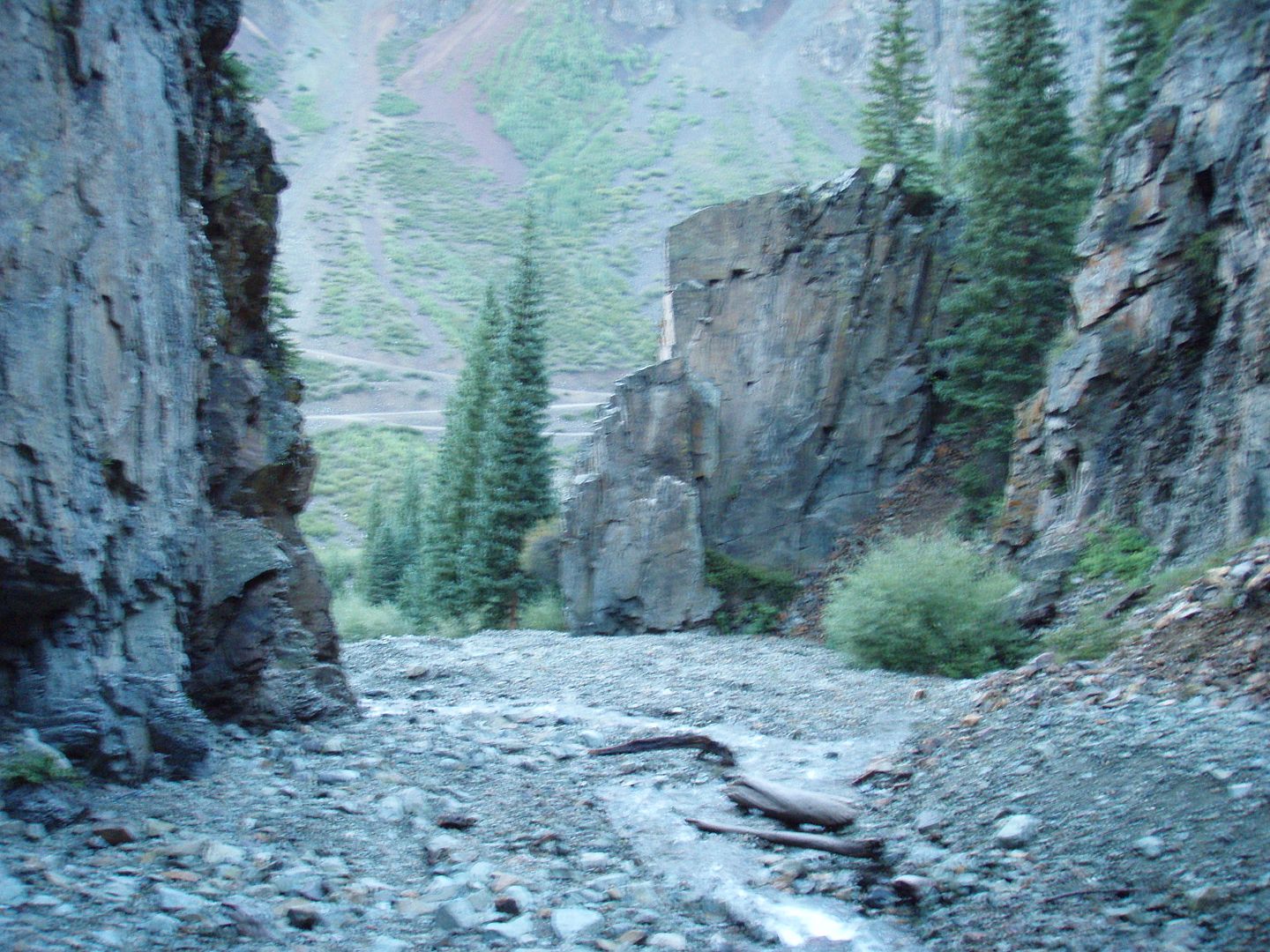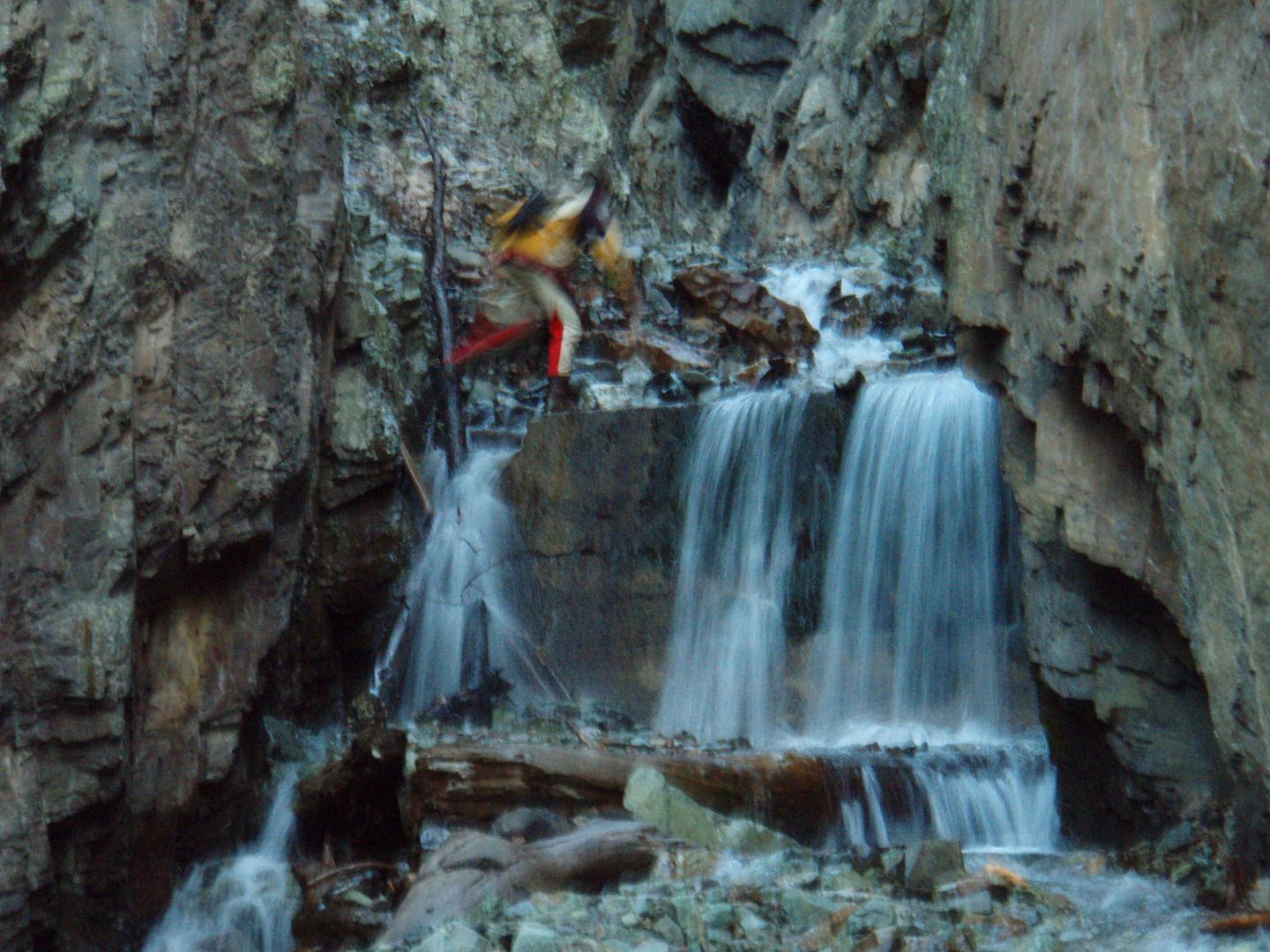 I'd like to come back and ride all of these…
Tomorrow – A high GRAND pass!