Moto-Kafe
now has a Direct Account with "
ROK Straps
" and feel we can offer them to fellow ADV Riders for cheaper than anyone else!! We carry (5) different strap color combinations in the 1"W x 54"L Motorcycle Straps, and (3) colors in the 5/8"W x 42'L Pack Straps.......both size straps are rated for 100lbs load capacity. These straps incorporate "loop" ends (no more paint-scratching hooks) for securing to your bike, along with a snap buckle sytem, plus an elastic material which stretches and guarantees a constant "tightness" around your Dry Bags, Tent sack, Cooler, etc. Bungie Cords served their purpose back in the day, but would easily dry rot with exposure to the sun causing a safety hazard when they finally failed (think "popped in the eye", or your contents coming off your bike at speed). ROK Straps are modern material technology with Motorcyclists in mind.
The 1"W ROK "Senior" straps come in the following colors which we keep in-stock: Cruiser Black, Hi-Vis Lime Green, Black w/Blue reflective piping, Pink (for the Gals), and KTM Orange/Black stripped. They are priced/sold in pairs.....2 straps to a "card".
The 5/8" ROK "Junior" straps come in Black, Lime Green, and the Orange/Black color offerings, and again, are sold in pairs.
PRICING:
ROK Strap
requires all its Dealers to sign what is called a "Minimum Advertised Price" Policy (or MAP) in which the "Advertised" prices are set by ROK Straps, not the Dealer selling them. Please note the terminology used: "Advertised Prices".......which are defined as prices shown on printed materials, Store Websites, Ebay/Amazon.....basically, the Internet. What the Dealer sells the Product for "offline" (or at Local Events) is Fair Game......the Dealer can charge whatever he wishes. Therefor, Moto-Kafe will not "publish" its ROK Strap Prices here, but is happy to quote you a discounted price via PM or
Email......Moto-Kafe@bellsouth.net
.
Look on Moto-Kafe's photo-Website at
www.Moto-Kafe.smugmug.com
to view all the Products we offer for sale for Moto-Enthusiasts. Group together all the products you might be interested in and send us an email with your shipping zip code. We will give you an itemized costs including a total USPS shipping amount. Paypal/Personal Checks/MO's accepted as payment (sorry, no CC's...... yet).
Happy Riding!!!!!
mark444 @ Moto-Kafe
ROK Strap "Senior"...........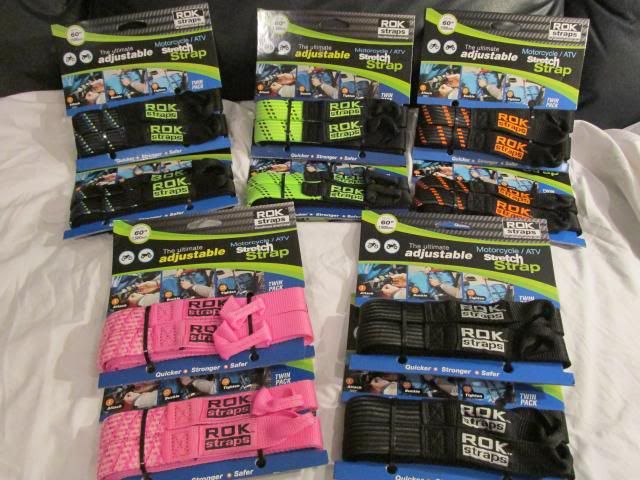 ROK Strap "Junior'.............