I just completed a 10 day trip and only used the iPad Mini as navigation alternating between Sygic, CoPilot, Motion-X GPS Drive, and even a little Google Maps when I was in cellular coverage. Sygic and CoPilot were my defaults but the more I used Motion-X GPS Drive, the more I liked it. All 3 had offline maps, streaming bluetooth music and turn by turn to my Sena SMH10 that worked exceptionally well. Plus, I had TripAdvisor, NOAA Satellite Weather and the entire internet at my fingertips when needed. Fantastic set up and made the trip that much better. It's very hard to pick a winner from the 3 Apps as each has their own strengths, but all have very few weaknesses compared to the Garmin.
The set up worked like a champ with no issues. I'll try to find the time to do a detailed report on each of the 3 Apps and the iPad Mini set up but here's the short form.
Set up:
iPad Mini w/Retina Display (with cellular plan)
TechArmour AntiGlare screen protector
LifeProof Nuud waterproof case and LifeProof cradle
Various Ram Ball mounts/arms to the cradle (which uses an AMPS mount)
Powered by an SW Motech 12V powered tank bag
I still brought the Garmin 350LM in case the iPad failed and ended up using it mostly for one touch gas station searches and compass, elevation, speed, etc...
Also mounted the GPS Gen3 SPOT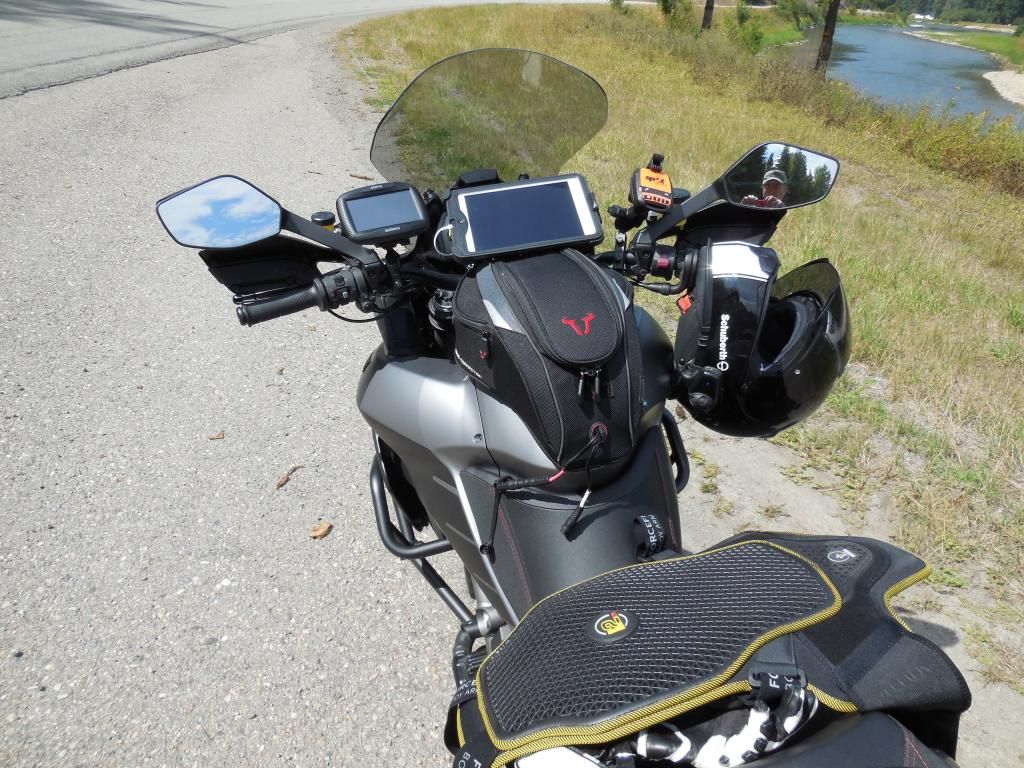 I won't be going back to the Garmin for navigation any time soon. Although I know the set up looks cluttered it was not intrusive at all and I had full visibility to my dash and all the gear was out of view unless I glanced down at it. The larger size of the iPad Mini screen made it easier for quick viewing and the added features of the Apps made the entire experience better than trips I've done with just the Garmin.
As these GPS Apps continue to evolve it's going to be very tough for Garmin and the like to keep pace as the overall functionality is superior.