Well, let me start off with a couple warnings.
There is no big Beemer or KTM content.
Some photographs depict ... dare I say it ... a car, and ... a trailer. I know, I know, but our bikes don't have lights or mirrors or even plates for that matter.
There is an ATV ... I don't ride chairs, but my buddy seems to have balance issues and decided to ride the cRaptor.
And last but not least, it's actually not really northern quebec, it's just 4h north of Montreal ... it looked like north anyways!
On with the report. Mandatory map ... not that it is very useful since it's the truck ride. But hey. I didn't outline our route only to let the picture rot on my hard drive!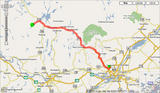 Too early am, we get going, and hit the road. Several mental notes. Make sure you removed your g/f's CDs from the car ... 4h of crappy music is worth a decade of chinese torture. At least. Oh, and Tim Hortons makes godawful breakfasts. The sandwich flew through the window, and disintegrated upon meeting the road. I laughed hysterically at my sweet revenge on the killer sandwich. I pwned him big time. Sucker.
Oh yeah, some road pics ...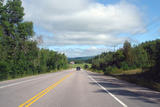 At some point we reached the Verendrye Park and headed for the campsite. Trails at last. Still in the car, though. A CR250 sucks for these kind of winding trails. We met some larger vehicles as well. You quickly get the hang of swift jerk to the right when seeing one of these coming your way.
An intersection, and a photo op! From the scenery, we could tell we were 20 minutes away ...
We got to the campsite, unloaded all our crap ... and promptly headed for the trails! The tent can wait. Trails were dry :(, rather tight, and lots of trees in the way. Perfect. I didn't even take a shot of the tighter trails ... doh.
Scenery wasn't bad either, and was good company for a little break. We even found pirates ... I didn't care since I'm a class 8 ninja.
With the abundance of lakes, we just had to go for some fishing. Good thing we'd brought our food, if you catch my drift. But again, the scenery saved the day ;). Oh, and that really is my hand's reflection, not the shadow. Thought it was cool.
And after 3 days, it was time to leave ... with the sun behind us!