Literally just got home from a day trip to Litchfield National Park just outside of Darwin, Northern Territory Austraila. If you've got a trail/endure or adventure machine, there are heaps of dirt tracks, trails and roads to take all around the Top End. But, if you've got something more road orientated, good trips are far and few between. I thought I would write this in the event that anyone is taking a trip north on their beloved road bike, that you will find some good roads and nice places to visit while in the Top End. I will be on the look out for more road bike friendly routes in the coming months. Enough of that!!
I also take this opportunity to review my new ride - 2014 Kawasaki Ninja 1000 ABS.
Starting from Caltex in Yarrawonga, I headed straight down the Stuart Highway past Howard Springs, the turn off to Kakadu and Noonamah. Head straight for Adelaide River. You'll come across the sign to Litchfield NP and Batchelor. Keep going on the Stuart HW until you see Crater Lake Road. Its maybe another 5 kms passed the main Litchfield NP turn off. Why? I personally just like Crater Lake Road. A little more interesting.
If you have a road machine with "questionable" fuel range, then Batchelor has fuel and a store. Not too mention two pubs if you need a refreshment.
I filled up at the before mentioned Caltex, done 300kms and fuelled back up at the same servo. If you can do about 300km, then you'll be right.
Through Batchelor, you come to a funny round about thing near the skydiving field, turn up Rum Jungle Road. Follow it along then right onto the appropriately named and very descriptive, Litchfield Park Road.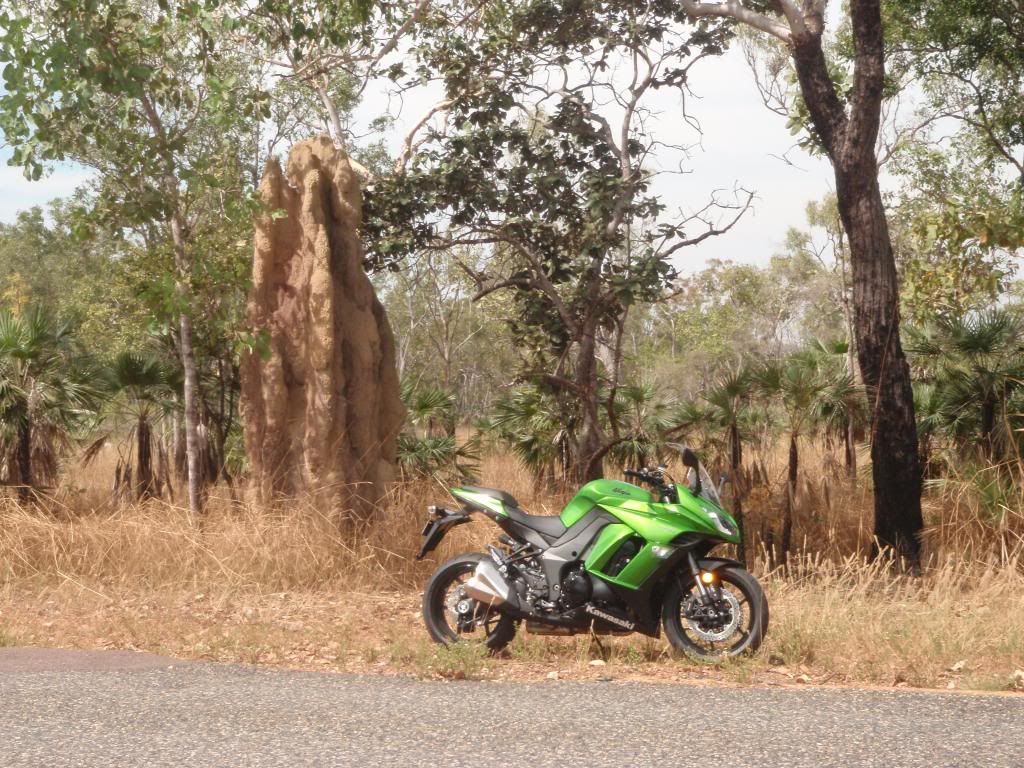 Cruising through the low lands over creeks, past green acres and in and around corners you feel as though you could actually be in northern NSW. That's the feeling I got. But it doesn't last long. The typical red dirt and the matching savannah type country comes back. On your left, there is a sign to Rum Jungle Lake. Poett Road. There is swimming and picnic areas down there but it is dirt road. The end of the road is better than the beginning. I didn't go dwon there this time but have been there in my 4WD. But if you've got a dual sport, it might pay to go and have a look.
Enjoy Litchfield Park Road as it winds, climbs, and falls. Sometimes, all at once.
However, it is 80km/h speed limit though here and its not uncommon to the see the local police from Batchelor on patrol.
Aida Creek Jump Up is a nice little climb. Its short and quick. It basically get you ontop of the range from the low lands real quick. It really fun. Once on top, you can stop in a Buley Rockhole for a cool off in the flowing rock pools if you want or head on down to Florence Falls for a swim. These two are the main attractions for Litchfield NP, so don't be surprised if even man and his dog are in there with you. If the carpark is full, I'd suggest coming back later or the next day if you can.
Back on the main road, stop in at Tolmer Falls Lookout. The walk from the carpark to the viewing platform is about 10 mins. A really great view awaits you there as you look out of the escarpment country and down at the falls. There is also a 45 min (1.6km) walk loop if your interested too.
Back to the main drag, you now start to fall off the range and back tot he low country. The road winds down and then flattens out. This area is a nice little ride as you cross creeks and streams. Take the turn off to Wangi Falls. There is swimming available in a huge plunge pool at the base of the falls. Toilets/showers, a cafe' and camping as also available here. There is a nice little walk up through the monsoon forest, across the top of the falls then back to the base. There is also a Telstra phone available as there is no reception in most of Litchfield NP. Camping here is a pain. Why? The ground is as hard as concrete and its mossie infested.
Just down the road is The Cascades. Its a bit of a walk to get there, but once youre there the swimming spot is great. A range of deep, shallow and flowing cascades inhibit the area. Not many people come here. Why not though? Its great. Check it out for yourself time permitting.
Further along the main road is the Bamboo Creek Tin Mine. The track in is dirt but its not bad. Just take it easy if your keen. The is old infrastructure from the tin mining days. Its a little walk which is really informative.
So where to from here? If you keep going to Berry Springs you will encounter unsealed roads. If your on a tourer or dual sport... go nuts. Its a fair way. Fuel is at Berry Springs. If that isn't for you, basically go back the way you came. But don't dispare. The road back in reverse is really awesome.
I stopped in at the Batchelor store for a drink. There are two massive Banyan Fig trees out front which make for a shady spot to sit and chill. A tourist info place is just across the road if you want to have a look.
As I mentioned before, the day trip was really for me just to have some time on the new Ninja. It exceeded my expectaions. I played with the power modes, the KTRC, the suspension and the ABS. I pushed it a bit and didn't fault once. I really loved the 3 way adjustable screen. The seat is surprisingly comfortable. The Switch on the left bars flick between odometer, trip a, trip b, kms/l and approx. range until empty. Really loved that. I achieve about 290 kms when the fuel light started to flash. According to the owners book, I have about 4.2ltrs remaining.
A good day out and about. If you're ever up this way, don't miss out on Litchfield NP. It gets busy in there during tourist season, but it really has some great things to offer. Being so close to Darwin is its best quality. Makes for a good day trip on ya new road bike too.