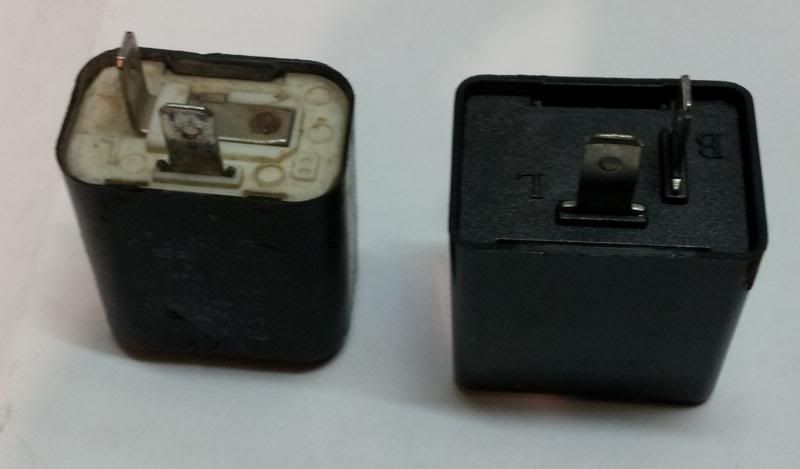 Part on right is the No Load Flasher Relay, part on left is OEM Suzuki. The orientation of the prongs does not effect it's mounting or function.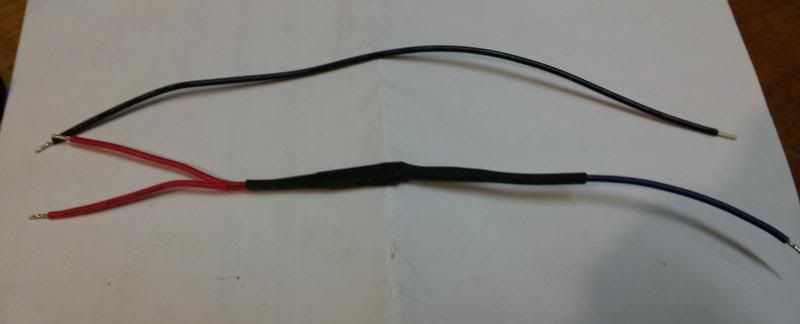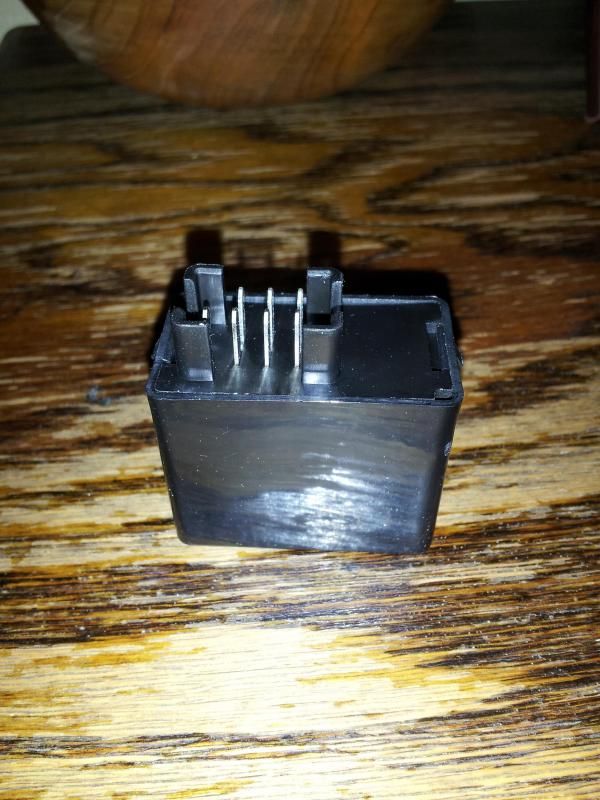 Flasher Relay
Riding dual sport you tend to go through turn signals like they were a consumable. Drop the bike, lean it against a tree, loan it to a friend and you end up with a busted turn signal. Japanese, Euro, and some American bikes use a thermal/mechanical turn signal flasher relay. These rely on the resistance from your incandescent turn signal bulbs to flash the relay. My bike can stock with a 21 watt turn signal bulb. The first replacement turn signal I bought came with a 10 watt bulb. The result: blinker no flashy. One can not always simply replace the bulb either. Often these are mini bases which do not support high wattage bulbs, or only hard to source and expensive specialty bulbs have the correct wattage. From my experience a 23 watt bulbs works great, but a 17.9 will not provide enough load to flash the stock relay. Vendors often react like they never heard of this. Most have no idea what wattage the turn signals they sell operate at, or even list the wattage as a spec.
These no load turn signal flasher relays are all electronic. They will flash the turn signals at a steady rate no matter what size (wattage) bulb. I first looked into these so that I did not have to get exact matching wattage of turn signal. This would have come in handy when I busted a turn signal on a dirt ride and had to do a long street ride home. Buddy had a 10 watt turn signal lying around, but it would not flash. I had to flash the signal manual. I purchased several relays before finding one that worked, and one that was a direct replacement. These are direct replacements for my Suzuki DR350SE, however I am sure they work for any two prong turn signal flasher relay. The two prongs are labeled "B" and "L". The "B" I assume stands for Base Voltage or positive power from the source. The "L" for Load, this goes to the blinker. The L it the output side with the pulsed or flashing 12 volt + power. This relay plugs into the existing relay plug/connector and can be swapped out in 5 minutes. They even have the stock mounting tab, and comes with a new tab mounting rubber piece. I have been using this particular one for a season now, and it has worked flawlessly. Granted I have not submerged relay in water. These will also make great replacements for OEM relays that have gone belly up. The OEM Suzuki relay is over $50!!
LEDs however are the main reason most folks are interested in no load flashers. LED turn signals seem to be the most popular type of replacements. Not only do the LED last forever, they are resistant to shock. Other than snapping one off you never have to replace them. Another thing that makes LEDs popular is that they require very little energy to run. People with limited electrical power output chose to use LED turn signals to free up energy. I personally do not think the energy saving makes a difference since turn signals are used so intermittently. However I guess if you are a city rider or do not like your headlights dimming at stop lights this is just cause. Running LED turn singles will require the use of a no load flasher relay.
So you installed LED turn signals, swapped out a no load flasher, hit the switch, and the turn signals do not come on. The first thing to do is reverse the leads to the turn signals. LED are directional and require the + and – to go the right leads. OK you have this set up, turn on the flashers and all four lights come on. This is where the diode kit comes into play. Most likely your bike has a dash board indicator that flashes and informs you the turn signals are on. This is your problem. Pull the bulb and see if everything flashes correctly. If you can live with no indicator your problems are fixed: GO RIDE!! If this isn't ok you need to install diodes.
Diodes
The circuit set up for the in dash turn signal indicator is pretty ingenious. The incandescent turn signal bulb flows electricity in both directions. When you flip on the right side signal, electricity flows through the indicator bulb from the right and goes to the non-flashing left turn signals using the signal as the ground. When you flash the left side it does the opposite. Diodes are one way valves for electricity. LED stand for light emitting diodes. When you wired in the LED turn signals you messed up the flip flop ability of the indicator system. This combined with the low power requirements of the LEDs themselves cause all kinds of issues. I do not claim to know the details of what is going on, just the basic workings and more importantly the solution.
The solution is to wire in two small diodes into the wires that feed the in-dash turn signal indicators. The two leads originally going to the indicator bulb will each now have a small diode on it, they will be merged and feed one prong of the indicator bulb, the other lead from the bulb will go to ground. You can either ground to the frame (making sure it is a good ground not a painted surface) or you can connect it to the multiply grounding wires that already exist in your instrument cluster. For the DR I used the B/W wire off the Hi beam indicator.
This kit comes with two diodes soldered to wire leads merged two to one (so you don't get confused the direction) and heat shrink wrapped. The exposed ends are already pre dabbed in solder and ready to wire up. An extra length of wire is also provided for the ground side.
Diodes are easily available at Radio Shack for pretty cheap if you want to do it yourself. I originally was not planning to offer a diode kit, but figured one would be pissed if they bought a no load relay and still couldn't get their turn signal system working. An alternative solution to the dash indicator problem is to use two LEDs in place of the stock incandescent bulb. Since LEDs are in fact diodes they can provide the one-way function needed. You need two LEDs to serve both right and left sides. I personally have never done this method as physically mounting the two LEDs into the small indicator bulb socket can pose a problem.
So why not just wire in resistors to the LED turn signals? I thought this would have been a good solution and many do. However I don't think it is the best solution for LED turns signals, for the following reasons (in order of significance to me):
-Wrong resistance. The kits often provide the wrong resistance either blinking too fast or slow or not blinking at all, thus requiring a no load flasher anyways.
-Cost unless you really know your electronics the resistance kits is a more costly solution. I do not know if they cure the dash indicator problem.
- More stuff/heavier. I wouldn't want to wire in a larger resistor into ALL FOUR signals. The ones I have seen are about 2 inches long each!
-Heat and energy. If you are using LEDs to free up some watts, you do not get any saving using resistors. Seems silly to wire in four items whose sole purpose is to get hot. And they get hot. Resistors are very small and light but since they get so hot they are packaged in little aluminum tubes with cooling fins on them.
The dimensions of the no load relay is approximately 1.25x1x1.5". This is the box itself without the little mounting tab. The electronics themselves are even smaller. If you wanted to you could open up the case and mount just the guts somewhere. The no load relay weighs a mere ½ ounce. The stock Suzuki relay is about 7/8x1.25x1.5" and weighs 1.25 ounces.
Beeper Relays
During my testing (really just buying a bunch of relays and seeing which worked) phase, I came across a version of this relay that beeped. I did not know that it has this feature. After installing the relay I turn on the turn signal and to my surprise I was greeted with a loud beeping. I immediately opened up the case and cut the wires to the beeper. In hindsight, this could be a nice feature. The sole purpose of turn signals is to alert others. Why not add another sense, hearing, to this process. A second added bonus to this feature is as an indicator. There will be no forgetting to turn off your turn signals. Even with a dash indicator, I often forget to turn off my turn signals after a intersection.
Place holder