Okay this is my first ride report and my first ride of any decent length on my 2012 vstrom 650 Adventure.
So my wife basically was fed up with me being stressed out and kicked me out of the house last weekend to "go off and do something to decompress". I also love to 4x4 but there was nothing going on that weekend and you can't really do that by yourself (or rather, you would be very stupid to do so by yourself) so I decided to do a trip on the bike.
Even though the temperature was hovering around the freezing mark and we had just had a major snow storm go through the area a few days previously, I decided to pack my tent etc. and go down the skyline drive and as far down the Blue Ridge Parkway (BRP) as a day of riding would take me (& backtrack the next day).
BTW I live near Dulles airport in Northern Virginia. I set off at first light in cold and rainy conditions and rode to Font Royal where I had a McDonalds Big breakfast and a bit of a warm up as my feet were pretty cold already.
The first major Disappointment was that the Skyline Drive was closed due to snow. Bummer L. I then thought I had better check the Blue Ridge Parkway to make sure that was open. So I found a web site that gives real time BRP road closures:
For future reference this is the link:
http://maps.nps.gov/blri/road-closures/
After consulting this page I ended up blasting down 81 all the way to Roanoke where the first bit of open BRP was. It was a long old ride in the cold but at least the speed limit is 70+ so it didn't take as long as I thought it would. By the time I got there I had travelled about 230 miles in the freezing cold and still hadn't gotten on the BRP. Even the first bit of BRP past Roanoke was closed but thanks to the link above and my GPS I managed to find the first open bit of the BRP quite easily. It was cold but at least the rain had stopped and when I eventually got on the BRP live was very good again.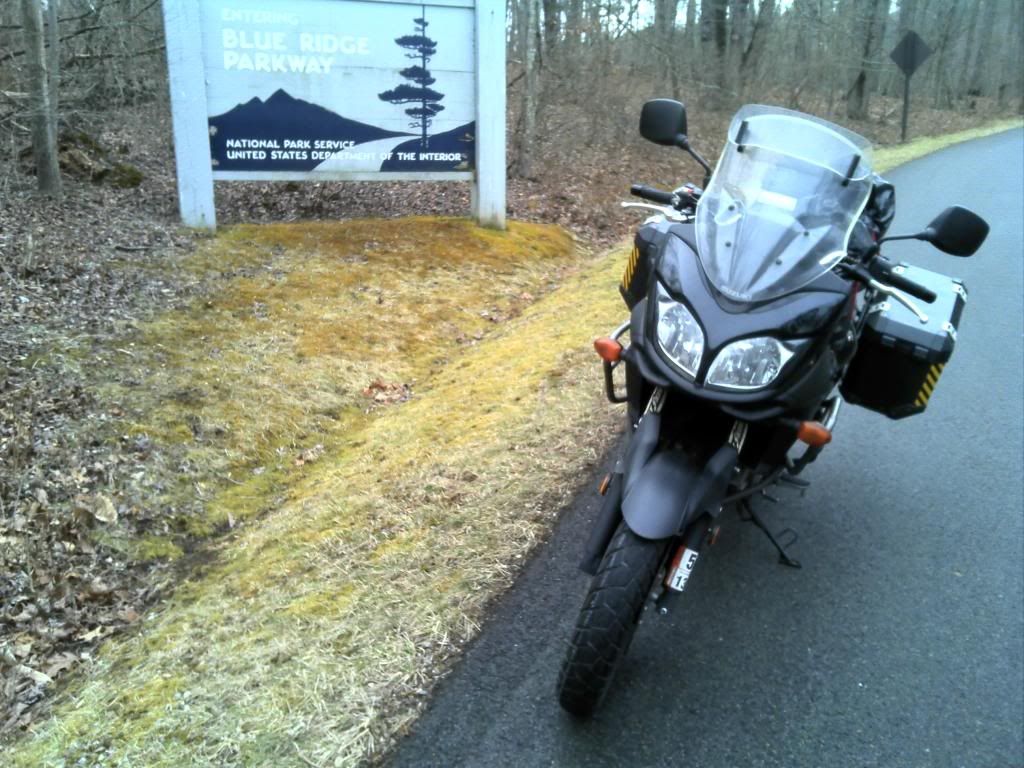 Because of all the closures I had the whole road to myself. I saw about 5 cars all day.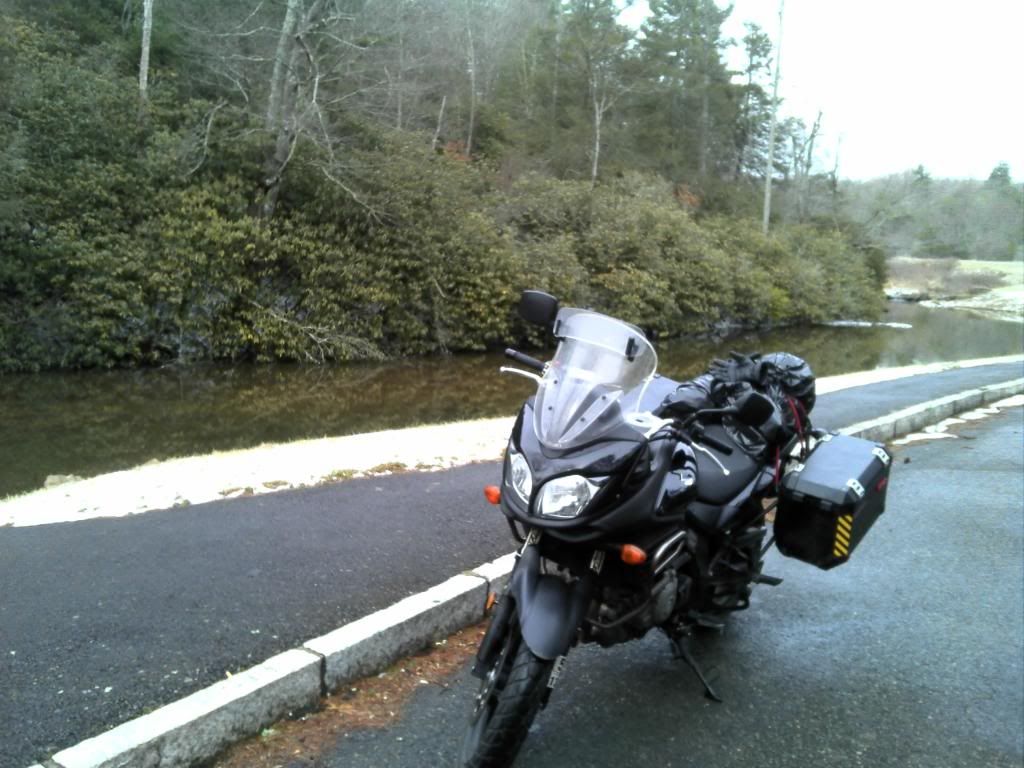 It was a great ride but I got to a closed bit of parkway just before the rocky knob recreation area so I decided to blast down route 8 to NC just to say I had been there. Anyhow I mistakenly took route 58 and ended up going east instead of south. I was on there for ages waiting for the "welcome to NC" sign and it never came. I guess it must have been the cold affecting my brain. Anyhow, I eventually realized my mistake when I kept seeing the sunset in my mirrors instead of to my right.
So I turned around and went back west down 58 and eventually came to a BRP section that was open. I stopped for gas in a small village right before getting back on the BRP and asked the guy in the shop if he knew where there were any open camp sites (as all the ones I had seen so far had been closed). To my surprise, after consulting one of the other customers, he said there was a "biker only" campsite called "Willville" about a mile down the road.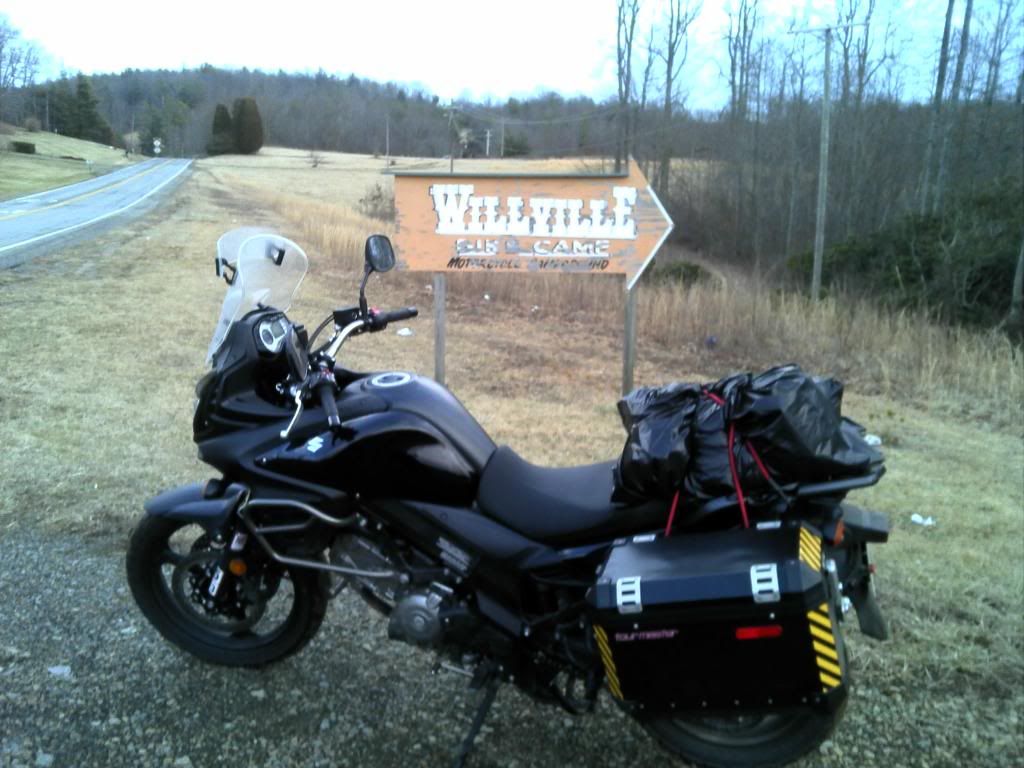 I arrived at the camp site with "no cars" signs everywhere and a couple of laid back dogs who met me on the drive. There was no one else there and was completely empty but wasn't closed for the season. I really liked the site and the fact that it was bikers only and decided to come back later and camp there for the night.
I got back on the completely empty BRP heading for NC. It was starting to get dark and was a little icy so I wasn't surprised when I came to another closed section of the BRP around Fancy gap near I77.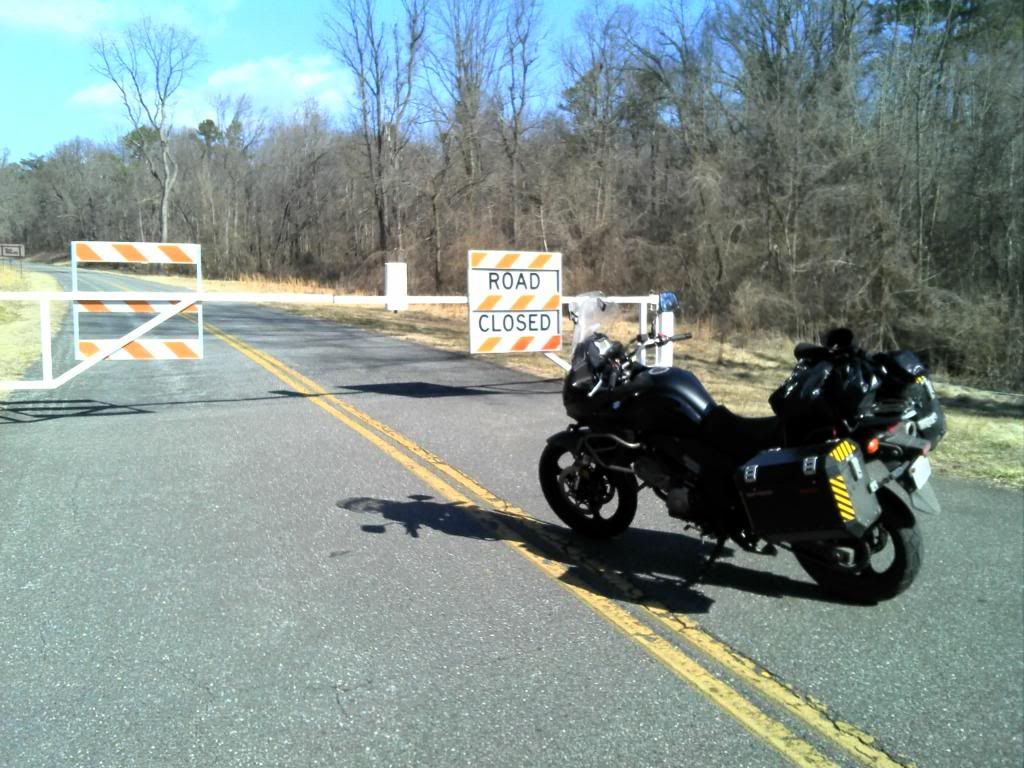 So, still being target fixated on NC, I did a quick blap down I77 to cross the border and check off another state of my "states visited" map:
http://www.visitedstatesmap.com/
Anyhow by the time I ended up a lot further down 77 than I had anticipated, due to the lack of places to turn around, I was cold and tired and really not motivated to go camping any more as the temp had gone below freezing and had noticed a lot of slush and ice on the north bound lane of the BRP on my way down. I decided not to risk a crash on an empty road after dark in freezing conditions and ended up staying in the red carpet Inn on exit 14 of I77 for $44.50 (breakfast included) instead of camping.
Got a good night's sleep and warmed right up with the room heater on full blast!! In the morning the sun was shining and the temperature had risen into the 40's. Back on the BRP life was good although I had to take it really easy at first as there were still a lot of patches of ice where the slush had frozen over night. Had a blissful few hours on the BRP before getting back to Roanoke and Blasting back up 81 to get home.
All in all I had a great time even though it was cold and a lot of the BRP and skyline drive was closed. I spent 19 hours on the bike and did almost 800 miles in the 2 days.
My 2012 Vstrom 650 adventure is stock with the stock seat but I had absolutely no issue with the saddle at all and could quite easily do a week long adventure or more on the stock seat. The bike was flawless and sure footed and I really appreciated the ABS on the icy BRP. It was also my first trip with my Garmin Montana which was a lot of fun. Especially in the mountains when I could put it on the 3D view in the topo map and have a great 3D view of all the mountains around me. Also it was fun to put it on the elevation screen and see the gradient changes as I traversed them. I didn't have a mount for the Garmin but I bought some of that industrial strength Velcro, the same as you get with EZ passes, etc and just stuck it on my wind shield with that.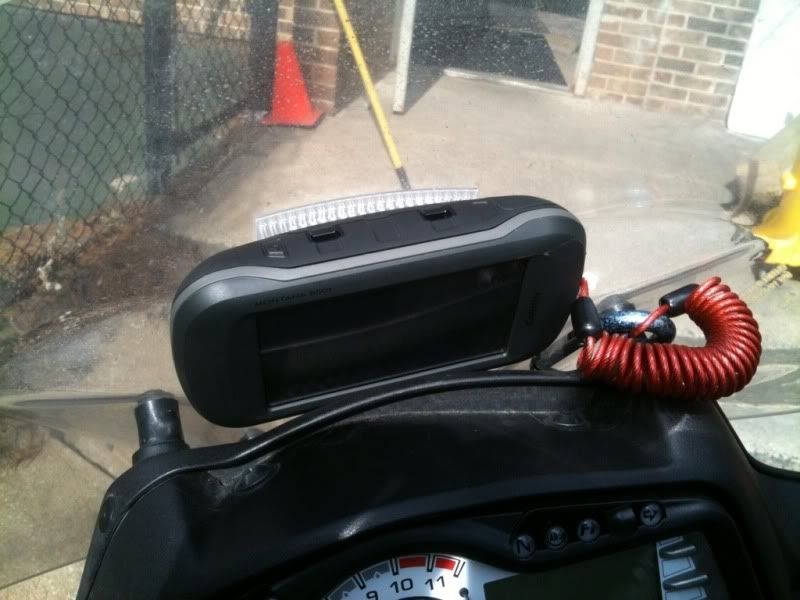 I also didn't have it wired yet but the rechargeable battery lasted all day and I was able charge it up at the hotel over night so I had no problems. You can even put in AA batteries if needed so that is a big bonus. It also has a camera so you can take pictures and it records exactly where you were when you took them. You can even use the pictures as waypoints which was great as that is how I managed to get back on the BRP where I left it the previous day (in the middle of nowhere) as I remembered taking a picture of the sunset as I left the BRP at the closed section.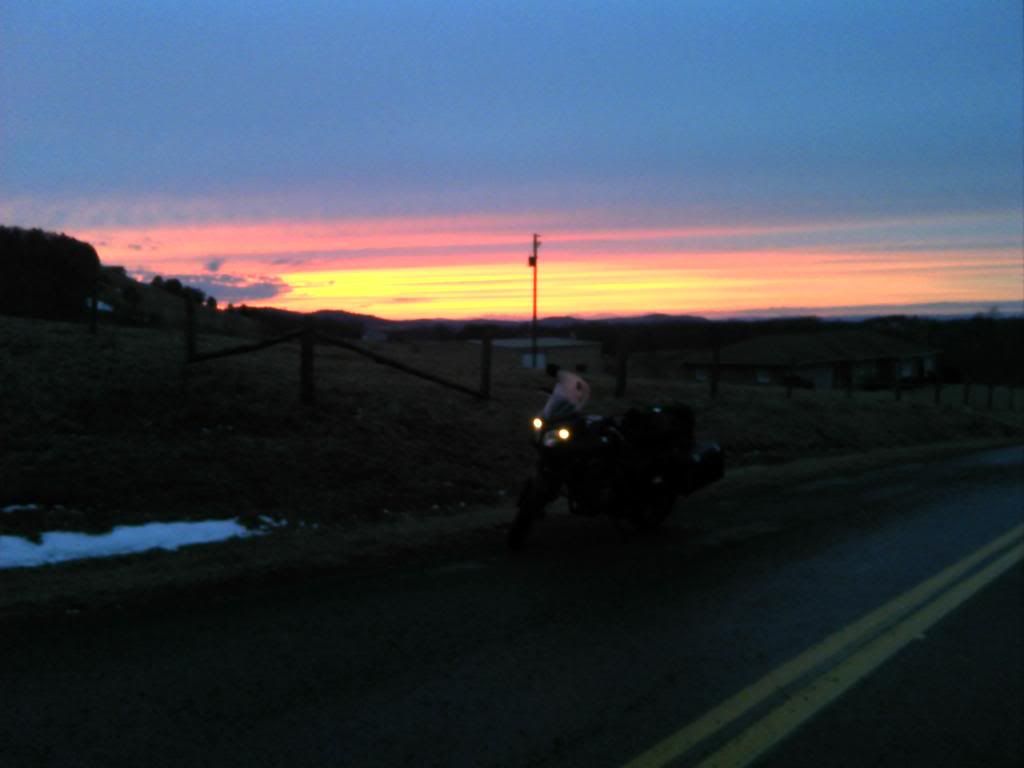 Anyhow, despite everything I had a great time and I can wait to do it again. I was quite disappointed when I got home as I wanted to keep riding!!!