Rally Raid Products: Wide-Ratio gearbox upgrades for KTM 690 Enduro and CCM GP450 (BMW G450X).
Over the years we have received a number of requests as to the feasibility of manufacturing an proper wide-ratio gear-set for the KTM 690 Enduro - something we agree would certainly enhance it's overall ability as a genuine all-rounder and overland adventure bike.
Since the relatively close-ratio standard 690 gearbox was designed for primarily competition use, traditionally trail and adventure riders have had to compromise with either a lower cruising speed in an effort to retain proper low gears for serious off-road use; or otherwise raise the overall gearing for more comfortable/lower revving highway cruising, at the expense of the desired lower gears for off-road work.
While we pride ourselves on typically innovating new engineering solutions in-house, we are happy to concede that on occasion there are already established specialist engineering firms who have direct experience in a particular field.
In this regard, Rally Raid Products have partnered with fellow British engineering company Nova Racing (who specialise in road and off-road racing gearboxes) who have been able to develop the products our customers desire; and are delighted to announce that Rally Raid Products are now the official retail distributor for both their KTM 690 Enduro wide-ratio gearbox, together with a specific replacement gear-set for the recently released CCM GP450 Adventure motorcycle - that uses the BMW G450X enduro bike engine, complete with the original close-ratio 5-speed gearbox.
The table/s below give you an illustration of what can be expected from the upgrade. Essentially the overall gear-spread of 65.2% in the stock KTM 690 gearbox is increased significantly to 72.9% - effectively giving you much higher cruising speeds/cruising at lower revs while retaining the same low gears off-road, or conversely much more serious lower gears while retaining the original top gear cruising speed/revs - or indeed, a combination of the two - depending on you chosen final drive (chain and sprockets) combination.
KTM 690 Enduro gearbox ratios - standard vs. NR/RRP wide-ratio option: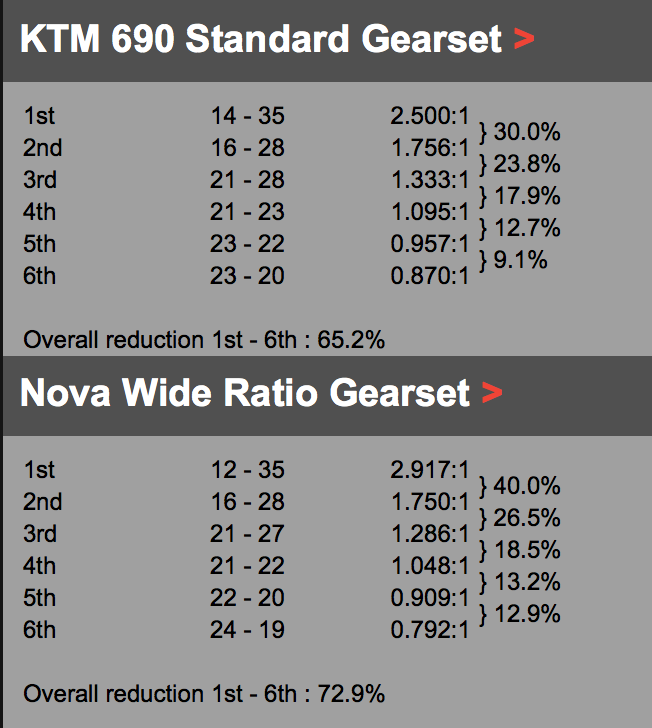 Similarly, one potential criticism of the brand new GP450 lightweight overland adventure bike from CCM is that it retains the original (racing) close-ratio gearbox from the BMW G450X enduro. The NR/RRP wide ratio upgrade also extends the overall gear spread from a modest 64.3% to 72.7% - again, dramatically expanding the useful spread of gears, allowing you to retain low gearing for off-road work, while also reducing the revs at higher cruising speeds.
CCM GP450 / BMW G450X gearbox ratios - standard vs. NR/RRP wide-ratio option:
Prices and fitting options.
The KTM 690 Enduro wide-ratio gear-set comes fully assembled on new input/output shafts completely ready to fit into your original engine.
Because of the design of the G450X gearbox, the new wide-ratio gear-set is suppled as individual [loose] gears, and will need to be assembled on the existing shafts with the corresponding OEM circlips/washers/bushes - although this does offer purchasers a useful cost saving in return.
The retail price of the KTM 690 wide-ratio gear-set is £2200.00 GBP, while the GP450/G450X wide-ratio gear-set is £1300.00.
Should you wish to have either gear-set professionally installed, our UK service agents Torque Racing Services can fit either gear-set (including dismantling and rebuilding your engine with a new full set of gaskets) - for a fixed price of £450.00 to a supplied/bare engine, or £750.00 for a complete ride-in/ride-out service.
All prices are plus VAT(if within EU) and shipping, via UPS worldwide.
For more information, please see the dedicated pages on the
www.Rally-RaidProducts.co.uk
website.