Recently, I got word that my elderly grandfather has been in the hospital, and was not doing terribly well. Being that this is the man that I respect above all others that I've ever met, I began planning to go visit him, as I had not seen him since February. I checked out plane tickets, and did the fuel calculations for driving my diesel truck from Phoenix to Bonifay, FL. In the end, I decided the Uly would be the way to go.
After planning an initial departure, I got word that I should wait, as Grandpa might be getting better, and be on his way home soon. A visit at home would be much nicer than a hospital visit. Eventually however, things aren't looking good, and I decided to leave on May 14th. Being that I was in a hurry to get to the hospital (some 1900 miles distant), I did not take many photos on the way.
I set out at 0520 on Tuesday, 14 May. When I looked at my trip odo 10 miles into the ride, the enormity of what I was doing in such a tight time frame hit me. I just put on a smile and decided to try to enjoy it as best I could.
Here's the first state line, crossing into New Mexico:
Some sand, some mountains, and some sunshine later, I arrive in the HUGE FRICKING state called Texas:
Texas must be Spanish for thunderstorms and hail, because that was all I knew for the next several hundred miles.
The rain was nothing i couldn't handle since i had some rain gear (Thanks Dad for the Chrstma present!!), but when it started to hurt, I realized that the rain was bouncing. Hail?! Yes, and it sucks at 85mph. Also, standing water sucks on a bald tire.
I hit 1000 miles for the day in 16 hours, 23 minutes (I wasn't really rushing like I should have been), and then about 1100 miles into the trip, I tossed my tent up at a rural interstate exit that looked inviting. No pics, it was 2AM and I was beat.
Next morning (Wednesday, 15 May), i was up at 0530, got the tent packed away, and hit the road a stinky, sticky mess. I hit morning rush hour traffic in Houston, and a short time later finally decided that the bald tire that I left home on just didn't have any miles left to give. I found a powersports shop, and met the workers there before they opened. These guys found me a tire (battleax), and bumped me to the front of the line so that I could get going again. Huge thanks to the guys at Tejas Motorsports for the assist.
A short while later, I FINALLY got out of the continent that we call the Lone Star State:
By this time, I was really getting into the ride, and was doing my best to put on some miles. At a fuel stop near the Superdome, I got word that it would be a good idea to quit screwing around and get moving.
At this point, I stopped messing around with sate line pics and just locked the throttle at 90 and promised my back and ass that the outbound portion of the ride would be over soon.
At about 1800, i stopped for fuel, and to grab some toiletries that I didn't pack. It was here, in Defuniak Springs, FL, headed for Dothan AL that I got a call informing me that my grandfather had passed in the previous few minutes. I know that I would have made it if I hadn't screwed around with a nap in a tent, or replacing a tire that probably would have made it. I am still oscillating between guilt and realism over this.
After spending a week taking care of my grandmother, and spending time with the family, I say a tearful goodbye to the best role model a guy could ever ask for, and get my head on straight for my return ride.
I headed out the next morning into a heavy fog that seemed to reflect how I was feeling. Pretty soon, I made it back into AL:
Since I was in less of a rush on my return leg, I decided to see some sights:
Here is Calamity Jane, the Vietnam Vet B-52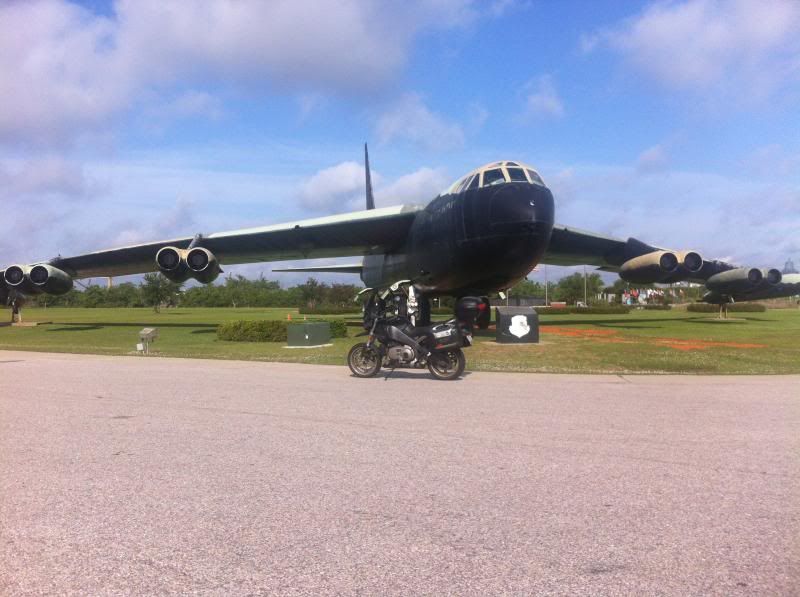 She is in REALLY sad shape, unfortunately, this is not a very wealthy museum facility.
And some other cool toys that are also in poor shape, but great to see nevertheless: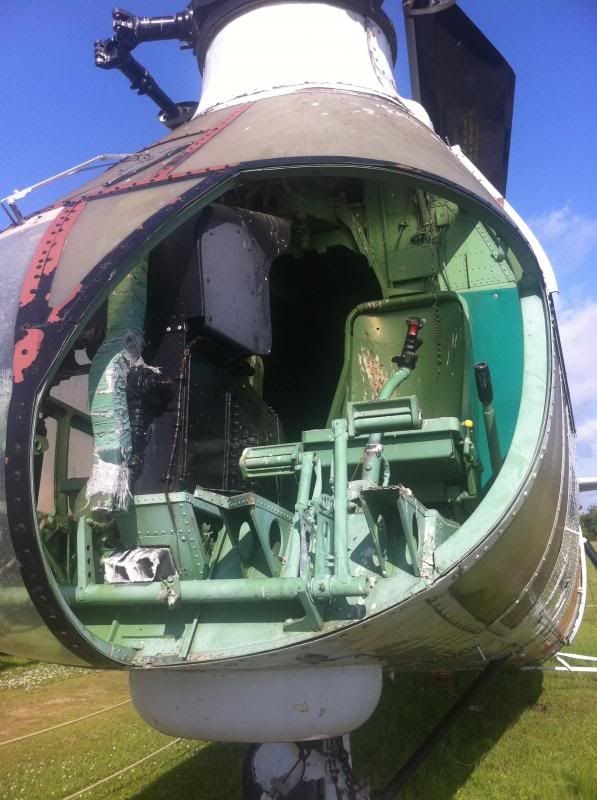 Love the rocket attachment: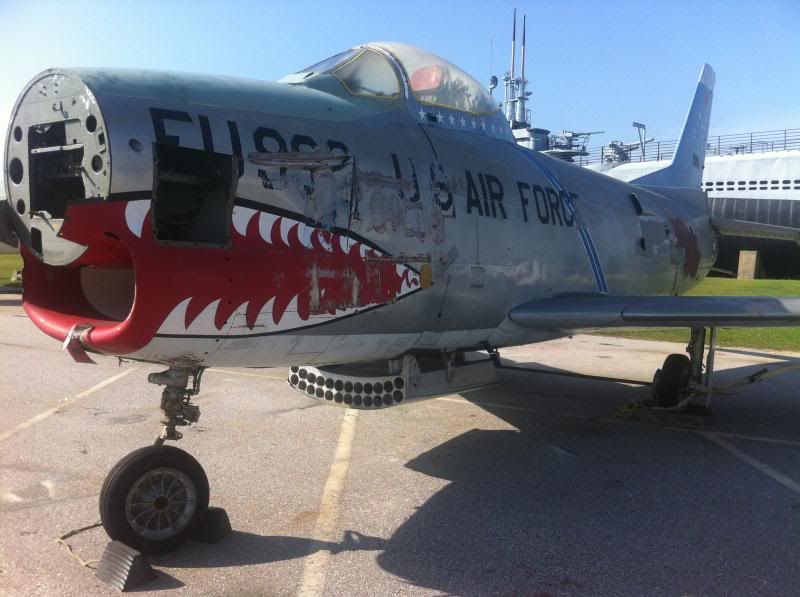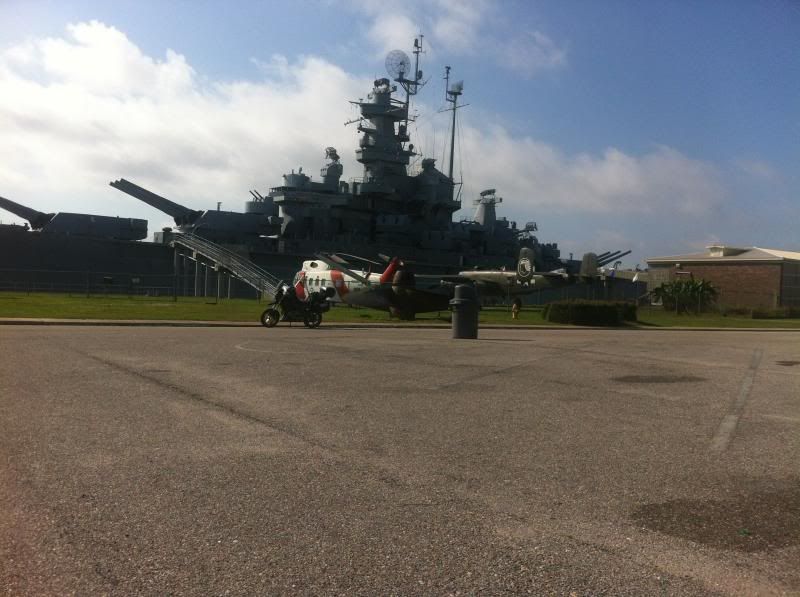 Can ya tell that I have a thing for helis? Speaking of which, I'm flying tomorrow. It's been 2 weeks, I'm gonna be rusty!
And on to another state: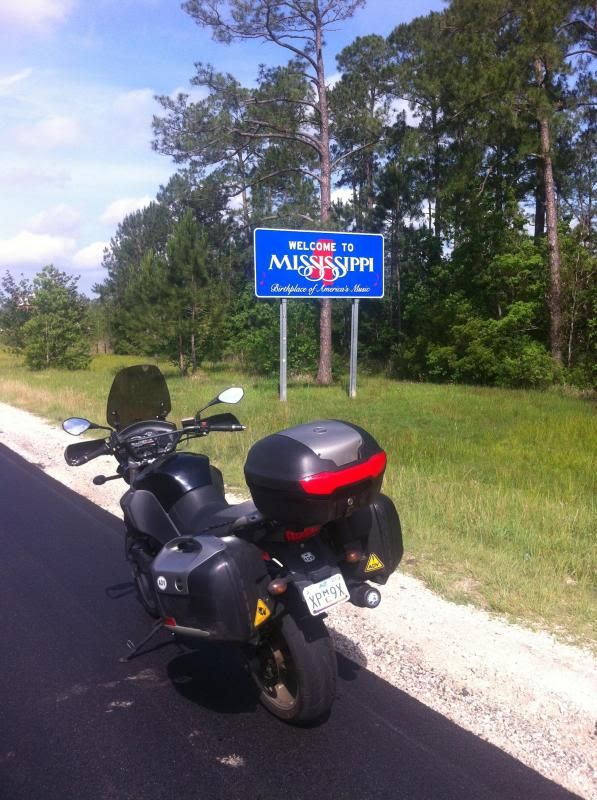 I stopped at the Stennis infinity space museum, and took a couple quick photos before getting moving again.
This guy is made out of rocket motor parts some of that organic stuff:
And a small motor, this would be from a wee-strom I believe. I think I've got that right.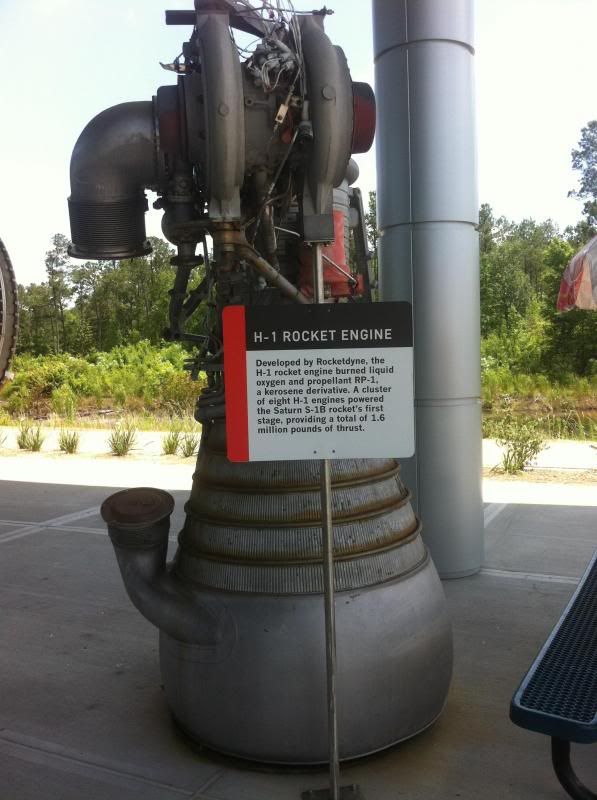 I'm not sure why anyone would want to look at my Uly's source of locomotion, but I thought I'd put it on here anyway:
And my stock exhaust:
And back in the land that Bush tried to destroy with a man made rainshower:
I really wanted to get a good look at the progress, or lack thereof since Katrina, but I didn't feel right taking pics of other's misery (especially when those "other's" were watching me like a hawk), so this is what I got from there before incessant pinging reminded me that it was warm and I was astride 100 year old technology.
I seem to have a headlight out. Hmm...
And on to Baton Rouge, where i had to take a detour and get a pic of the old storefront from the show "Sons of Guns"
Shoot me now:
Maybe we would have held the Alamo so many years ago if there had been 4000 Asian kids in blue shirts there to distract the bad guys:
After only 715 miles, I'm really craving some bedbug bites, so I crash in Brookshire, TX. The next morning, I was covered in bites, pissed from the sticky spot on the floor I stepped in after my shower the night before, and just wanted to get moving.
Eventually, I made it to El Paso, where I decided to steal a CBP parking spot for another photo: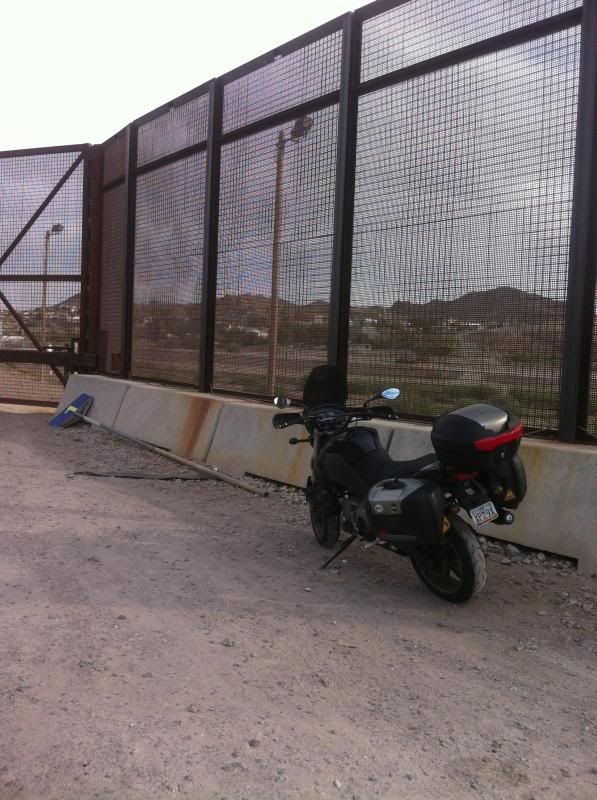 And then, 900ish miles after getting into TX (God bless their 80mph speed limit there!), I made it back to NM:
The sinking sun made for some great scenery that I fear I did not capture adequately with my iphone and lack of skills, but here ya go: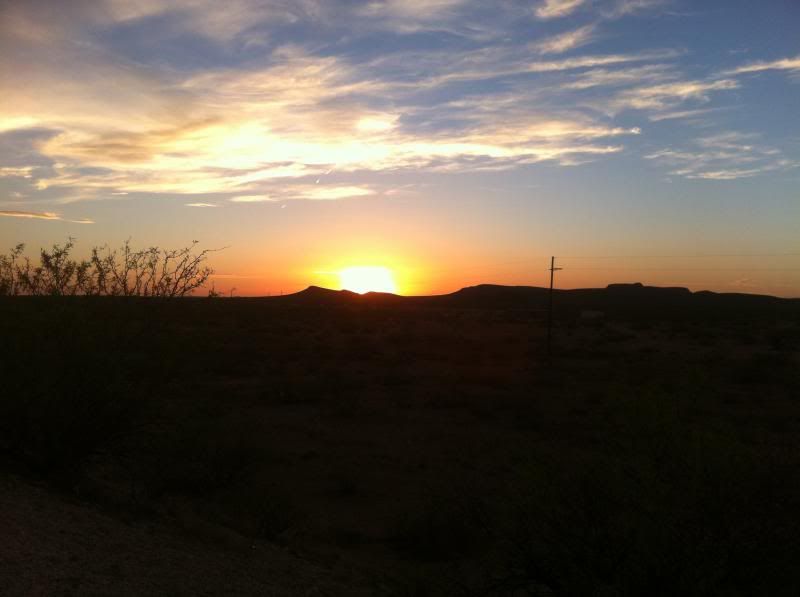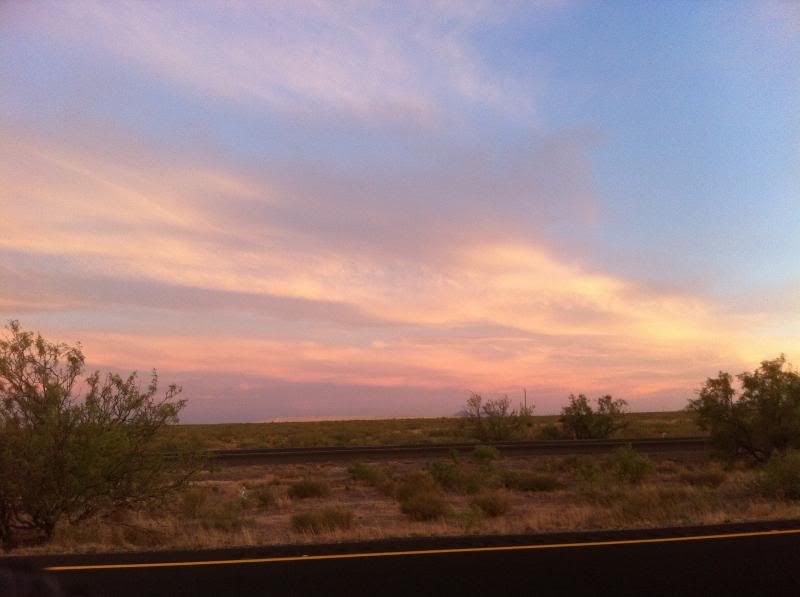 Try as I might, I couldn't get the pics to show how amazingly blue the sky was.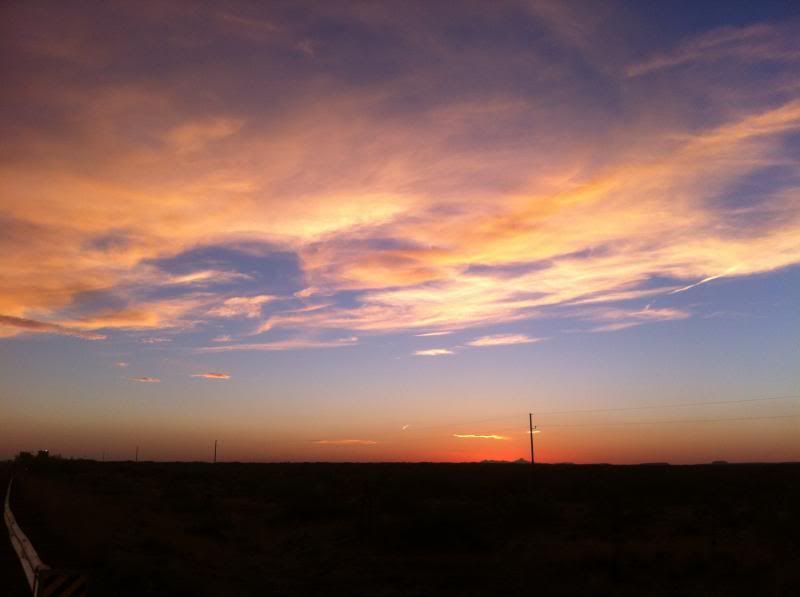 And finally, I was pleased to see the final state line of my journey:
I hit 1000 miles for the day in just over 17 hours, and made it home about 0100. I was happy to see my house, the shower and my memory foam pillow. I was equally happy to not look at the bike for a few days.
Total miles were around 3700. I learned that I need a camera, and some lessons from my photographer GF, and also that some supplemental padding on the Uly seat would come in handy. I'd really like to do this trip again, but with more time and sticking to back roads the whole way. Anyway, this post is long, and if you've made it this far, your life must really be boring, but thank you very much for checking it out.
Rest well Grandpa, you are missed.