[Note: I write these in a text document and then copy/paste into the forum. I am using a different method for the picture links, so please PM me if they aren't showing up properly. Like if they show up as a link or image code or something.]
Wow, I cannot believe how long it is since I posted anything, but you know how it goes. Today I've got a report from a few months ago when I did a five day trip to Laughlin and Las Vegas, as well as a few bonus pictures from a quick ride I did yesterday.
As usual, here a picture of the map and a link to a google map of our approximate journey: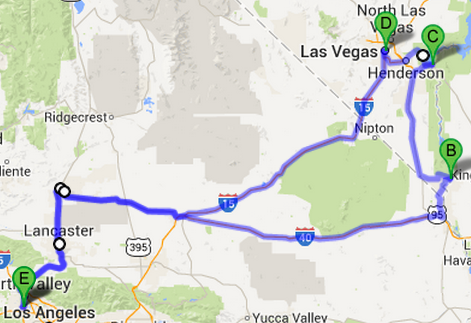 https://maps.google.com/maps?saddr=v...,2,5,7&t=m&z=7
After months of preparation and planning we came up with a simple concept for the ride to Laughlin: my father, uncle, brother and I would ride to Laughlin, Nevada.
While in Laughlin we would go to a motorcycle rally, but, just so all the cards are on the table, I am not a huge fan of motorcycle rallies. They are more for the Harley crew, but I thought I might be able to get some decent, cheap gear and accessories there. My uncle is in the custom shirt game. In fact, I think that if I said he was the third biggest name in Northern California custom dirt bike and motorcycle-shirt designers, you could probably guess who he is. As such he made these kickin' shirts for us: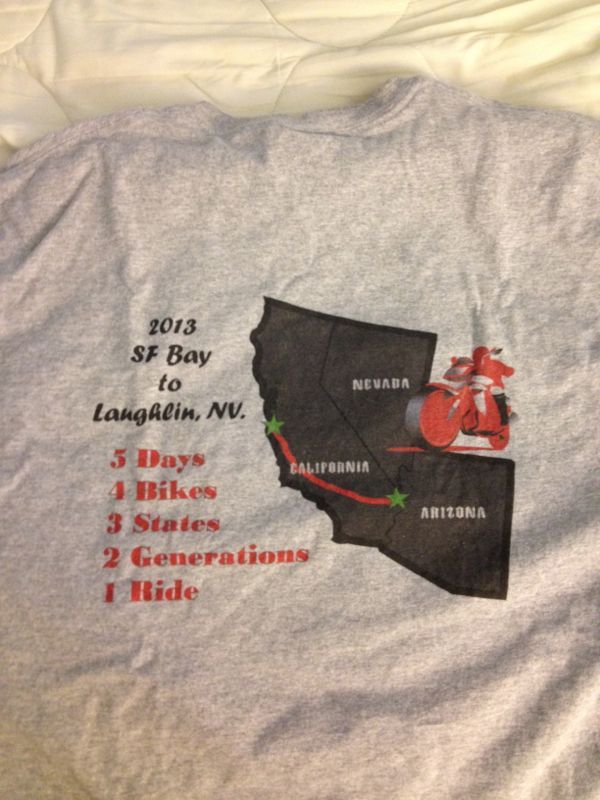 To be honest we were not entirely sure we would go to 3 states, but the shirts would have been lame if they said 5 Days, 4 Bikes, 2 States, 2 Generations, 1 Ride. It was an easier fix just to make sure we popped across the border in Laughlin, which literally straddles the border between Nevada and Arizona. My three compatriots were riding from the Bay Area, so we decided to meet in Mojave. The ride from my place to Mojave was uneventful and pleasant. I first stopped here:
I honestly can't even remember what this was. All I know for sure is it is right on 14 around Lancaster. A disadvantage of not writing stories in close temporal proximity with the event is you forget some details. I guess the irony is there was a plaque or marker there I thought I should take a picture of in case I forget the name, which is not so much ironic as it is very bad planning and indolence. Still, the area was beautiful.
This is what most of the Mojave scenario looks like: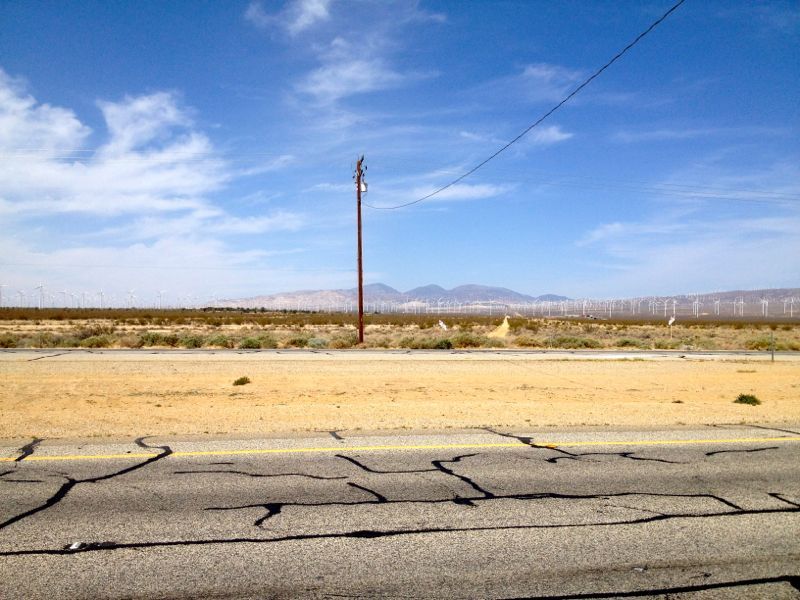 Mrs. Bumblebee informed me this was a terrible and boring picture, and its only saving grace is the power line cutting diagonally towards the viewer. Other than that though, it sucks.
Also there was a train (ignore the guy in the truck with the trailer, I have no idea who he is or why he decided to get in my picture).
At this point I should mention I think the best way to tell a story is to start in the middle and switch back and forth in time, in a manner consistent with when I remembered to photograph key points. Hence, here is how Bumblebee looked when I left, even though this picture was taken while the trip was underway.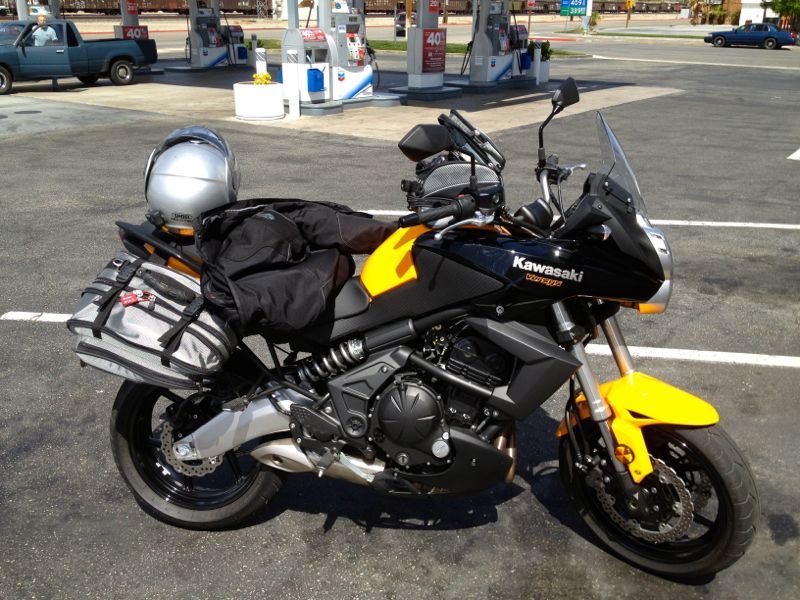 Bumblebee is slung with Firstgear Silverstone bags. I quite liked them. If anyone wants a more detailed report of their pros and cons send me a PM, and I will write one (I may write one anyway).
Here in Mojave I met the others, and we embarked to Laughlin. This was a long and very straight shot without much to see, so I did not take pictures. However, there was at least one event of note. One of us (I will not embarrass anyone by saying their name) decided to test out their fuel range. Unfortunately there is a very long stretch leading up to Needles where there are no gas stations. I think it is about 90 miles, and this anonymous person ran dry just a few miles short. The standard protocol for running out of gas in the middle of the hot ass desert is to crawl along the highway until you die of heat stroke. Our family, being made of tougher stuff, decided to press on. There is actually a subtle downward slope into Needles, so this gasless jerkass started just coasting on the shoulder at about 10mph for a few miles until the slope turned flat. Once there was no more slope jerkass came to a stop, but luckily my brother had the idea of towing him with a strap; unfortunately we had no tow strap and nothing to tie onto. So we improvised with my brother holding onto one part of a backpack while jerkass held onto the other, and my father went ahead to get a gas can since this was not working well. Turns out it is extremely hard to hang onto a thin strap hard enough to be towed up a hill while also maintaining balance and operating the controls. My uncle was nice enough to ride behind jerkass just a little in the lane with his hazard lights on to help prevent an accident from happening with the overtaking traffic. When we got to the off ramp we could immediately see it would be way too steep to pull the bike up, but luckily jerkass was able to get it started with the last few drops and gun it up the ramp and coast across the street and into the gas station, narrowly missing a semi. Thanks a lot jerkass; next time fill up at every gas station.
The shot north from Needles to Laughlin was cool, but we were basically tired and wanting to get there fast, so no pictures. There was also some awesome dirt trails just next to the side of the road, which I would have explored on other occasions. When we arrived we stayed at Harrah's. Staying at Harrah's is pretty self explanatory, but I took a picture, so look at it damnit: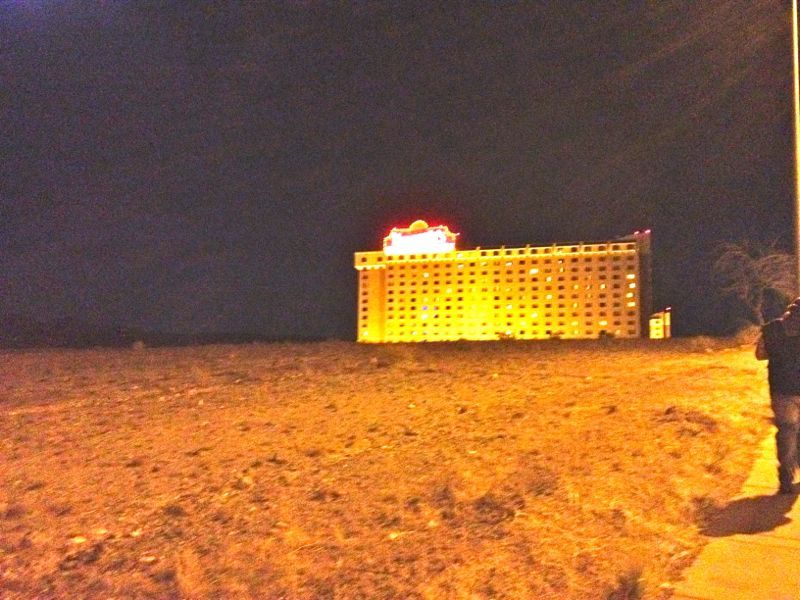 Harrah's was a dump by the way. Supposedly they upgraded us to a premium room. I am not one to complain, but the room was like a sardine can designed by someone who has a particularly vehement disdain of sardines. They made us wear yellow wrist bands for the entire three days we were there. We are a Jewish family, so I found this slightly offensive. They also said replacements of these cheap paper wristbands would be twenty bones each if they were lost/stolen/came off in the shower, and without them we would be denied entrance to our room, no matter how many times we already paid for the room. The gym was an extra fee and sucked as well. The less said about the smell of the hotel the better.
I did not get too much out of the rally, and I did not find any gear or accessories that I liked. I did buy some goggles I was hoping to wear with my helmet, but that turned out to be insanely uncomfortable. Here is an awesome bike though: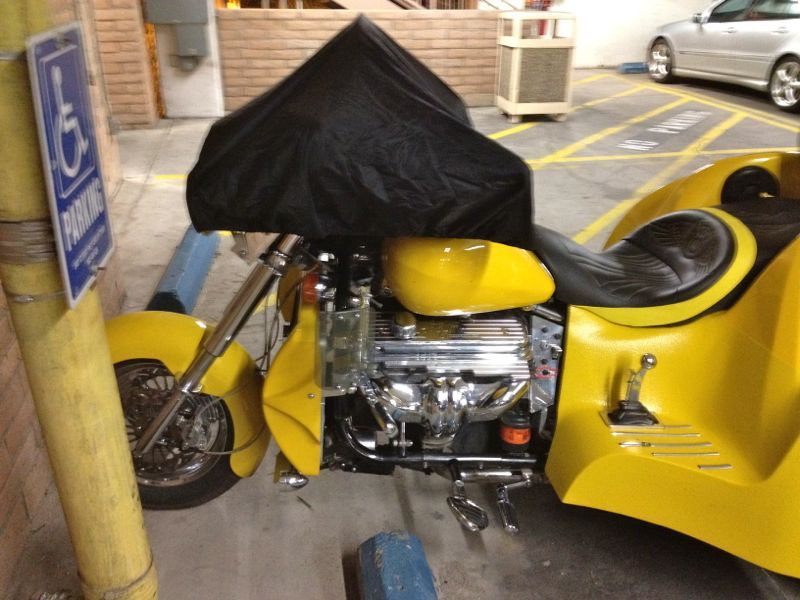 There were a bunch of other cool bikes too. Trikes with V-8s; bikes with huge tires. All very cool stuff. It was cool looking around at stuff, but they definitely cater to Harleys, and a bit towards touring bikes, not the adventure crowd.
The next part of the ride was the best. We went from Laughlin to Vegas via Hoover Dam.
Dam nation!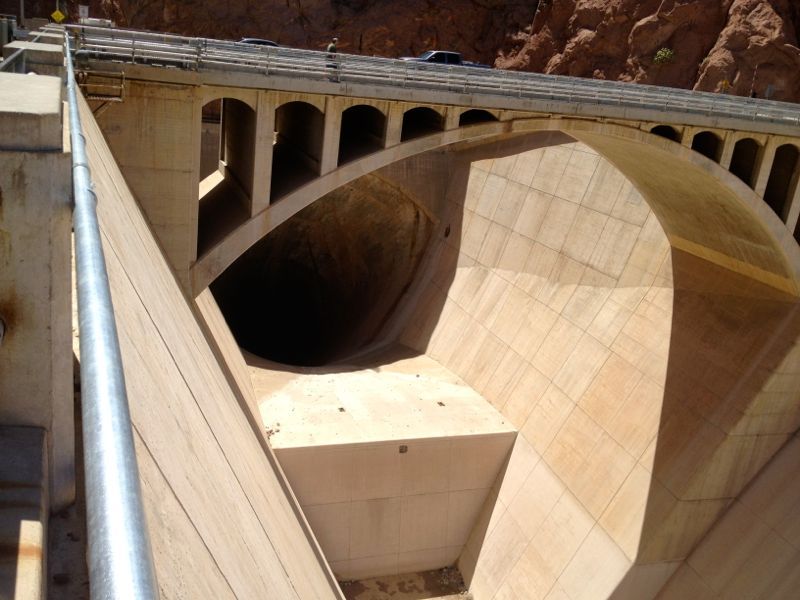 Hot dam!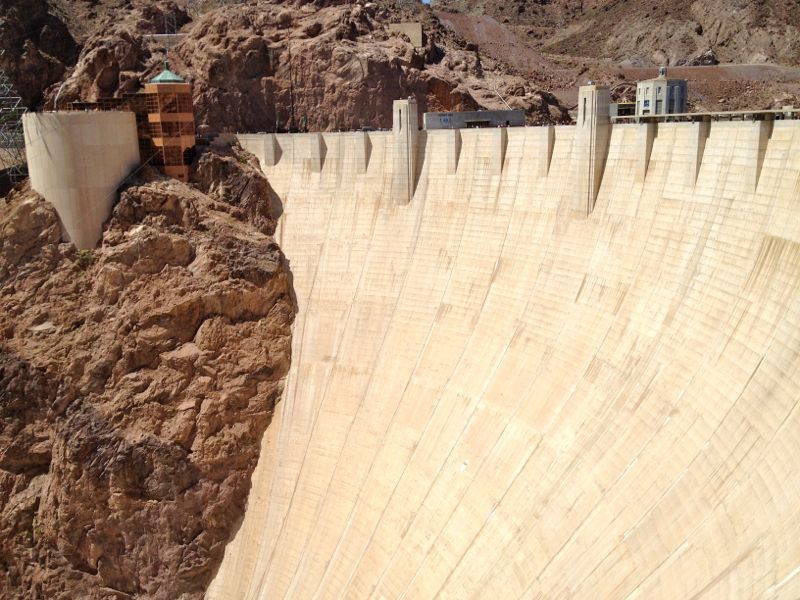 (seriously it was like a million degrees out)
The dam was cool, but a few years ago they built this awesome bridge over the river so traffic doesn't have to go over the dam. The bridge is crazy impressive in person. That huge arch of concrete is over 1000 feet long, and weighs perhaps more than a mother-in-law.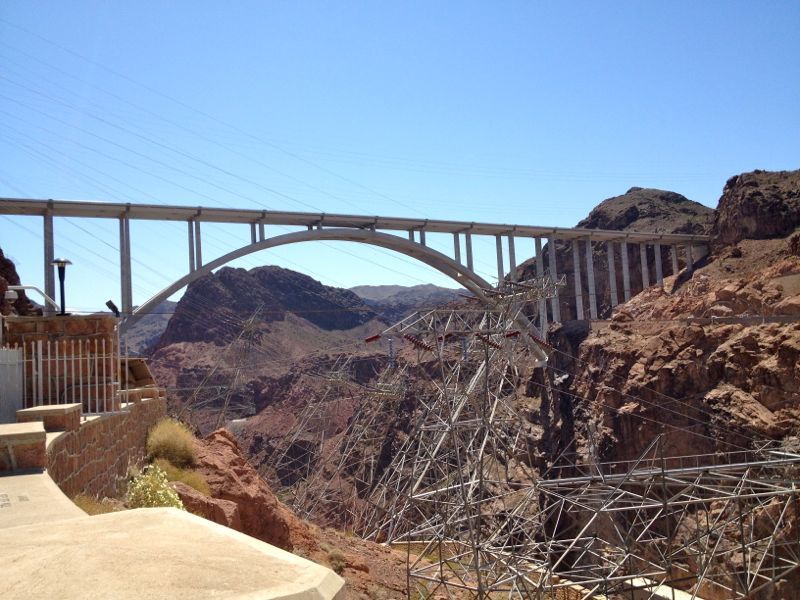 Next we went up through some sort of national park thing, which was awesome. The road runs along lake Hoover Dam, or as the Native Americans called it, Lake Mead. Normally you have to pay to get in, but it was some sort of holiday or something so we got in free.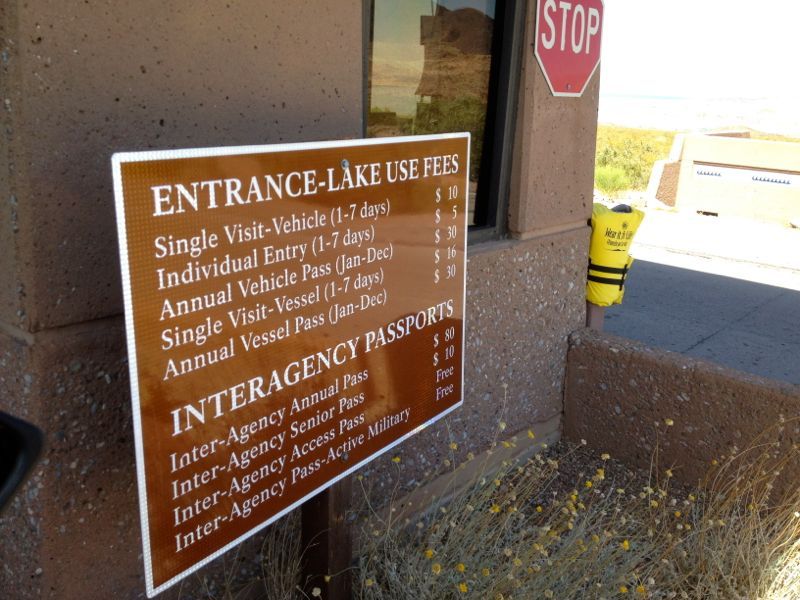 The ride along here was beautiful, and I stop a lot to feast my eyes on it. There was no traffic and we were going relatively slow, so I experimented taking pictures while riding.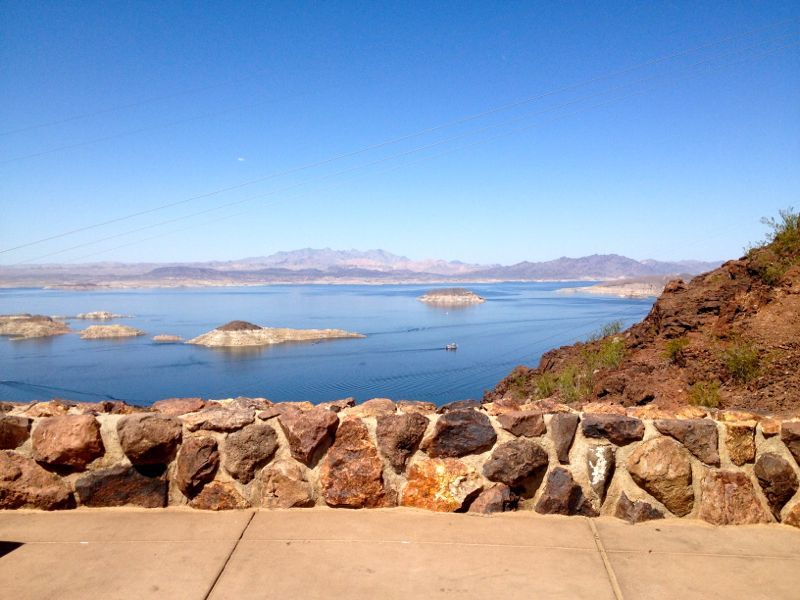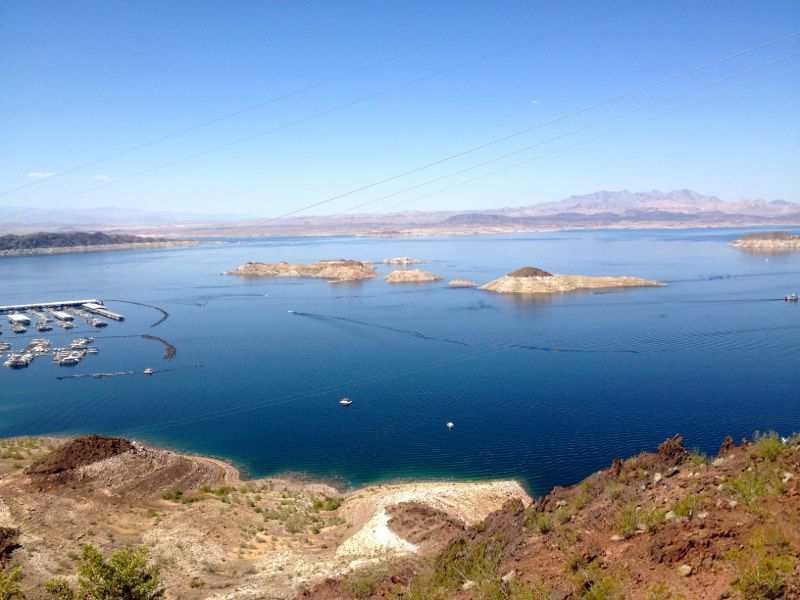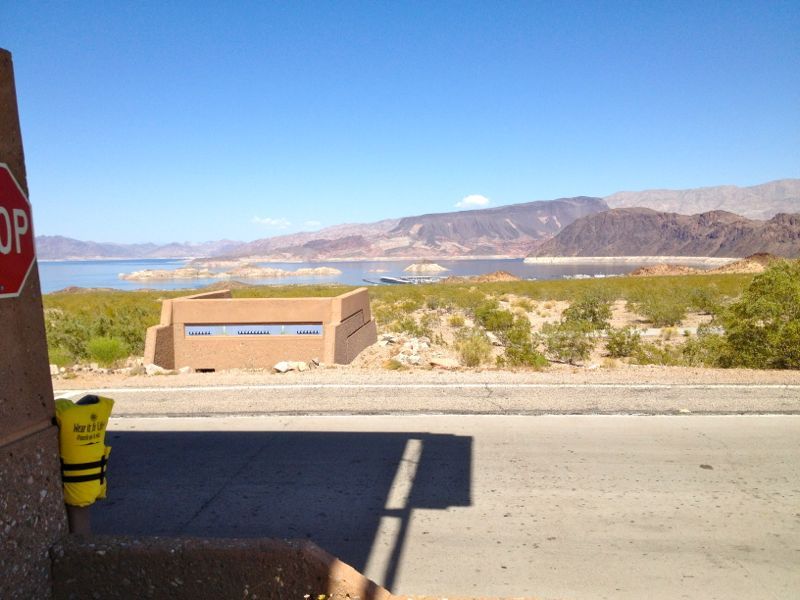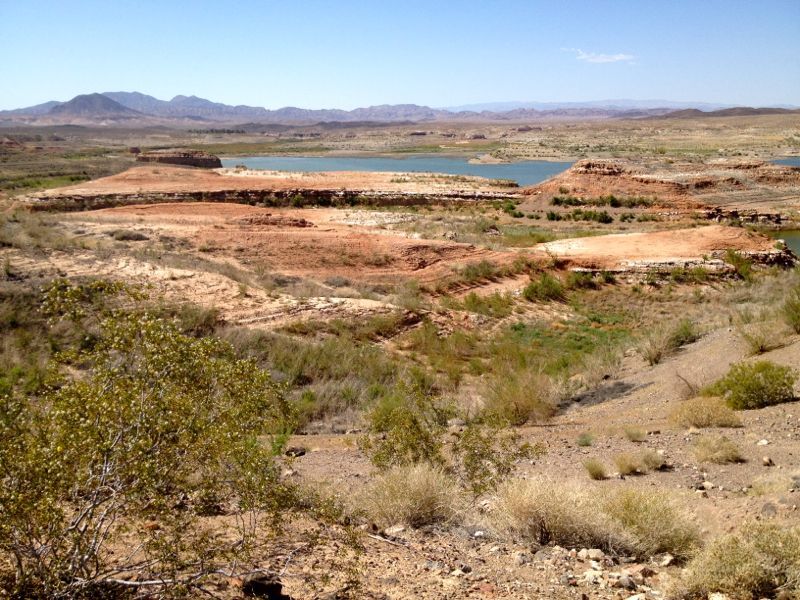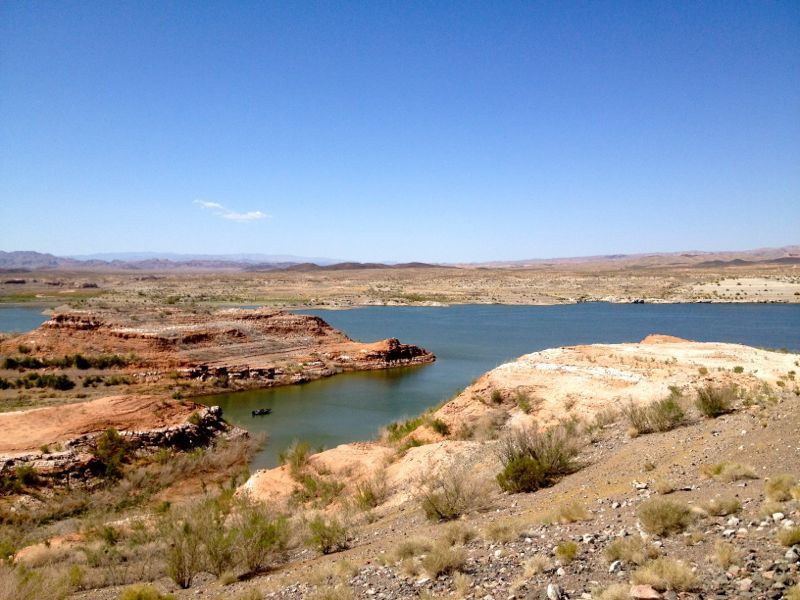 Those are not the pictures I took while riding. They came out horribly so I trashed most of them. This one came out ok though.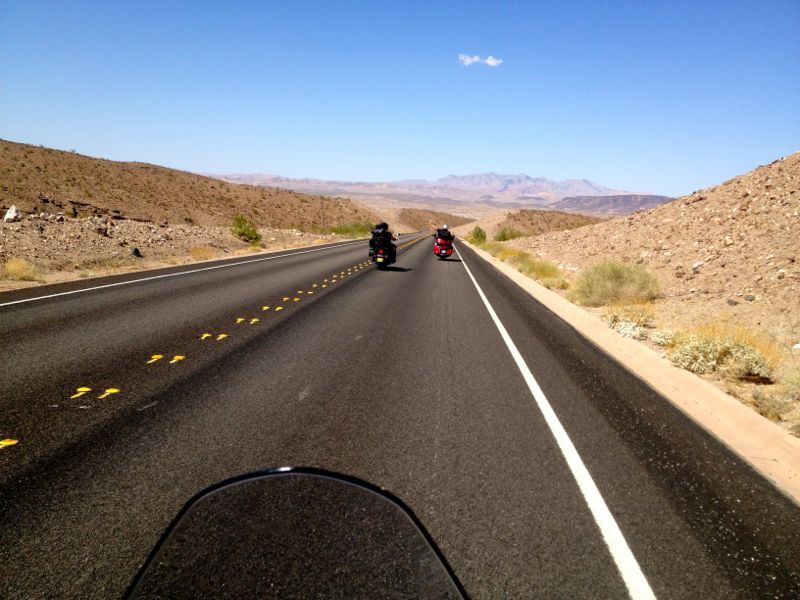 As promised I will jump back to the beginning of the story and introduce the cast of characters.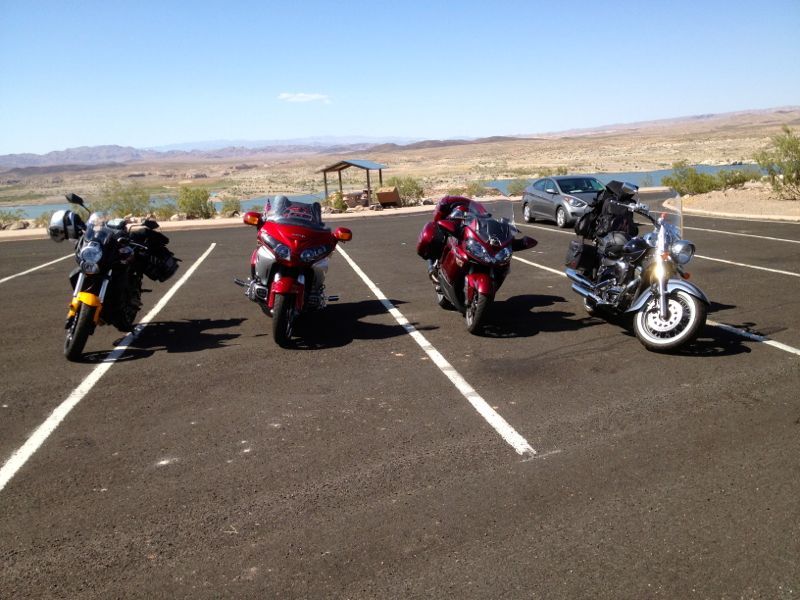 On the left is my bike Bumblebee. Next is my dad on the mighty Goldwing; followed by my uncle on some sort of Kawasaki, and finally my brother on whatever his bike is.
In Vegas we parked next to this guy. I am not sure the protocol on posting random other adventure riders (which is what I assume the ADV sticker means), so I will go ahead and assume it is ok.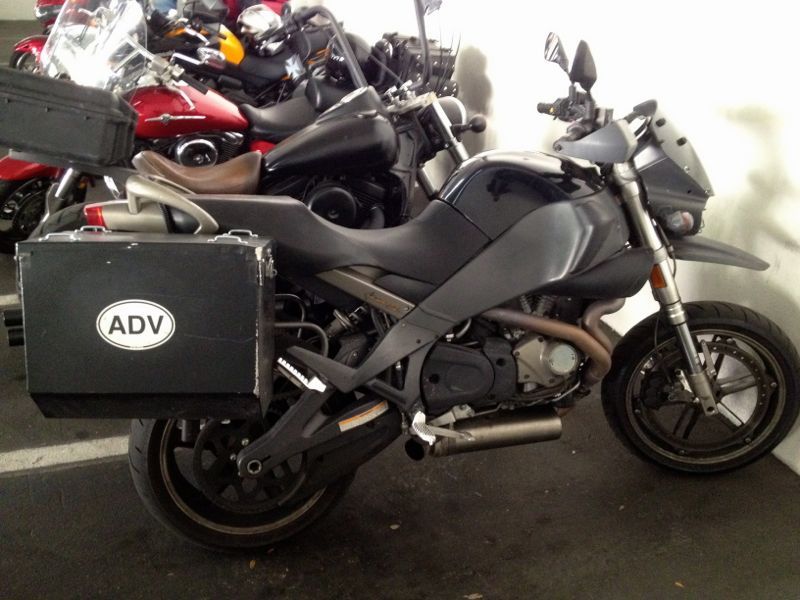 Although the ride from Laughlin to Vegas was not too far, even including our detour to Hoover, it had been a long day. We were tired from the immense heat and hiking around the dam. Then we had some misadventures with lost keys. Needless to say we were starving, and decided to go to my favorite seafood restaurant (in the middle of a desert, go figure) Joe's Crabshack. Normally I avoid stuffing myself due to my wife's continual insistence that touching me is like putting her hand in warm porridge, but on this day I ate without abandon or even respect for common manners and decency. When I finally slurped the last of the crab juice off my chin I lit a cigarette and reflected on how my journey was at an end. I could just be imagining that last part considering I still had two days in Vegas and hundreds of miles to get home, but it is consistent with my overall shoddy storytelling and lack of attention to detail.
One thing I noticed is that there seems to be open dirt trails criss-crossing the state of Nevada. On a future trip, maybe a four day weekend, I would like to get on those trails and see how far I can go. Maybe these are not as open as I thought, but there did not seem to be anything stopping someone from cutting loose on them. A bit north of Santa Clarita there were also a lot of trails. These were much steeper and did not seem to go anywhere though. Still I will try to hit a few on a day trip just to test the limits of the bike.
Looks like I am going to skip the bonus pictures about yesterday's ride, but I will get to it eventually.